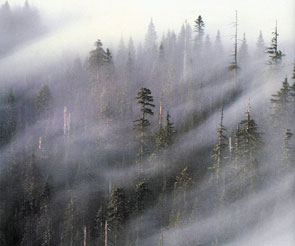 Old-Growth Again Restoration Forestry (OGA) is a "hands-on" non-profit corporation that restores Redwood forests in Northern California. OGA was founded to help change the state of the earth's forests via direct action. OGA believes that by truly restoring and then sustainably managing forestland on a significant scale a real difference can be made in reversing the accelerating global forest degradation, fragmentation and deforestation. With the help of many like-minded friends, the forest products industry can be changed by setting an exemplary example ecologically and economically.
Using "light-footprint" methods developed over many years, ecologically degraded forests are nurtured back into beautiful maturing Redwood forests in a couple of decades. The process works synergistically with nature by using organic inputs, native seeds, no chemicals, etc. With investor partners, OGA purchases degraded Redwood forests and helps restore these titans to grow into sacred treasures for future generations while providing a reasonable return on investment via tax breaks, asset appreciation and eventual sustainable harvesting. As the forest recovers, its ecological and economical productivity multiplies making restoration a good investment.
Forestland or Future Deserts?

Deserts are being created annually by man's activities. 2.4 billion acres, an area greater in size than the continental United States, has been converted into desert by man's agricultural and development activities over the past 6,000 years. This tragedy can be reversed and the forests can be fully restored. OGA is dedicated to doing this in a way that also makes economic sense in the long-term.
OGA began restoring forestland in 1994. Then, like every year, demand for wood products was degrading forests in every corner of the globe. If OGA restored the forest only to protect it, other forests would be logged more to meet the large wood demand. Creating another pretty forest preserve would ignore the bigger picture. The only way the forest work can grow into a permanent and significant contribution to the earth is to maintain a sustainable accommodation with the needs of the human society. Over time, OGA plans to expand outside of California's Redwoods. There is no lack of degraded forestland anywhere in the world.
Ecology and Economy
OGA is guided by one simple idea: ecology and economy can thrive together. OGA currently works in the Redwoods of California because they were once the greatest forest in the world (the tallest trees, the greatest biomass per acre, etc). Excluding the park areas, the Redwoods have slowly been reduced to approximately 20% of their original standing volume. OGA can help reverse this all-to-typical historical pattern. OGA has slowly acquired timber rights and now manages over 550 acres. OGA intends to play a leadership role by restoring and sustainably managing thousands of acres of Redwood forests, transforming the way industrial forestry is practiced in California's Redwoods within a few decades. Come walk where we have worked. See and feel the woods being transformed. And now, for the first time, OGA is reaching out beyond its core group of investors to expand the scope of its work. OGA forestry investments offer significant tax breaks in the first year and significant asset appreciation annually. They begin to yield a growing income stream after the initial forest restoration is completed, usually after a twenty-year period.
Ecology— The Restoration Work
OGA's field work is done mostly by hand with only light equipment. We focus on improving standing conifer volume, species composition, tree quality and wildlife habitat while lowering fire risk and erosion on slopes and near streams. In less than a decade, the changes are dramatic and can easily be compared to unmanaged or "business-as-usual" lands in the vicinity. For example, recent research at the Andrews Experimental Forest near Eugene, Oregon shows that most logged forests require two to three hundred years to create conditions to support endangered populations of "mature-forest dependent" animals. Some of these scientists now believe that by working to enhance the forest's diversity, habitat requirements that support "mature-forest dependent" species can be created within decades instead of centuries. Only time will tell exactly how long it will take, but with each passing year, more is understood about the needs of forest plants, animals and the soil.
Economy— How To Make It Work
OGA's lands have conservation easements with carefully written forest management plans that are attached to the property's deed to permanently protect the land. In the short-term, this maximizes ecological protection and tax savings for the forestland investor(s). In the long-term, this maximizes economic productivity because OGA's practices enable logged forests to return much more rapidly to conditions characteristic of mature and "old-growth" ecosystems, even while the easement permits limited, sustainable, and yet eventually highly profitable timber harvesting.
We hope to restore as much of our Redwood watersheds as quickly as nature, finances and our backs allow. As the restoration develops, it will be a living example and inspiration for others. Visitors are welcome.