Explore Our Large Selection of Swings & Gliders Styles, Sizes, and Options
Our Two Seat Adirondack Swing has an elegant look, and a tough build and exterior which keeps it from aging, while giving you lots of support while sitting down. Our Porter Thayer Wooden Glider has a similar tough build, with a unique design that allows storage underneath, and seats up to three people. No matter which Redwood Glider you choose, you're going to love the look and feel of these handmade outdoor redwood pieces. They are naturally decay and weather resistant, and guaranteed to last for half a lifetime.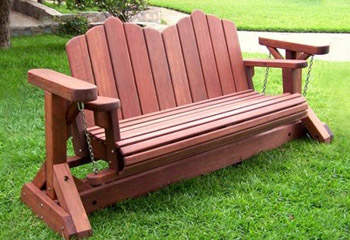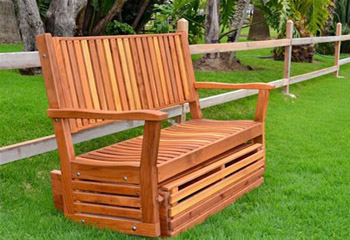 Why Forever Redwood?
Click on either of the links for the benches above and personalize your order for size, stain, finish, and handmade cushion options.
Forever Redwood provides delivery for all of our products, anywhere in the US (Continental Only).
Orders are shipped in easy-to-assemble packages, and require no extra tools or workspaces. Contact us here online, or call us now to get more information about our products.
We are proud to serve some of the greatest customers in the world
My brother was thrilled with the glider. He went on and on about every little thing about it. He is so pleased and therefore I am. I am very happy I found your company and will do all I can to send you business. All your follow up calls and emails and delivering as promised, the quality, just everything has made doing business with you a pleasure. How often can one say that I ask you? As I told my brother you all are in business to do business, as well as looking after the trees, forest, etc.
He is already anxious to purchase more from you. I think you will receive a call from him.
With gratitude,
Ms. Carolyn G
Oak Ridge, TN.
View More Customer Stories
There are no products to list in this category.