The Illuminati Pavilion Kit
Cooking and entertaining outdoors are one of life's true pleasures, and Outdoor Kitchen Pavilion is the perfect way to do it yourself, right on your own property. Our Redwood Pavilion Kit For Kitchens is designed to house your entire outdoor kitchen needs under one roof, and has enough space for a dining and bar area too. Entertain your guests or family all year long with this classic pavilion, designed for function and durability. The perfection combination of shading and natural lighting that also creates a waterproof year round outdoor living space. The Illuminati Pavilion for the mystic within each of us. Yes, of course, you can build it any size you want and personalize it.

Custom detail or design? Talk to one of our specialists to get the perfect solution!
Learn More
Don't want to assemble? We can deliver and assemble anywhere in the Continental US.
Learn More
If you are looking for a massive pavilion with a tall, high pitch expansive ceiling built with only huge excellent quality timbers, the Illuminati Pavilion is waiting for you. Cooking and hanging out with the family is one of life's greatest pleasures. Add a lovely outdoor shade structure built your way, some patio furniture, a bit of good food and let the good times roll! Yes, we will build any size you like.
Any Size: Each pavilion is built to your needs completely. Choose a standard size or custom size as needed.

Will Last Decades: We insist on thick timber construction and extensive notching and other overbuilding details so you do not have to worry about harsh weather conditions like high wind, snow and humid climates. We offer up to 20 year warranties.
Easy Design and Sizing: You will receive detailed drawings within 5 business days of receiving your order. This way, you don't have to figure out every detail before ordering. The drawings allow you to easily see what will work and what needs adjusting. We encourage you to take your time with the drawings and go back and forth until you are comfortable every detail is just right. Any detail can be adjusted including the roof pitch, post spacing and height and adding custom details.
You Install or We Install?: Each kit is fully erected in the shop for easy re-assembly. No drilling, sanding or cutting needed. Just bolt the pieces back together. Most jobs go back up in 2 days with one helper. And, if you are not interested in putting up the kit, let us know and we will send our team anywhere in the U.S. to install for you.
Add Roofing of your Choice: Kits ship with everything you need except the final roofing. An asphalt shingle roof or a metal roof is recommended to maximize weather resistance and longevity. Tile roofs can be accomodated, but require beefing up the structure further to handle the significant extra weight.
Questions? - Download the ebook "Everything you Wanted to Know about Pergolas & Pavilions" for answers to frequently asked questions or please contact our Pavilion Advisor.
Contact us to find out how to get started, and how we can help, from design, to putting it together at your house!
GENERAL INFORMATION ABOUT PERMITTING FOR PERGOLAS AND PAVILIONS
DIMENSIONS & DRAWINGS (PROVIDED PRIOR TO CONSTRUCTION)
The Illuminati Pavilion Kit Dimensions Example

The Illuminati Pavilion Kit are available in lengths from 10' to 40' and widths from 8' to 24'. The length and width are the overall roof measurements. The standard roof overhang is 12".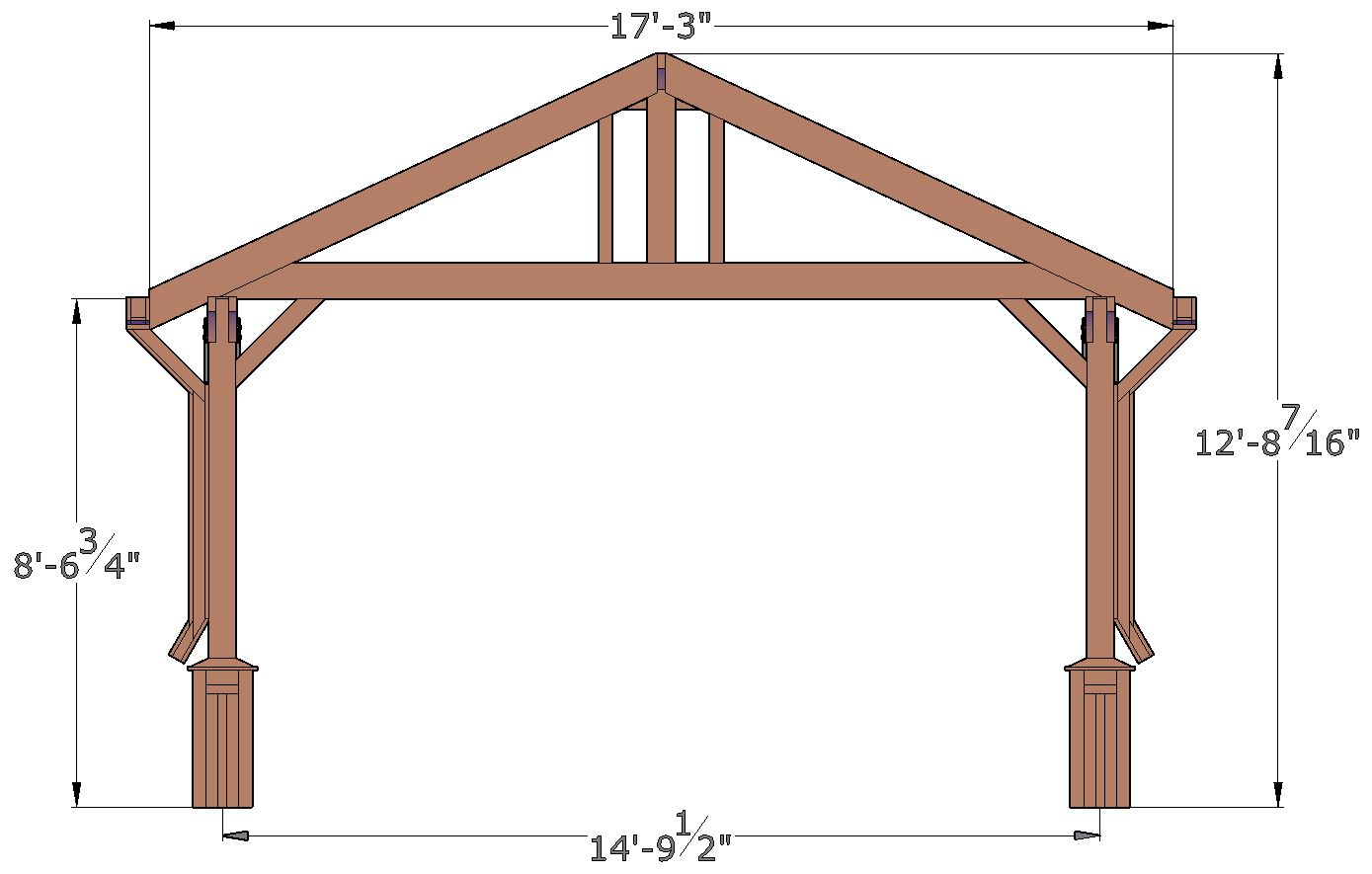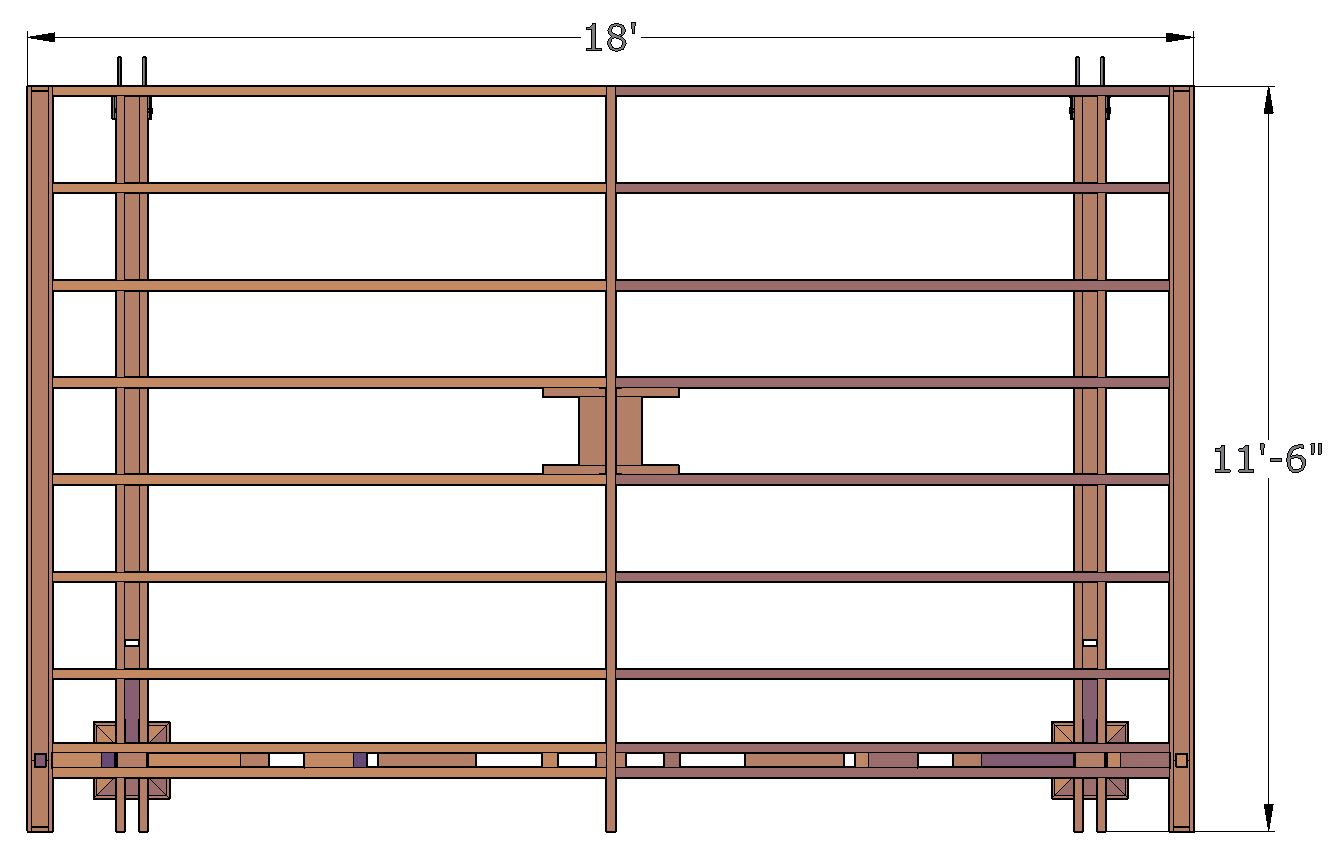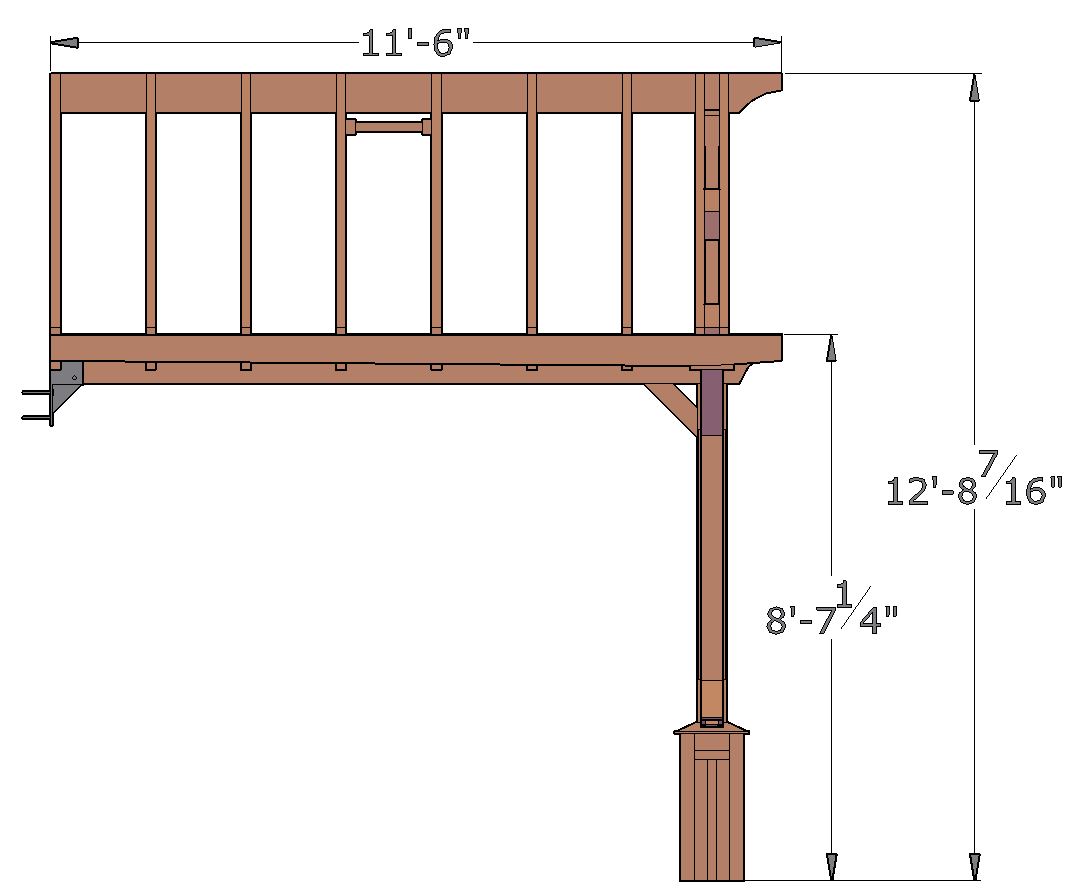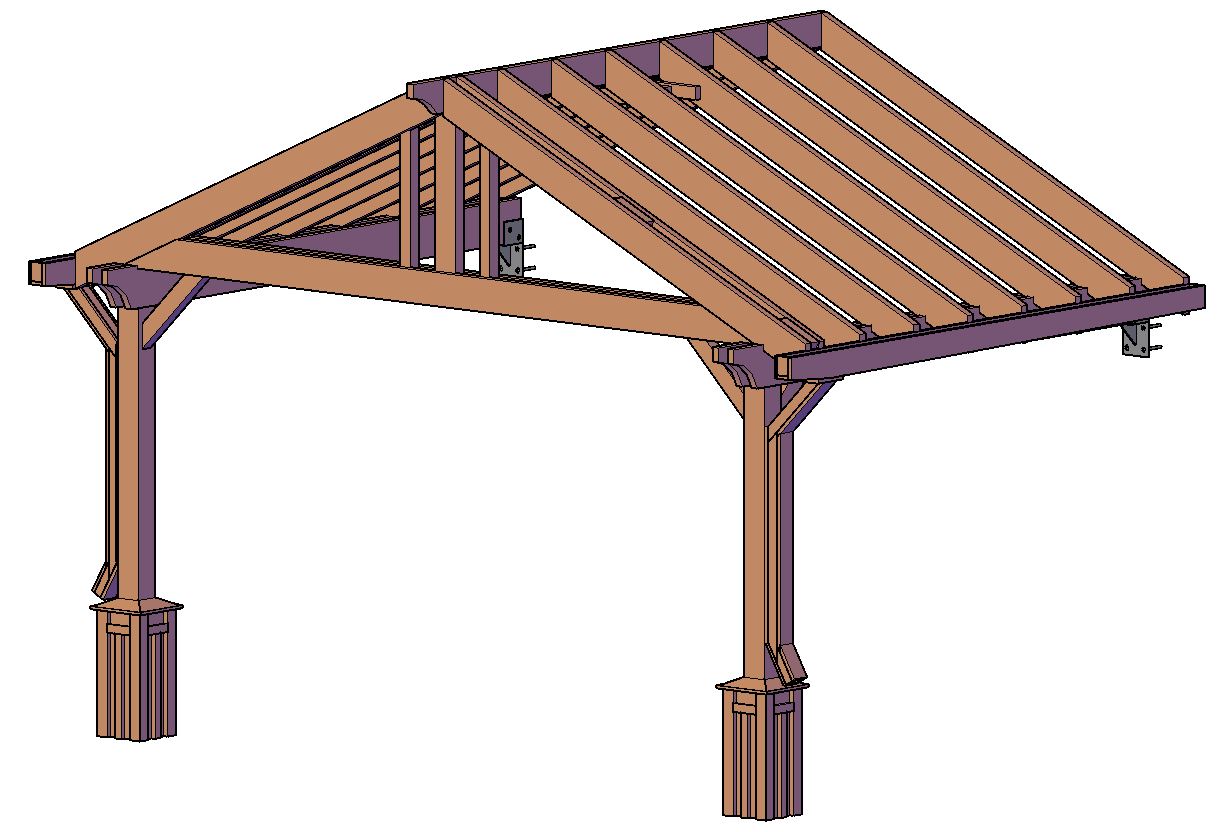 For additional long-term structural strength, we add solid timber blocking in-between the dual support timbers as shown in the drawing below. With this blocking, the dual supports are in effect converted into one solid 7 1/4 inch x 6 1/2 inch timber as shown below: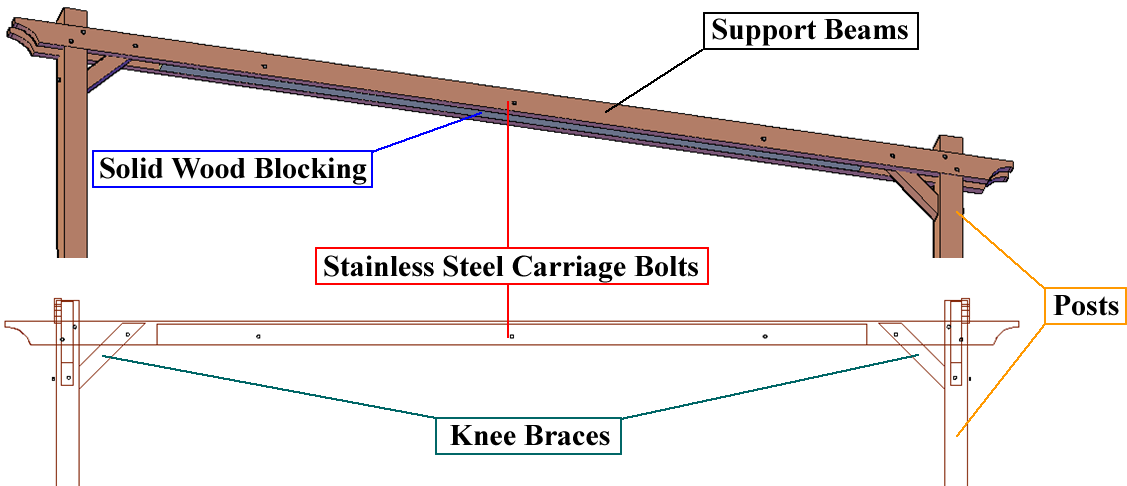 Assembly Instructions for: How to Anchor Your Pavilion
Assembly
Assembly is a 1 day process. Each pavilion is preassembled in our shop and all parts are clearly labeled and a step by step installation guides is included.
Installation Help
Though we think just about anyone could follow our instruction and install a pavilion, we understand if thats not for you. If you would like help, contact us. We have our own team for installations in California, Nevada and Southern Arizona. We also have a network of local contractors we recommend for locations farther afield.
If you have assembly questions, email or call us. And, in the unlikely event a part arrives broken, let us know and we will quickly ship a replacement part.
Care: Your Forever Redwood Furniture will last for decades in year-round weather without maintenance.
Depending on the wood grade you choose, even with harsh year-round outdoor conditions, you can expect your furniture to last from ten to forty years without maintenance of any kind.
Being outside year round is rough on any woods finish. The surface absorbs UV rays, pollution, constant variations in moisture and temperature and it also oxidizes. This is why most wood just doesnt hold up and the surface color slowly changes towards a silver patina over the years. But, with Forever Redwood, you dont have to worry. The silver patina is surface deep only (less than 1/64") and is not indicative of decay. Your set will last decades and is not compromised in any way by the surface color change. For example, we keep our display items as is without refinishing to show off this natural aging (we like the patina!).
Although Forever Redwood is maintenance-free, we recommended you take a few minutes as needed to clean by either hosing down and/or brushing/dusting away accumulated debris (no soap or chemicals needed). If youd like to keep your set looking its best for decades, please go to: Care and Finish
Keep the colors looking vibrant for decades
A quick power washing every 5 to 10 years clears away the accumulated grim, UV surface burning and the old sealant in a few minutes. When power washing be careful not to spray close to the surface or you may cut into the grain of the wood. Once dry, go over any rough spots to smooth out and ready for sealing. Youll need $2 and 10 minutes to do it. Pick up 2 sheets of sandpaper (one 100 grit and one 220 grit). Go over the spots with 100 grit for ten strokes or so and dust off. Then do the same with the fine 220 grit. Redwood sands easily. Dust off and youre ready for sealing.
Sign In
New Customer
New to Forever Redwood? Create an account to get started today.
Create My Account