Explore Our Large Selection of Oval & Octagonal Picnic Table Styles, Sizes, and Options:
Forever Redwood Oval and Octagonal Picnic Table kits are made with 36% more wood than our competitors. This is to ensure that your tables not only last longer, but they can take Mother Nature's worst, and still come out on top with minimal damage or annual upkeep. You can customize your table to include attached benches or separate benches, or you can order just the table as a stand-alone.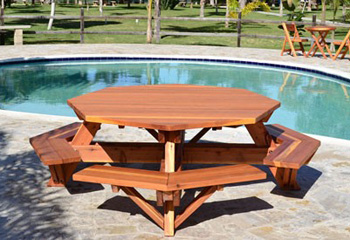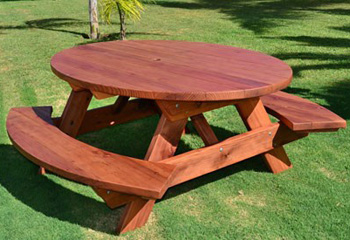 Why Forever Redwood?
All you need to do to get yours is select the model you like right here on the page, then send us your unique specifications so we can custom build one just for you! We offer all of our tables in a variety of wood types and prices, and can ship yours anywhere in the Continental US.
Contact us now for a free consultation, and let us answer any questions or concerns you may have about your new order.
We are proud to serve some of the greatest customers in the world
Hi, I just wanted to let you know that my fabulous bargain table and benches arrived and set up with magical ease. They are truly beautiful and promise long life and beauty ahead. My last redwood table and benches, at a tenth the price, from a local source, lasted nearly 50 years, but they were fastened with steel so the joints gave way too soon. The wood was always okay. I suspect it was old-growth redwood because nobody was caring about the environmental costs in those days. Anyhow, I just wanted to let you know I am tremendously pleased with the product and salute you for your restoration commitment.
Robert S.
East Lansing, MI
View More Customer Stories