Forever Redwood Mission Statement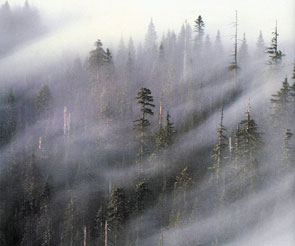 Forever Redwood's Mission is to protect Redwood Forests and to restore Old Growth ecosystems.
The on-going disappearance of mature forest habitat is accelerating and is the root cause of climate instability. It is also responsible for the global decline of wildlife and biological diversity.
Restoration forestry reverses these declines by recreating mature, old-growth habitats. Only vast forests full of large trees can cool the Earth by retaining enormous amounts of carbon in perpetuity. This is our ultimate goal. It is what motivated us to buy land, teach ourselves forest restoration, and begin a furniture company.
We have found that the key to a vital and vibrant Forest Restoration effort is to harvest very limited amounts of lumber. Harvesting a few trees every few years removes competition and actually creates the space that is needed for the trees to grow bigger. Producing high-quality, hand crafted products allows us to maximize the little we take from the forest and keep to our model. The sale of these products fund our restoration practice entirely. Since our inception in 1995, our motto has been "From the Forest, For the Forest."
Any forest in the world can yield wood for human use while adding volume decade by decade as it recreates a mature ecosystem and old-growth trees. We hope someday to have our model of symbiotic restoration being carried out in every forest on this planet. For now, we are committed to sharing our open-source methods and model for free. Learn more about Forever Redwood's forestry work and methods here.