Explore Our Large Selection of Planters Styles, Sizes, and Options
We've got Half Barrel Planters and Vase Planters, each with their own individual styles, and both built tough to last for years (indoors or outdoors) under any conditions. They are all made by hand in our studios, and constructed with only 100% restoration forestry timber, and stainless steel. This is classic craftsmanship at its best, and you will not find anything that comes close as far as longevity and versatility, anywhere else on the market.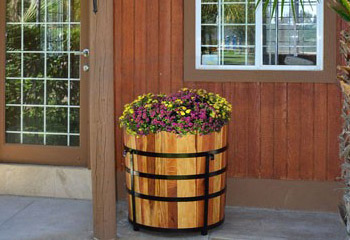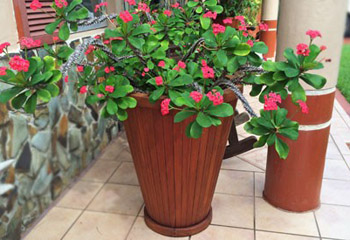 Why Forever Redwood?
Custom order your very own Round Wooden Planters to be built just for you, and shipped directly to your house, anywhere in the Continental US.
We offer warrantees on certain products, plus take special size orders upon request. If you want it, just ask for it, and we'll do our best to accommodate you.
Call or contact us via web now to find out more, or with any questions about your Forever Redwood order.
We are proud to serve some of the greatest customers in the world
Just wanted to let you know I opened up the box containing the vase planter. I felt I should get a medal after that…wow! Talk about expert packing. The vase planter came intact without damage and for this, I am grateful. I also appreciate the vase was finished on the outside only as requested. And this is why I'm writing to you.
Should I sand and refinish the outside now that the vase is here to insure it's amply protected? Should I refinish it regularly and if yes, how often? What specific type of finish is recommended? The planter is empty and on the back porch; I presume there's no need to take extra precautions during this time either.
Any other advice? I must admit, it is larger than I expected but it allows me to think on a much grander scale. Thanks again for your fine work and stewardship.
Bill P.
Tallahassee, FL
View More Customer Stories
There are no products to list in this category.