Explore Our Large Selection of Planters Styles, Sizes, and Options
Whether it's our thick timbered Bench and Planters Combo, or our Forever Corners Planter, we offer you a new spin on traditional wooden planters. The Bench and Planters Combo matches a sturdy hardwood bench with big square planters on each end to add flowers, shrubs or succulents to. Our Forever Corners Planter wraps around your wall or porch corner to provide a unique way to utilize your planting space. Both are available with a number of custom options, and both are guaranteed to last for a lifetime, rain or shine.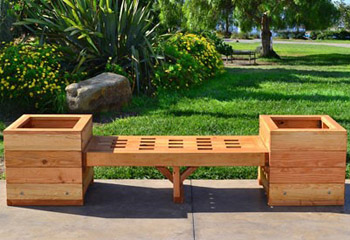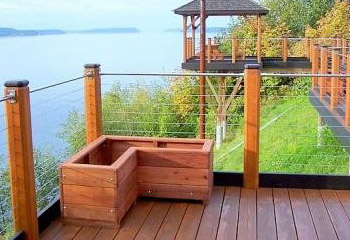 Why Forever Redwood?
Click through each product to learn more about what's available, and check out our custom options to choose from.
You can pay and process your order online, and have us ship it to you anywhere in the Continental US.
We take lots of (unlisted) special orders, so please ask us if you have any particular requests. Contact us anytime here on or site, or give us a call to learn more.
We are proud to serve some of the greatest customers in the world
Raul,
Wow. Beautiful, just stunning. It really is a work of art. It's gorgeous. I've already been suffering from serious anticipation and now it's much much worse! Bring 'em on!
And thank you so much. It's just completely obvious that your company takes great care to make sure everything is exactly right. I really feel incredibly fortunate to have spoken with you and I feel like your input into crafting my order was invaluable. A complete pleasure and I'm so very psyched for everything to arrive. You can be sure I'll be delighted to show these planters off to my family and friends.
Thanks.
Steve.
Hopkins, MN
View More Customer Stories
There are no products to list in this category.