Dream Gazebos
Make your outdoor addition dreams come true with our beautiful Redwood Dream Gazebos. These Gazebos are meant to inspire and offer you a unique and stylish space for your backyard or garden. The Redwood Gazebos are meant to give you an area with tons of natural light, and fresh air, all while providing an elegant indoor space for you and your family. These Gazebos truly are a dream.
Custom detail or design? Talk to one of our specialists to get the perfect solution!
Learn More
Don't want to assemble? We can deliver and assemble anywhere in the Continental US.
Learn More
Our Forever Redwood Dream Gazebos can be fully customizable to meet your space and style needs. They are built with multiple layers of restoration Redwood to ensure durability and comfort, even in inclement weather or sustained seasonal adversity. These Dream Gazebos give you the unique feeling of being both outdoors and indoors simultaneously, and can be used as a small meeting room, dining area, or even a one-of-a-kind guest room.
The Cupola's clerestory windows provide the Dream Gazebo with natural light and additional ventilation. Interior wall panels create a finished room.
Detailed Drawings are emailed within 3 business days. You can change any detail or dimension to ensure your Dream Gazebo will work perfectly for you.
Options include: Windows (sliding or fixed, with or without screens), wood flooring, skylight choices, door styles (French or sliding) and Roofing options (shingles or 1x6 shiplap boards). You can adjust the wall height as needed. The door and window layout is also flexible - yes, you can design the Dream Gazebo your way completely!
Our Materials are guaranteed to last decades. Redwood outlasts teak and cedar. We use oversized timbers, Stainless Steel hardware and the best weather resistant sealant.
Each Gazebo is fully erected in the shop for easy re-assembly. No drilling, sanding or cutting needed. Ships in finished panels that are bolted together.
Forever Redwood is a forest restoration company. We harvest a limited amount of wood from our forestlands and select the finest timbers to build our structures. Our Gazebos come with warrranties of up to 30 years and can be designed to accomodate your special requirements. Call or email anytime to see how easy it is to create your ideal wood gazebo kit.
Forever Redwood products, including the Dream Gazebo and Redwood Gazebo kits, are guaranteed to last a lifetime, and we ensure them for up to thirty years. You can pick the style, size, and type of wood yourself, and we will put together your special order within a matter of days. We can also help you set it up, if you decide that you don't want to do it yourself. Call us to find out more!
DREAM GAZEBOS SPECIFICATIONS (PDF DOWNLOAD)
Specifications has the following sections, any of which you may go to directly by clicking on it:
DIMENSIONS & DRAWINGS
We can customize our gazebos to suit your needs. Just tell us what size and what options you want. Prior to building any Gazebo, we provide our customers with a detailed drawing based on their proposed features. This lets you review any choices made and make any needed adjustments before it is built. Drawings are a great way to make certain all details have been considered and that your Gazebo will be exactly what you dreamed of.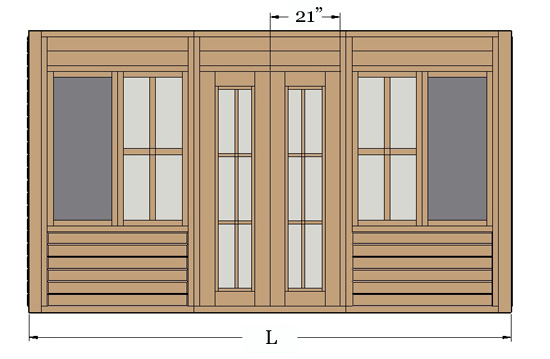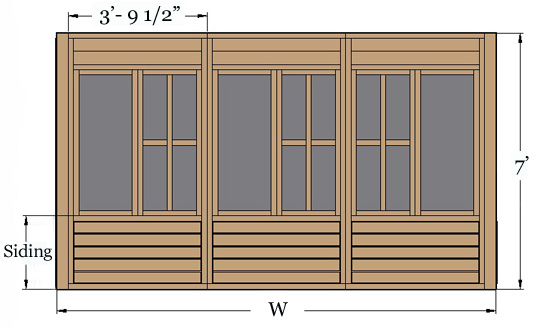 Dimensions Common to All Sizes:
Walls are 7 feet tall (see drawings below), and the standard roof overhang is 6 inches.
| | | | |
| --- | --- | --- | --- |
| L x W (Ft.) | Sq. Ft. | Wt. Range (Lbs). | Std. Skylight (Ft.) |
| 8 x 8 | 64 | 896 to 1075 | 4 x 4 |
| 8 x 10 | 80 | 1120 to 1344 | 4 x 4 |
| 8 x 12 | 96 | 1344 to 1613 | 4 x 6 |
| 8 x 14 | 112 | 1568 to 1882 | 4 x 8 |
| 10 x 10 | 100 | 1400 to 1680 | 4 x 4 |
| 10 x 12 | 120 | 1680 to 2016 | 4 x 6 |
| 10 x 14 | 140 | 1960 to 2352 | 4 x 8 |
| 10 x 15 | 150 | 2100 to 2520 | 4 x 8 |
| 12 x 12 | 144 | 2016 to 2419 | 4 x 8 |
| 12 x 14 | 168 | 2352 to 2822 | 4 x 8 |
| 12 x 16 | 192 | 2688 to 3226 | 4 x 8 |
| 14 x 14 | 196 | 2744 to 3293 | 4 x 8 |
| 14 x 16 | 224 | 3136 to 3763 | 4 x 8 |
| 16 x 16 | 256 | 3584 to 4301 | 4 x 8 |
GAZEBO WALLS
EXTERIOR WALLS
Standard exterior walls are 24 inches from the ground to the bottom of the window, with horizontal redwood boards. You can, however, choose to have the height be 30 inches or 36 inches (no additional cost). The exterior siding boards can either be horizontal or vertical tongue and groove.
INTERIOR WALLS
Interior walls are tongue and groove Douglas-fir and the interior ceiling is also made of tongue and groove Douglas-fir. Total height of walls is 7 feet, but can be custom sized if necessary
GAZEBO ROOF
The cupola roof makes your gazebo more spacious and the clerestory windows add beautiful lighting. Standard roof overhang is twelve inches. Choose from our standard roof of 1 x 6 redwood boards or shingles. If you want to order shingles (extra charge), ours are 3/8-inch thick, hand-cut redwood that are four to six inches wide. You will receive 1000 to 3000 single shingles depending on the size of your gazebo (shingles cannot ship attached to roof panels and must be installed individually). We will not charge any extra shipping when you order the shingles for your Dream Gazebo.
Assembly Instructions for: Dream Gazebos
Assembly
Assembly is a 1-2 day process depending on size, style, and options. Each gazebo is preassembled in our shop and all parts are clearly labeled and a step by step installation guides is included.
Installation Help
Though we think just about anyone could follow our instruction and install a gazebo, we understand if thats not for you. If you would like help, contact us. We have our own team for installations in California, Nevada and Southern Arizona. We also have a network of local contractors we recommend for locations farther afield.
If you have assembly questions, email or call us. And, in the unlikely event a part arrives broken, let us know and we will quickly ship a replacement part.
Care: Your Forever Redwood Furniture will last for decades in year-round weather without maintenance.
Depending on the wood grade you choose, even with harsh year-round outdoor conditions, you can expect your furniture to last from ten to forty years without maintenance of any kind.
Being outside year round is rough on any woods finish. The surface absorbs UV rays, pollution, constant variations in moisture and temperature and it also oxidizes. This is why most wood just doesnt hold up and the surface color slowly changes towards a silver patina over the years. But, with Forever Redwood, you dont have to worry. The silver patina is surface deep only (less than 1/64") and is not indicative of decay. Your set will last decades and is not compromised in any way by the surface color change. For example, we keep our display items as is without refinishing to show off this natural aging (we like the patina!).
Although Forever Redwood is maintenance-free, we recommended you take a few minutes as needed to clean by either hosing down and/or brushing/dusting away accumulated debris (no soap or chemicals needed). If youd like to keep your set looking its best for decades, please go to: Care and Finish
Keep the colors looking vibrant for decades
A quick power washing every 5 to 10 years clears away the accumulated grim, UV surface burning and the old sealant in a few minutes. When power washing be careful not to spray close to the surface or you may cut into the grain of the wood. Once dry, go over any rough spots to smooth out and ready for sealing. Youll need $2 and 10 minutes to do it. Pick up 2 sheets of sandpaper (one 100 grit and one 220 grit). Go over the spots with 100 grit for ten strokes or so and dust off. Then do the same with the fine 220 grit. Redwood sands easily. Dust off and youre ready for sealing.
For best results, sand in the direction of the grain (same direction of the growth lines in the wood
Sign In
New Customer
New to Forever Redwood? Create an account to get started today.
Create My Account