FINISH AND WHERE TO GET SEALANT ONLINE:
All our furniture ships finely sanded to 220 grit for a smooth to the touch finish.
Our most popular finish is Transparent Premium Sealant: it leaves your furniture looking natural and helps keep the beautiful wood surface colors from fading for several years. We use Sikkens brand for finishing because they are the best on the market. For more information about how to keep your furniture looking great year after year, please go to
Care & Finish
The main difference between paint and stain is that paint sits on top of the surface rather than seeping into the surface. Paint also needs to be painted onto surfaces that have been primed first, while stain does not need a primer.
All our stain finish options let the grain of the wood visible, instead of covering it completely.
Unfinished (fine sanding only): Choose this option if you are applying your own stain or want the surface color to fade to a "weathered look" in a few months.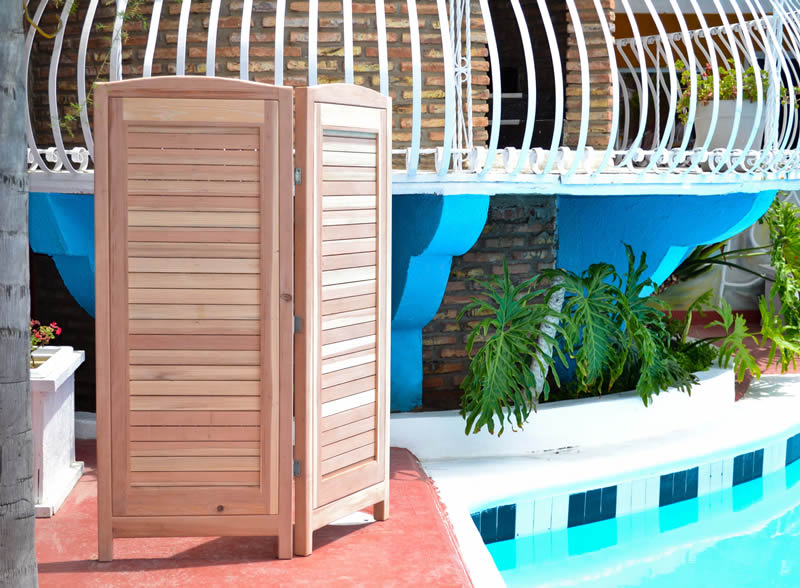 We do not recommend you leave your furniture unfinished outdoors for any extended period regardless of wood quality. Outdoor weather changes constantly and it is best to at least seal the wood to protect it from consistently absorbing and losing moisture.
Transparent Premium Sealant - Recommended for Outdoors:
Visit our
Wood Grade
page to see pictures of each wood grade finished with our recommended and most popular option.
We also offer the Transparent Premium Sealant with the following stains: There is an additional fee for choosing a stain as it doubles the amount of sealant coats we apply.
Transparent

Cherry Stain

Coffee Stain

Black Premium Stain

White Wash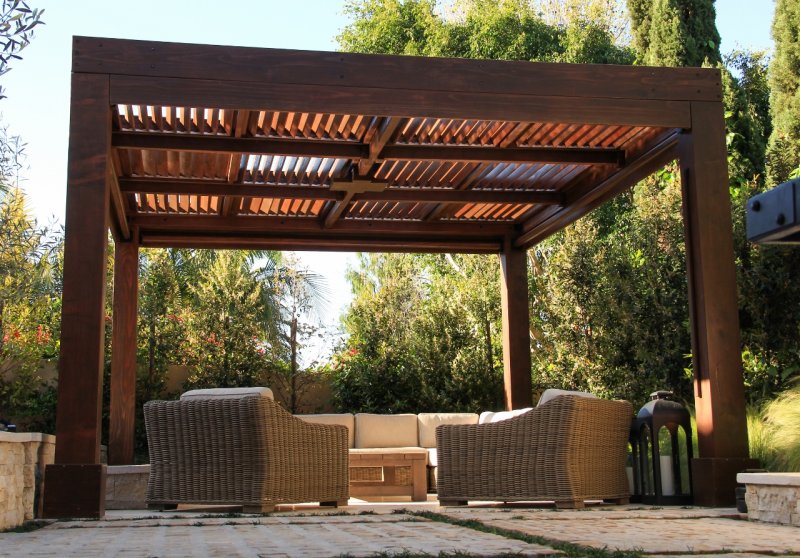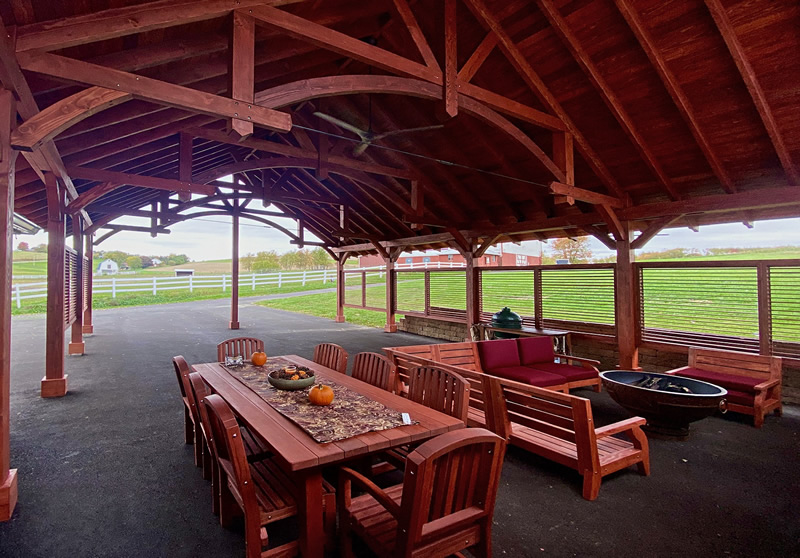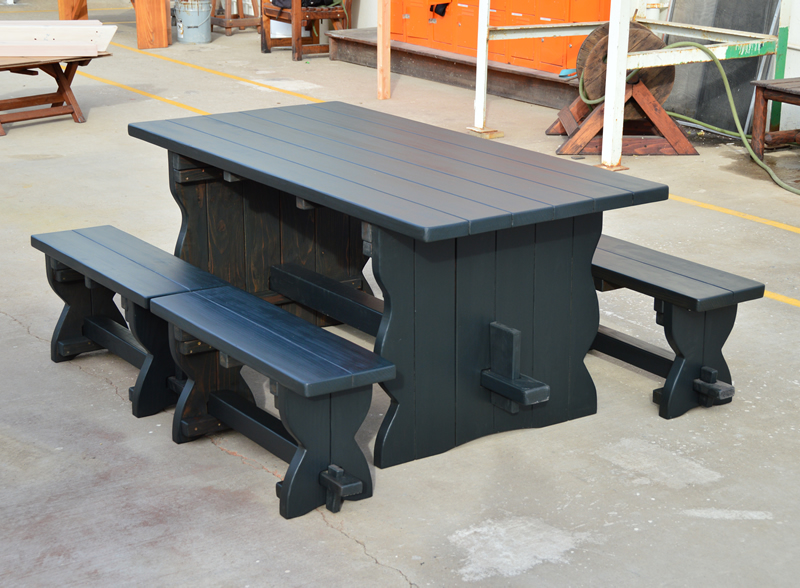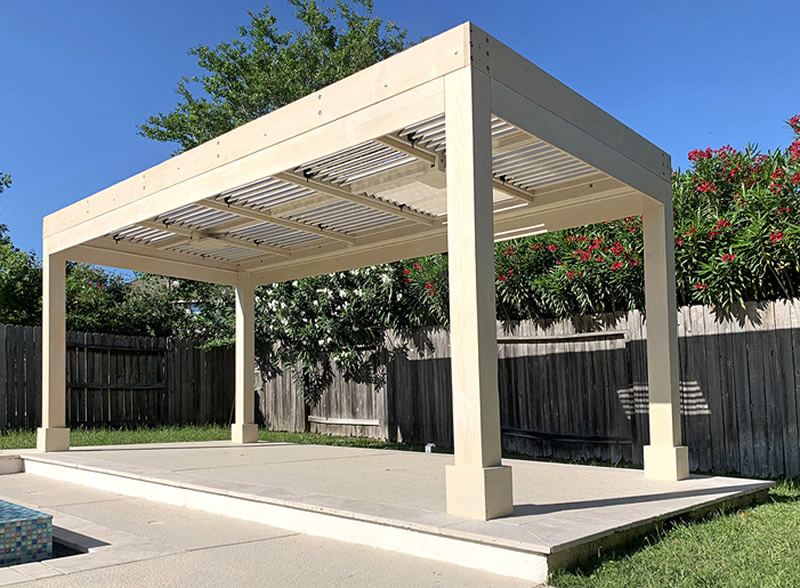 Tiger Stripe Effect: Douglas-Fir when stained dark creates a "tiger stripe" effect as shown in this photo. It is beautiful and most customers love it. If you are looking for a dark consistent stain and do not want to see a "tiger stripe effect," please go with any of the Redwood grades for a more consistent stain finish.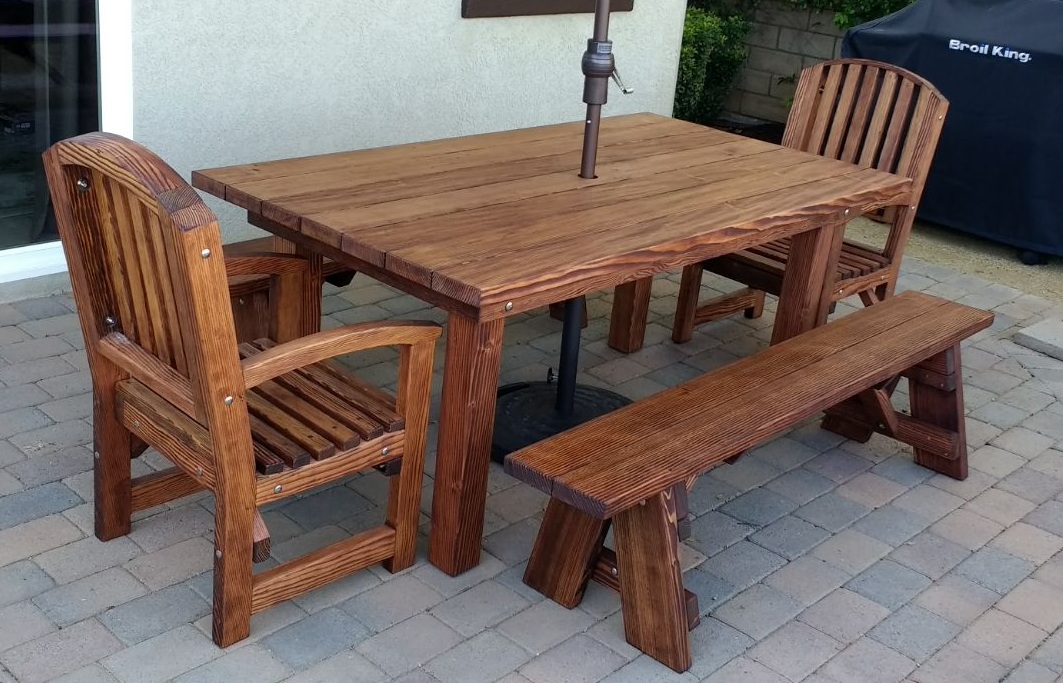 PRIMERS:
We recommend sealing or staining your furniture, and
we do not recommend painting
it. Painting outdoor wood actually lowers its longevity. Eventually the paint seal breaks and the wood gets overly moist from rain. It stays moist because of the paint and multiplies microbial action. Outdoor wood is best sealed and not painted when considering longevity as the most important factor.
Off-White Oil-Based Primer: Choose this option if you are going to paint a light color. We apply two coats of primer so that it is ready for one final coat of paint.
Gray Oil-Based Primer: Choose this option if you are painting a darker color. We apply two coats of primer so that it is ready for the final coat of paint.