Customer Reviews
Customer comments and reviews...
Since the 1990's, we have been building our beautiful thick timber furniture and shipping it all over the world. We have received thousands of comments and reviews. Most can be found on the individual product pages. Below is a sampling of comments that include some photos sent from customers.
We take great pride in building the best outdoor wood furniture money can buy, while saving and restoring the forest for future generations. If you have your own comments to share, just contact us and we'll post them here!
You can see many more reviews on our Houzz site:

Everything arrived in great shape
Everything arrived in great shape, the packing was done extremely well. The instructions were pretty clear. Assembly was easy except for one bolt which seemed to be off by 1/2". I just redrilled that hole.
I am very happy with the appearance and overall quality of the wishing well. The interactions and updates from you were excellent.
If I ever need something further from Forever Redwood, I'd have no concerns about working with you again.
Gordon V. -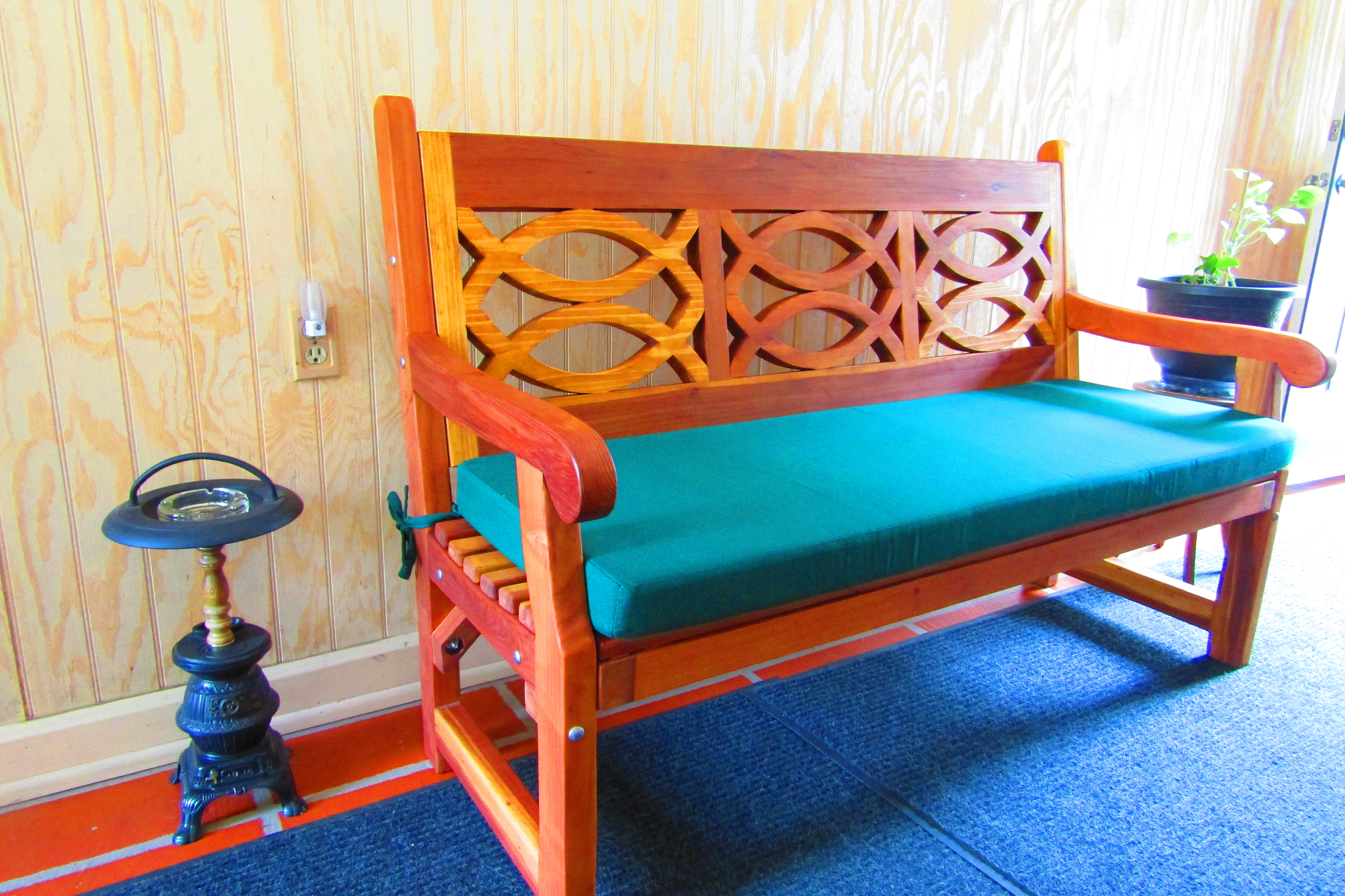 My wife and I were totally pleased with the whole transaction.
My wife and I were totally pleased with the whole transaction.
From ordering online to the day the beautiful seat bench was delivered. The colors and the choice of the wood was beyond my expectations.
We get many compliments on the butternut color and the grain of the wood.
Roger D. -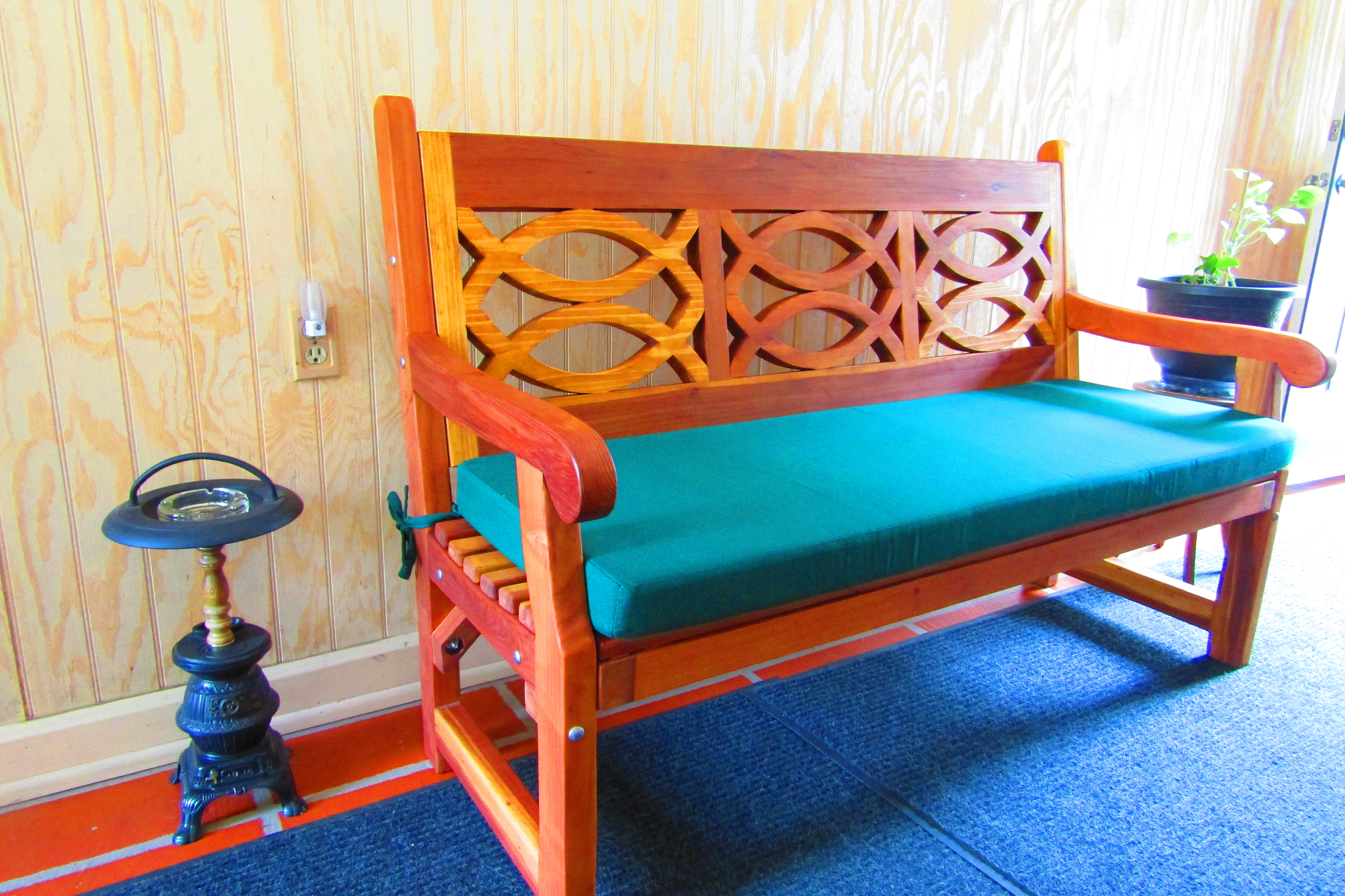 How did things go with my order?
Thanks for checking.
I put it all together and it looks great. Good picnic table. I am waiting for my umbrella to be setup so we can enjoy since it is quiet hot outside right now.
Your guys might have told you but I am also making a nice planter with the crate. Did not feel like throwing it away. I am done with the assembly. I need to sand and stain.
Thanks,
Nag R. - Flower Mound, CA.
I was very impressed with the job the crew did yesterday
Good Afternoon All.
I hope this email finds you well.
I was very impressed with the job the crew did yesterday. I couldn't believe such magnificent structures could be built in one day, but I guess Forever Redwood can do miraculous work.
Here are some pictures of the pergola, as asked from Raul. I also have attached a picture of a piece that I have received during the shipment, I happen to be curious why isn't that piece assembled with the others.
Please let us know what that piece is.
Thank You
Aly I. - Irvine, CA.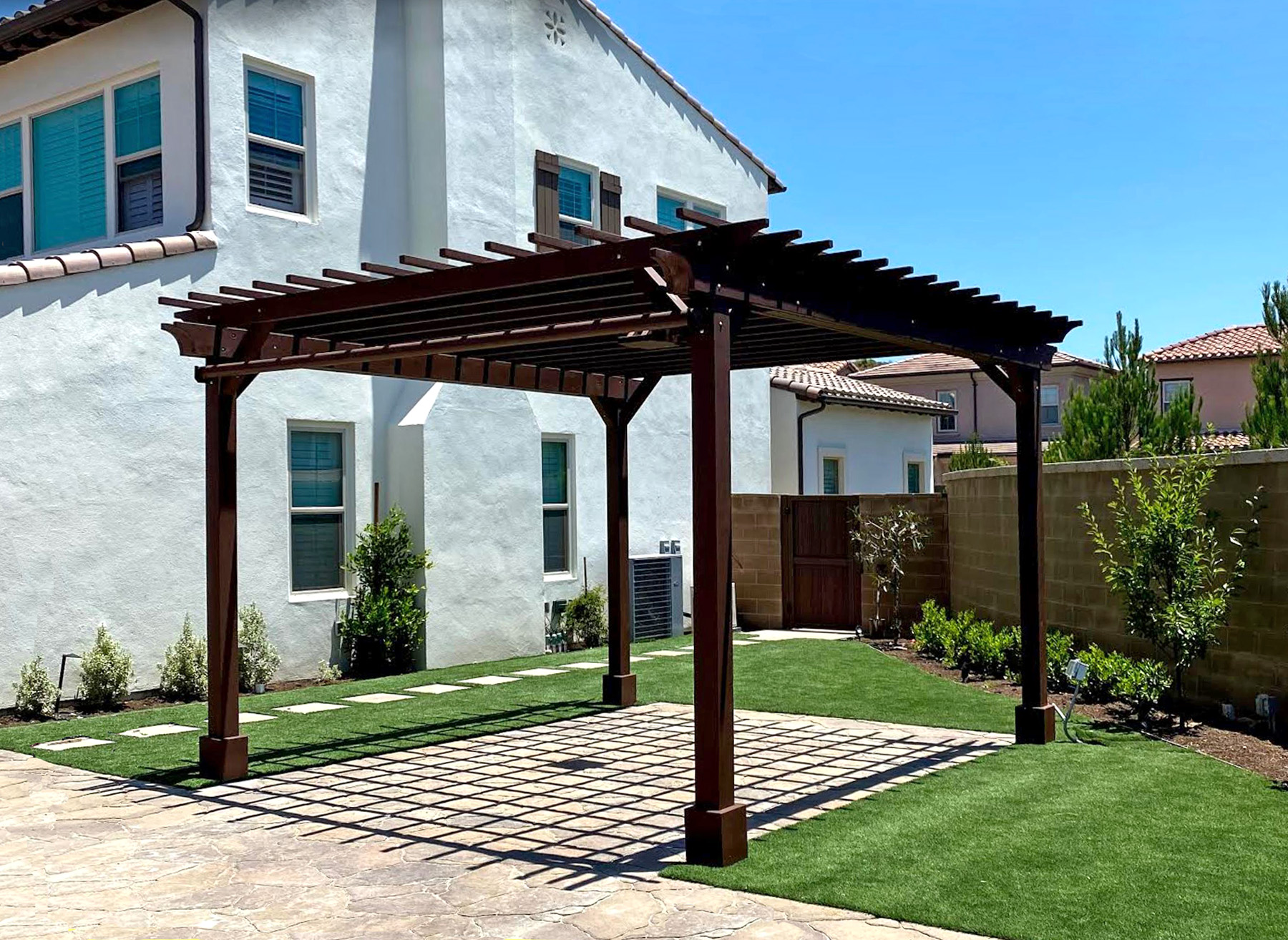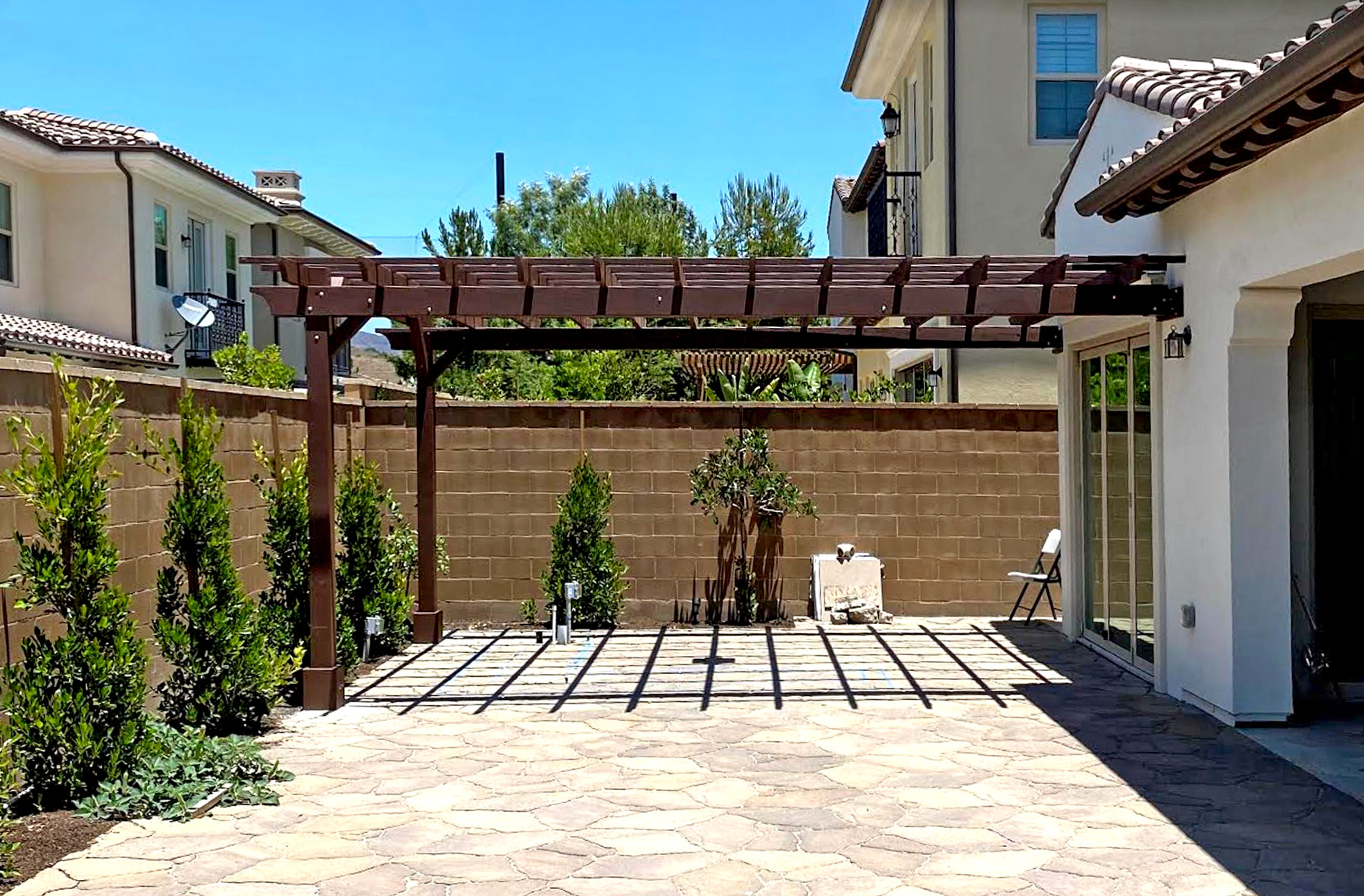 Everything was received in great condition
Yes, everything was received in great condition. The packing was fantastic. I think it took longer to unpack and break down the cardboard than to assemble... :-)
Very pleased.
Thanks!
Gordon V. - San Louis, MO.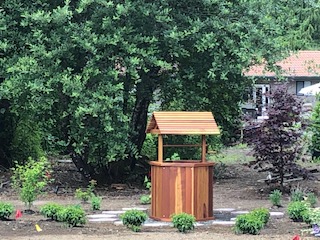 I was amazed watching them with the install
Hello,
Adan and his team did an excellent job with the installation. They were very friendly and efficient. I was amazed watching them with the install.
I will send a picture when the whole backyard project is complete. Thank you,
Stephanie B.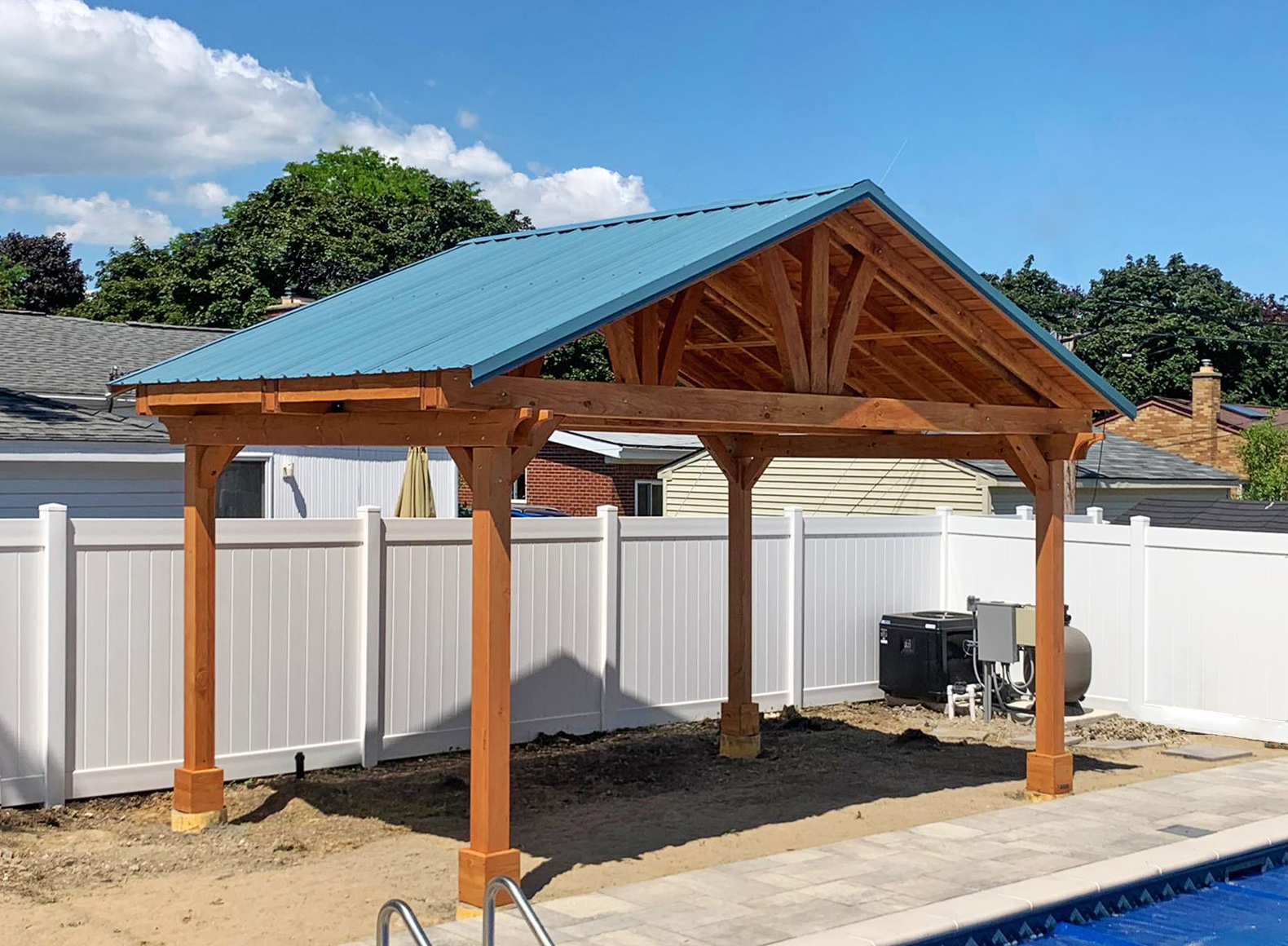 I totally appreciate your workmanship
Enjoy these and feel free to use them in marketing and to use us as references. I totally appreciate your workmanship.
David K.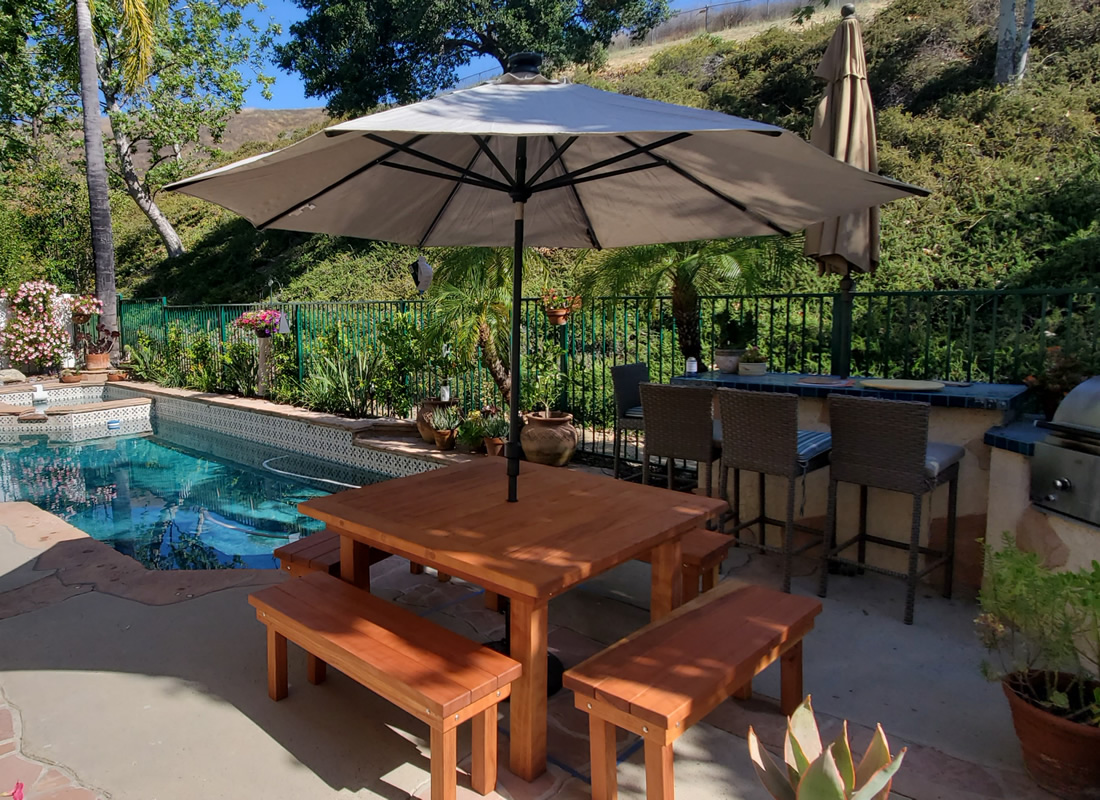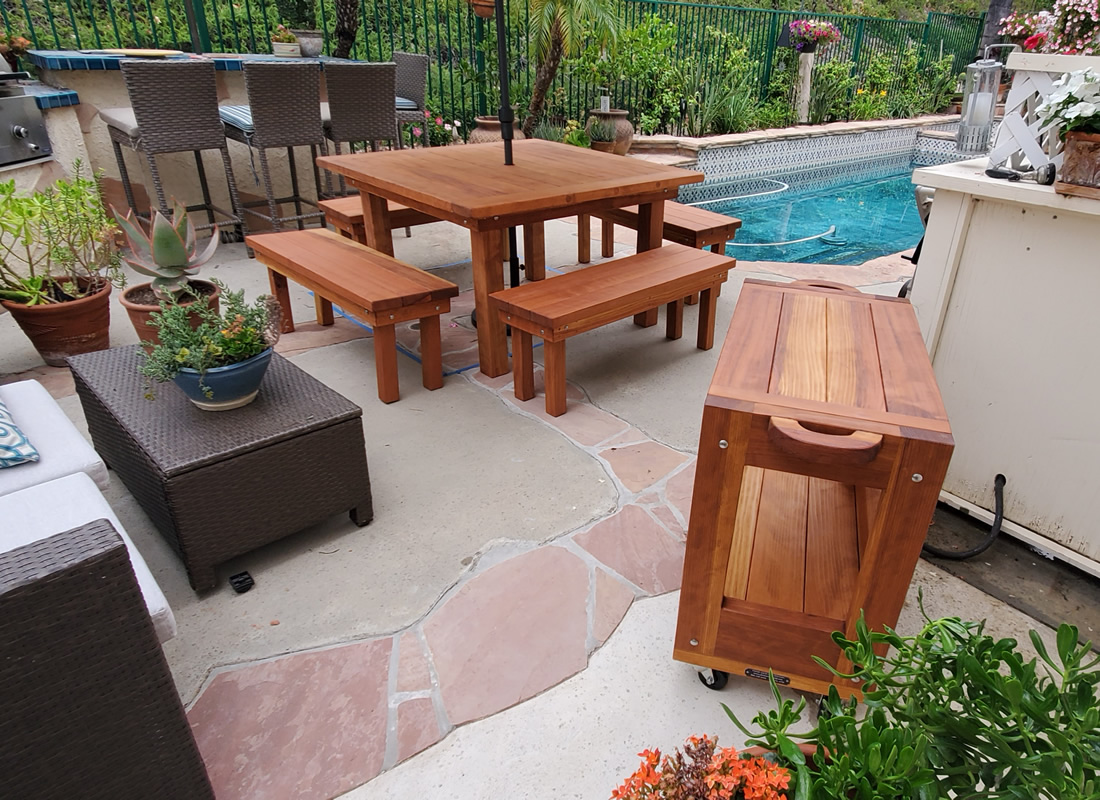 Thank you so much for all of your efforts
Raul
I promised you that I would send pictures of the table and chairs when I finally got them hauled up to my third floor deck. This is a beautiful set!
Thank you so much for all of your efforts, considering the loss of the 14' table during shipping. Please note the beauty of the slats on this modified design. They look great
Respectfully
John E. - Bethany Beach, DE.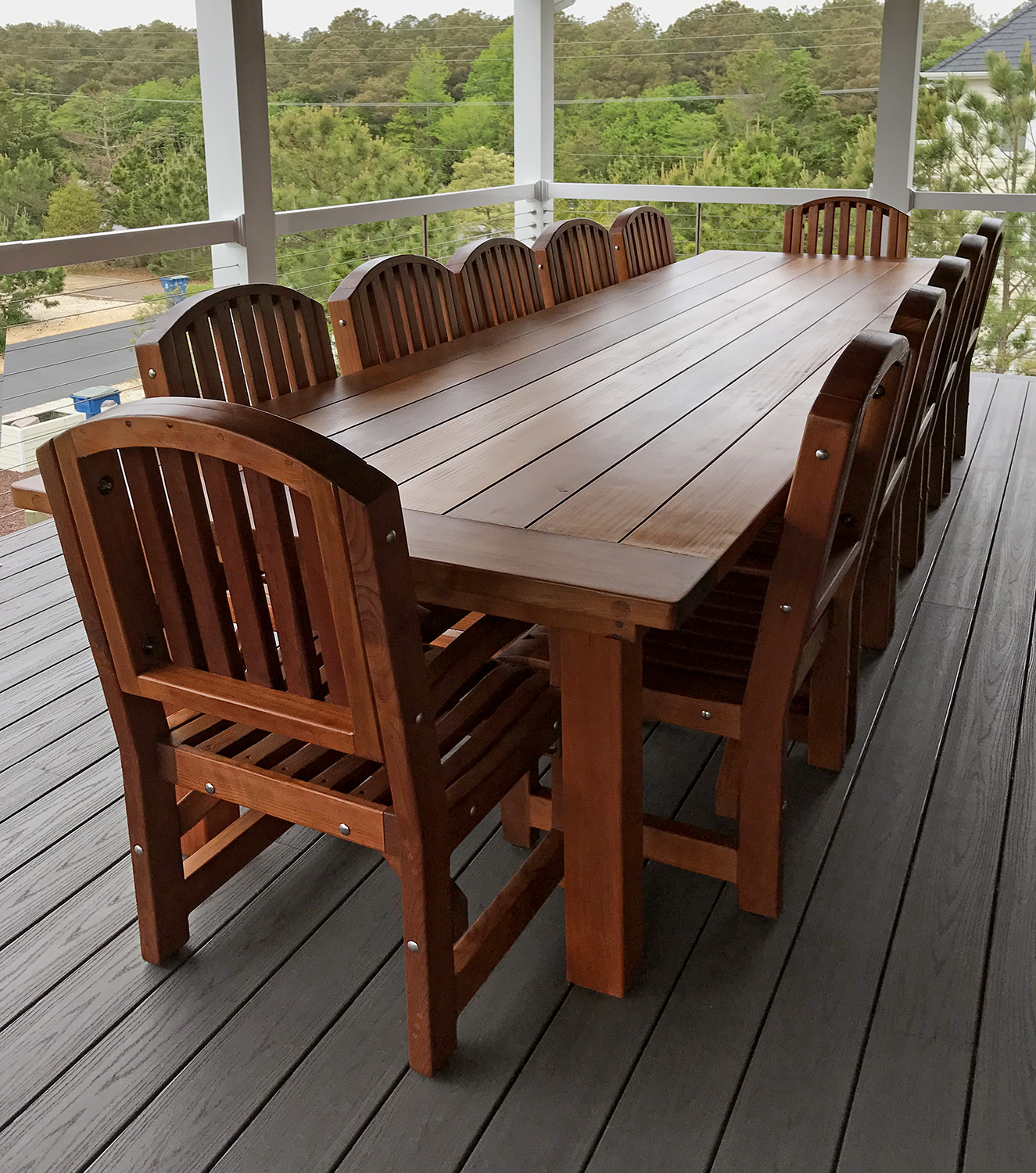 We just wanted you to know how happy we are with the completed pavilion.
Raul, Claudia, Edwin, and the team
We just wanted you to know how happy we are with the completed pavilion. Elias, Hugo, Hernan and Adan did a fabulous job of building our lovely pavilion. They worked in the cold and rain to make our project strong, safe and beautiful. Despite the weather and other project challenges (restricted site access) the crew worked very diligently to respect our neighbor, (who let us have access and storage in her yard) they communicated with us frequently so we knew what was happening at each stage of the erection and did a great job of cleaning up around the site when they finished work.
Please compliment your factory crew, too, as their craftsmanship and attention to detail made the erection of our structure go very smoothly. It is sturdy, as well as elegant. We couldn't be happier with their workmanship and our new pavilion.
Paulette and Dennis S. - Pleasanton, CA.
We are in tea house heaven
Hello Raul from cold and snowy North Dakota.
Just a quick note and picture.
I finally assembled the tea house. Looks great. If it were not for the snow I would say the picture was taken in northern California. But it is good 'ol ND.
I have included a pic of the tea house. I can think of a million things I like about the tea house. When I get the area landscaped around the tea house I will send you another picture.
I had two minor issues when assembling:
The handle for the door got mugged in the box it was in and got scuffed by some of the phalanges.
Quite a few of the bolts broke upon tightening, so I went out to the local Menards and got replacements.
Oh and 1 more item. Had a leak in the roof after the first rainstorm, but I think I got that figured out.
Otherwise we are in tea house heaven.
We will keep the tea warm in case you stop in. Have a prosperous new year. I may be back and buy a dining room table and a front door from you later on. See photo below.
Gene H. - North Dakota.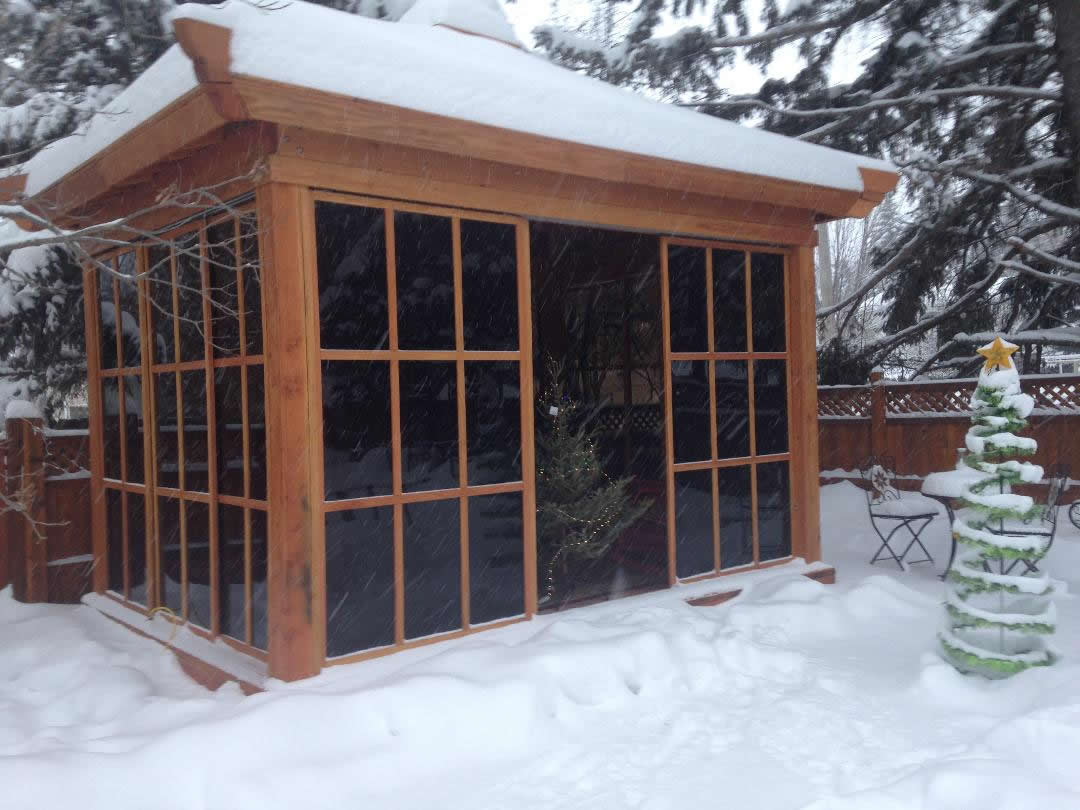 ---
Raul's response:
Thank you for your follow up email Gene.
You put it up in the winter! That says a lot my friend. Sorry about the bolts breaking. Glad you figured out the roof leak.
When we put up gazebo roofs, before we add the final skin we normally test with a hose to make sure the felt paper was done properly. Otherwise, it is not fun to remove the final roof skin to fix. We are not perfect and I appreciate very much your taking care of the minor issues.
When you order the table set, remind me you had to make a couple of trips to the hardware store and we will add a discount for your pain and suffering!
It was one of those beautiful moments of enjoying the summer.
when Don and I were able to sit out in the gazebo during a rainstorm, talking, listening to music, and reading as the storm passed. We were perfectly dry. It was one of those beautiful moments of enjoying the summer.
Don and Deb W.
1st Place Photo Contest 2019 Winners.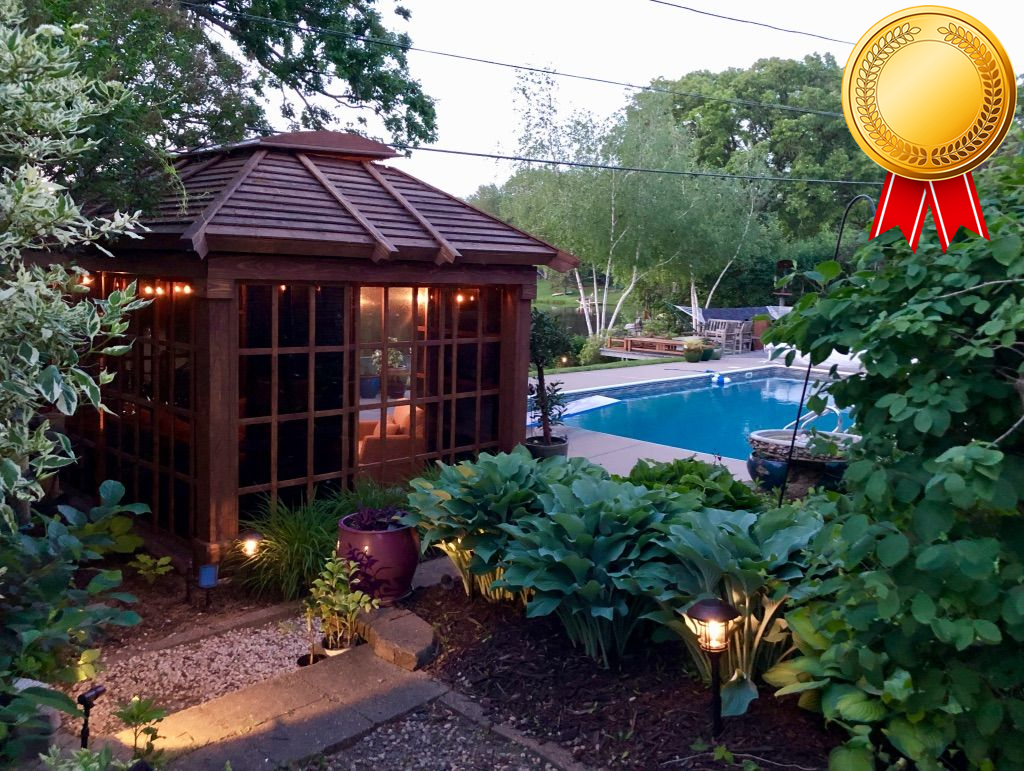 End of an era!
Raul
Glad to say the installation is complete and we think it looks great (it is actually not upside down). We owe a special thanks to Hector and Rafael who did really heavy lifting and laid it out perfectly. They were also very pleasant to work with when we were there the first few days. The lifting was so heavy that we think you need at least one more guy on a job like that.
We plan to deck the covered and back section and gravel the first part. We will grow a climbing rose on the back and wisteria on the front. We will send photos when that is done and I am sure you can use them in your promotional pages.
Our neighbor Paul Johnson was very impressed with the job (and the price) and we gave him your catalog.
Best regards
Robin and Mary C.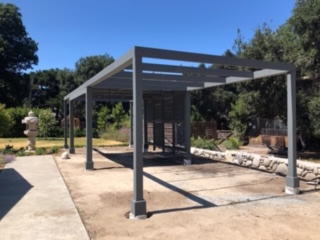 My client is ecstatic
All of the above was handled very professionally and with excellent communication with the exception of a few times when I did not get any response. Other than that all is well.
Entire patio overhead with the addition of the louvers look great and my client is ecstatic. There are a couple louvers that when we took them out of the box and reviewed them they were crooked. I believe at a knot in the wood itself but I've decided to wait to see if it's going to become an issue. If so we will follow back up with you.
Thank you very much and blessings to your entire team. My communication with the owner of the company has consistently been outstanding and have appreciated his attitude and our business and personal relationship even though only by phone
Philip L. - San Diego, CA
Miami Dolphins Pergola
Miami Dolphins. - Miami, FL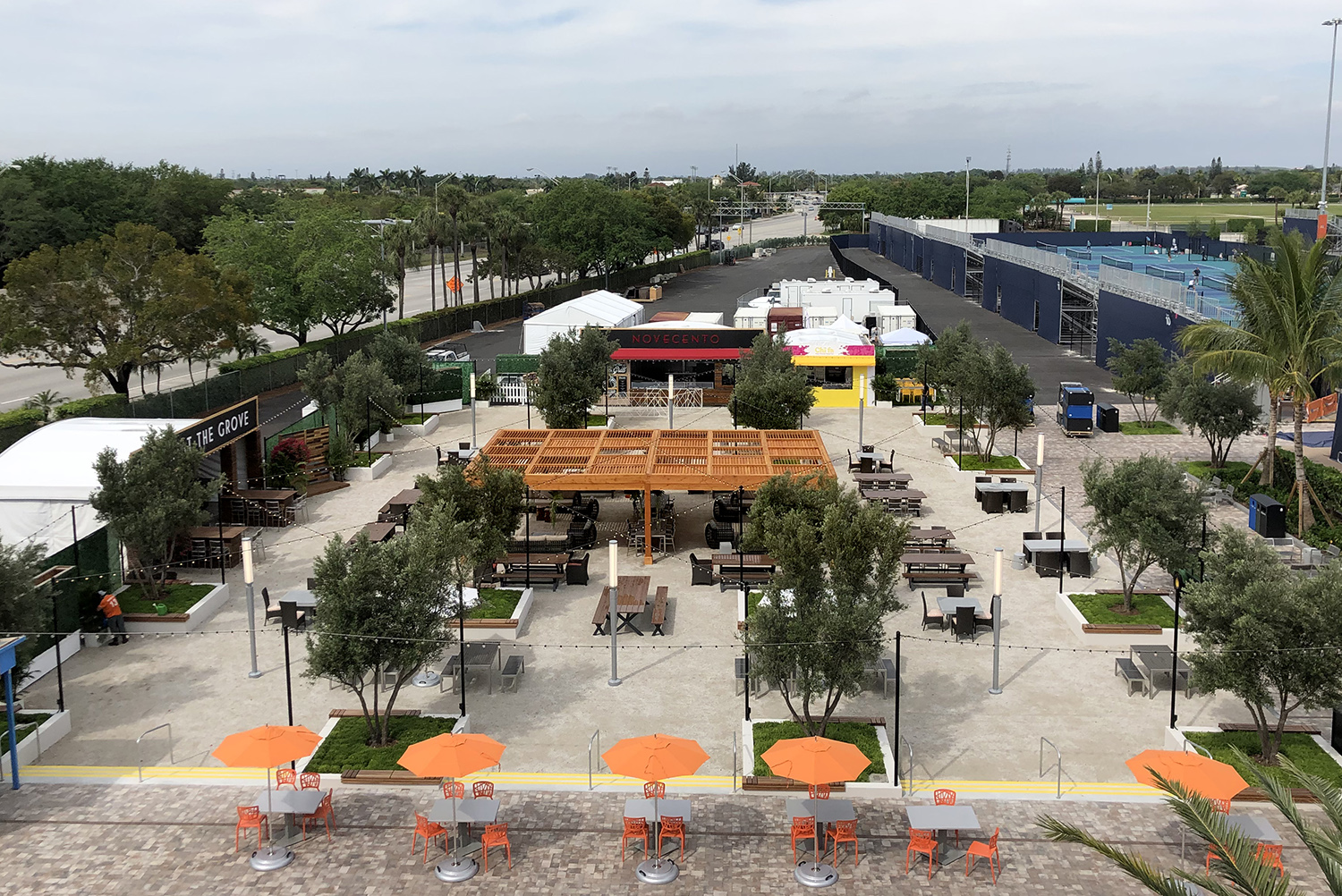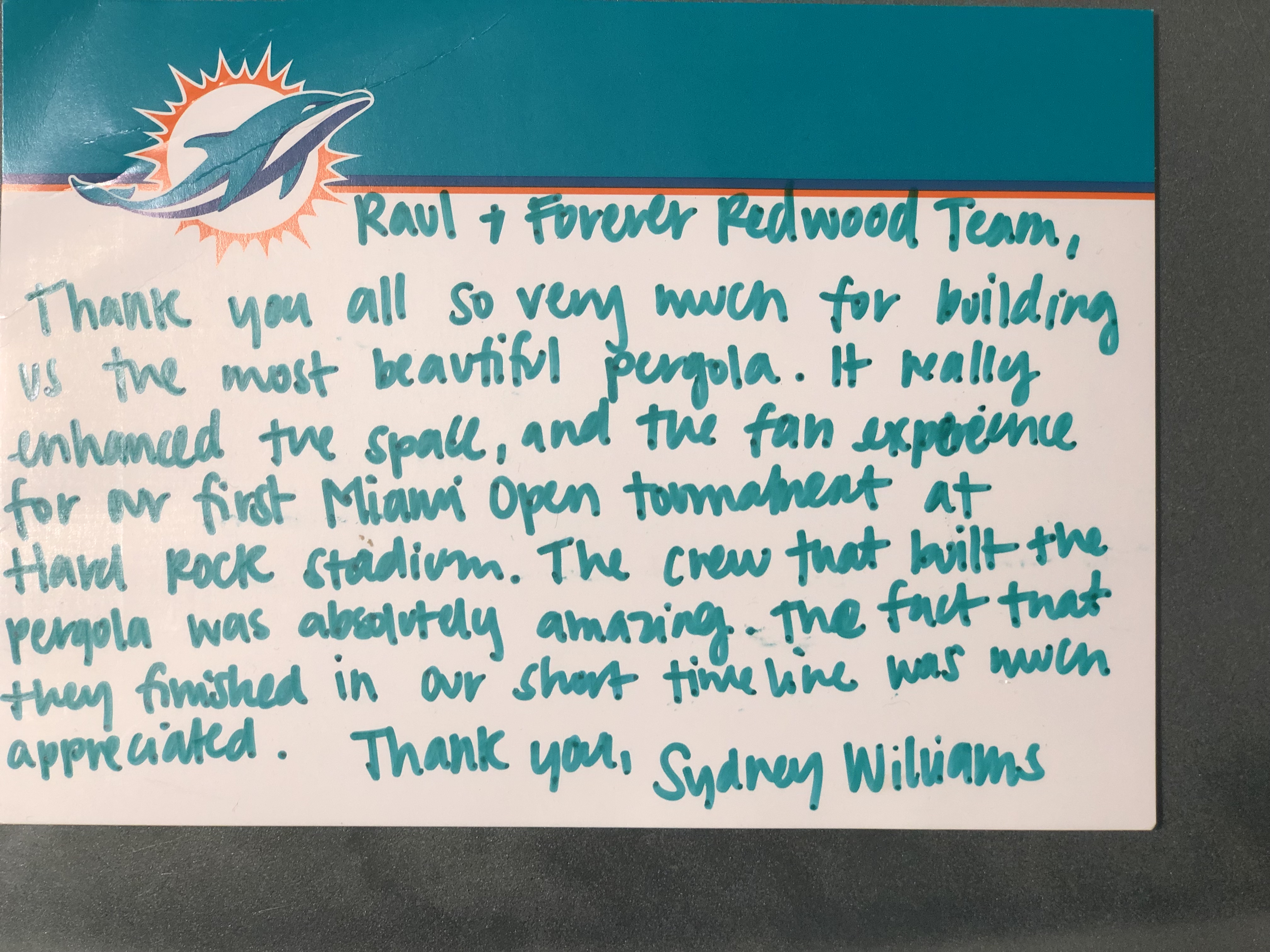 I'm thrilled
Good morning Raul,
This is after 2 days of two old white guys working till about 3:30 in the afternoon cuz it's so effing hot here.
I'm thrilled beyond our expectations and so is Martina. We took these pictures this morning and I know we're facing East with the camera facing into the sun. Obviously, I'll take more of them were completed and I imagine we'll be speaking this winter about a table.
Cheers.
Tom. - Longs, SC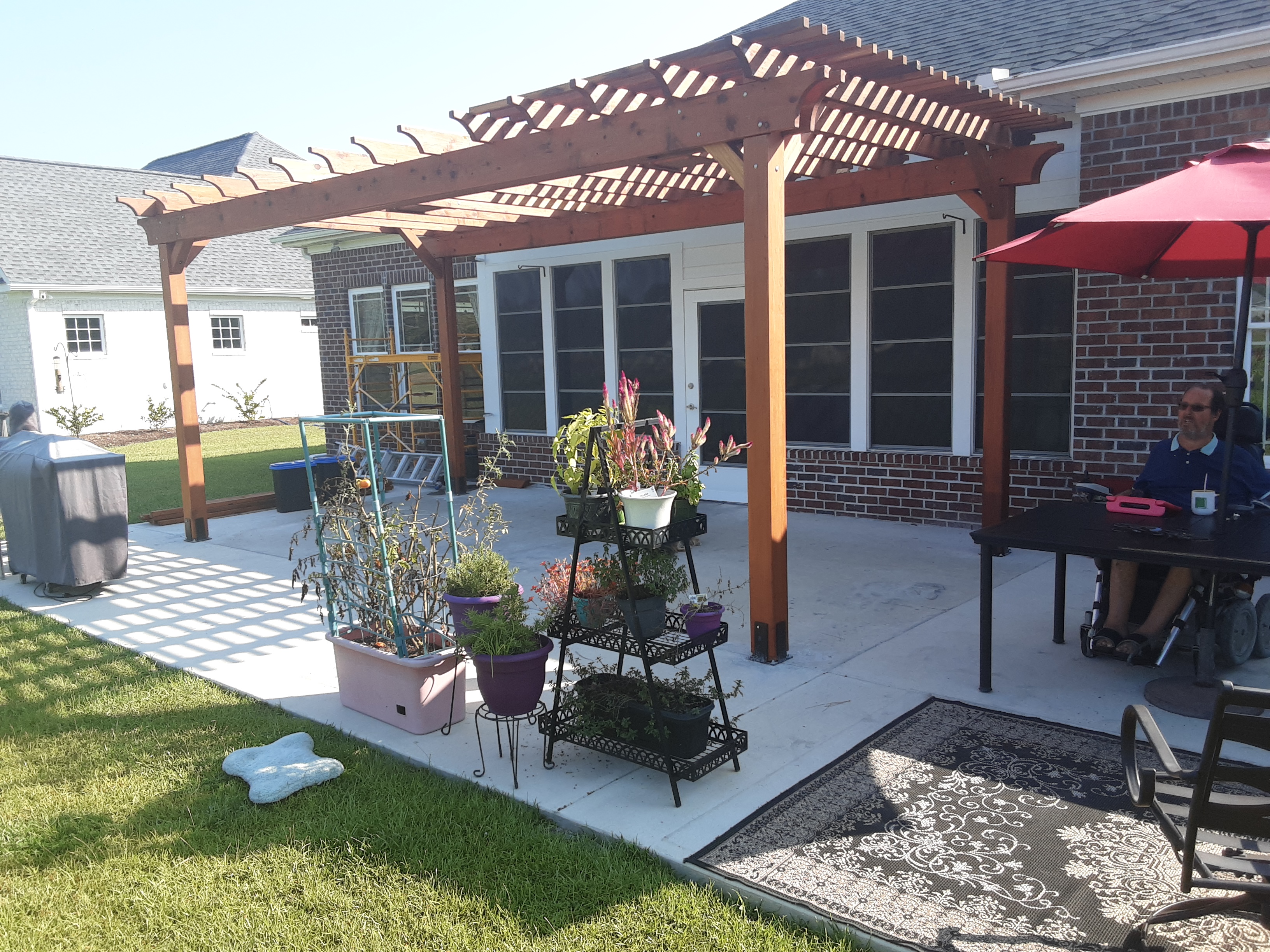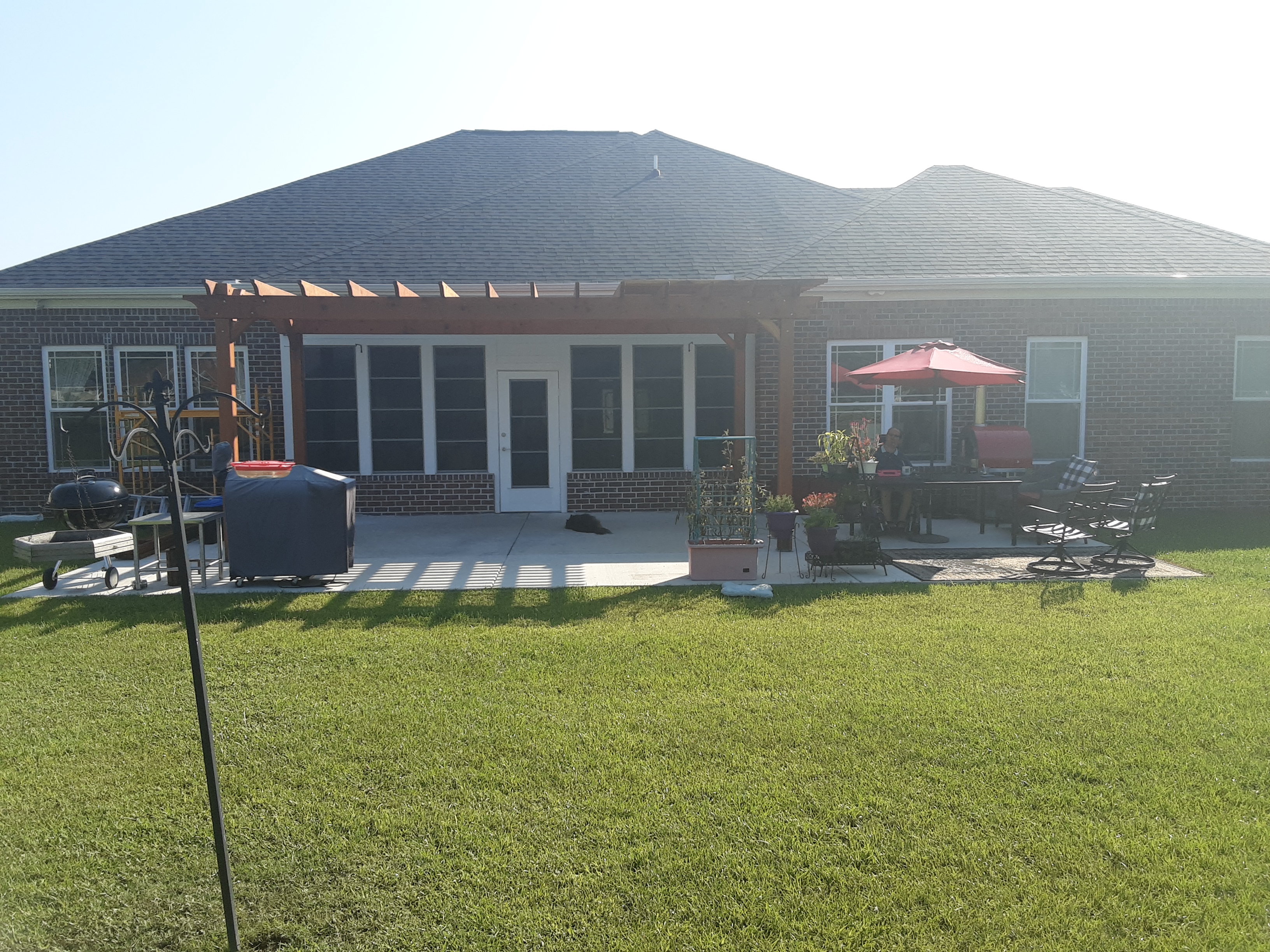 Thank you for your efforts with delivery of my table.
Dear Victor, Raul, and Forever Redwood Crew:
Thank you for your efforts with delivery of my table. It loves its new home
Deborah (Debbie) A. - Alton Bay, NH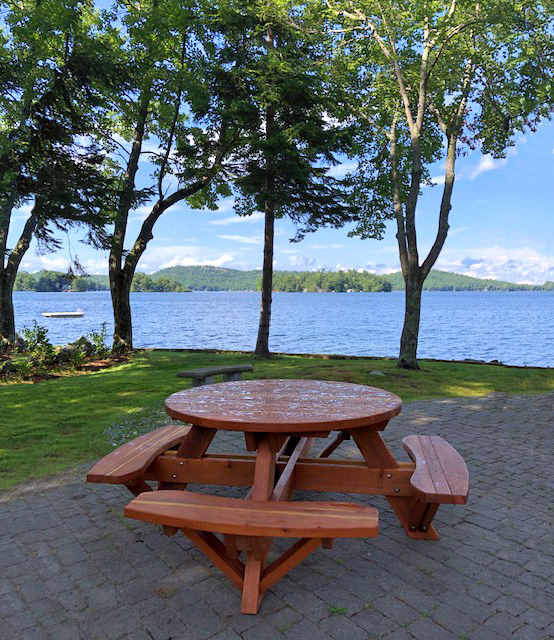 We continue to love our pergola
Dear Raul, Ricardo, Adan and the Forever Redwood family,
We continue to love our pergola and talk about your restorative practices with our students. The garden lab has been a huge success and grown even more with what it has to offer our students and staff. Attached are some new pictures that you are welcome to use. We think of you often and so appreciate all you did to make our pergola a reality. It is already keeping us cool and comfortable!
All our best,
Marykirk and the entire FDE school community
Mary C. - Leesburg, VA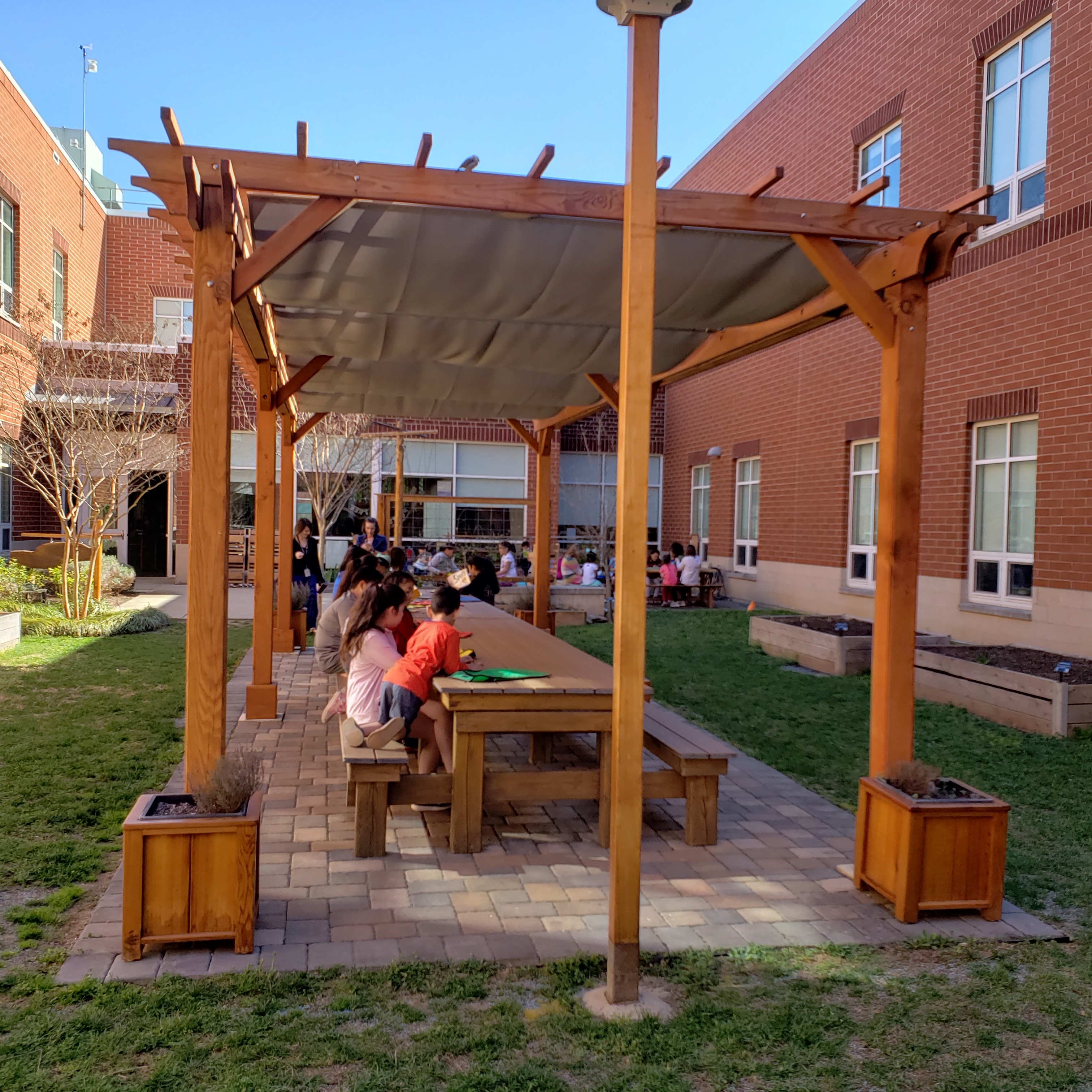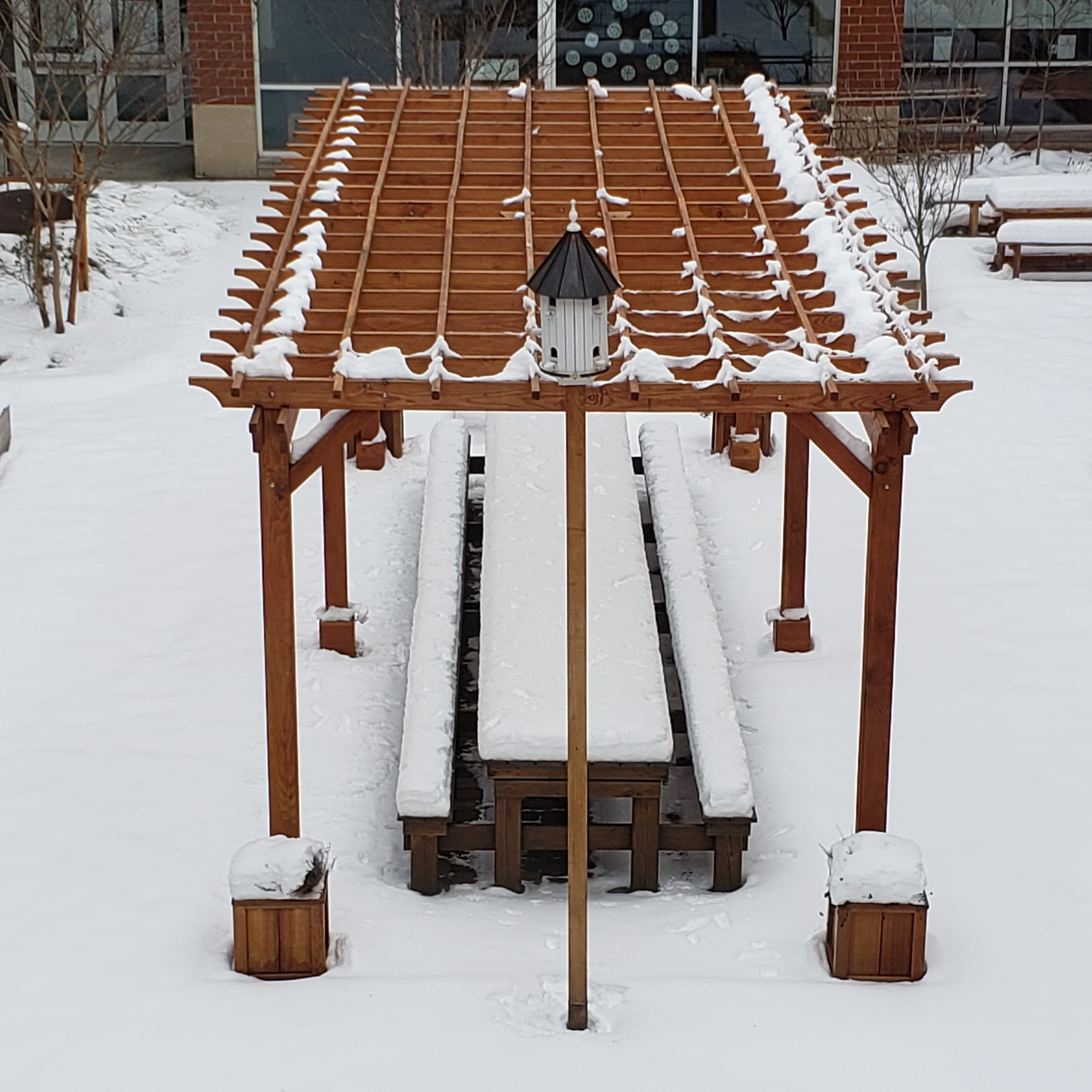 We love our Pavillion
Hi Raul
It all worked out great— the storms even worked in our favor. The crew worked very hard to do the install perfect.
We love our Pavillion and look forward to expanding it. Thanks for all your help.
JoAnn just told me that she likes going home to our Pavillion and sit out under the party lights.
Terry Lane - Kingsburg, CA.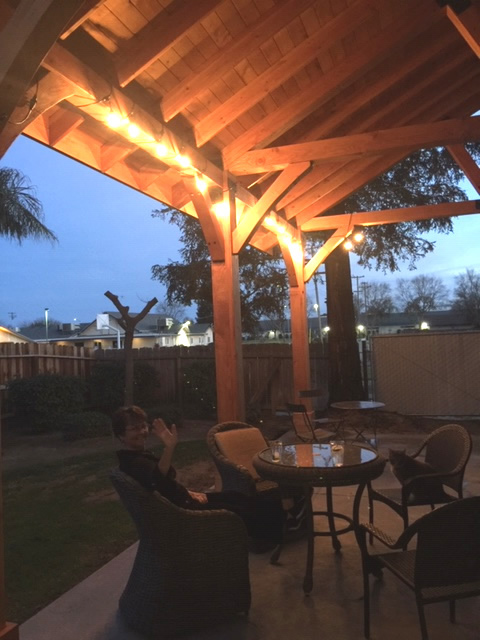 Everything arrived and it's beautiful !!
Hi Forever Redwood!
I just saw your email !
Everything arrived and it's beautiful !!
I cannot thank you all enough for your hard work and dedication to your craft !!
Rick Stern - Westin, FL.
We are thrilled.
Dear Forever Redwood,
The table has been delivered to a very happy home. Thank you so much. As you can see from the picture happy times have already begun around the new table.
Thank you to eveyone who had a hand in creating this table and getting it delivered.
We are thrilled.
All our best,
A very satisfied customer in Walnut Creek, CA.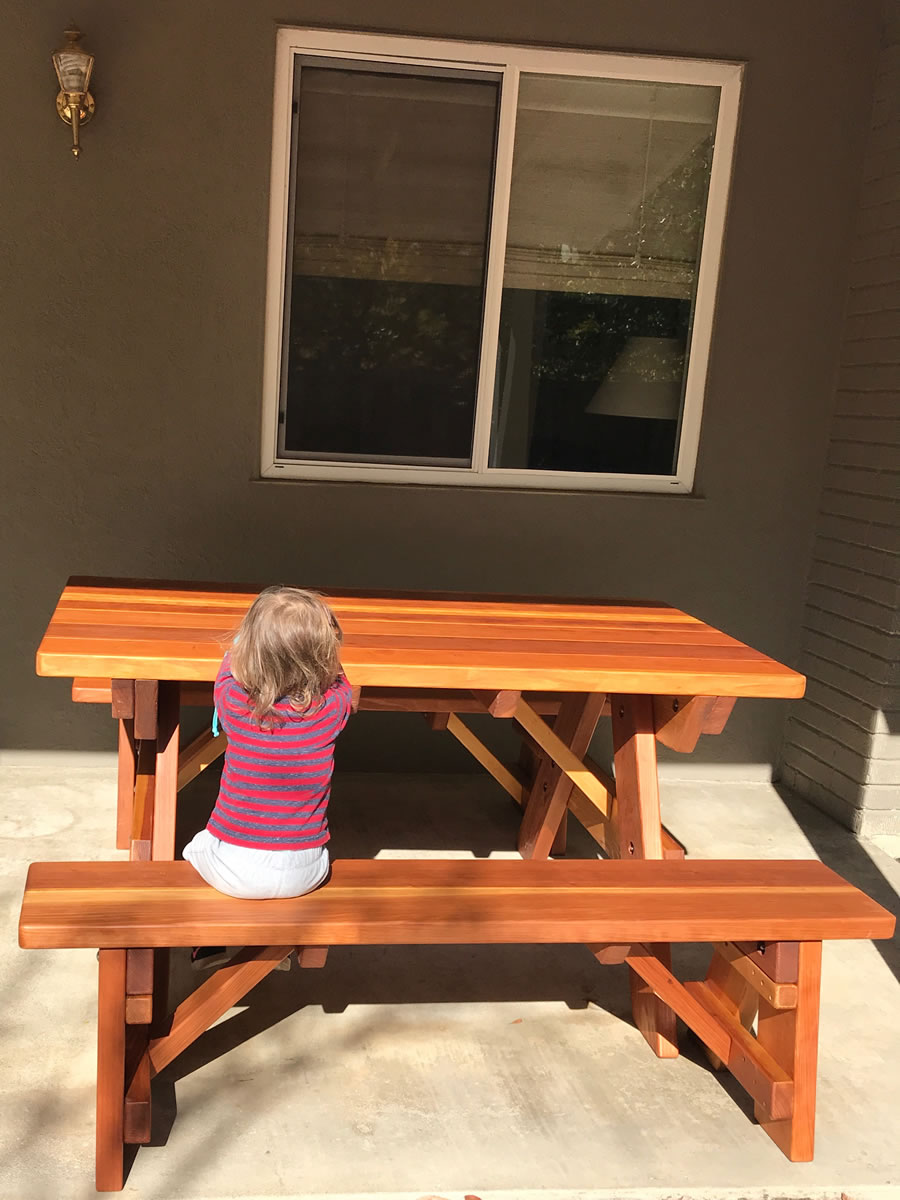 Pergolas can survive 2 hurricanes in the same month
Raul Comments:
We are not perfect, but our Pergolas can survive 2 hurricanes in the same month while not fully assembled yet!
Hi Raul,
Finally got this up a few weeks ago.
We put up the six legs freestanding in their boots as we added the 4 side rails, next three curved ribs (front, middle , then rear), then the corner and center trusses and then secured the legs in the boots. This allowed for minor adjustments to be made while assembling the beams. System was almost perfectly vertical when legs were secured. Then the first major hurricane hit with 80 mph winds and 31 inches of water. All the packages on the ground were soaked as the tarps were blown off and some warping occurred.
Then we put up the rest of the curved ribs. Had to make minor widening of some of the notches to fit the top struts and used large clamps to hold the lattice panels and struts in place to overcome the warping. I still need to replace the 10 inch carriage bolts with the 9" on the trusses to clean up the product.
Then the second hurricane hit with 50 mph winds and another 20 inches of water and absolutely no problems. We were within the path of the eyes on both storms.
Pix enclosed. What made it fun was constructing over the top of the swim spa.
I would recommend separating the hardware into marked packages by type. It would be great if you could incorporate the numbering of the parts in correlation to the diagrams in the installation directions and as I said before, numbering the legs and indicate on numbers on the diagram for the self-installers would be of additional help.
Pergola looks great and we have received several compliments.
Raul --Thanks,
Dave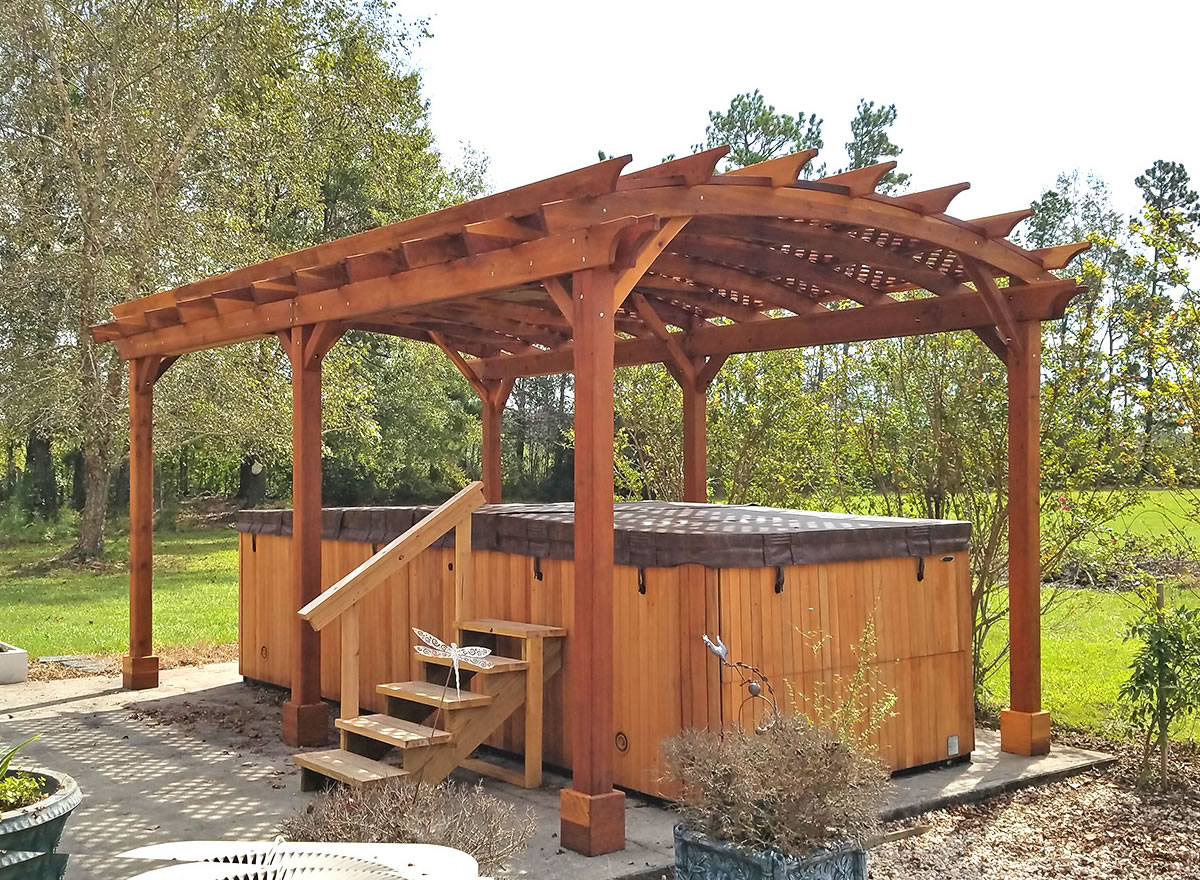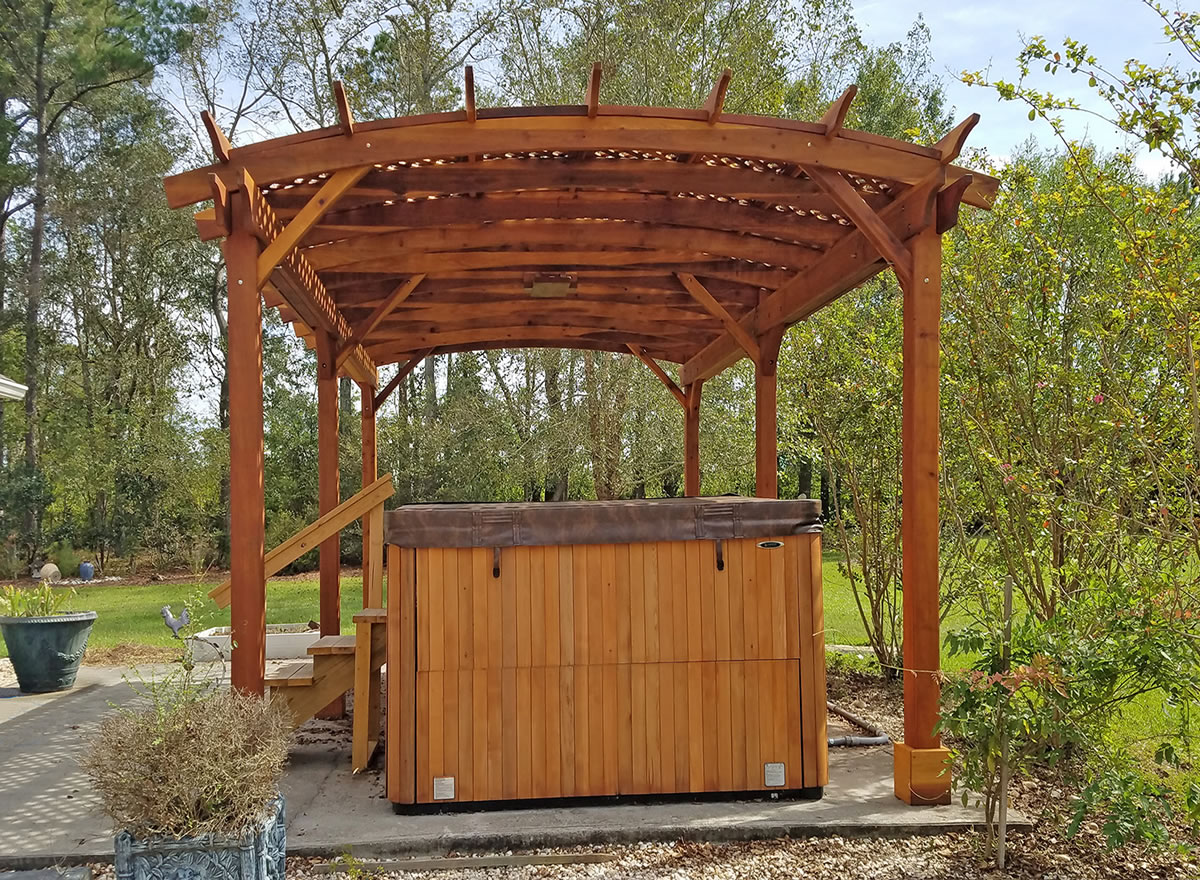 New Life
Raul Comments:
The original order for Sheldon's Monkey Bars, 10 years later, after his kid's had outgrown them, Sheldon sent this email and photos...
Raul Comments:
For these bars
Broke down and loaded much more easily than I expected... rebuilt this morning at my friends house, his 2 year old twins attacked them and were doing hanging leg lifts with no training whatsoever...
Sheldon N. -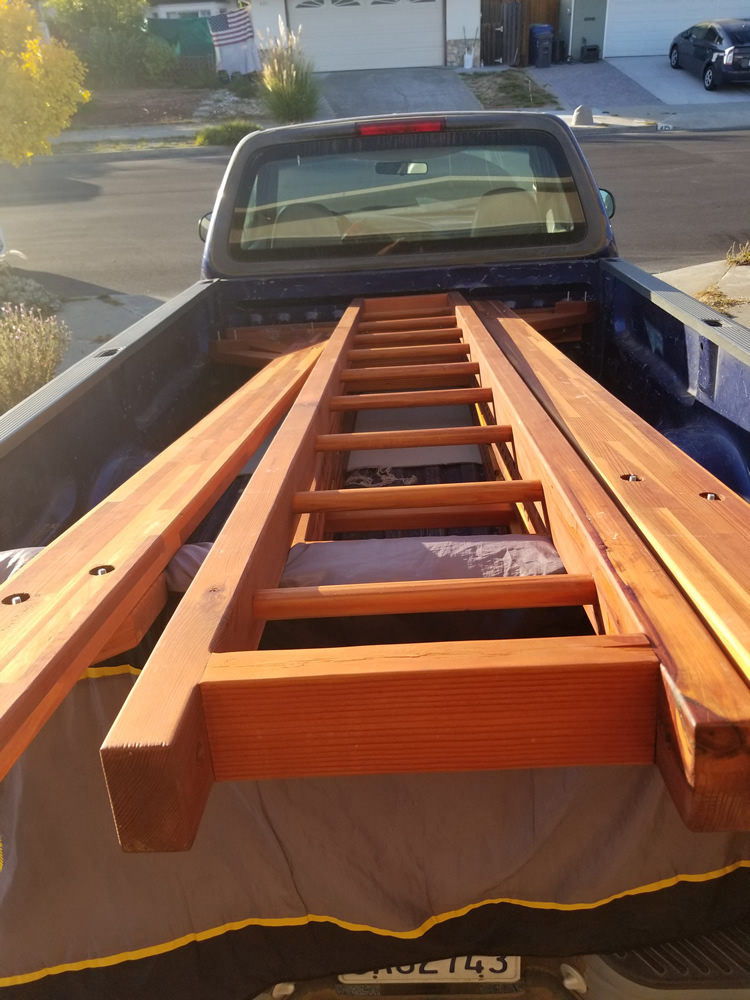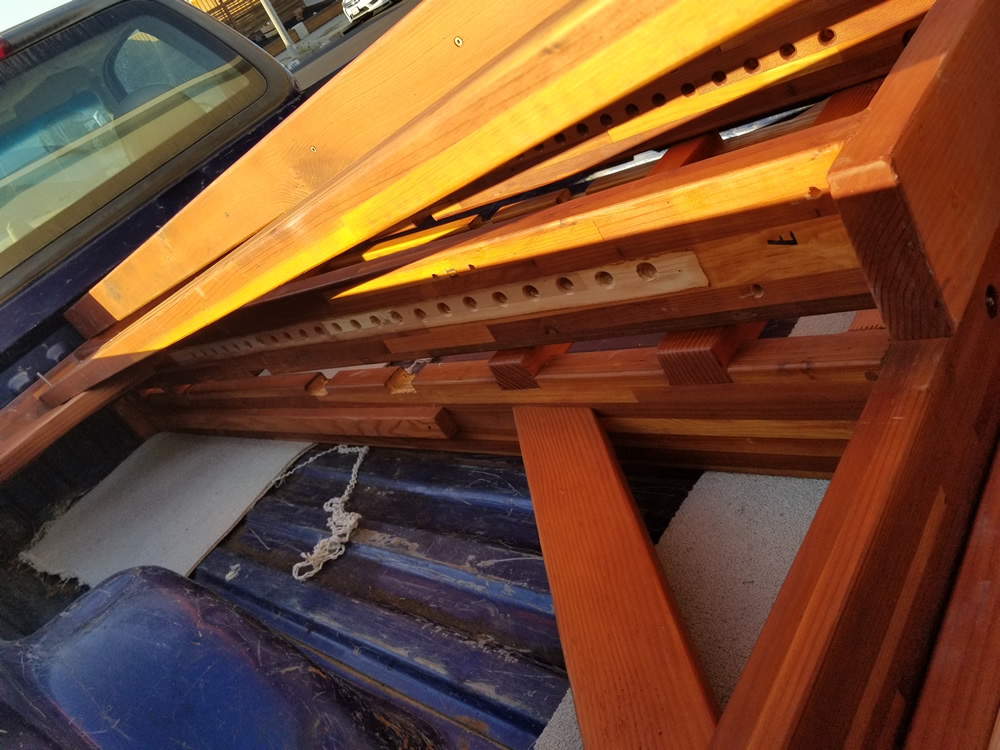 Laguna de Santa Rosa Letter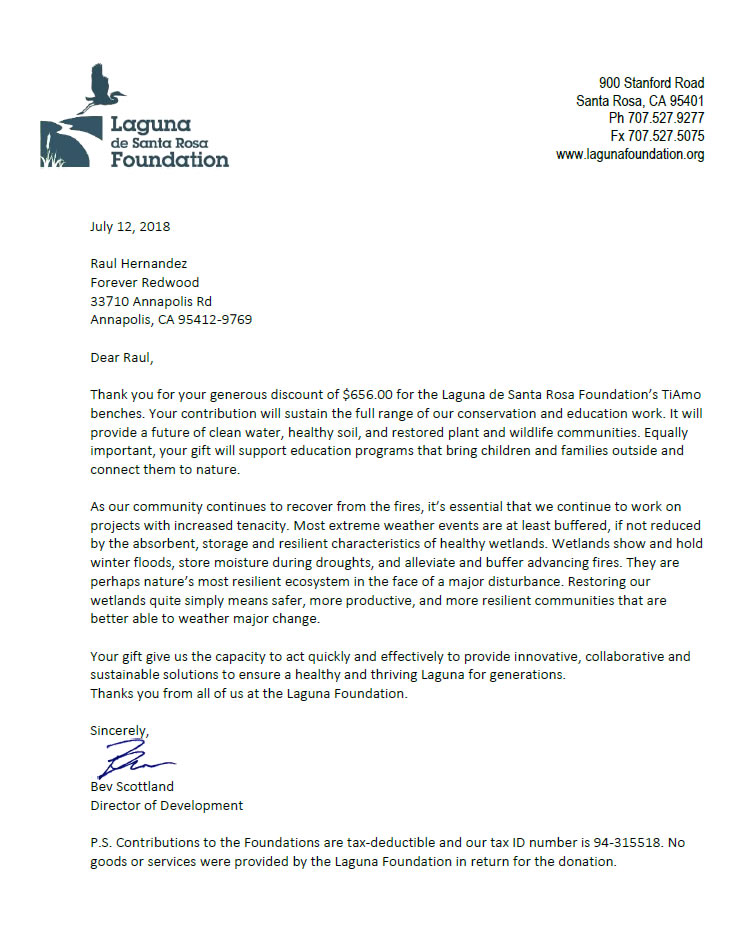 The Gazebo was a big hit at our summer party.
Thank you both for working through many obstacles to gel this project completed. The Gazebo was a big hit at our summer party. We love the functionality of the sliding panels, and the panoramic views it affords. The wood coloration is beautiful. Attached are a number of pictures throughout the project, and during its inaugural use by my band for the party. Below are some things I thought may be useful for you for future projects.
Your feedback and advice are key. As a new consumer your suggestions and ideas as we designed and selected a structure were a primary reason why we chose Forever Redwood. Thank you for that and for your willingness to be accessible to us throughout.
Communication in the larger scale was a challenge. We've already covered the project delays. Little things like a phone call telling us that no one was coming out the day you realized that a crew of two was not sufficient to lift the roof panels would have been appreciated. Instead I had to call Adan in the afternoon, asking why no one was working. Also, having at least one person on any crew who can speak English well would be very helpful.
Project time estimation and preparation. I recognize that this was a slightly larger model than your team had built before. However it was originally estimated at 2 - 2 1/2 days, and ended up being a full 7. And the crew sent up here seemed inexperienced and ill-prepared for the task. They were headed out on their first Home Depot run after being on site for barely an hour. A little prep on the front end could have prevented this I think.
The doors. I am making a notched board to lay down in the tracks to keep the doors from sliding around when the Gazebo is closed up. This will keep weather and animals out. You might consider offering such a device with this model in the future. I can send you pictures of my solution when it's done if you like.
Workmanship was good, but there were gaps. I've included some pics showing how the doors were not squared to the frame, and some joints were not clean. These are not major issues, but just wanted you guys to have all the feedback.
Overall we are very happy with the structure. It has greatly enhanced the use of our back yard. Thank you for all of your work.
Sarah & Garret R. - Salem, OR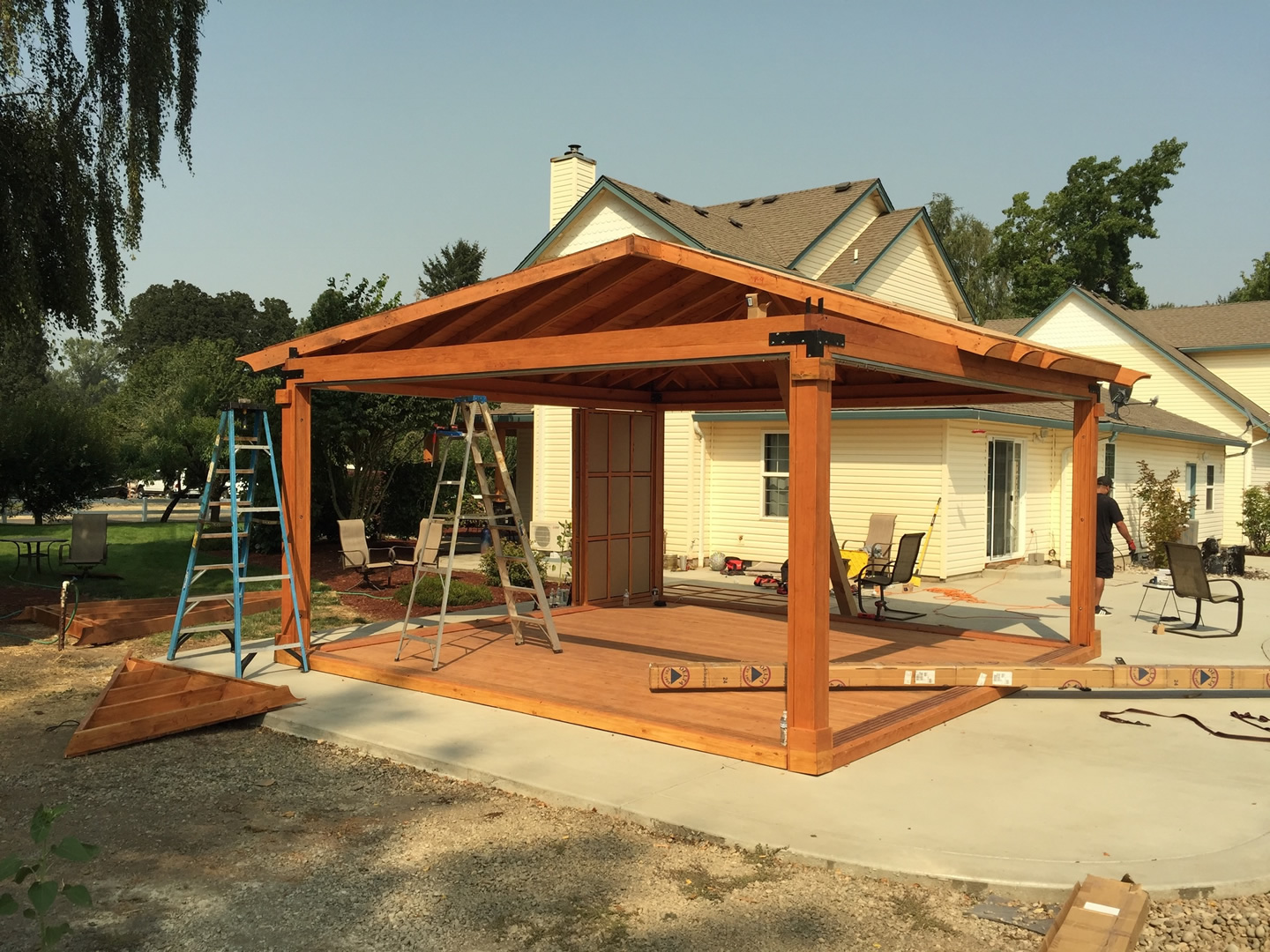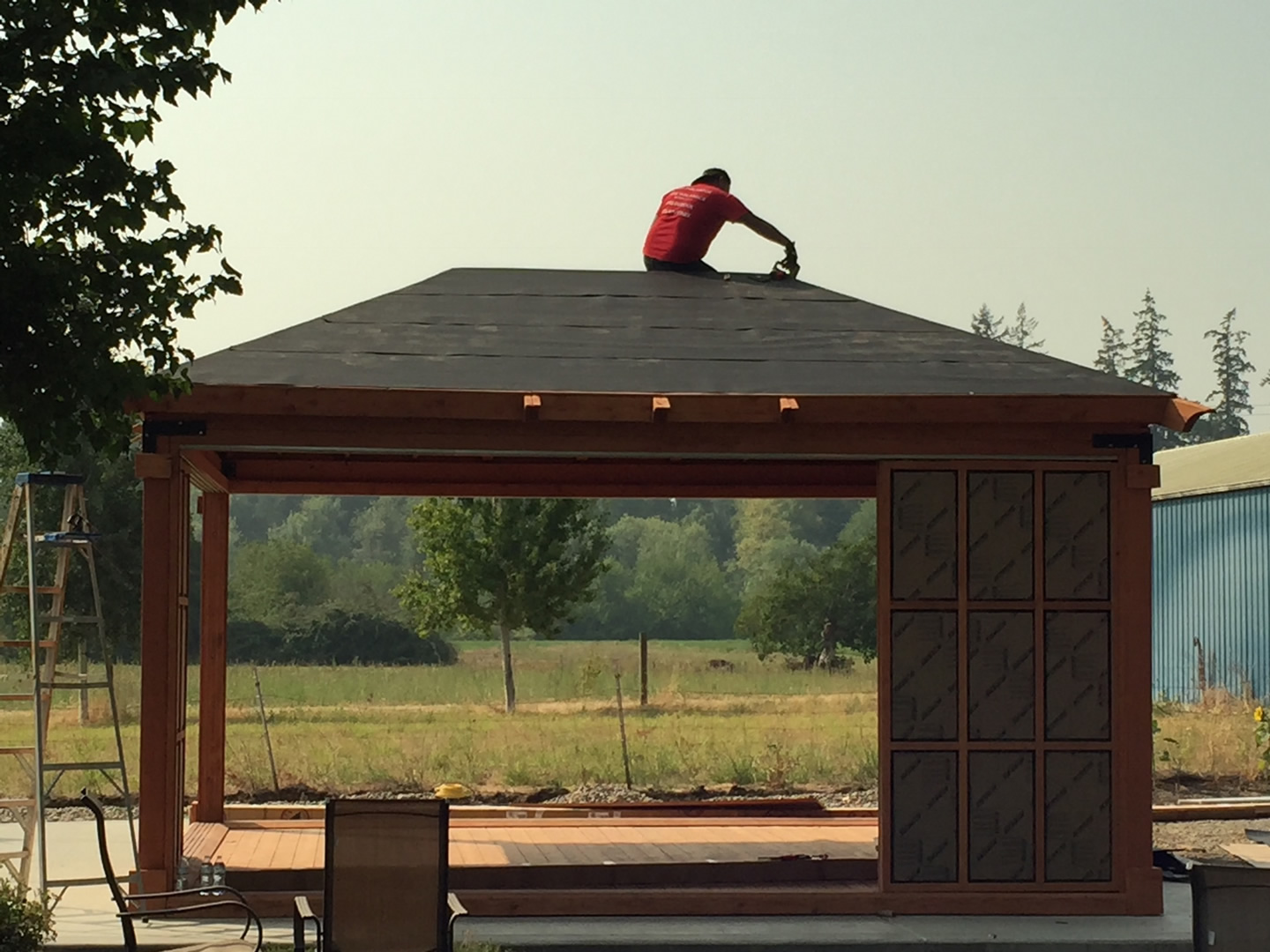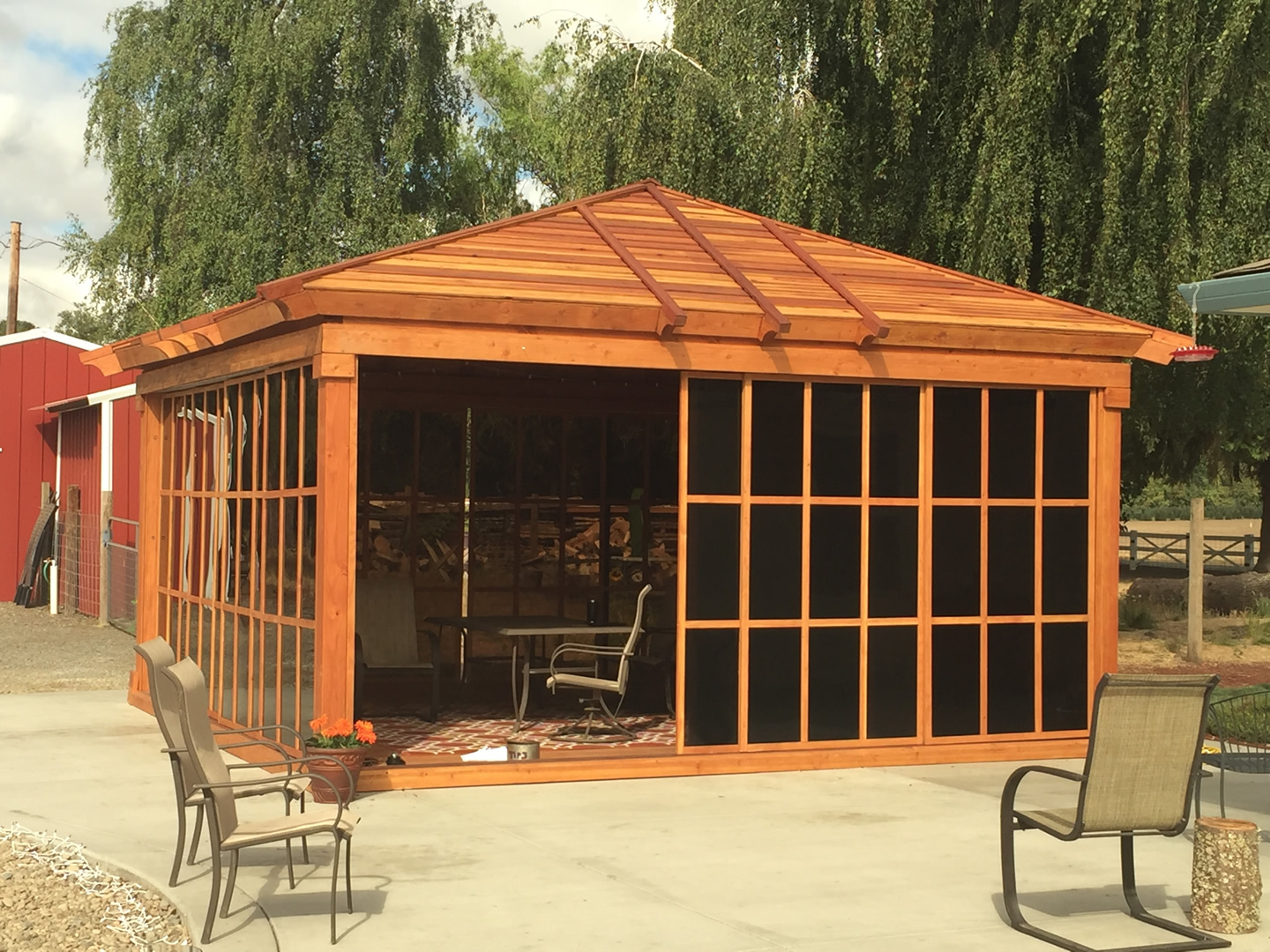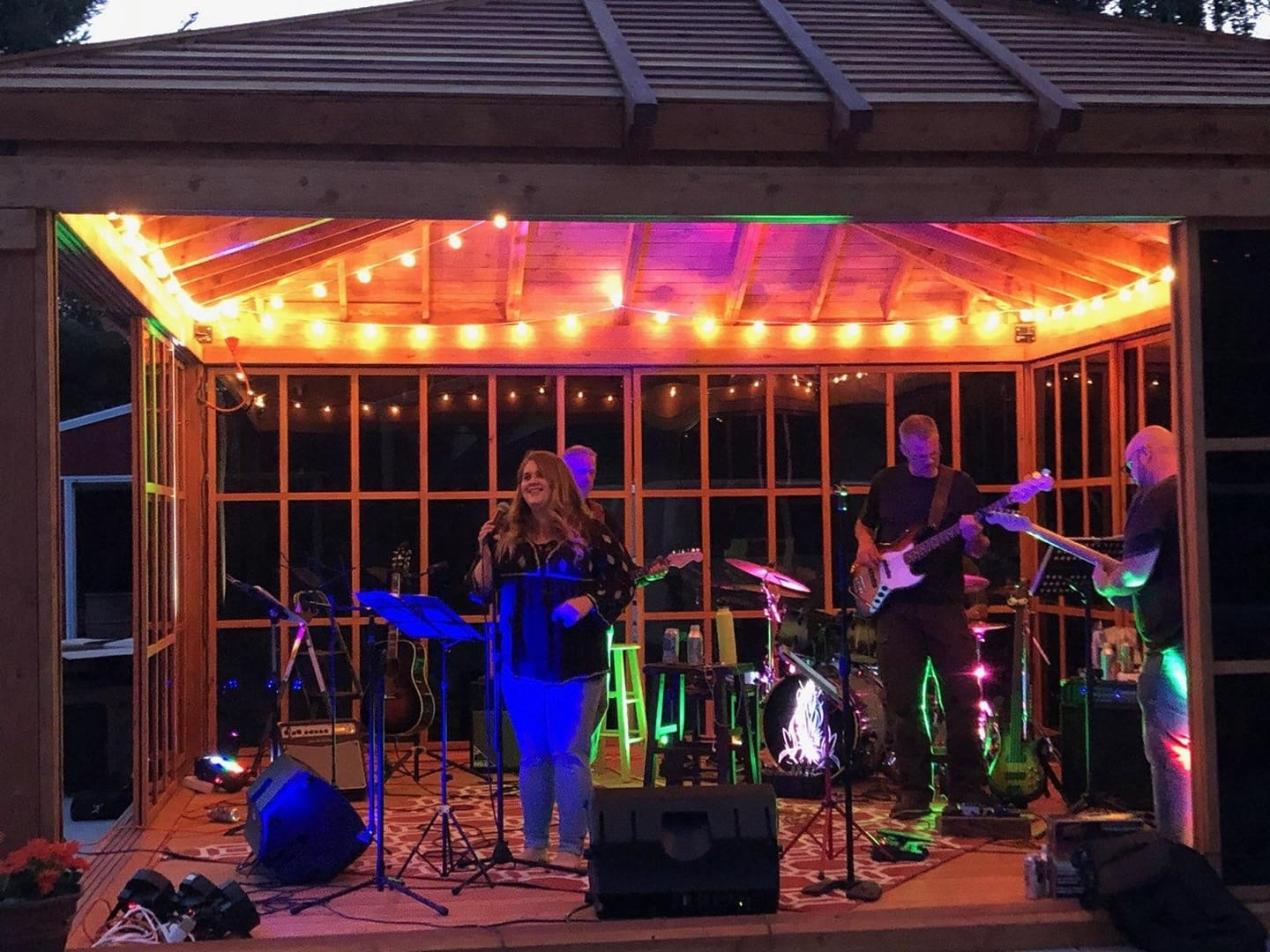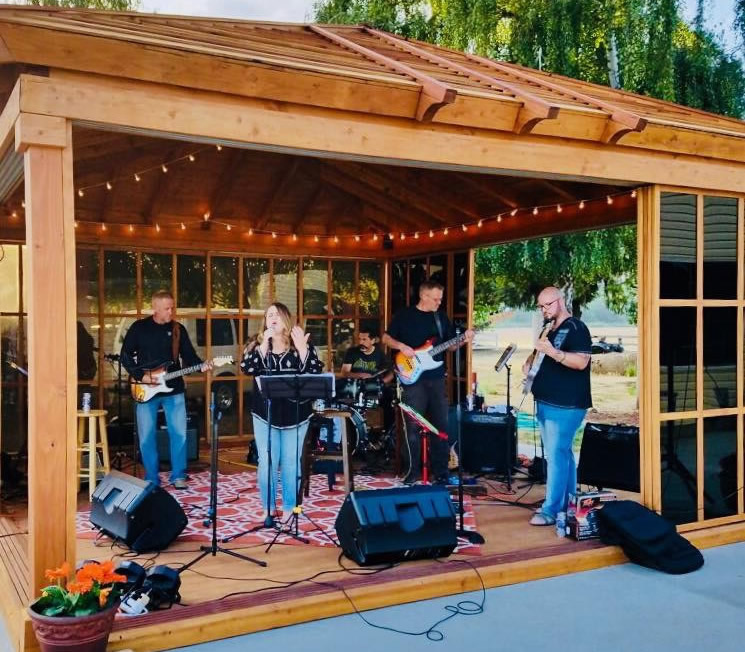 We are so proud to be partners with you and hope to stay in touch
Dear Raul, Ricardo, Adan, and all the staff from Forever Redwood,
We want to thank you for all you have done to make our new pergola possible. Our students, parents, staff, and community were speechless when they saw the pergola complete. The pergola is beautiful and stands proudly in the center of the garden lab. Attached is a picture of the pergola with more pictures to come. We are so proud to be partners with you and hope to stay in touch.
With deep appreciation,
Marykirk and the entire FDE school community
Mary C. - Leesburg, VA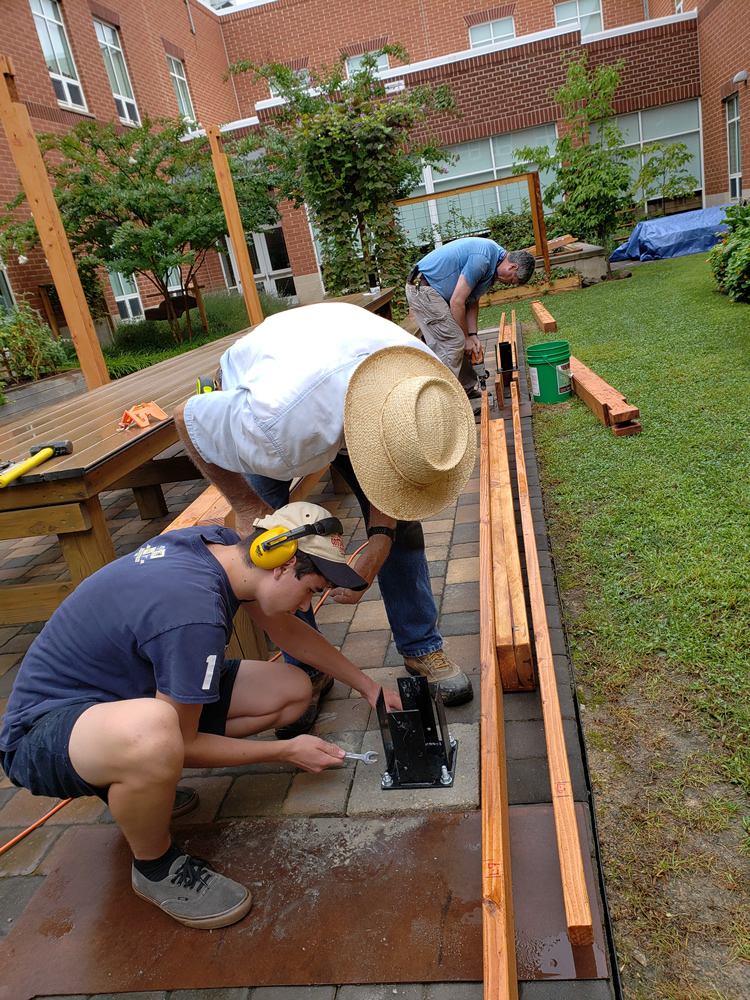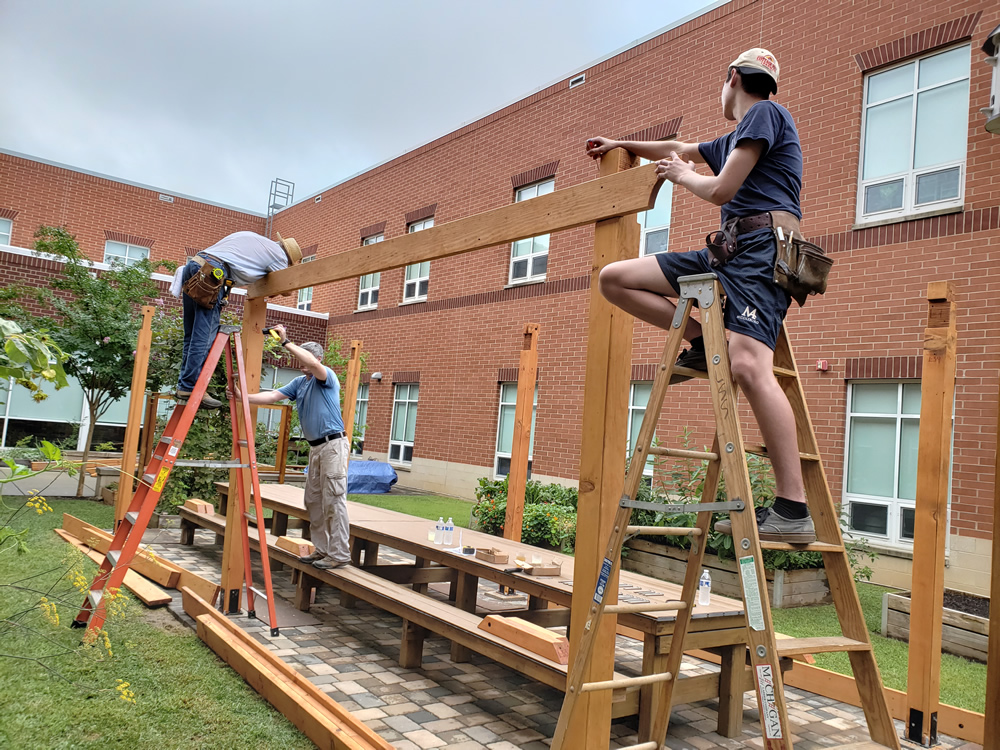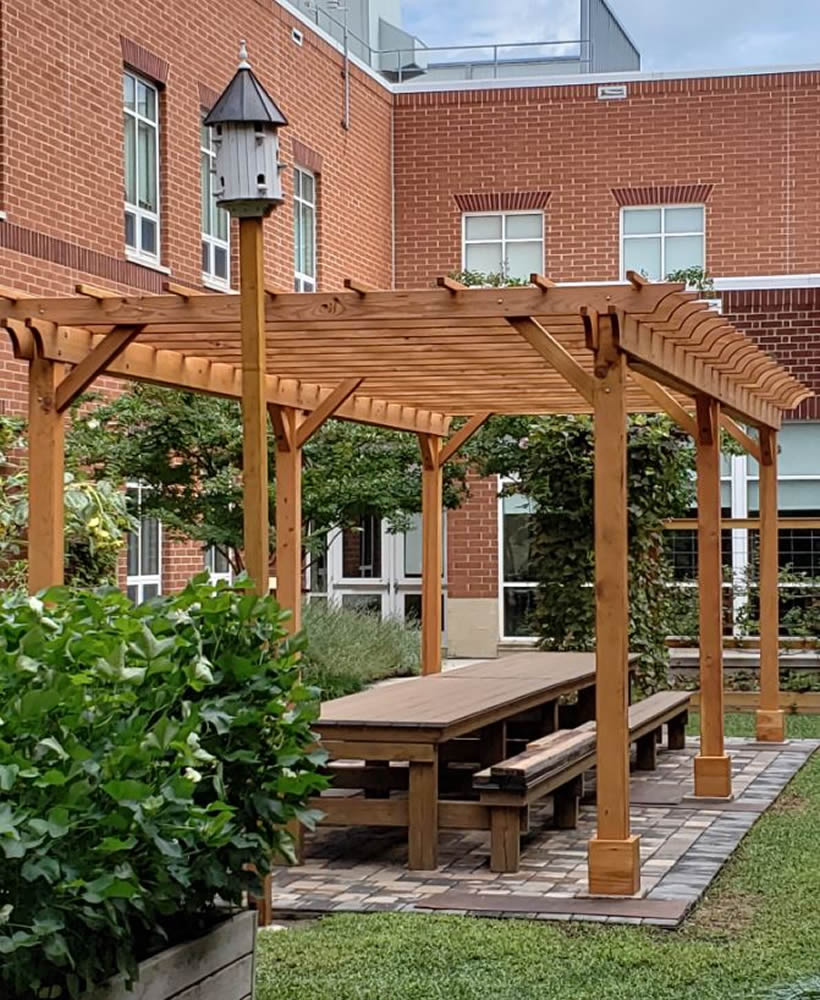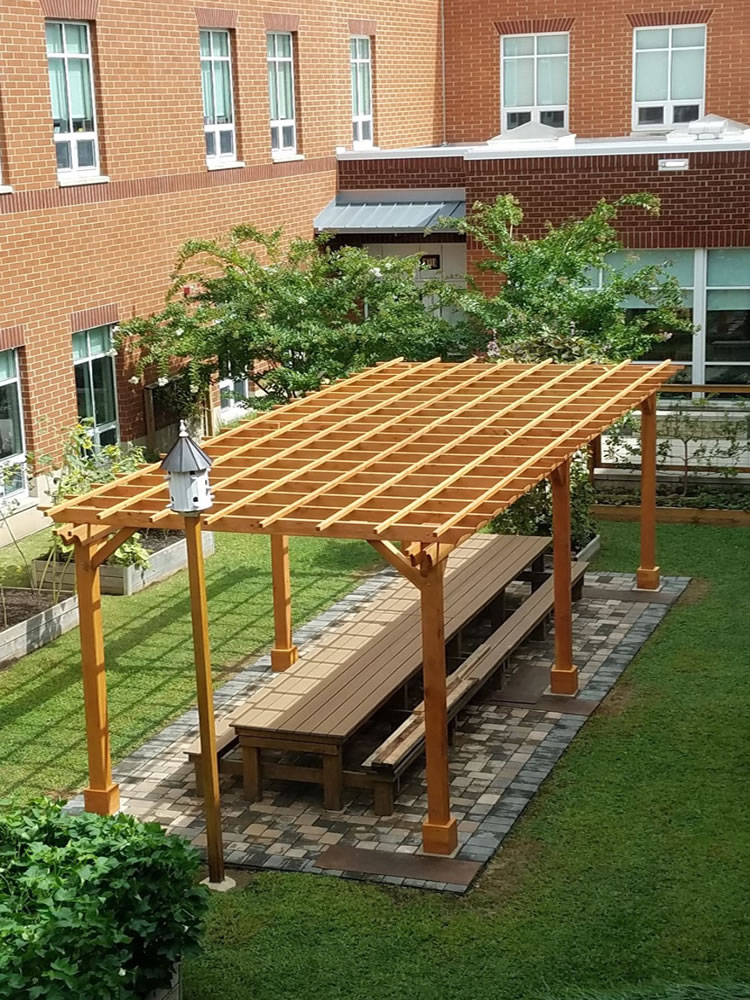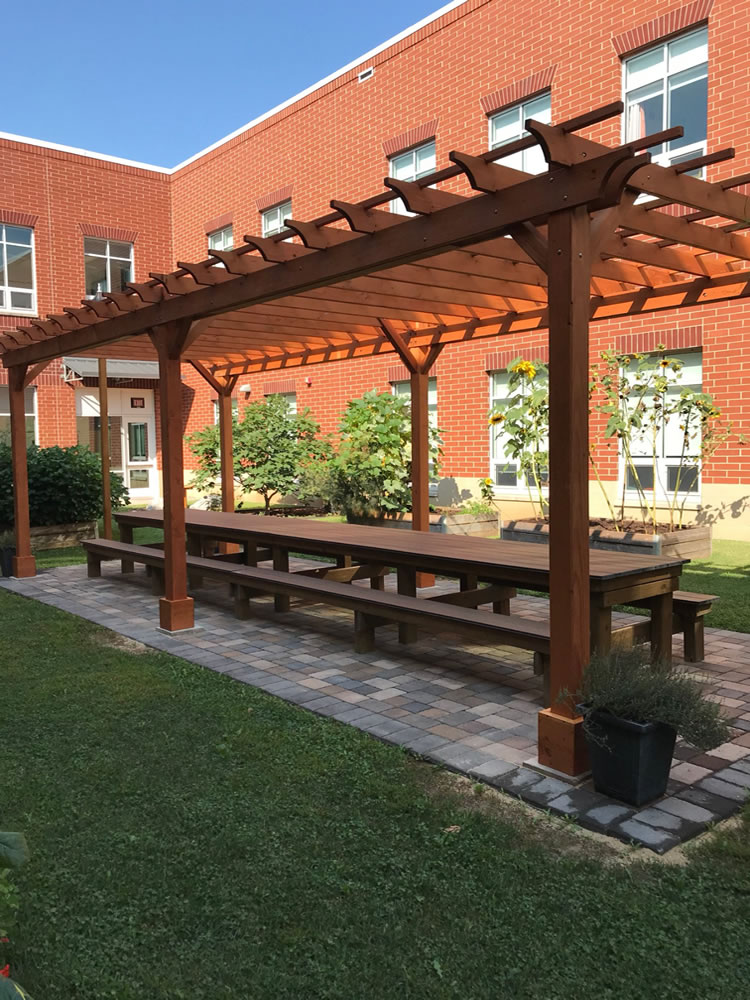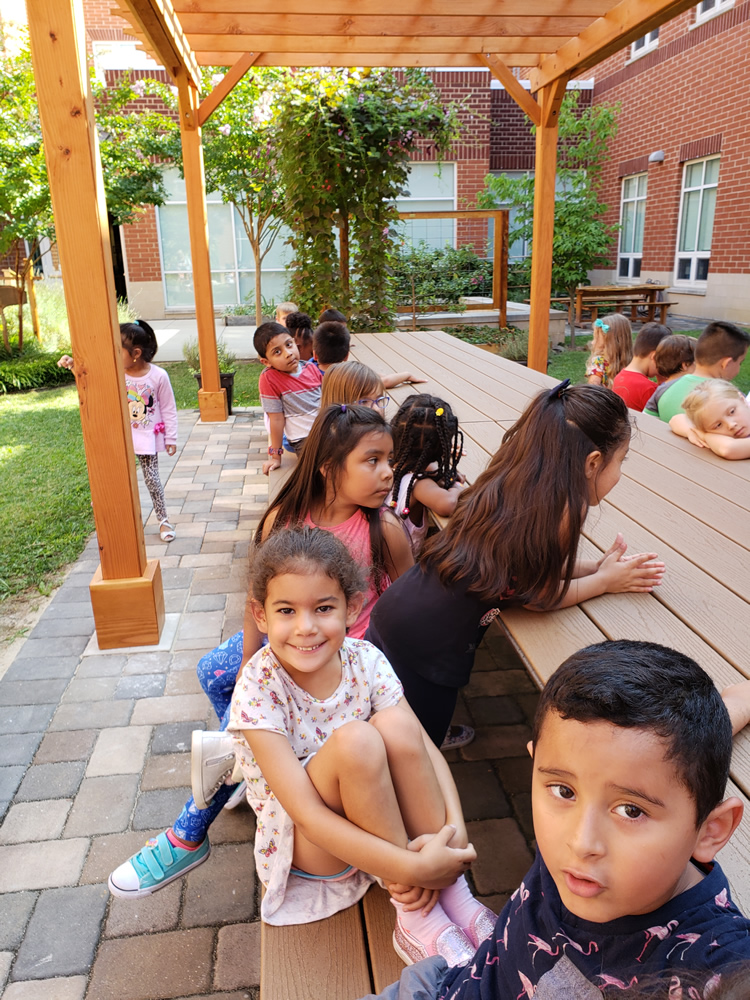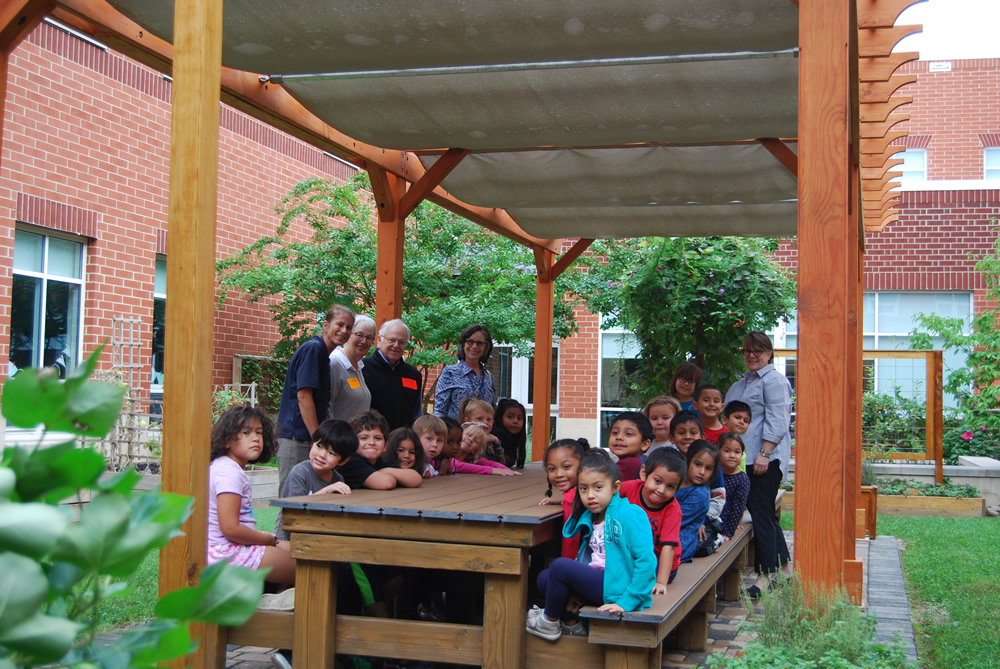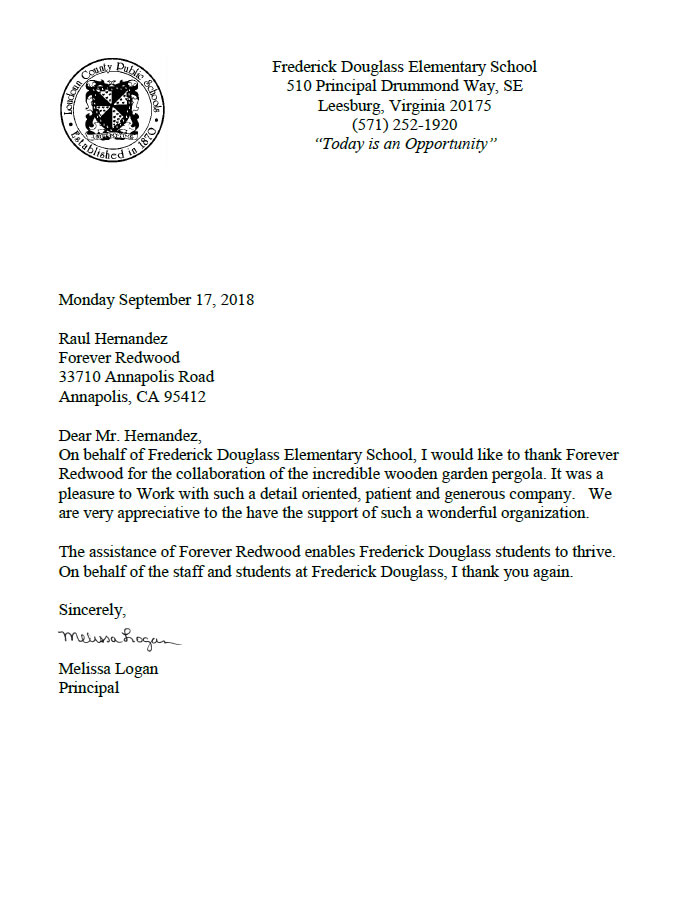 [Note to our customers: We're always thrilled to receive photos of our work in their natural habitat—your home or business. We take as much pride in our work as we hope you take pleasure in it! If you have any photos to share, please send them and we'll post them on the site. Thank you for your support.]