(R)evolution in the Redwoods by Jason Grant
Jason Grant was the main driver behind the Eco Wood business in Berkeley in the 1990's. A great guy. His 45 minute presentation is a solid educational piece on the Redwoods past, present and its current history told from the point of view of man's use of it. The focus is on education and sustainability and the future.
Forever Redwood is in it briefly and Jason has said it is fine for us to use it both as a Social Media post.
Education is the key to improving forestry and Jason's piece is a solid starting point that gives a balanced perspective.
---
Best of Houzz 2017


Forever Redwood of Annapolis, CA
Awarded Best Of Houzz 2017

Over 40 Million Monthly Unique Users Nominated Forever Redwood in the Best Home Building,
Remodeling and Design Professionals Category in North America

Annapolis, CA, January 18, 2017 – Forever Redwoodof Annapolis CA has won "Best Of Customer Service" on Houzz®, the leading platform for home remodeling and design. The "Forever Redwood is committed to growing and protecting Redwood Forests by utilizing the proceeds from product sales to fund restoration efforts. Their slogan is: From the forest, For the forest, since 1995."
The Best Of Houzz is awarded annually in three categories: Design, Customer Service and Photography. Design award winners' work was the most popular among the more than 40 million monthly users on Houzz. Customer Service honors are based on several factors, including the number and quality of client reviews a professional received in 2016. Architecture and interior design photographers whose images were most popular are recognized with the Photography award. A "Best Of Houzz 2017" badge will appear on winners' profiles, as a sign of their commitment to excellence. These badges help homeowners identify popular and top-rated home professionals in every metro area on Houzz.
"We have a dedicated staff of design and carpentry professionals with over 20 years experience. From our standard production items to custom shade structures, if you can dream it, we can build it for you. On behalf of all our wonderful customers, we want to thank Houzz for this recognition". - Raul Hernandez, CEO of Forever Redwood.
"We're so pleased to award Best of Houzz 2017 to this incredible group of talented and customer-focused professionals," said Liza Hausman, vice president of Industry Marketing for Houzz. "Each of these businesses was singled out for recognition by our community of homeowners and design enthusiasts for helping to turn their home improvement dreams into reality."
Follow Forever Redwood on Houzz

About Best of Houzz 2017 Award – Customer Service Category
Forever Redwood was founded in 1995 to restore and manage forestland that truly allows the forest to flourish over time while yielding a conservative amount of high quality timber to fund the restoration. The Forever Redwood furniture is built with this lumber and funds the restoration work entirely. We work to excel beyond our forestry work with our customers via our experienced and highly motivated carpentry, design and customer service teams.

About Houzz
Houzz is the leading platform for home remodeling and design, providing people with everything they need to improve their homes from start to finish – online or from a mobile device. From decorating a small room to building a custom home and everything in between, Houzz connects millions of homeowners, home design enthusiasts and home improvement professionals across the country and around the world. With the largest residential design database in the world and a vibrant community empowered by technology, Houzz is the easiest way for people to find inspiration, get advice, buy products and hire the professionals they need to help turn their ideas into reality. Headquartered in Palo Alto, CA, Houzz also has international offices in London, Berlin, Sydney, Moscow and Tokyo. Houzz and the Houzz logo are registered trademarks of Houzz Inc. worldwide. For more information, visit houzz.com.
---
Rio on the Hudson Olympic event
Forever Redwood built a 50' long pavilion for the Rio on the Hudson Olympic event on Pier 26 in Manhattan this past week. It was a rush job but we got it done the day before the Olympics began while others worked to build out the bar and cafe area underneath the pavilion. Below are a couple of video links talking about the event with our pavilion in the background used as the bar/cafe area with wide screen televisions.
---
Youtube Channel
Our new Youtube Channel is now open. Come visit us and see all the videos we have collected through our almost 20 years of history. From an introduction to our restoration forestry to the Redwood bench that President Obama gifted Chinese President Jinping and a funny video of how to assemble a table courtesy of Micah Woods, one of our clients.
Everyone can be part of the Forever Redwood Family. Send us your video with the stories you've had with our products and we will share them.
---
ATTU Island 1943
In 1943, American and Japanese forces fought for 20 days in Attu, Alaska. This U.S. Forest video conmemorates the sacrifices and shows the ceremony on the site overlooking the battle site that includes two Forever Redwood VA Benches built for the site.
---
Obama, China's Xi agree to work together
In late May, we received a phone call from the Office of Protocol at the U.S. State Department. To make a long story short, for symbolic reasons (Redwood only grows natively in the U.S. and in China), we were chosen to build a custom bench for President Obama to present as a gift to President Jinping of China. Many details went into it. from incorporating the number 8 into the design (because the Chinese believe it is an auspicious number) to exact engraving in both English and Chinese. It was a sprint job that had to be designed, edited, approved and installed in days. We got it done and it made the press Saturday June 8, 2013 when both Presidents stood before the bench and then sat in it for a symbolic photo. We are honored to have participated in this process and thank the State Department for their trust in us to get this done.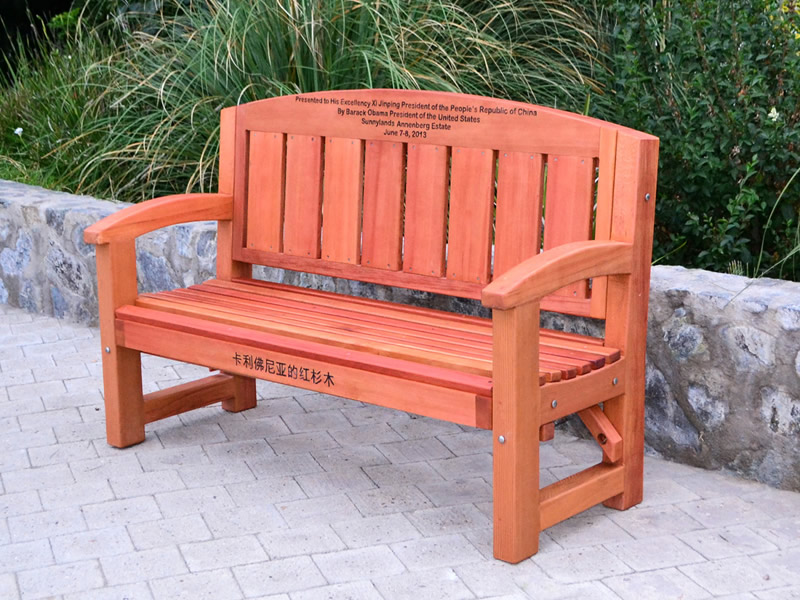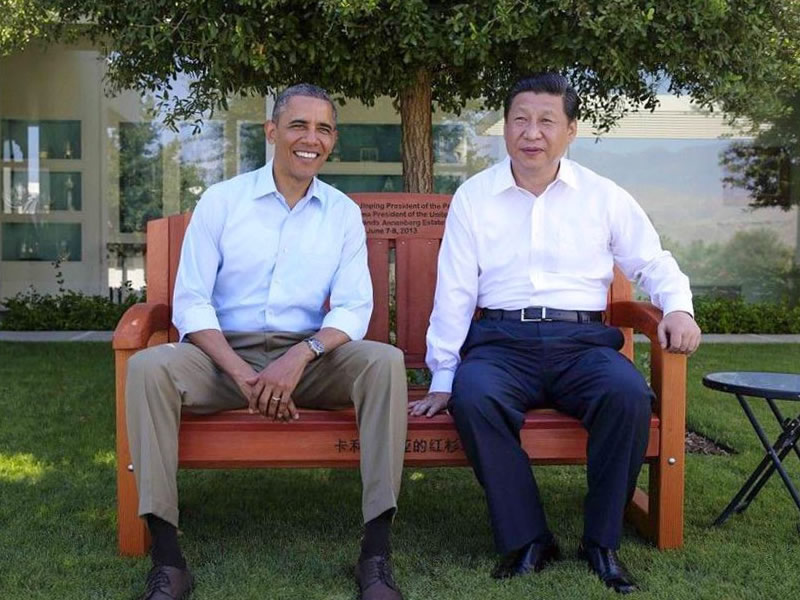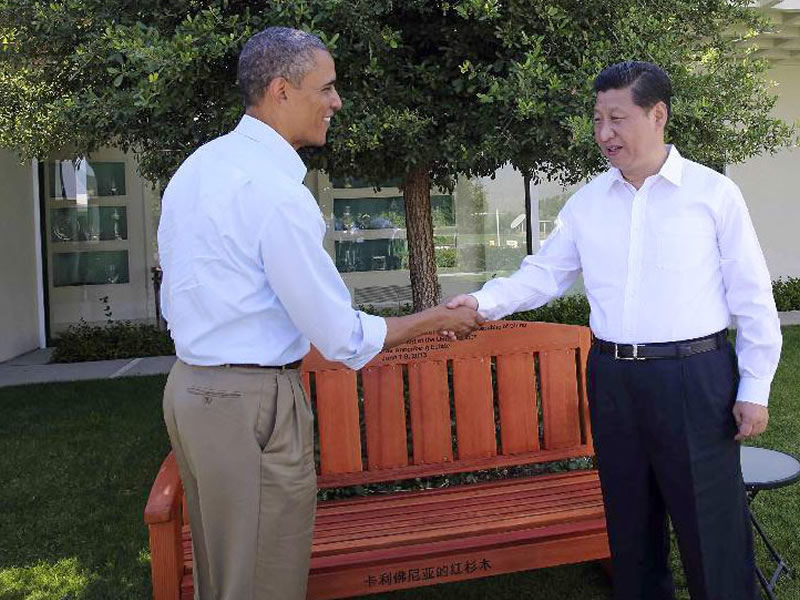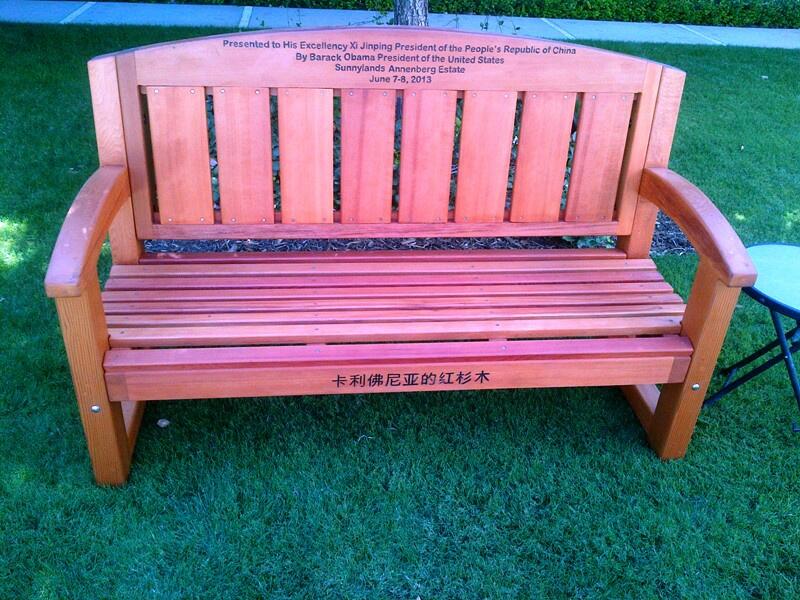 ---
White House Briefing for June 08 where the Forever Redwood Bench is mentioned between minutes 22 and 25 as a symbolic gift of a deepening relationship between the U.S. and China.
---
Here the news on CNN
---
Here the news on Poughkeepsie Journal
---
Letter from THE CHIEF OF PROTOCOL WASHINGTON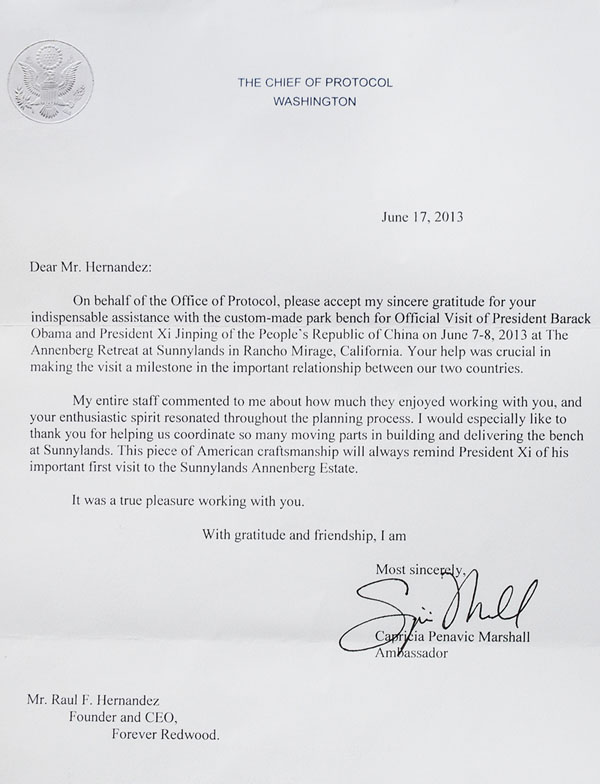 ---
THE BIG PICTURE
Recorded phone conversation between founder Raul Hernandez and author Marco Morelli in April 2011 discussing global warming and how Restoration Forestry can play a key part in cooling the earth.
Listen to Recorder Conversation.
---
Television Interview with Raul Hernandez - Founder and CEO
This video aired on KFTY Channel 50 in Sonoma County in August of 2004.
---
Newspaper and Magazine Coverage
| | |
| --- | --- |
| | Article:Fresh Plots Coming Soon, Comunity Garden Park enters the final phase of construction, 2017 |
| | Simpson Strong Tie Ad Campaign, 2017 |
| | Mother Earth News - Raul's Blog |
| | HGTV Magazine April, 2014 |
| | Food Network Magazine June, 2012 |
| | Waterfront Magazine Fall, 2006 |
| | North Bay Bohemian, December 8-14, 2004 |
| | Southern Accents Magazine March-April, 2003 |
| | Independent Coast Observer October 18, 2002 |
| | Sonoma Land Trust Newsletter Winter, 2001 |
| | Marin Independent Journal July 25, 2001 |
---
Radio Interview - Earth Matters
Raul's interview and call-in on Earth Matters, a public radio show. The interview was conducted in October 2008.
---

Raul D. Hernandez, CEO of Forever Redwood, reveals the truth behind "sustainable" forestry: it doesn't go far enough to save forests. He explains how restoration forestry is superior environmentally and essential to the future of old-growth forests.
(Vocus/PRWEB) March 09, 2011

May 10, 2011

After an overwhelming response to last year's customer photo contest, Restoration Forestry pioneers, Forever Redwood, announce their plans to hold annual contests promoting their mission to grow and protect Redwood forests.
(Vocus/PRWEB) August 09, 2012

Not having backyard or back patio? Don't worry. Forever Redwood has come with portable garden solution for homeowner, which can help them fulfil their lawn and garden expectations.
July 15, 2013
---
Customer Comments (from 2002 thru today)
Our customers are the best. That's why we take great pride in building the best Redwood furniture money can buy, while saving and restoring the forest for future generations. In fact, we often hear back from satisfied customers to let us know how their furniture is doing. These are just some of comments we've received - if you have your own comments to share, just contact us and we'll post them here!