Restoration Forestry - Forever Redwood
Restoration Forestry & Becoming a Conservation-Investor: Q&A
Raul Hernandez, Founder and CEO, hosted a live Q&A Jan. 2019 for folks interested in becoming a conservation-investor in a restoration forestry project.A
---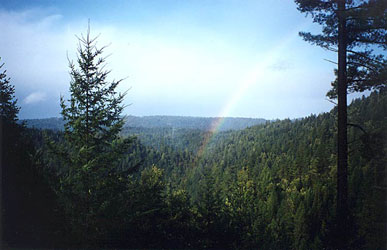 Forests can be restored back to Old-Growth Again. We are doing it. Old-Growth Again Restoration Forestry (OGA) is the parent company of Forever Redwood. OGA is a "hands-on" organization restoring logged forestlands back to their ancient form. Restoration forestry works with the forest to grow large and old trees over time and maintain them in perpetuity.
Forests of large trees sequester enormous quantities of carbon from the atmosphere. Consistently increasing and permanent carbon sequestration adds to climactic stability and global cooling. Equally important, forest management that works with the forest to bring back ancient trees in perpetuity helps reverse biological diversity declines by recreating old-growth habitat conditions. It takes time, money and a lot of physical work, but dramatic changes occur in a relatively short time. Come visit and see what we've accomplished since 1995.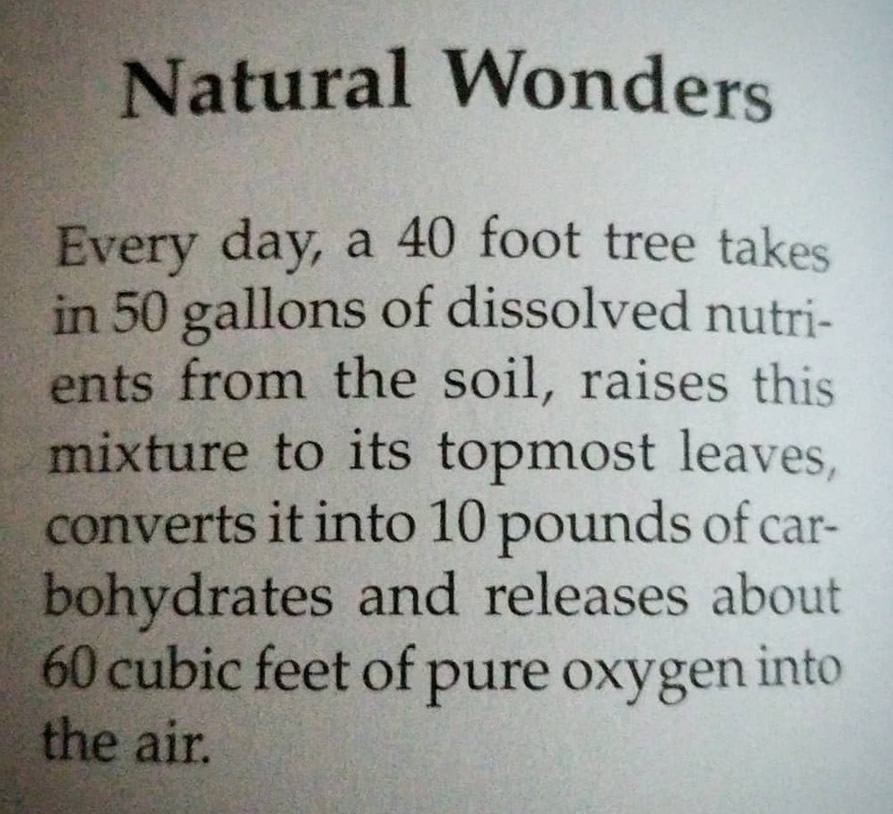 Your Forever Redwood furniture purchase funds the restoration work entirely. Thank you for your support. We hope to restore nearby forests in the coming years. There is no lack of overly harvested forestland anywhere in the world.
We are often asked: How can you save forestlands if you cut trees to make furniture? For a complete answer, please download our Forest Restoration Manual (13.5 MB). The 85-page PDF file details OGA's pioneering Restoration Forestry practices. A shorter answer is below: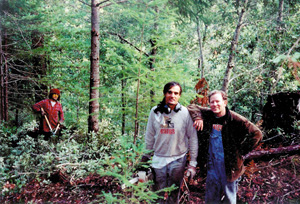 OGA works with the forest to restore the severe changes caused by industrial logging. For example, the softwood timber volume of our Annapolis, CA forestlands (Redwood, Douglas-fir and Sugar Pine) was reduced from an average of 50,000 board feet per acre (bf/ac) in the 1950's to below 5,000 bf/ac by 1972. At the same time, many of the competing hardwoods were left standing (Tan Oak, Madrone, Live Oak, Bay Laurel, Manzanita and others). This resulted in reducing the standing softwood timber volume of the forest to below 10% of its standing capacity while the hardwood volume jumped from approximately 15% of total volume to over 50%. The forest became an overcrowded fire hazard of suppressed and poor quality trees that was nothing like the old forest it replaced.
OGA begins by thinning the hardwoods at the same rate they are growing (about 35% each decade) so they will not increase in actual volume over time. Many of the thinned trees are of poor quality or are suppressed trees that will not survive and contribute to the already high fire hazard. Each thinning is a labor intensive effort (no chemicals are ever used) that lowers the fire hazard while improving overall tree quality and spacing. Practicing these steps consistently over time allow the large softwood trees to slowly regain dominance of the forest again. OGA also thins the softwoods (Redwood, Douglas-fir and Sugar Pine) at 10% per decade while the forest is growing approximately 35% per decade at this point in its maturation. From this very conservative harvesting, we make our "Mature Redwood" and "Redwood" grades of lumber furniture. Careful soil building and tree planting practices are an integral part of restoration. We plant several thousand 3 to 4 ft tall seedlings with hearty well-established 5 gallon root balls each winter. The trees are grown in our nursery and planted in-between trees in thinned areas where the canopy is mostly closed.
OGA takes extreme measures to care for and rebuild the forest soil. We do not burn slash, never run equipment off skid trails and do not use chemicals of any kind including fertilizers. All leaves and small branches are cut to below 1 ft of height and spread on the forest floor to add nutrients and structure to the soil. Most down woody debris that was inherited on our lands is retained and each 10-year thinning adds more downed logs to build moisture and habitat. We thin "from below" and remove many lower limbs of retained trees to lower the risk of catastrophic fire. We retain most "wildlife" trees (snags, dead top trees, etc.) and set aside 5 trees (of all species) per acre to never be cut. Combining these steps and many more helps the forest develop large mature and old-growth trees over time.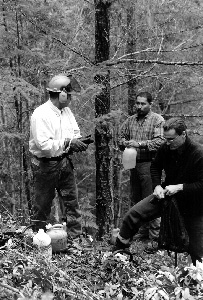 Restoration forestry is a more conservative forestry practice than "Sustainable forestry." For example, forests under restoration forestry management sequester two and half to three times more carbon in perpetuity than forests managed under the strictest "sustainable forestry" standards in practice as of 2011. OGA's mission is to demonstrate how restoration forestry allows both the forest and the human community around it to flourish symbiotically. It is a long-term example of how a forest can contribute to the human society surrounding it while flourishing in all respects simultaneously. A forest managed this way for just a few decades is a striking contrast to an industrial or even a "sustainably" managed forest. Thank you for helping spread Restoration forestry knowledge and its use. Our forest restoration manual includes additional reading references and the legal framework (conservation easements) to restore any forest and keep the restoration in place through subsequent ownerships.
If you own forestland that needs restoration and re-vitalization we can help. If you own Redwood forestlands in Sonoma, Mendocino or Humboldt counties and are interesting in having your lands managed under a Restoration Forestry regimen long-term, please email us at [email protected] or download our Forest Restoration Manual.
Would you like to learn more about Restoration Forestry? Our Restoration Forestry manual includes references to excellent books on good forestry practices Also, we invite you to read "The Economic Aspect of Ecoforestry" by the late Dr. Hans Burkhardt, one of the guiding lights of the Restoration Forestry movement and a personal mentor to our team.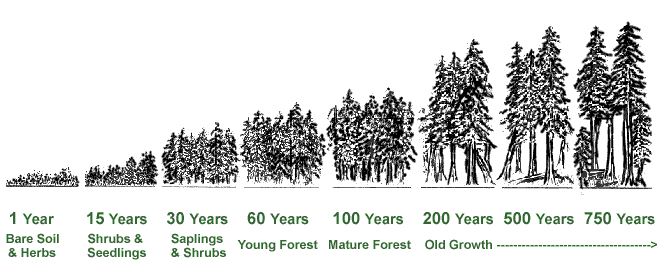 ---
Forever Redwood is working with New Island Capital of San Francisco
As part of our mission to restore forestlands, Forever Redwood is working with New Island Capital of San Francisco to purchase Redwood and Douglas-fir logs from their Restoration Forestry work on lands near Garberville, CA.
New Island Capital manages over 20,000 acres in and around Humboldt County. The land manager for New Island Capital is forester Tim Metz. Tim has a long history of practical conservation, excellent forestry practices and forest activism going back decades including working on the fight over the Headwaters Forest in the early 90's. Tim shares our passion for restoring the species composition, standing tree volume and all the other nerdy statistics that go into bringing back the majesty of mature and ancient forestlands.
Forever Redwood is happy to join with New Island Capital to further promote and finance good forestry in the Redwoods and hopefully beyond. Each furniture purchase helps finance this work that is desperately needed worldwide as a counter to global warming.
Restoration forestry is slowly becoming the new normal in Northern California. Back in the early 90's when Forever Redwood began operations, the common wisdom was that Restoration was a pipe dream and that smart money would go elsewhere. Forever Redwood and a few other "idealists" persevered and today, at least in Northern California, a significant portion of forestlands are being managed under plans that were considered impractical just 2 decades ago.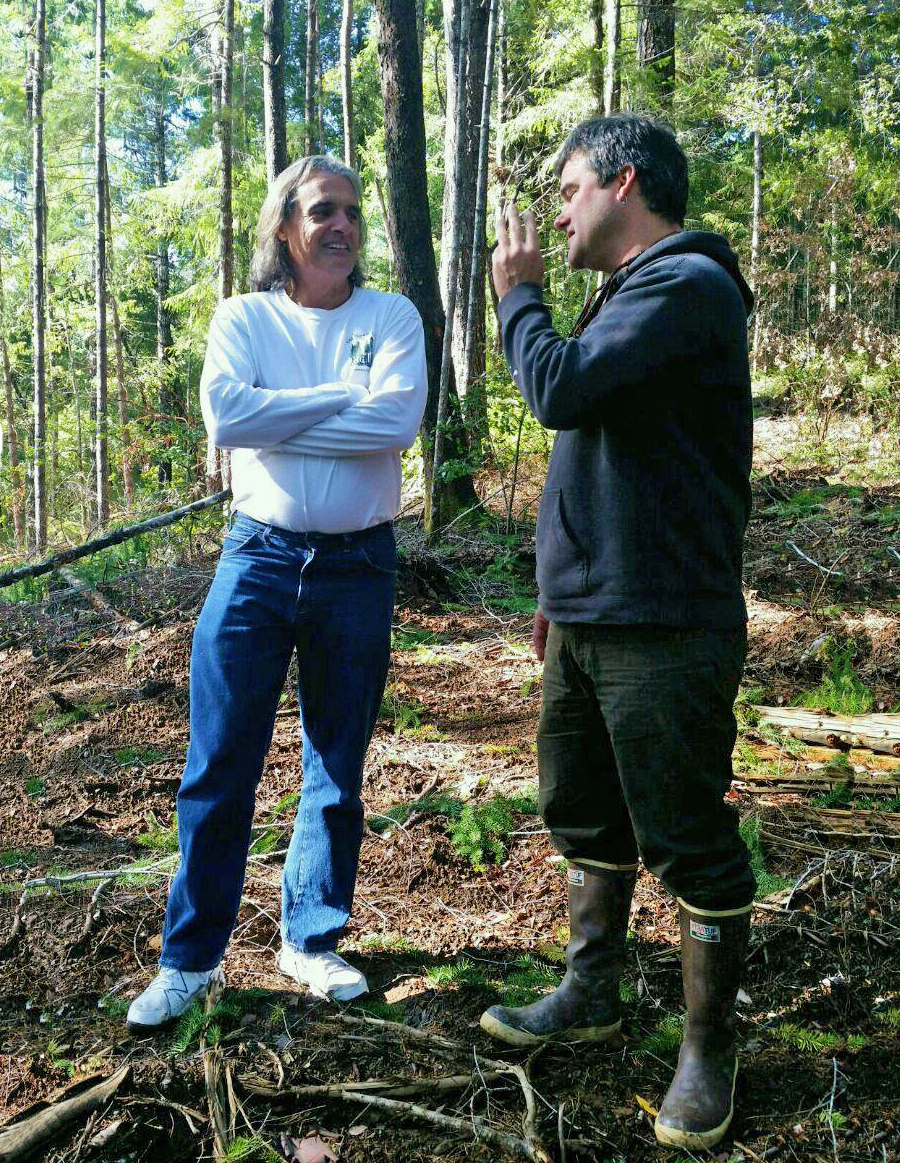 ---
Forever Redwood partners with the Sanctuary Forest in Whitethorn, CA
The Sanctuary Forest is a small but important link in the restoration of the Mattole Watershed in Humboldt County. Located right off the main road, a very public process that has taken many years is now nearing completion.
With a lot of public input, a final plan was implemented to thin the stand of excess younger trees, perform extensive road improvements to lower sedimentation, add structures (boulders, large woody debris) to build habitat in the river for salmon and, at the same time, all the existing ancient and large trees have been protected. The plan is to possibly reenter the stand one more time in 2 or 3 decades to complete the spacing improvement on the remaining smaller trees and then to leave the stand untouched in perpetuity as an example of excellent restoration forestry.
Mr. Tim Metz has been the forester on this job since Day 1 and is closely supervising every aspect of the job. The small amount of timber removed will enhance the spacing of the remaining trees to more closely mimic what an unlogged ancient stand looks like.
All the lumber will be milled by Forever Redwood and will be made into tables, pergolas and other products in 2016 and 2017. We are very happy to be a part of this solution and will continue to work with Tim on his many other restoration projects throughout Humboldt County's Redwood forest in the coming years.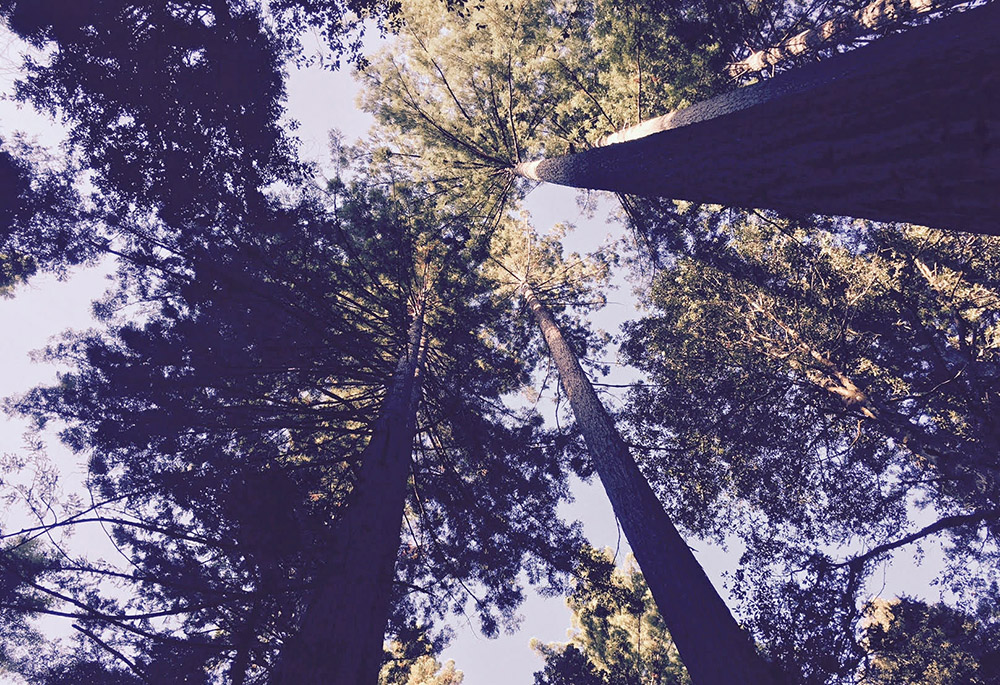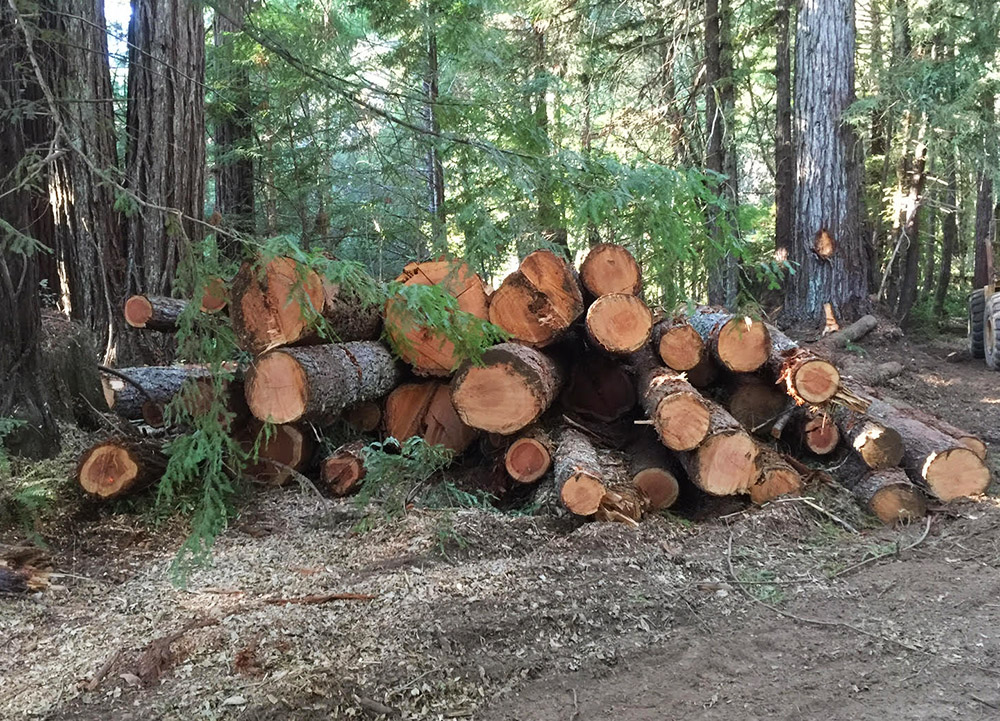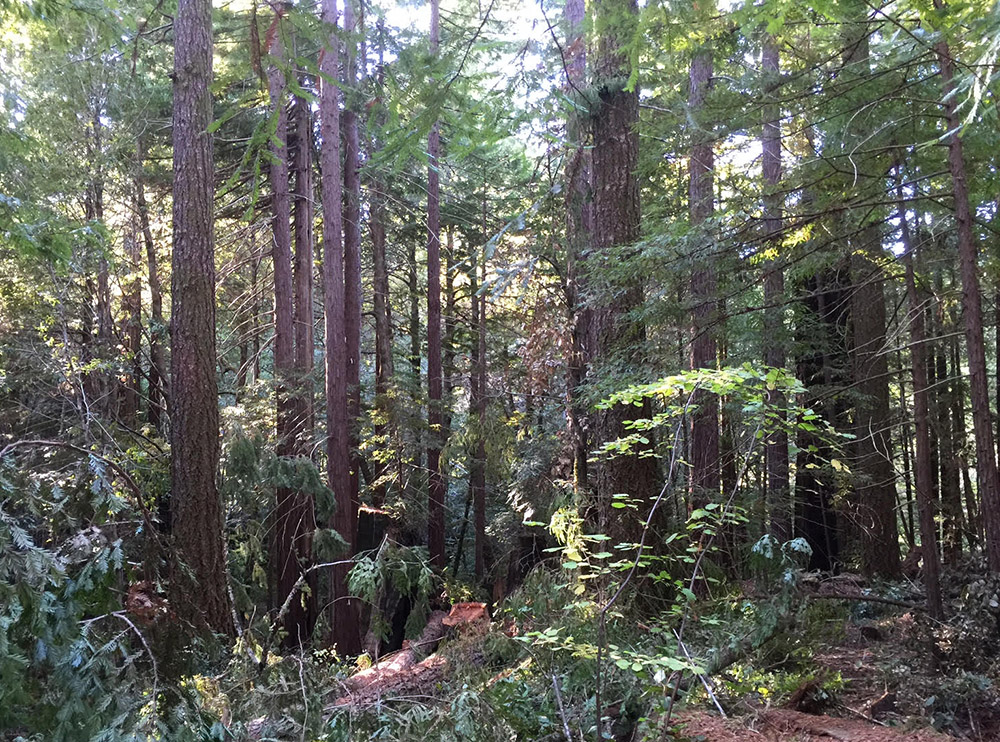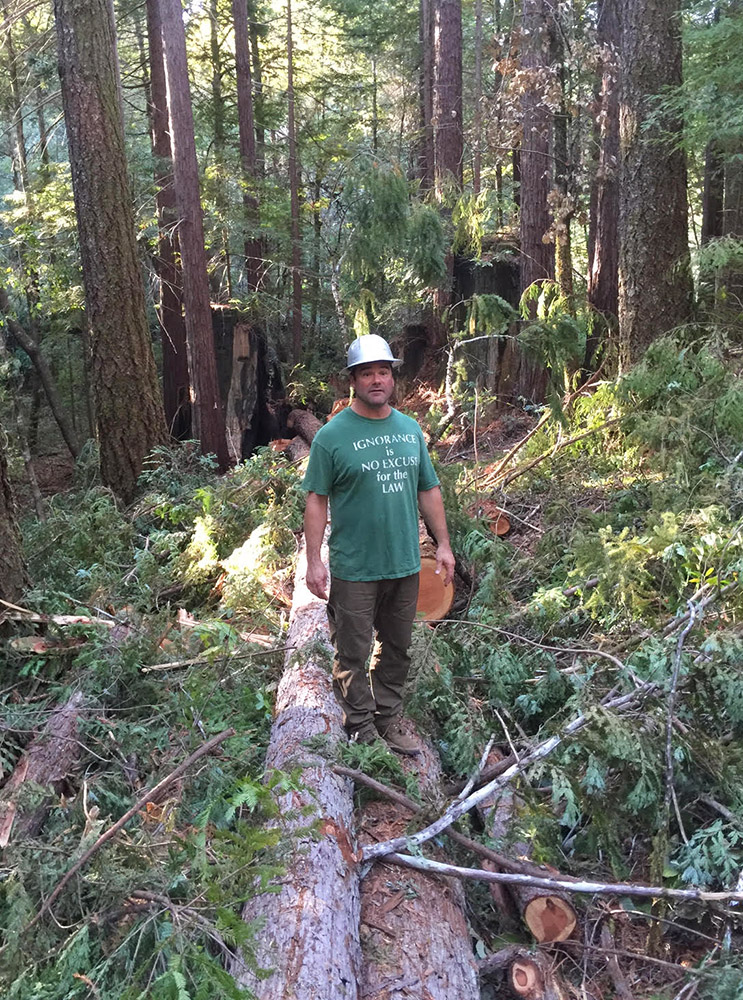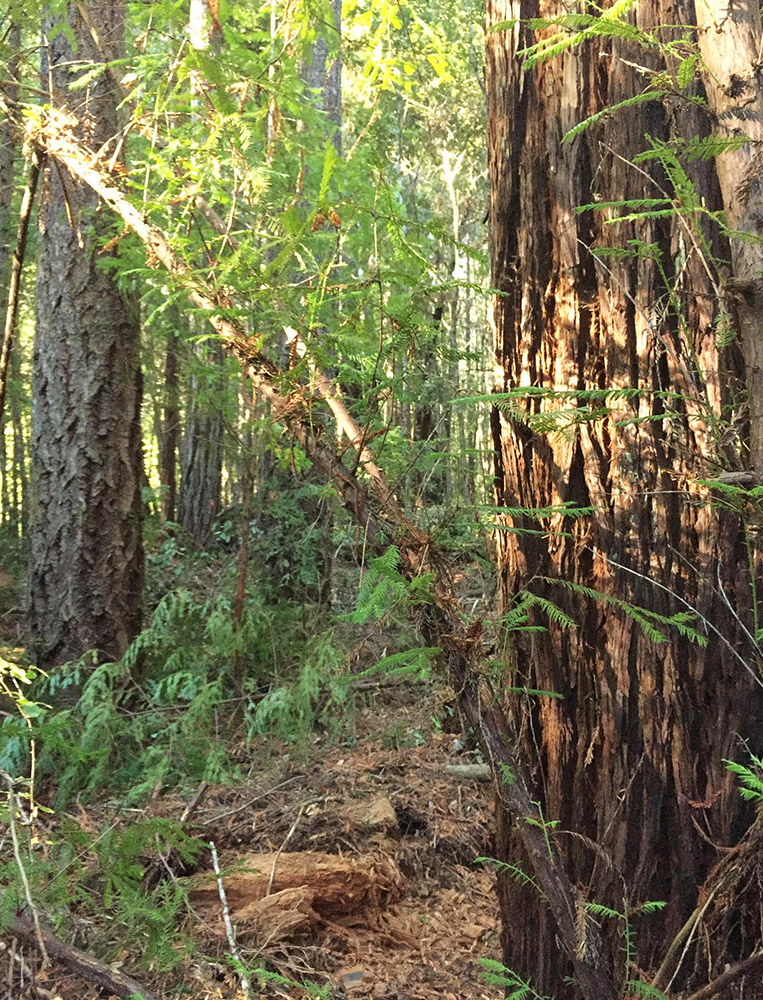 ---
Giant Sequoia Tree
2000 year old giant Redwood trunk slice located at the Museum of Science Driveway in Boston, Massachusetts. Redwoods can live to be over 2,400 years old.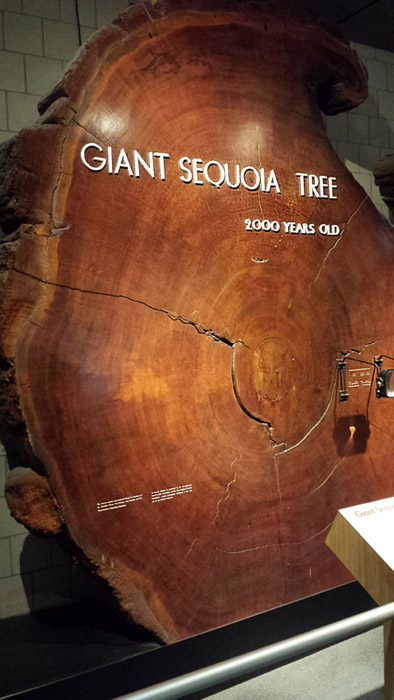 ---
Redwood parks close road to deter burl poachers
Associated Press | 6:25 pm, Wednesday, March 5, 2014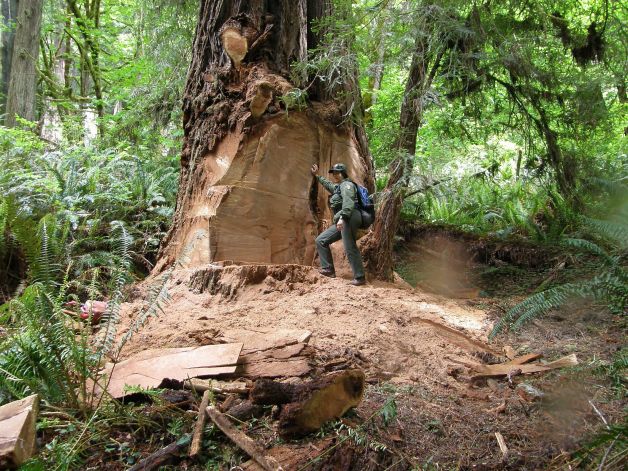 Authorities say unemployment and drug addiction have spurred an increase in the destructive practice of cutting off the knobby growths at the base of ancient redwood trees to make decorative pieces like lacey-grained coffee tables and wall clocks.
The practice - known as burl poaching - has become so prevalent along the Northern California coast that Redwood National and State Parks on Saturday started closing the popular Newton B. Drury Scenic Parkway at night to deter thieves.
Law enforcement Ranger Laura Denny said Tuesday that poachers have been stalking the remote reaches of the park with their chain saws and ATVs for decades, but lately the size and frequency of thefts have been on the rise.
"When I interview suspects, that is the (reason) they say: their addiction to drugs and they can't find jobs," she said.
Her husband, park district interpretation supervisor Jeff Denny, said it is comparable to poor people poaching rare rhinos in Africa to sell their horns. Jobs are hard to come by since the timber and commercial fishing industries went into decline.
Forest 95% gone
"Originally there were 2 million acres of old growth forest that spanned the coast of Northern California from Oregon to Monterey," he said. "Over the past 150 years, 95 percent of that original forest has been cut. The only remaining old growth forest in existence now is almost entirely within the Redwood National Park" and some state parks.
A redwood tree can survive the practice, but the legacy of the organism that could be 1,000 years old is threatened, because the burl is where it sprouts a clone before dying. Sprouting from burls is the prevalent method of redwood propagation, and the source of the Latin name for coast redwood, Sequoia sempervirens, or "forever living," he added.
Lorin Sandberg is a burl dealer in Scio, Ore. He occasionally goes to Northern California to buy burl, but it is tough to find, with almost all of the old growth that makes the best burls protected on public land. The good stuff with a lacey grain full of eyes will go for $2 to $3 a pound, unseasoned.
Finished dining room tables are being offered for $13,000 on eBay.
"I don't buy them unless they have proof of where they got it," he said. "If there's not a paper trail, it can stay in their yard."
Arrests rare
With few law enforcement rangers and 133,000 acres of park stretching south from the headquarters in Crescent City (Del Norte County) to patrol, arrests are rare, Laura Denny said. She can recall two or three over the past 12 years. While charges can be felonies carrying prison time, convictions usually end up as misdemeanors carrying fines.
She is currently chasing a bunch that cut a massive burl from a redwood just south of the mouth of the Klamath River that was discovered by a bear researcher tramping the woods in April. The cut left a scar measuring 8 feet by 10 feet.
Over the course of weeks, the thieves cut the burl into slabs weighing more than 100 pounds each that they dragged behind ATVs several hundred yards to a road.
She found the slabs in a burl dealer's yard. After matching the wood to pieces at the scarred tree, she seized the slabs. The dealer had paid $1,600 for eight slabs that he was going to sell for $700 apiece.
"http://www.sfgate.com/science/article/Redwood-parks-close-road-to-deter-burl-poachers-5292093.php"