Your Forever Redwood furniture purchase funds our restoration work entirely. Thank you for your support. We hope to restore nearby forests in the coming years. There is no lack of overly harvested forestland anywhere in the world.
We are often asked, "How can you save forestlands if you cut trees to make furniture?" And it's one of our most favorite and well-developed answers! For a complete answer, please download our Forest Restoration Manual (20.5 MB). The 96-page PDF file details OGA's pioneering Restoration Forestry practices. You can also scroll down the page to read a shorter answer.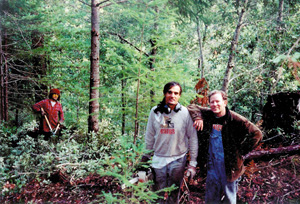 OGA works with the forest to reverse severe changes caused by industrial logging. In a recently logged forest, many saplings sprout and grow to replace a single, large Old Growth tree. Industrial forestry reduces the amount of biomass in a forest while simultaneously increasing the number of trees. In order to properly restore the forest conditions back to the Old Growth Ecosystem, our restorative forestry practices remove the lowest quality trees over time in order to create the spacious conditions for a select few tree per acre to return to Old Growth status.
For example, the softwood timber volume of our Annapolis, CA forestlands (Redwood, Douglas-fir and Sugar Pine) was reduced from an average of 50,000 board feet per acre (bf/ac) in the 1950's to below 3,000 bf/ac by 1972. At the same time, many of the competing hardwoods were left standing (Tan Oak, Madrone, Live Oak, Bay Laurel, Manzanita and others). This resulted in reducing the standing softwood timber volume of the forest to below 10% of its standing capacity while the hardwood volume jumped from approximately 15% of total volume to over 50%. The forest became an overcrowded fire hazard of suppressed and poor quality trees that was nothing like the old forest it replaced.

We begin our forest restoration process by thinning the hardwoods at the same rate they are growing (about 35% each decade) so that they will not increase in actual volume over time. Many of the thinned trees are of poor quality or are suppressed trees that will not survive and contribute to the already high fire hazard. Each thinning is a labor intensive effort (no chemicals are ever used) that lowers the fire hazard while improving overall tree quality and spacing. Practicing these steps consistently over time allow the large softwood trees to slowly regain dominance within the forest again. OGA also thins the softwoods (Redwood, Douglas-fir and Sugar Pine) at 10% per decade while the forest is growing approximately 35% per decade at this point in its maturation. From this very conservative harvesting, we make our "Mature Redwood" and "Redwood" grades of lumber furniture. Careful soil building and tree planting practices are an integral part of restoration. We plant several thousand 3 to 4 ft tall seedlings with hearty well-established 5 gallon root balls each winter. The trees are grown in our nursery and planted in-between trees in thinned areas where the canopy is mostly closed.