Media Resources that support our Vision to combine Economy with Ecology while Restoring the Forests


POSTDAM INSTITUTE FOR CLIMATE IMPACT RESEARCH - Buildings can become a global CO2 sink if made out of wood instead of cement and steel (January 27, 2020)
A material revolution replacing cement and steel in urban construction by wood can have double benefits for climate stabilization, but can only be possible with more sustainable forest management practices. Learn four ways that using wood for construction can help to stabilize the climate. [Full Article]
[Click here for the Original Article]
---


MOTHER EARTH NEWS - RAUL'S BLOG
Forever Redwood CEO and Founder Raul D. Hernandez is a guest blogger on Mother Earth News. Drawing on over two decades of experience as a conservationist and hands-on restoration forestry, Raul sheds light on the role of Old-growth forests in global cooling, and how the emerging carbon credit market could be used to protect working forests worldwide while keeping billions of tons of CO2 out of the air.
Raul's debut article provides an in-depth look at a critical element that has been missing from the debates over how to solve global warming. His second piece continues the conversation.

EAST BAY EXPRESS - The Lumber Man In Charge of Climate Policy (February 11, 2015)
---



Bay Area billionaire Robert Fisher profits from logging forests along the Coast of Northern California. Fisher's immense privately owned forests lie adjacent to Humboldt Redwoods State Park, home to the largest remaining contiguous stand of old-growth redwood forests. Protestors and activists gather in an attempt to slow and deter logging amidst Jerry Brown's request to recruit Fisher as a resource to help implement California's anti-global warming agenda.
THE PRESS DEMOCRAT - A Forest to Conserve and Heal (November 23, 1997)
---

Examples of poor forestry practices in Redwood Forests: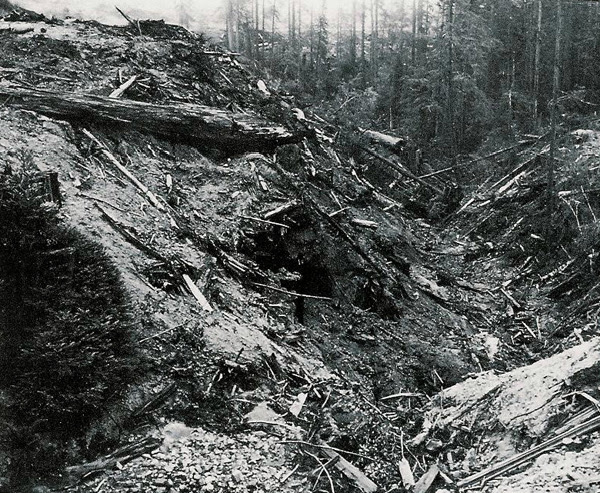 In 1890, John Muir almost single-handedly convinced Congress to pass legislation creating Yosemite National Park. Two years later he co-founded the Sierra Club. Then in 1897 he wrote, "The state woodlands should not be allowed to lie idle, but should be made to produce as much timber as possible without spoiling them." [Continue Reading]
(The aerial shot on the left was taken in Central Mendocino County in the early 1990's on Louisiana Pacific lands showing extensive clear-cuts. The solid forestland in the top center is the Jackson State Forest. The second photo demonstrates the creek side with all the slash was taken very near the boundary with the Redwood National Park in the mid-1970's.)

---
FOREVER REDWOOD IS WORKING WITH NEW ISLAND CAPITAL OF SAN FRANCISCO
As part of our mission to restore forestlands, Forever Redwood is working with New Island Capital of San Francisco to purchase logs harvested using Restoration Forestry practices near Garberville, CA.
New Island Capital manages over 20,000 acres with a long history of practical conservation, excellent forestry practices and forest activism. New Island Capital's land manager Tim Metz shares our passion for restoring the species composition and increasing standing tree volume to bring back the majesty of mature and ancient forestlands.
Forever Redwood is happy to join with New Island Capital to further promote and finance good forestry in the Redwoods with dreams for all of the forests on the globe to be managed in a similar fashion toward restoration. Each furniture purchase contributes to these forest restoration practices and helps counter global warming.
---
ASSOCIATED PRESS - Redwood Parks Close Road to Deter Burl Poachers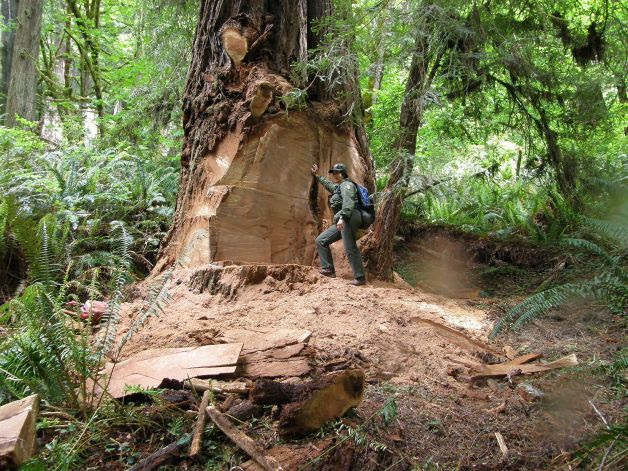 6:25 pm, Wednesday, March 5, 2014
Wildlife biologist Terry Hines stands next to an old-growth redwood with a huge burl cut off. Photo: Laura Denny, Associated Press
The destructive practice of cutting off the knobby growths at the base of ancient redwood trees for decorative furniture pieces has become so prevalent in recent times that Northern California National and State parks are closing at night to deter thieves. [Continue Reading] [Full Article]
MENDOCINO ENVIRONMENTAL CENTER NEWSLETTER ISSUE 19 - The Economic Aspect of Ecoforestry: A Prescription That Makes Environmental Protection and Maximum Perpetual Revenue Flow Compatible
---
To achieve sustainable modes of action, this article focuses solely on how our relationship to the native forest resource can change to improve humanity's global footprint.
This article first appeared in the International Journal of Ecoforestry in the spring of 1996. It is excerpted and reprinted on our website with permission from the author, Mr. Hans Burkhardt, Ph.D. While he was alive, Mr. Burkhardt was closely affiliated with OGA and his research is a guiding principle of OGA's field work.
View a PDF of the Original Publication here, with Mr. Burkhardt's article on Page 11.