Restoration Forestry & Becoming a Conservation-Investor: Q&A
Raul Hernandez, Founder and CEO, hosted a live Q&A Jan. 2019 for folks interested in becoming a conservation-investor in a restoration forestry project.A
---
The Economic Aspect of Ecoforestry
by Dr. Hans Burkhardt
This article first appeared in the International Journal of Ecoforestry in the spring of 1996. It is excerpted and reprinted on our website with permission from the author, Mr. Hans Burkhardt, Ph.D. While he was alive, Mr. Burkhardt was closely affiliated with OGA and his research is a guiding principle of OGA's field work.
A Prescription That Makes Environmental Protection and Maximum Perpetual Revenue Flow Compatible
For anyone who is at all aware of our planetary ecological condition, it is starkly clear that our society must stop its current suicidal mode of action, and we must find more sustainable ways to live and do business. While it is critical that we make sweeping changes in several areas, such as population reduction, over-consumption and fossil fuel use, my purpose is to focus on one critical area - our relationship to the native forest resource.
My intention here is to give information that can be adapted and applied anywhere by people who wish to know how one can restore and sustainably use depleted forest resources. I make my recommendations with deference to economic considerations, because in our money-driven society it is economic viability that will bear strongly on the success or failure of whatever changes we plan to bring about. Consensus opinion assumes that high monetary profits from our forests and good ecological protection are mutually exclusive. However, it is my conclusion, drawn from closely investigating several examples of sound forest management as well as my own experience derived from restoring an inventory-depleted forest, that we can have both: what is good for the survival of the forest is good for the well-being of local communities if only we are patient and wise enough to create such a condition.
How Trees Grow
Tree growth can be divided into three phases:
---

February 11, 2015
The Lumber Man In Charge of Climate Policy
Bay Area billionaire Robert Fisher profits by logging California's North Coast forests, even as Governor Jerry Brown has tapped him to help implement the state's anti-global warming agenda.
By: Will Parrish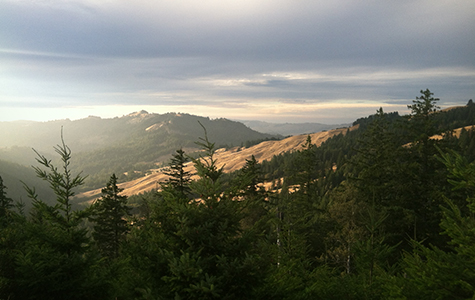 The world's largest remaining contiguous stand of old-growth redwood forest resides in Humboldt Redwoods State Park in Northern California. On the park's northwestern flank, six people gathered last May to oppose a logging venture on adjacent private property. For four days, the activists shadowed the loggers and their supervising forester, as well as three Humboldt County sheriff's deputies who were keeping a watchful eye on the forest defenders in case they edged over the park boundary.
The activists sought to obstruct the logging operation. But initially, the Humboldt Redwood Company (HRC) loggers ignored them, toppling Douglas firs and madrone within thirty feet of where the protesters stood. The supervising forester dispassionately informed them that if any of them died, it would be ruled a suicide. Soon after, a tree crashed against the dead top of a smaller one, sending an errant wood chunk sailing perilously close to an activist's head.
---
"A Forest to Conserve and Harvest"
Santa Rosa Press Democrat - November 23, 1997
by Richard Wilson
Examples of poor forestry practices in the Redwoods:
The one on the left of the creekside with all the slash was taken very near the boundary with the Redwood National Park in the mid-1970's. The aerial shot on the right was taken in Central Mendocino County in the early 1990's on Louisiana Pacific lands showing extensive clear-cuts. The solid forestland in the top center is the Jackson State Forest.
In 1890, John Muir almost single-handedly convinced Congress to pass legislation creating Yosemite National Park. Two years later he co-founded the Sierra Club. Then in 1897 - exactly 100 years ago - he wrote an article for Atlantic Monthly titled "The American Forests." Our greatest preservationist wrote, "The state woodlands should not be allowed to lie idle, but should be made to produce as much timber as possible without spoiling them." Muir claimed that a wisely managed harvest of mature trees would keep the forests "a never failing fountain of wealth and beauty."