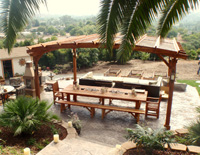 When you buy Forever Redwood, you are making an investment that will add value and enjoyment to your home for years to come.
From our inception in the 1990's, we have always designed and built our products to easily stand out from the competition. Compare our photos and the weights of our products. Take a look at the fine details. For example, the heart of our company is our forestry work. We like to say our wood is guilt-free because you can rest assured the wood was harvested in a way that helps the forest restore itself.
Each Forever Redwood piece is built the way the carpenters of old always did:
Only extra thick high quality timbers are used to ensure your set has enough "quality beef" to sit out for decades year round in the harshest outdoor environments.
Hand built by a team of craftsman led by a Master Carpenter with at least 8 years of experience.
Backed with 10 to 30 year warranties against decay (depending on the

wood grade

you choose). California Redwood is the most decay resistant wood that grows naturally in North America. The best grades of Redwood easily outlast the Cedar and Teak grades that are commonly on the market today. Most wood grades we offer are no longer available anywhere because of over logging. It takes a long time to grow quality wood. The way we manage our forestlands ensures the trees have plenty of time to add plenty of quality wood before we carefully harvest some.
Individually crafted to ensure the highest quality whether your piece is for outdoor or indoor use - it is not built by machines making kits. Everything is hand cut, drilled, notched, routered, doweled and fine sanded. Handcrafting makes each piece ever so slightly unique and also allows us to custom size and design any item to meet your needs. Notching interlocks adjoining timbers in furniture to ensure that the wood never moves, sags or shrinks. We hand sand all pieces to a 220 grit for a smooth-to-the-touch feel. We try to retain a bit of the rustic flavor in our furniture with a few small sound knots; but, rest assured, rough edges or large knots are always eliminated to be sure you never have to deal with splinters or a rough surface.
All items are fully assembled in the shop and inspected at 3 steps in the production process to be sure they come together perfectly when you re-assemble them.
We use only the very best sealants available on the market to show off the natural beauty of our California Redwood grades and to keep the surface finish looking great for years.
Assembly is a snap because we ship most items in as few pieces as possible.
We have many long-term customers that keep adding to their Forever Redwood collections over the years. We hope you'll join them. Let us know how we can help. Thank you for considering us.