Growing Veggies? Over the years, some customers have expressed concern about the possibility of getting wood sealant into the soil where they plan to grow food. If you share this concern, let us know. Any planter can be ordered without interior sealant treatment. Just write us a note as you're checking out in the comment box and we will not use our oil-based sealant inside the box. We will seal the box on the outside only. The planter box will not decay for many years without an interior sealant despite the constant moisture because of the high quality wood we insist on using for all our products.

Redwood is so decay resistant that our planters do not need liners of any kind. Our planters are built with extra-thick high quality Redwood and fastened with stainless steel bolts and deck screws. There is nothing to decay, nothing to rust. Planter bottoms are elevated one inch off inside the walls for easy drainage. You can add soil directly into the planter box-no pots, interior liners or sealants are necessary. Drainage holes are 1/4-inch round and are scattered generously over the planter bottom. All planter sizes are overbuilt to prevent bulging or sagging.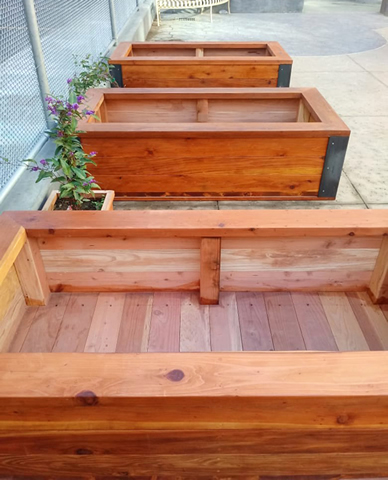 We can custom build and ship Planter Boxes in any dimensions up to 14-Feet long anywhere in the U.S. In California we deliver planter boxes up to 20-Feet long. (If you live outside California and want a planter over 14-feet long, please contact us for a quote.) Most packages ship via FedEx Freight. See how easy it is to assemble our planter boxes!