A Lazy Susan is a revolving tray for foods, condiments, etc., placed usually at the center of a round table. You can choose between a 20" and a 25" diameter version. They are 3" tall.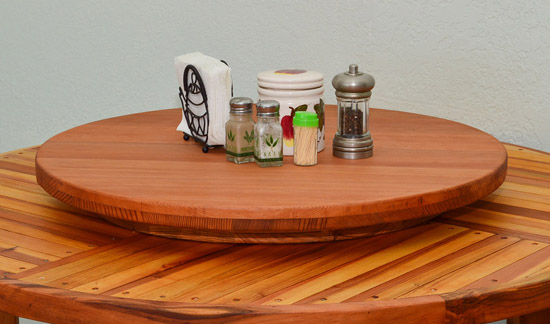 Notes:
1. UMBRELLA HOLE: If you order an umbrella hole with your table, we will include an umbrella hole also for the Lazy Susan so you can use it with an umbrella. The standard umbrella hole is 2" in diameter for the tabletop. In order for the Lazy Susan to spin unobstructed, we will make the umbrella hole on the Lazy Susan a bit larger (2 1/8" diameter).
2. LEAVE THE LAZY SUSAN OUTDOORS YEAR ROUND?: The Lazy Susan has a metal component that allows it to spin. Although this is protected by the wood, it is not recommended that the Lazy Susan be left outdoors year round. It is fine to leave out for days at a time, but for prolonged periods it is best stored indoors when not in use to protect the bearings within.