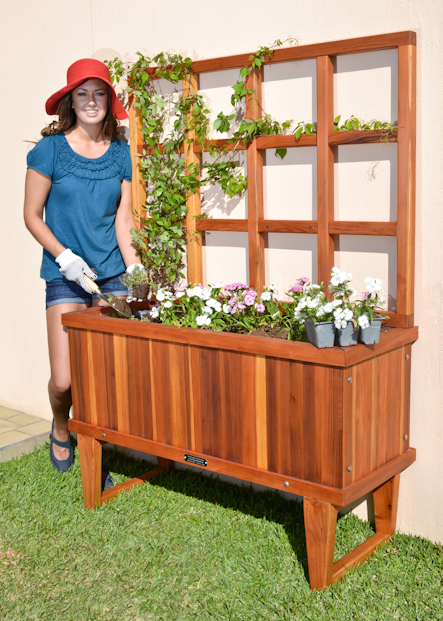 Photo above shows a Napa Planter with a 12 inch stand and a 3 ft tall trellis.
A beautiful strong trellis is a great way to expand your gardening experience and add privacy.
The trellis frames attach securely to the planter wall with stainless steel carriage bolts in 4 places. Trellis frame is 2" x 2" thick with squares approximately 12" on center to allow plants plenty of room to grow.
Although the trellis extends to just above ground level, trellis height is measured beginning from the top lip of the planter up.
At checkout, you can choose heights between 2' and 5'.
Trellis sets for planters over 96" L ship in 2 pieces.
As always, if you don't see the size or trellis spacing you'd like, just call or
email us
and we'll custom size a trellis to fit your needs. If you already have a planter, we also offer the
trellises as separate kits
.
Trellis sets are available for all planters at least 12" H and 12" W.