If you plan a plaque for your bench, we can inlay it for you at no extra charge. We don't order or make plaques. Once your plaque is made, ship it to Forever Redwood at 33800 Annapolis Rd., Annapolis, CA 95412. A local engraver can assist you with the Plaque details. If you cannot find a local engraver, we recommend the following engraver:
Jay's Engraving & Rubber Stamp Co.
Attention: Ms. Janet Gossage
3185 Cleveland Avenue
Santa Rosa, CA 95403
707 542 3873
www.jaysengraving.com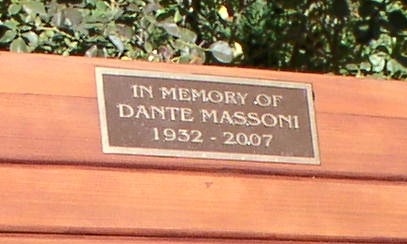 Be sure to let us know in the comments box that you will be sending a plaque for inlaying so we know to hold your bench until the plaque arrives. We will inlay your plaque in the center of the top backrest board, unless otherwise specified. If placed in this location, the plaque can be up to 3" H and any width you like. If there is no backrest (backless bench), we will place the plaque on the front trim piece of the seat unless you specify where you'd like the plaque placed.
A popular and less expensive way to place a long lasting message on a bench or other piece of furniture is to have us engrave the message directly onto the wood (see Custom Engraving for more information).