Add comfort and warmth to your recliner with a custom cushion. These are great quality cushions that add a lot of color and comfort to your recliners.
Quality: Machine washable and fade resistant. All cushions are made from Sunbrella fabrics and are sewn with a built in zipper to make washing them a snap.
Customize: Select from a wide array of fabrics at Sunbrella or use our standard Forest Green color. Under More Options select Custom Cushion Color, and note any custom color choices (name and number of fabric) in the Order Comment box.
Note: Option to order a cushion is available with the purchase of most benches or chairs.
RECLINER CUSHIONS SPECIFICATIONS (PDF DOWNLOAD)
CUSHIONS
If you'd like a cushion for your chairs, please indicate this in the Advanced Options section. Standard cushions come in forest green however you also have the option to visit Trivantage to choose from the hundreds of outdoor fabrics they have for your cushion.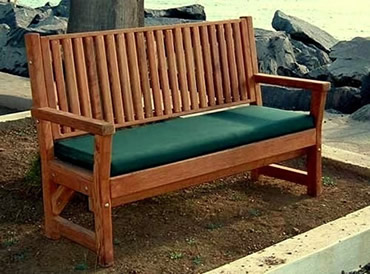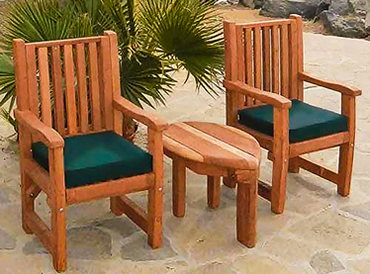 The most popular fabric choice over the years is the Forest Green. For this reason, we've made it our default fabric choice for all cushions. If you'd like a cushion in a color or pattern other than Forest Green, you can choose from thousands of fabrics by visiting our upholstery fabric partner Trivantage Upholstery Fabric at: https://www.trivantage.com/fabric-upholstery.
Just write the name and number of the fabric you'd like us to use to make your cushion in the comment box below the cushion selection. Most Sunbrella fabrics are under $30/yard and are included in the cushion price. If you prefer a premium fabric over $30/yard, the cost over $30/yard will be manually added to your order total.
Trivantage fabric is made to sit out in the sun and not fade or fall apart for years. It's machine washable. Each cushion has a zipper so you can remove the foam and wash the fabric.
Assembly instructions are not necessary for this product