Oversized Coffee Table
Big houses require big furniture, and our Oversized Coffee Table is a great way to entertain a large family, or a large group of guests. This extra large solid Redwood table has lots of potential uses, whether you use it inside or outside. It can hold its solid structure and look for many years, thanks to its sturdy construction, and 100% restoration forestry timber.
Custom detail or design? Talk to one of our specialists to get the perfect solution!
Learn More
Don't want to assemble? We can deliver and assemble anywhere in the Continental US.
Learn More
The Forever Redwood Oversized Coffee Table comes in a number of sizes, and is designed to have a contrasting color wood pattern, that looks both rustic and sophisticated. It's even got drawers available on the side to store tableware, toys for the kids, or even the TV remote! It's more than just a coffee table; it's a centerpiece, and can take both heavy use, and heavy exposure to outdoor weather.
Design: Sophisticated yet rustic in character with contrasting color wood pattern.
Quality: Sturdy construction of the finest woods with stainless hardware. The table can take heavy use and a great deal of exposure to outdoor weather.
Sizes: Standard size tables range from 36" to 76" long, and 18" to 36" wide and come with multiple drawers for small item storage. Standard height is 18".
Customize: Select a tabletop style, drawers, and a sealant colors to match your decor under More Options.
Assembly: Easy assembly. Ships in less than 10 parts.
These tables are easy to assemble, and even easier to customize your order right here online. Simply choose the table dimensions and wood type from the drop menus above, and we'll come up with a price quote and custom design just for you. We ship anywhere in the US (Continental), and can even assemble your table for you, if you live in California. Give us a ring or contact us online to find out more!
OVERSIZED COFFEE TABLES SPECIFICATIONS (PDF DOWNLOAD)
Specifications has the following sections, any of which you may go to directly by clicking on it:
DIMENSIONS & DRAWINGS
Our Coffee Table delights with its sturdy design, thick wood frame, and multiple drawers for small item storage. We offer it in four standard sizes ranging from 36" to 72" long and 17 1/4" to 36" wide. Standard height is 18". As with virtually all our products, we're glad to custom size if you have specific needs. Just let us know.
Massive Coffee Table Dimensions
The 72" Massive Coffee Table has 6 drawers (3 on each side). The 60", 48", and 36" Massive Coffee Tables have 4 drawers (2 on each side). If you prefer drawers on only one side or no drawers at all, just let us know and well email back to confirm the change and the price savings.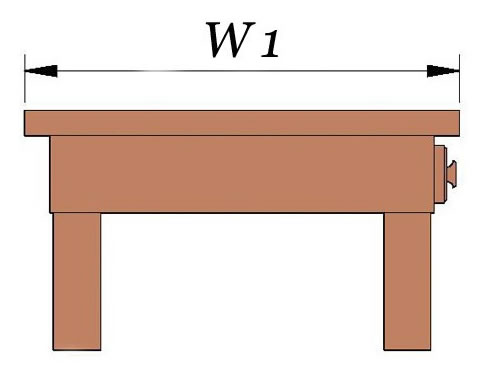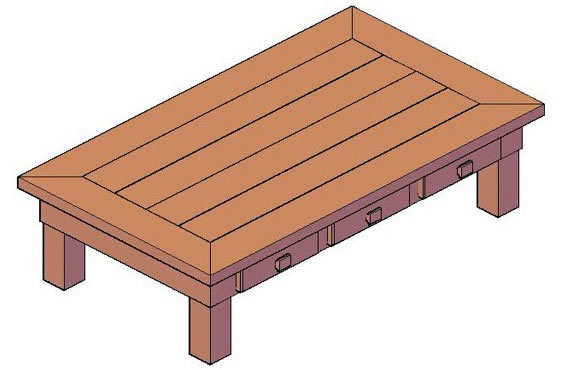 Dimensions Table & Drawers Quantity
Table Length (L1)
Table Width (W1)
Drawer Length (L2)
Drawers Quantity
36"
17 1/4"
6"
0, 2
36"
23"
10"
0, 2
36"
28 3/4"
18"
0, 2, 4
36"
34 1/2"
24"
0, 2, 4
48"
17 1/4"
6"
0, 2
48"
23"
10"
0, 2
48"
28 3/4"
18"
0, 2, 4
48"
34 1/2"
24"
0, 2, 4
60"
17 1/4"
6"
0, 2
60"
23"
10"
0, 2
60"
28 3/4"
18"
0, 2, 4
60"
34 1/2"
24"
0, 2, 4
72"
17 1/4"
6"
0, 2
72"
23"
10"
0, 2
72"
28 3/4"
18"
0, 2, 4
72"
34 1/2"
24"
0, 2, 4
* Note: For tables with width up to 23" we can put only 1 line of drawers, bigest measures can be put up to 2 lines of drawers. Measures 36" L and 48" L can put up to 2 drawers per line, for 60" and 48" we can put up to 3 drawer per line. Afther that, if you desire make your own drawers combinations, please let us know in the comments section before to place your order.
Some Sizes & Weigths
Coffee Table Size
Approx. weight
72" x 36" x 18"
95 lbs.
60" x 30" x 18"
80 lbs.
48" x 24" x 18"
65 lbs.
36" x 18" x 18"
50 lbs.
* Note: Weigth may vary depending on the number of drawers you want and measures chosen. These weigths are examples of the most selled measures.
Assembly Instructions for: Oversized Coffee Table
Assembly
All you need is a ratchet wrench and a hammer.
Our furniture is preassembled in our wood working shop to ensure reassembly is a snap. The Massive Coffee Side Tables require only a ratchet wrench and a small hammer to tap in the bolts. They ship in less than 10 parts and take less than 20 minutes to re-assemble and begin enjoying them. All parts are clearly labeled and detailed step by step instructions are included. They can easily be re-assembled by one person. To download assembly instructions for any of our items, please go to: Assembly
Care: Your Forever Redwood Furniture will last for decades in year-round weather without maintenance.
Depending on the wood grade you choose, even with harsh year-round outdoor conditions, you can expect your furniture to last from ten to forty years without maintenance of any kind.
Being outside year round is rough on any woods finish. The surface absorbs UV rays, pollution, constant variations in moisture and temperature and it also oxidizes. This is why most wood just doesnt hold up and the surface color slowly changes towards a silver patina over the years. But, with Forever Redwood, you dont have to worry. The silver patina is surface deep only (less than 1/64") and is not indicative of decay. Your set will last decades and is not compromised in any way by the surface color change. For example, we keep our display items as is without refinishing to show off this natural aging (we like the patina!).
Although Forever Redwood is maintenance-free, we recommended you take a few minutes as needed to clean by either hosing down and/or brushing/dusting away accumulated debris (no soap or chemicals needed). If youd like to keep your set looking its best for decades, please go to: Care and Finish
Sign In
New Customer
New to Forever Redwood? Create an account to get started today.
Create My Account