2019 Photo Contest Winners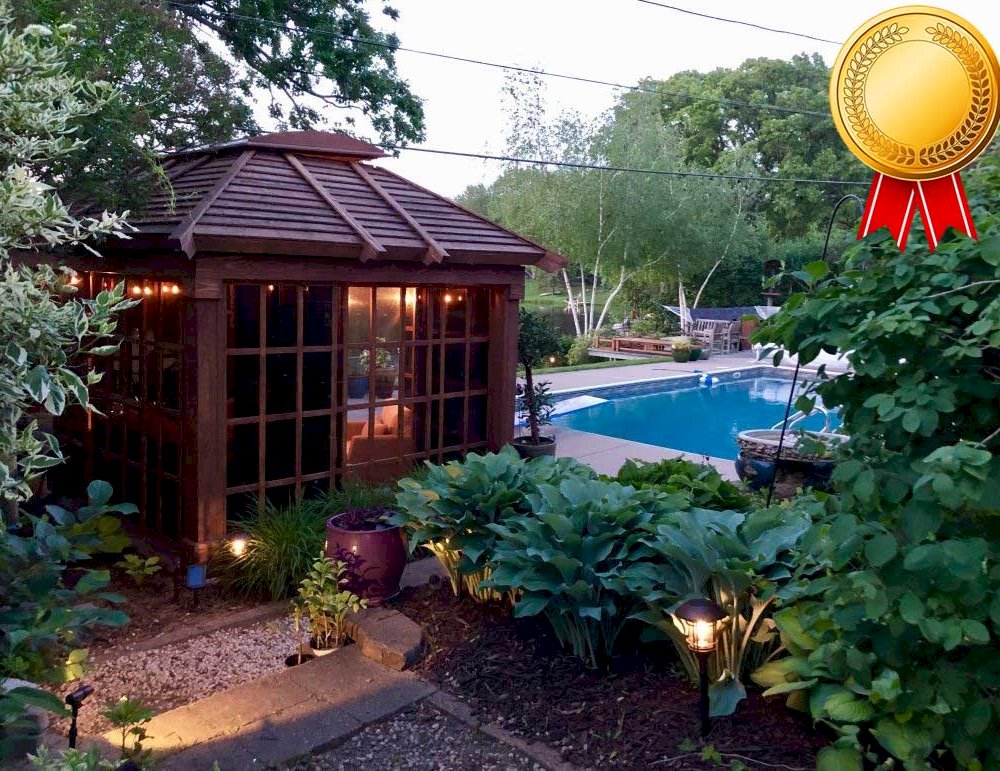 1 - Don W. - White Bear Lake, MN
The photo of the Forever Redwood team reminded me that our pool house was finished in July 2018…and 24 hours later I was in the hospital and unable to do any more work on the house. We suffered one of the coldest winters on record (a real -30F day) and 7 feet of snow – but we finally reached Spring and the house is the center of activity. I hope to get the ceiling fan installed soon…and then simply relax and enjoy our Forever Redwood creation. Thanks!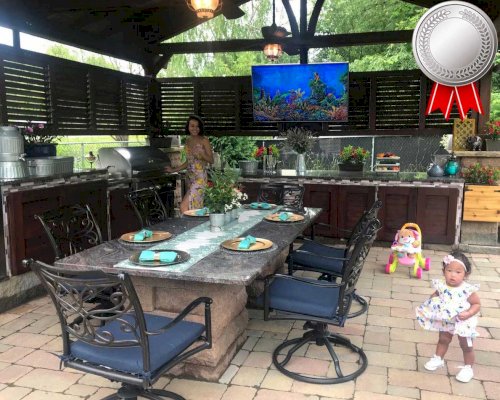 2 - Shawn and Marilyn M. - Hudson Valley, NY
We are so excited to share our secluded NY retreat with you, where we gather from sunrise to sunset at our blissful getaway. Under the pavilion, we connect for conversations, celebrations, sports, karaoke, paint night, movies, cocktails, and more. We gather with family & friends for meals and make memories that last a lifetime. The customization and craftsmanship of the pavilion, cabinet doors, and shutters make our pavilion a one of a kind showpiece. The custom shutters not only offer privacy, they magically transport us to a tranquil and warmer place. We chose Forever Redwood after months of browsing & research. We compared multiple companies, and kept coming back to Forever Redwood. Sustainability, environmental responsibility and artistry were the deciding factors. Without Raul and the Forever Redwood team, the pavilion that completes our yard would not have been possible. Their attention to detail made ordering from 3,000 miles away easy.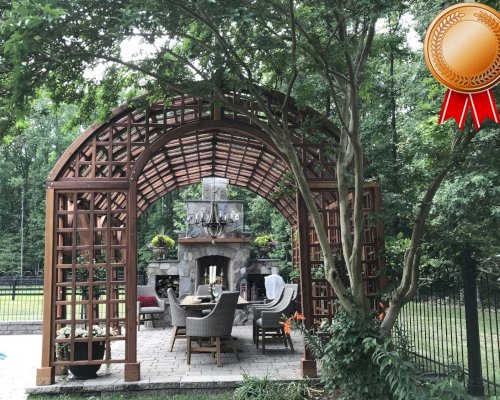 3 - JR and Trish W. - King George, VA
When we needed a custom built, one-of-a-kind gazebo we searched the internet and found many companies. But once I made the call to Forever Redwood and talked to Raul about our project, I knew I had found the right company for the job. The entire process was smooth and efficient especially considering we live on the East coast and they are on the West coast. We could not be happier, the final product exceeded our expectations.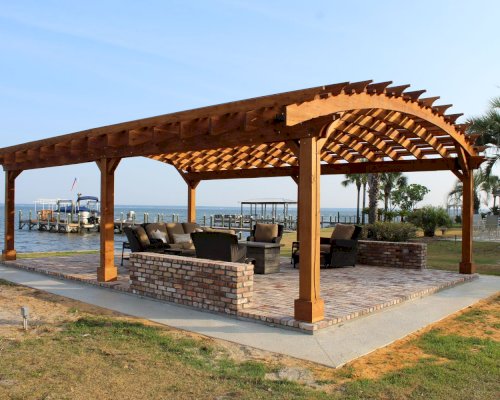 Jerry and Pam G. - Santa Rosa Beach, FL
Such a breathtaking addition to our home -- our pergola is now our favorite spot for entertaining family and friends or just relaxing and enjoying the bay breeze.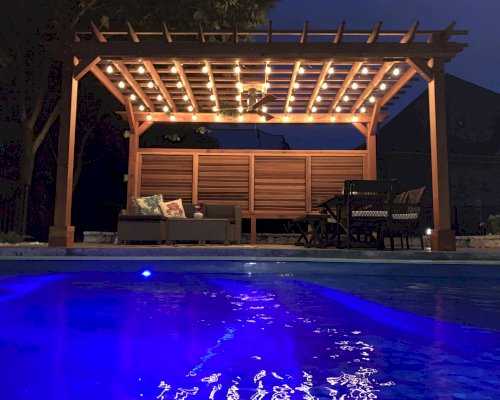 Sasha A. - Louisville, KY
We chose this beautiful redwood pergola because we wanted to bring a piece of California, where we got married, to our backyard oasis in Kentucky. We love the living space it creates enjoying family meals and relaxing with friends. It looks especially stunning at night next to our new pool.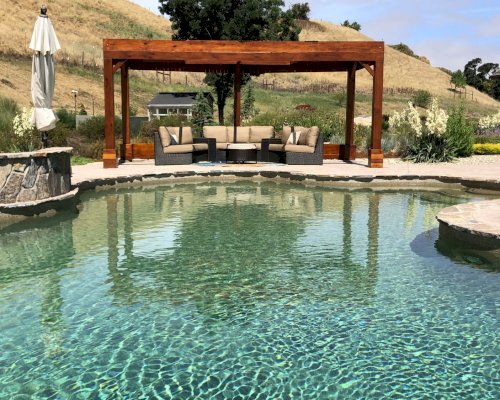 Dave R. - Hollister, CA
Our Forever Redwood pergolas create two fantastic open-air outdoor rooms for dining and relaxing by the pool. While the natural redwood ties the two together, the design flexibility Forever Redwood offered gave us the opportunity to create a substantial presence with the adjustable louvered roof for the main pergola contrasted with the more open, custom 5 post pergola by the pool. Everyone who sees them comments on their beauty and obvious quality construction. Living on the central coast of California, we spend a lot of time outdoors. Forever Redwood has helped to elevate our enjoyment of our property to the next level.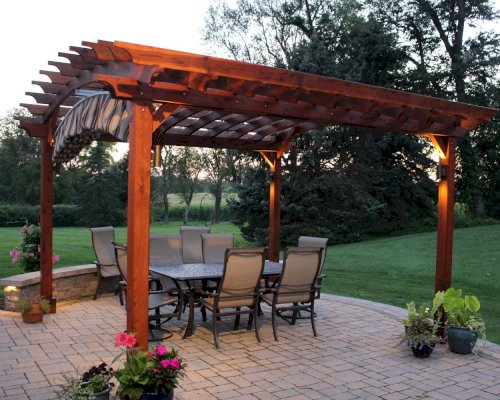 Jeremy M. - Mohnton, PA
The Pirhalla project was completed in Downingtown, PA. This project included removal of a rotten deck and arbor, and was replaced with an expanded interlocking concrete paver patio, seating wall, pergola with canopy, and LED lighting.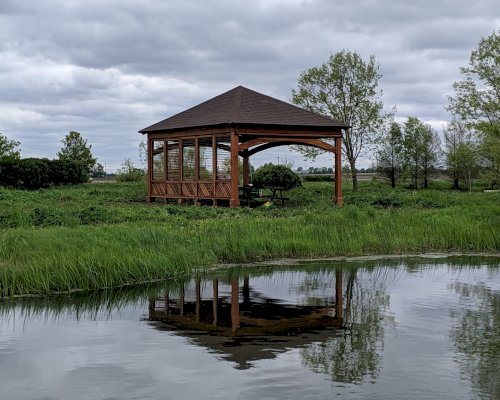 Dennis W. - Naperville, IL
The pavilion was completed only 2 weeks ago. The pavilion is on a property that is a 10 acre Conservation Easement. That means that it must be preserved in a natural state. There is a 3 acre lake shaped like a 3 leaf clover. I positioned the pavilion so that the front and the 2 sides are each facing one leaf - South, West and North. It will be for family and friends outings. The picture was taken from the North side with my Pixel 3 XL. There was a nice afternoon sun.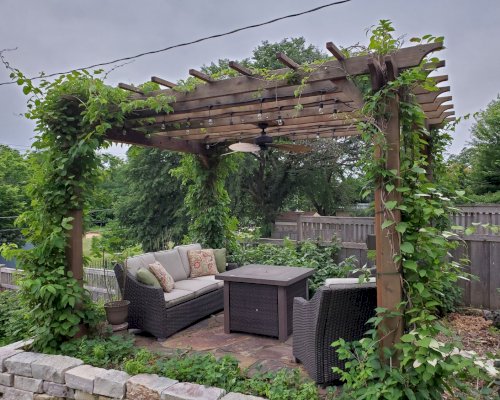 Daniel V. - Saint Paul, MN
Kiwi Pergola: Forever Redwood pergola with Arctic Kiwis growing at each corner.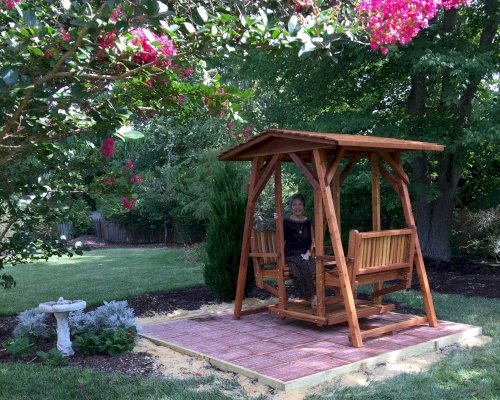 Dulce B. - Yorktown, VA
This is a photo of Mom enjoying the St. Anthony's Face to Face Glider. I searched for years for this swing because it looks almost identical to one she used to have growing up in the Philippines (Mom's father was a carpenter and built her swing out of scrap wood after WWII - over 70 years ago!) She spoke often of that swing - so proud to be the only one in her village who had one; so proud of her Tatay for building it. Sadly, she passed away a few months after we assembled it - but I'm so glad she was able to relive pleasant memories in it, if even just for a short time. I swing in it alone now, but with "memories to last a lifetime."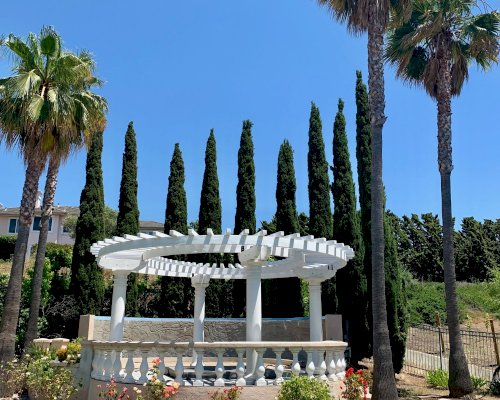 Kuldip P. - Fremont, CA
Recently, Forever Redwood built us a new pergola replicating the old one which had fallen off during a winter storm. The new pergola looks as marvelous. It was installed only last week, so we have yet to get it painted (white) but it is looking great right at the assembly! A beauty!!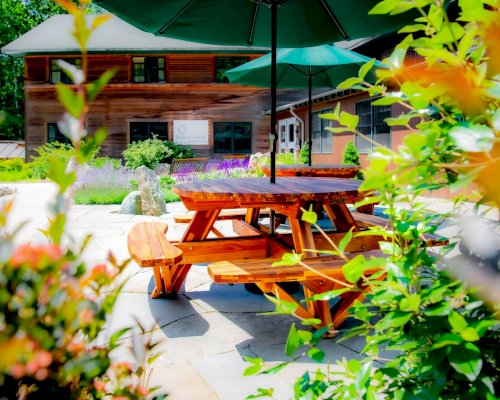 Marian S. - Beverly, MA
The Waldorf School at Moraine Farm cherishes outdoor activity and structures made of wood. With a new patio facing south in a garden, the school needed picnic tables with umbrellas for warm days, and these are not only striking but very sturdy. Parents, students, faculty, and friends alike are always happy to see and use them.