Umbrella Hole Plugs
These plugs fit the umbrella holes in our outdoor dining and picnic tables —we offer this item as a replacement convenience for those who've misplaced theirs.
Custom detail or design? Talk to one of our specialists to get the perfect solution!
Learn More
Don't want to assemble? We can deliver and assemble anywhere in the Continental US.
Learn More
Sometimes you want to see your umbrella hole and sometimes you don't.
Sizes: Umbrella hole plugs are made in 2 sizes. 1 5/8" diameter and 2" diameter to fit most poles.
Replacement: If you have misplaced the original Umbrella hole plug, you can order a replacement in any wood grade to match your table.
Customize: Order your Umbrella hole plug with the same finish option as your table. Select the sealant or stain you desire in More Options.
Furniture ordered with the umbrella hole option includes a matching plug.
Specifications has the following sections, any of which you may go to directly by clicking on it:
FINISH OPTIONS
All our furniture ships finely sanded to 220 grit for a smooth to the touch finish.
The most popular finish is our Transparent Premium Sealant. This sealant leaves your furniture looking natural and helps keep the beautiful wood surface colors from fading for several years. We use Sikkens brand finishes because they are the best finishes on the market. For more information about our finishes and how to keep your furniture looking great year after year, please go to: https://www.foreverredwood.com/redwood-furniture/care-finish/
Unfinished (fine sanding only):
If you are applying your own stain or want the surface color to fade to a "weathered look" in a few months. We do not recommend you leave your furniture unfinished outdoors for any extended period regardless of wood quality. Outdoor weather changes constantly and it is best to at least seal the wood to protect it from consistently absorbing and losing moisture.
Transparent Premium Sealant - Recommended for Outdoors:
Below are the 5 grades of wood we offer with the Transparent Premium Sealant applied. The color tones shown are close representations of the color your furniture will look like. There is no extra charge for the Transparent Premium Sealant:











Douglas Fir
(10 yr Warranty)

Mosaic Eco-Wood
(10 yr Warranty)

Redwood
(15 yr Warranty)

Mature Redwood
(20 yr Warranty)

Old Growth Redwood
(30 yr Warranty)
We also offer the Transparent Premium Sealant with the following stains. There is a small charge for adding these stains because it increases the total amount of coats to 4 with the sealant as the final coats:
Transparent

Cherry Stain

Coffee Stain

Black Premium Stain

White Wash
TIGER STRIPE EFFECT
Douglas-Fir when stained dark creates a "tiger stripe" effect as shown in this photo. It is beautiful and most customers love it. If you are looking for a dark consistent stain and do not want to see a "tiger stripe effect", please go with any of the Redwood grades for a more consistent stain finish.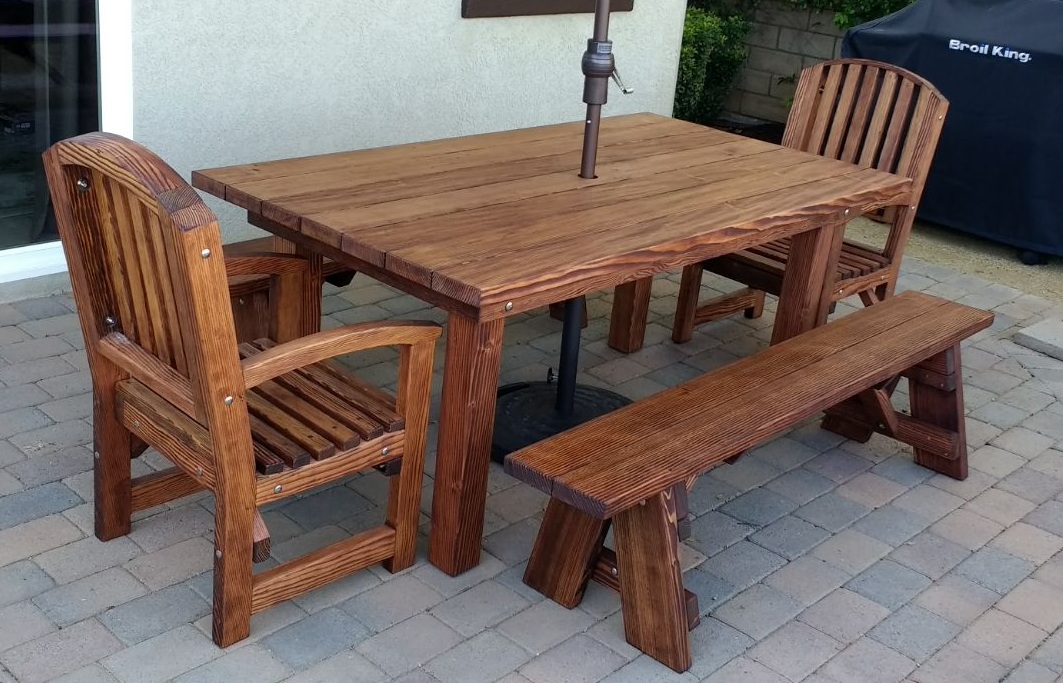 PRIMERS
Off-White Oil-Based Primer:
If you are painting a light color. We apply two coats so that it is ready for one final coat.
Gray Oil-Based Primer:
If you are painting a darker color. We apply two coats so that it is ready for the final coat.
CUSTOM PAINTS
Custom Paint Finish (go to BenjaminMoore.com):
Have Forever Redwood paint your order any color you like. We prefer to use Benjamin Moore paints because they make excellent quality products and offer a huge selection of paints and colors to choose from.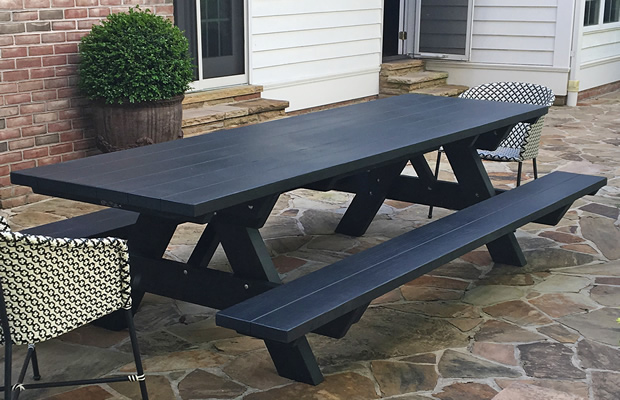 Benjamin Moore: Black Stain, 2131-10
First select the type of paint you want: Benjaminmoore.com
Then click the colors tab and choose from the almost endless amount of colors offered.
Just select the Custom Paint finish option and in the Comment box enter the type of paint and the name and number of the color you would like. We will confirm your custom paint request within 24 hours of receiving your order and we will order the paint for you and apply per the specified directions. You only need to let us know the type of paint and the color name and number and we will do the rest.
Assembly instructions are not necessary for this product.
Sign In
New Customer
New to Forever Redwood? Create an account to get started today.
Create My Account