Customer comments and reviews...
Since the 1990's, we have been building beautiful, extra-thick timbered furniture and outdoor shade structures and shipping them all over the world. We have received thousands of comments and reviews. Most of these can be found on the individual product pages. Below is a sampling of comments that include photos sent in from customers.
We take great pride in building the best outdoor wood furniture money can buy, while saving and restoring the forest for future generations. If you have your own comments to share, just contact us and we'll post them here!
Thank you very much for all you have done and best regards
Hi Raul and Jorge,
I just passed the final Pasadena inspection today. Some photos are attached in a zipped file.
I have written a customer testimonial between the rows of asterisks below. Feel free to use it online and/or in publications with or without editing.
Below my recommendation, I will give you some comments about the pavilion and the construction process.
******************************
Customer Recommendation:
I purchased a 12' by 20' Douglas Fir Del Norte pavilion for an existing patio at the back of my two story home.
ForeverRedwood's product quality is excellent. The A grade wood is significantly better that one would find in local lumber yards. I was also pleased with the quality and precision of cutting, construction, and assembly. I was expecting only carriage bolting, but when the pavilion arrived, I found that it was assembled with both carriage bolts and numerous well hidden screws of various dimensions. Once my pavilion was fully assembled in ForeverRedwood's factory, it was disassembled and treated with coats of Sikkens sealant. It is beautiful.
For shipment, all components were wrapped and taped in two layers of recycled cardboard boxes that ForeverRedwood had acquired from local factories. On delivery, there was no damage to any of the 30+ shipping boxes that totaled almost one ton in weight.
This pavilion required a Pasadena, California auxiliary structure building permit, and Pasadena is serious about housing quality and the permitting process. The ForeverRedwood design department worked closely in partnership with me during the permit approval process. n-site, the pavilion was assembled according to the ForeverRedwood's detailed assembly instructions, and the pavilion easily passed each of a series on-site Pasadena building inspections.
Before purchase, I had researched the various vendors offering similar outdoor wooden structures and had concluded that ForeverRedwood's products were the most refined. Their website and online catalog and photos are extensive, which indicated that ForeverRedwood was both established and experienced. I was never disappointed.
ForeverRedwood staff and management communicated clearly throughout the process, and they kept their word and their commitments. I am very pleased with the final product, as installed at my home.
Larry Russell
Pasadena, California
******************************
Concerning the construction process, I (age 71) put this pavilion up by myself with the occasional assistance of my adult daughter, who is quite strong. I was the only person who ever got on a ladder. This self-construction process was possible, because the trusses had been separated into pieces. I have a two-story house and still have a six-to-one block and tackle system left over from cleaning three large rugs on the back patio several years ago. Attached to the roof joists, this block and tackle allowed me to lift the heavy pieces. The construction process was slow and steady, and took almost three months. The first month was the most intensive, and then less so in the last two months.
The project required four city inspections:
1) framing
2) & 3) sheathing
4) roofing + final.
Pasadena building inspections are always backed up by 2 or 3 weeks, so I signed up for the next one on the day that I passed the prior inspection.
Here are several things about the project that you might wish to note:
Breaking down the trusses into parts made it practical to construct it the way I did. Given the multiple inspections, the white glove process would never have been practical. Other do-it-yourselfers with building inspections would probably have hired help, and I expected I would too, but I found that I could rig things up without outside help. or about $130, I purchased two sturdy panel dollys from Home Depot. This allowed me to move all the boxes from the driveway to the back of the house without extra labor to carry the boxes. For under $10 I bought an 8 foot 1/4" steel, and cut it into four pieces. This allowed me to insert the 18 inch rods into carriage bolt holes and tie pieces together for safety, while I inserted carriage bolts.
The instructions to your building department to separate the wall truss got lost in the decision to break down all three trusses into components. This was not a big deal, because I figured out how to take that truss apart. It was necessary to do so, because most of the 6 inch and 8 inch galvanized bolts I used to bolt the wall truss to the house were placed inside the truss and not all the way through. I had to have the wall truss open so that the framing inspector could see the internal bolting before the truss was reassembled. I color matched an external putty to cover the screw holes after reinstalling the screws. It is not quite as nice as your wood plugs, but it looks fine.
I should have ordered the $400 sideboards from you, since my wife said they were needed once the frame was up. So, I did it myself and had to figure out all the necessary adjustments. This also caused me to buy a gallon of Sikkens primer RE and a gallon of Sikkens 23 top coat for the side boards. By the middle of August, everything was up and all the wood had baked in July's record heat. Since I already had it, I put another coat of the 23 top coat on the entire structure. Doing that is a real pain in the butt, since you are doing it overhead versus having the piece on its back like in your factory. A second coat makes it look even nicer. The cedar coloring goes very well with the color of the brick overlay on the patio.
The reason for the two sheathing inspections was that your building department did not put enough screws into the sugar pine planks. The California building codes specify that there should be two screws at the ends of each board -- whether a board is short or long. Two screws are required on each side of each board into all the frame support below. Your building department only put one screw in the middle of many of the boards, and they missed putting any screws at the ends of some boards. (I am taking about the short cut boards within the panels and not the edges of the panels.) Anyway, after failing the first sheathing inspection, I bought a couple of boxes of exterior fence screws and finished the job and passed the second sheathing inspection. By the way, Hilary hit with about five inches of rain here, before I had added any screws and some of the boards with screws only in the center cupped. I put in two screws on the sides, a bit more rain came, and the boards relaxed a bit.
I hope your Ensenada factory survived Hilary intact, since Baja got hit a lot harder than SoCal. Regarding rain, I was required to roof the pavilion, because wood roofs are not allowed in Pasadena. I had got the impression that roofing was optional on these structures, and they would shed most of the rain. However, after only a half inch of Hilary rain, everything under the pavilion was wet. (Here, Hilary was just rain and there was almost no wind.) After five inches of rain, all the flat cardboard boxes in the pile under the pavilion were completely soaked. I suggest you just recommend to all your customers that waterproof roofing be added to any of these structures. If people plan to sit under them in the rain or place any furniture or appliances under them, they want to keep dry. This is not something that your white glove teams would/should necessarily do, but it is probably better to have the customer expect to add roofing than be surprised when it first rains and leaks.
To be clear, by the way, nothing in items A through E above really bothers me. You just adjust until things are right. I am a very happy customer.
The next step is to install mosquito netting all around. I have four 9 foot by 12 foot garage mosquito screens with the magnetic openings to put up. I bought a bunch of 1" x 2" x 8 foot furring strips, sanded them, and treated them with Sikkens. They will keep the netting in place and the mosquitos out. Lastly, my family will be surprised later to find that this pavilion will have an elevated G Scale Model Train riding around up in the rafters. I am only allowed to have the train in the house around Christmas, but in can be up in the pavilion year round!
Thank you very much for all you have done and best regards,
Larry Russell
I would to express my gratitude to your company
I would to express my gratitude to your company and what a pleasure dealing with everyone from design to the 2 men that delivered the pavilion.
I have Uploaded photos (at least I think I did) hopefully our area meets requirements to be in your portfolio
Again thanks
John L. -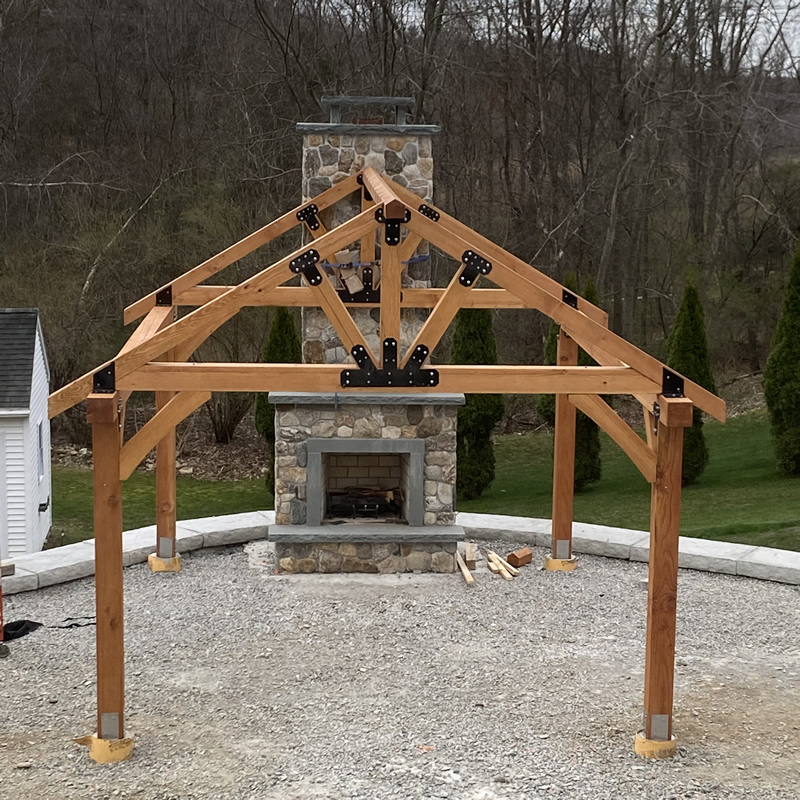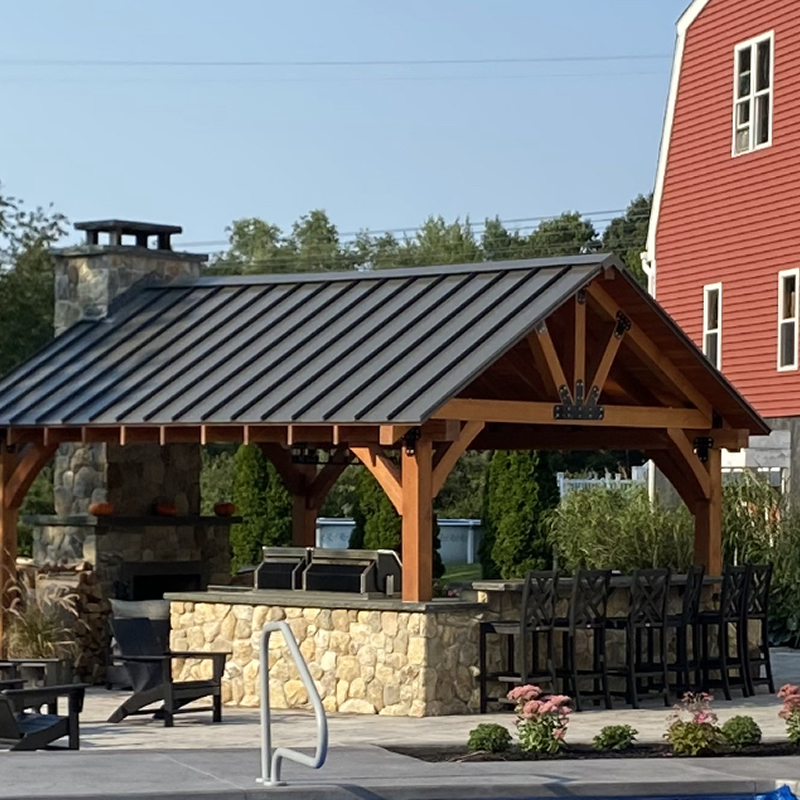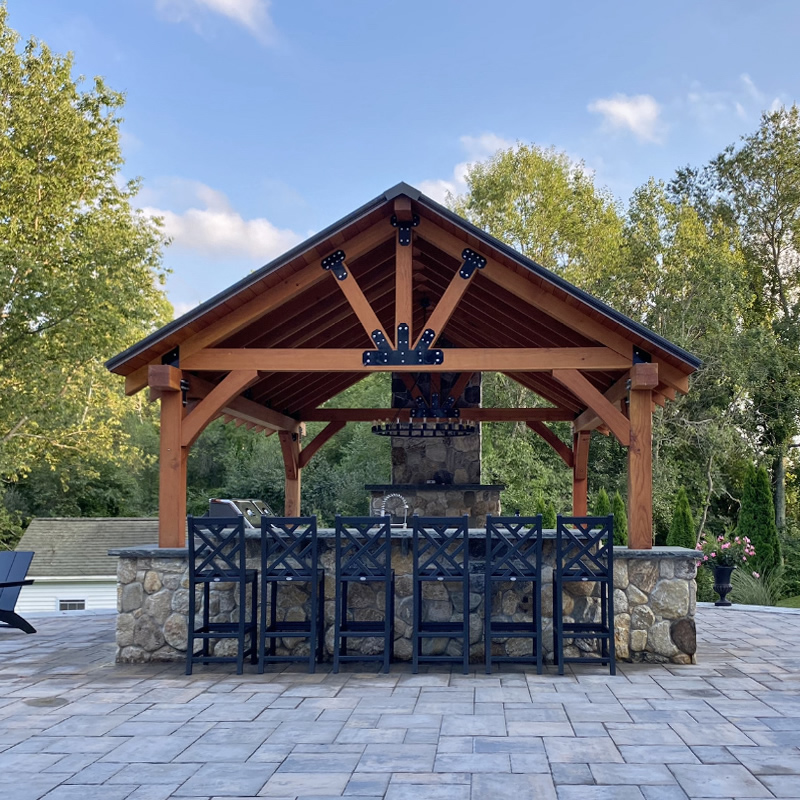 Everything went great.
Everything went great. I assembled it by myself, it was a fun project. I have only one complaint, the bottles of touch up stain were dried up. I'd like to purchase some more of it if possible. It's the coffee color stain.
This was a great project; the neighbors and family are very impressed.
Thank you.
Ron C. -
The pergola is beautiful and high quality.
The pergola is beautiful and high quality, overall the experience was positive.
The order arrived on time, however the assembly team struggled with the chaotic travel environment and the assembly had a lot of schedule uncertainty as to when the team would be onsite and when it would be completed.
Gregory F. -
Very beautiful bench.
Everything went as scheduled. No damage or missing parts. Instructions very easy and clear. Very beautiful bench. I have no complaints.
Thanks for such a professional product.
Luisa A. -
Overall experience was very good.
Overall experience was very good.
We paid for the White Glove service and was well worth the extra cost. The quality and workmanship of our pergola met all of our expectations. Where else can you get a product made from mature redwoods.
Gary G. -
Thank you for a very pleasant transaction!
Thank you for a very pleasant transaction!
From planning to delivery the experience was ideal. The pieces arrived on time and with nothing damaged. We did have a slight mixup with the "boots" for the posts, but that was quickly and easily rectified. Thanks for creating a great product backed with excellent customer service and delivery teams!
Jaret O. -
Thank you to each and every one of your representatives.
The order was on time, and it turned out even more beautiful than we expected. The assembly was easy due to the easy-to-follow instructions. The quality and finish of the finished bench is super. From start to finish each employee I dealt with was professional, pleasant and very easy to work with. Each step of the process was beyond expectations.
Thank you to each and every one of your representatives.
Carol D. -
We love how our pergola looks.
The order arrived per the shipping schedule. The box that the pergola pieces came in was impressive; everything arrived safe and secure at our home in Indiana. The carpinters were happy with the instructions. We love how our pergola looks. We'd highly recommend Forever Redwood to others.
John H. -
It was a pleasure to work with Forever Redwood.
Our fabulous dream glider arrived on time and every piece was perfectly crafted. Between my husband, my son and stepson, it came together a day. The staff has been more than gracious in responding to any questions. Each piece was well protected for shipping. We were kept up to date on every step along the process. That was such a added bonus. I What no had ordered the cup holders at he time. My mistake but we will do so in the spring. Something to look forward to next year.
The rocking is such a peaceful motion and provides a perfect place to read, reflect, and catch up with friends. It was on my wishlist from the time I was 3 years old. I spend countless hours on it every day. Itbsirs on a flagstone patio under trees. We can enjoy it on the hottest days and even in a downpour. The roof keeps us dry. It was a pleasure to work with Forever Redwood.
Mary S. -
Please convey to them all our sincerest gratitude.
Dear Raul,
Hope this finds you well.
As promised heres is a selection of the photos taken once the swing was in place (You may choose to consider any of them -perhaps the first one- as our submisson to the Forever Redwood photocontest, of course to the benefit of whichever charity of your choice, if luck were to have it).
Our lives, after more than forty years of marriage (which the pandemic nearly prevented us from celebrating, if not for your earnest and professional response) are as these photos so clearly depicted: a look towards the horizon, amidst a lush vegetation of so many good things bestowed upon us, year after year.
So nice that your swing should materialise the possibility that dreams do come true (childhood memories of a swing back in the Philippines, now rooted on Spanish land -Marugan, Segovia-, as are we) as a result of careful pampering of forests and true craftmanship, by a team who we have not met persanally, but have all left their personal signatures on it, in some way, along with our own initials that you engraved as your anniversary present.
Please convey to them all our sincerest gratitude. The swing is now miles away in a different forest (that surrounding our house in Marugan, Segovia, Spain), but with the heart where it was borm.
Gracias,
Pilar y Luis -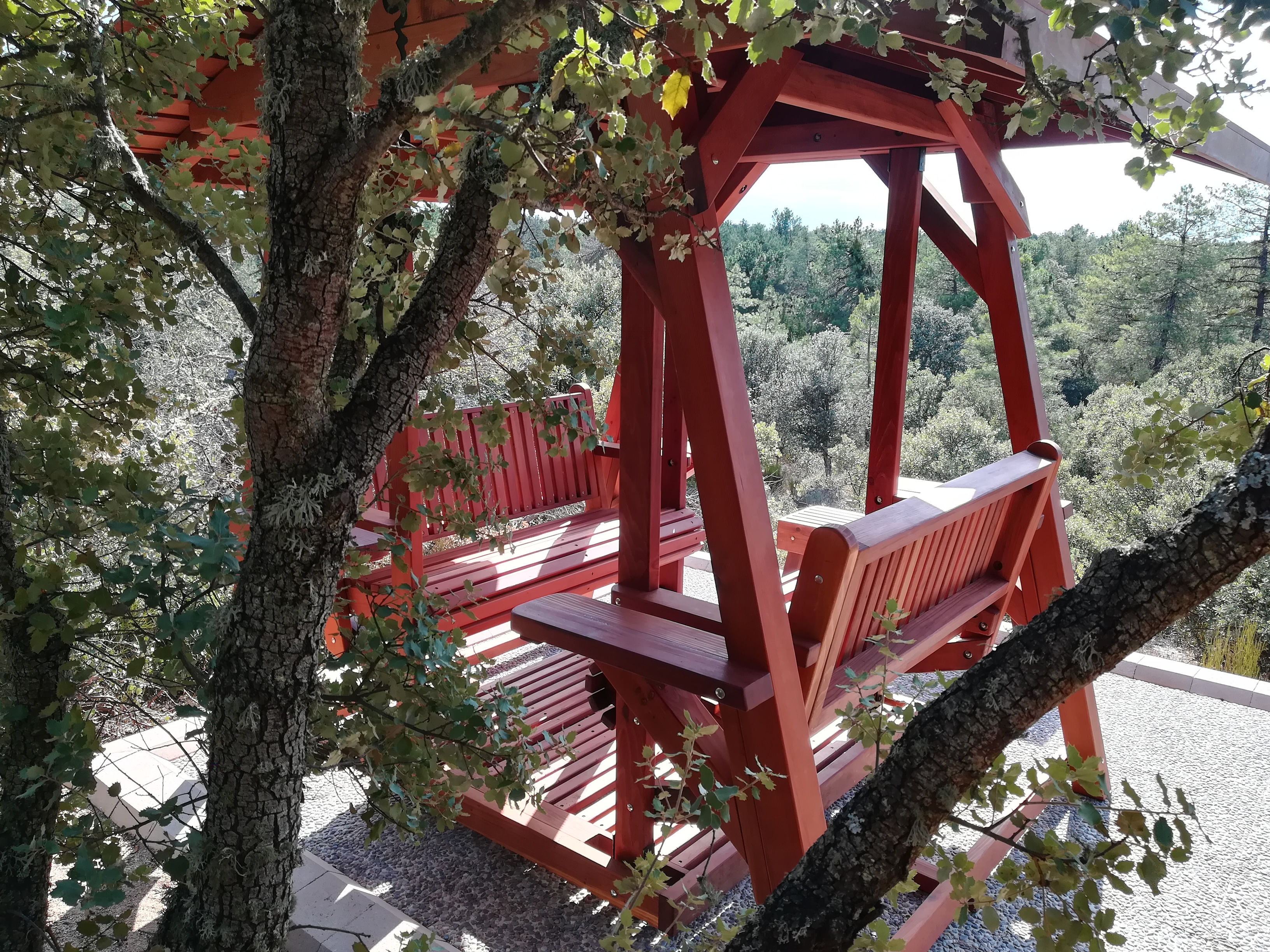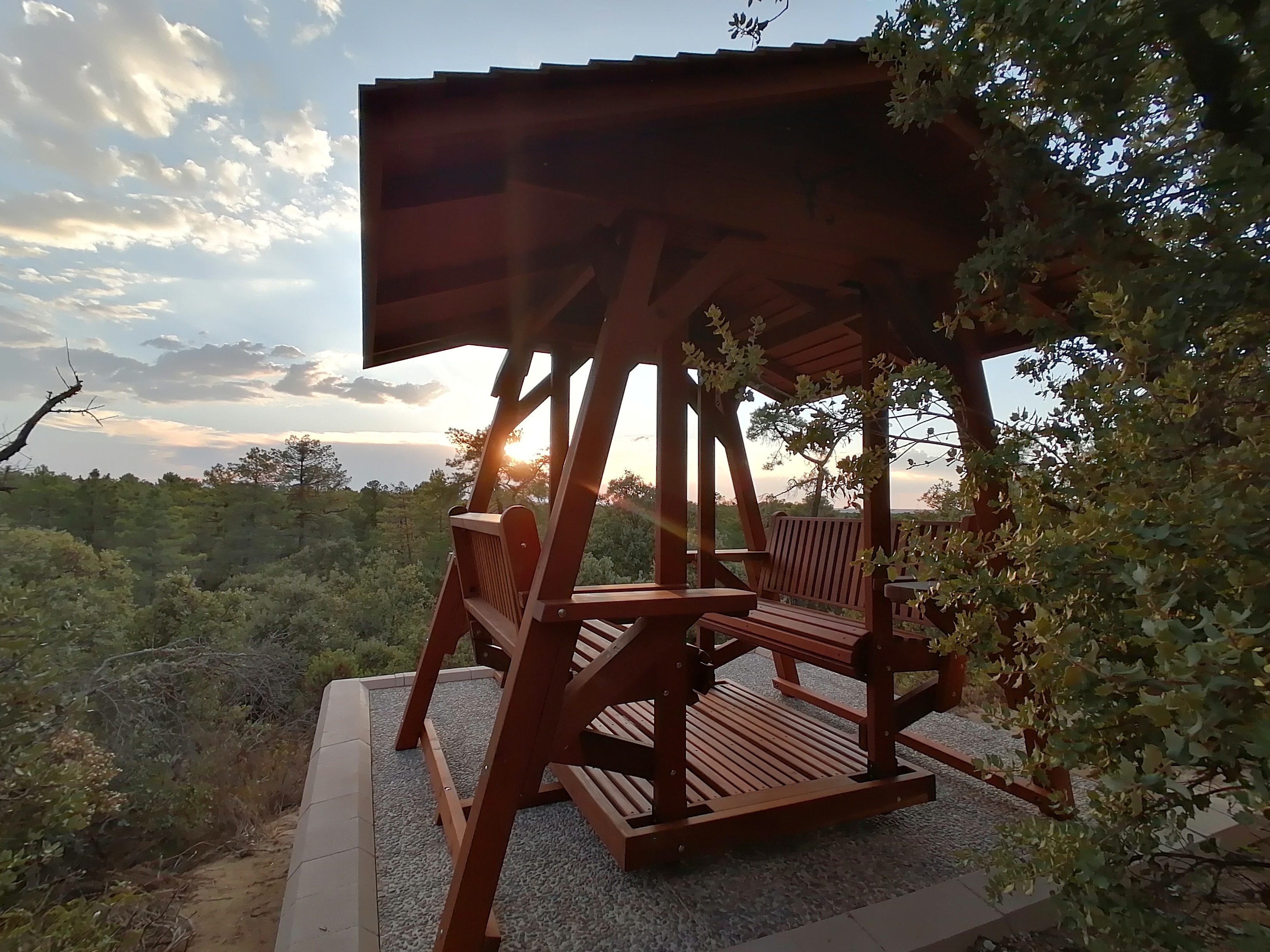 Just wanted to drop a note and tell everyone THANK YOU.
Just wanted to drop a note and tell everyone THANK YOU.
Your whole team was excellent to work with. We placed a time lapse video camera on the project and will be able to send it out in a couple weeks. Our construction crew started assembling the pavilion on Monday and just finished up today (4 days total). They were very complementary of your work and the directions to reassemble; they really liked this project.
Here are a couple pictures.
Andy K. - Starkville, MS.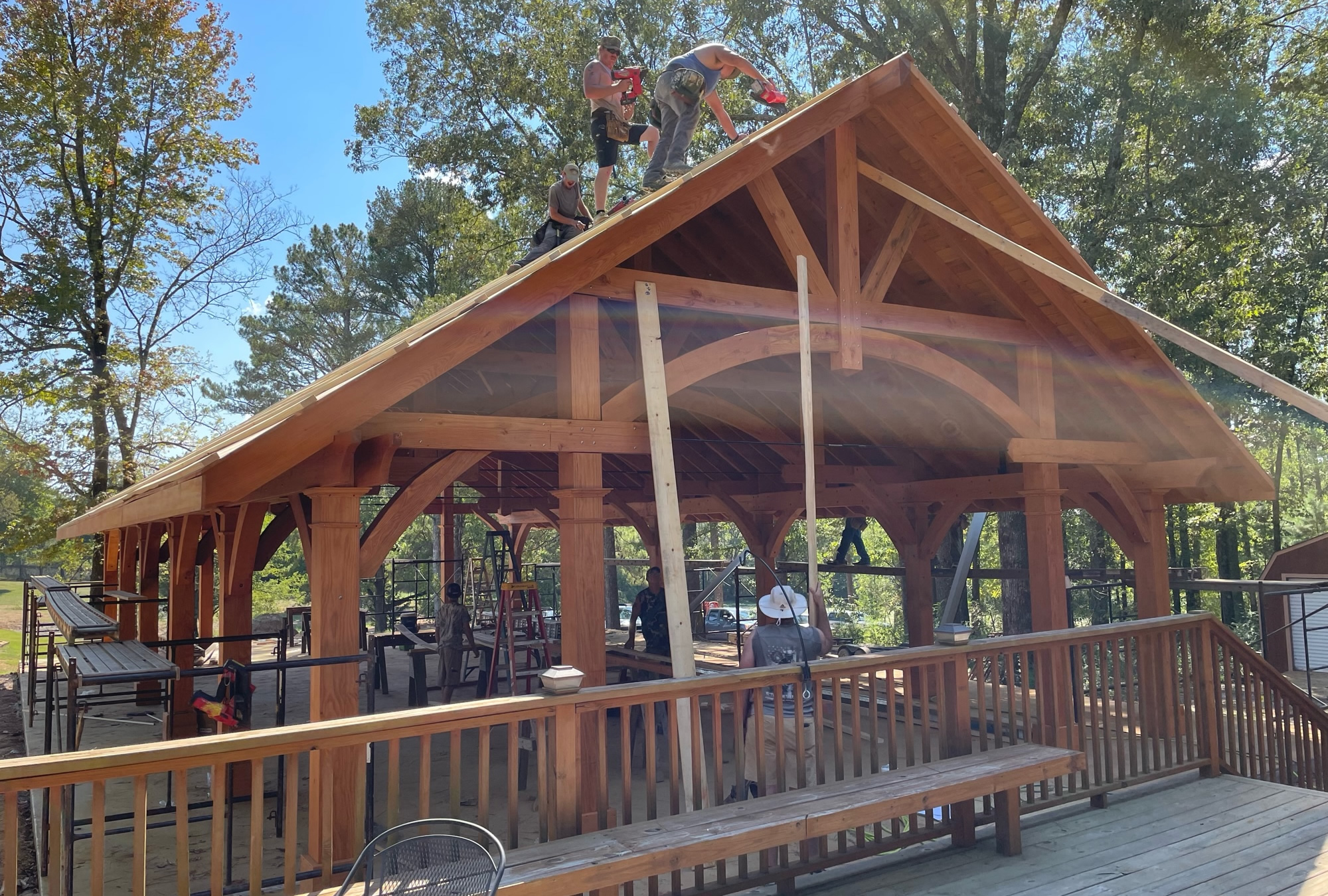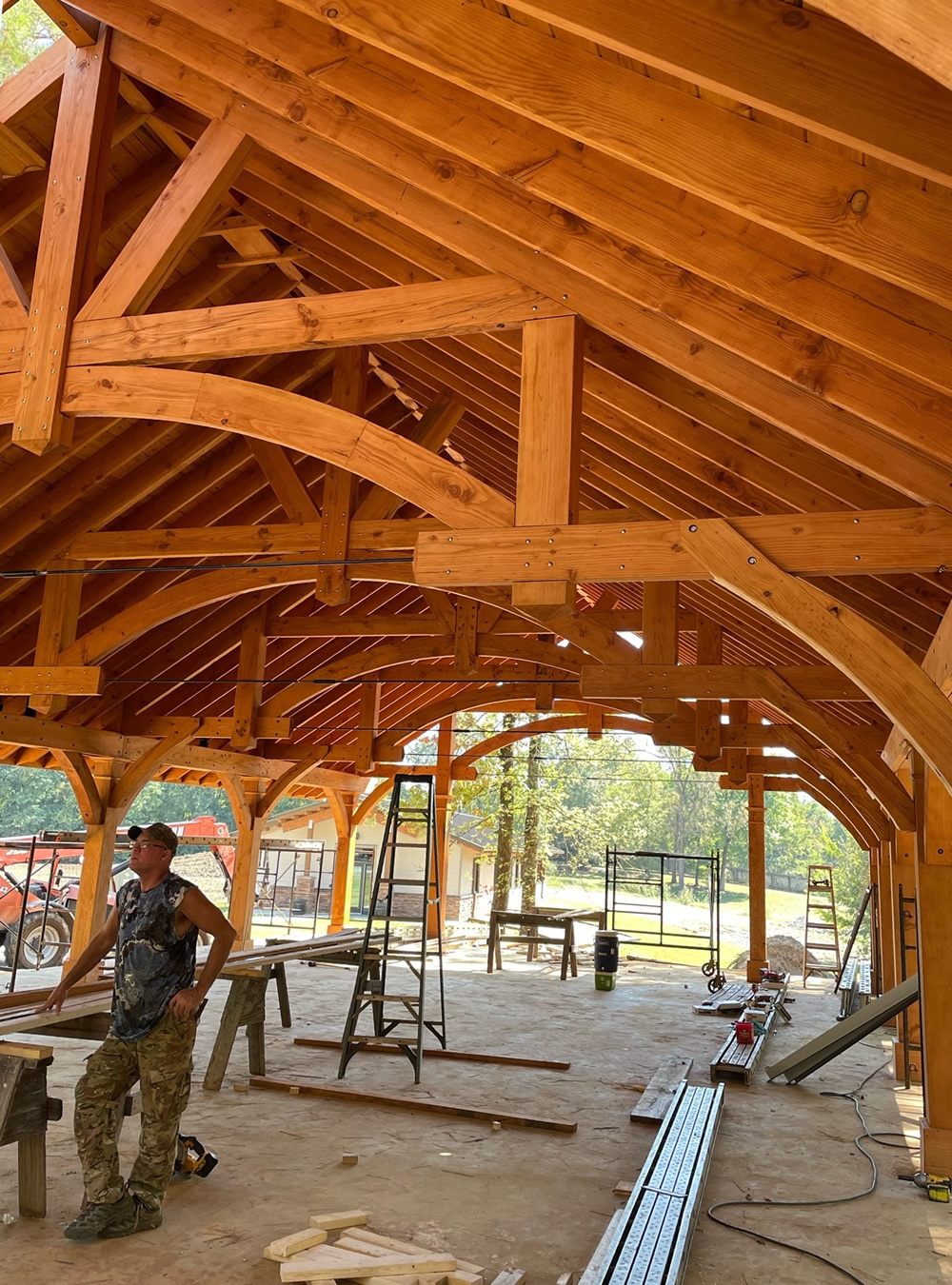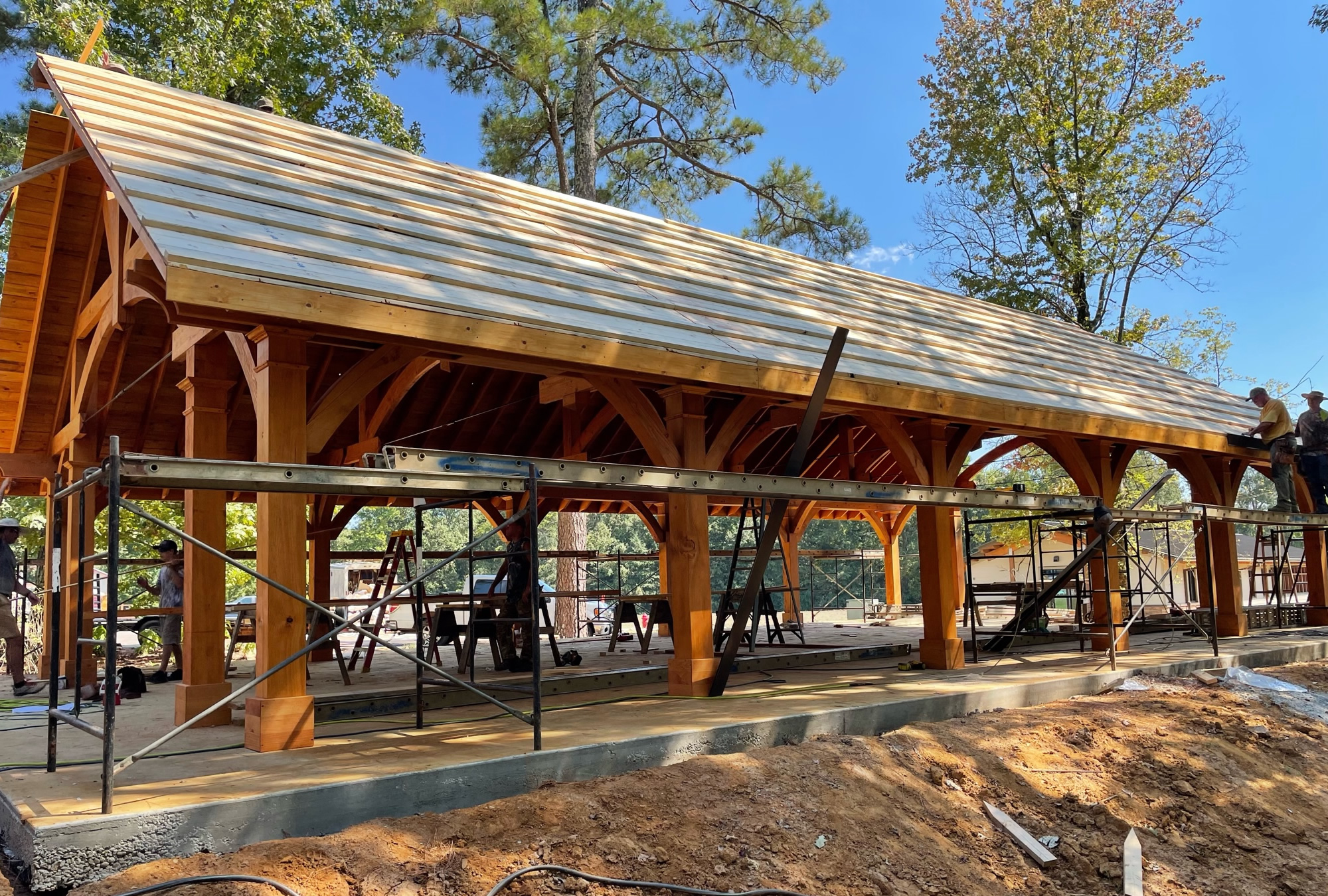 Greetings from Virginia
Greetings from Virginia, Raul!
We are excited to let you know that Forever Redwood was mentioned in an article just released about our garden lab at Frederick Douglass Elementary School where your beautiful pergola that you made possible still stands in magnificent condition as the center piece of the garden. Here is the link to the article:
https://www.loudountimes.com/news/students-are-learning-and-growing-in-frederick-douglass-garden-lab/article_06bf4f4c-547e-11ed-a443-1f6b3e8bae89.html
We think of Forever Redwood and its amazing, dedicated staff often. We hope you know how grateful we are for your partnership in this program. I have attached updated pictures as well of the pergola, which you are welcome to use.
I hope all is well your way!
With deep gratitude,
Marykirk C. - Leesburg, VA.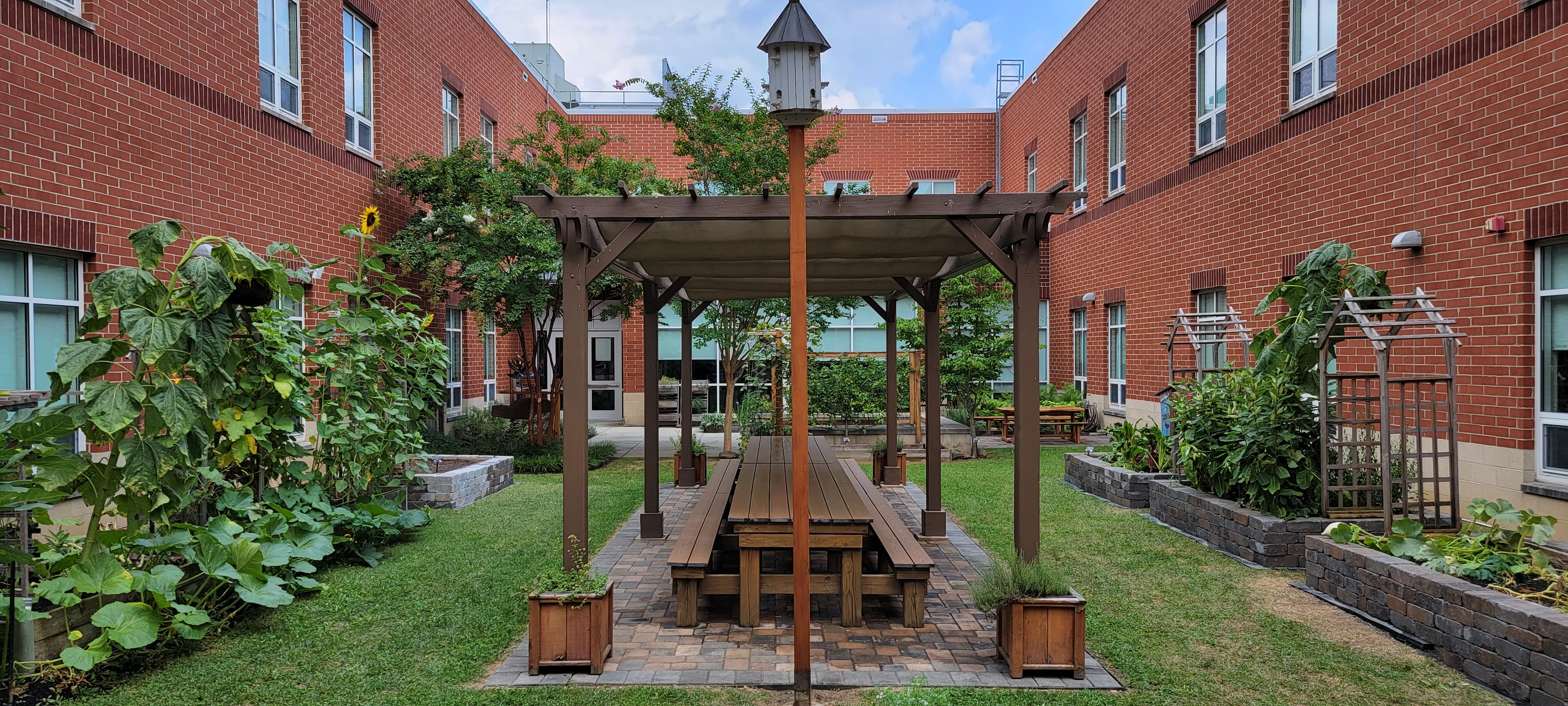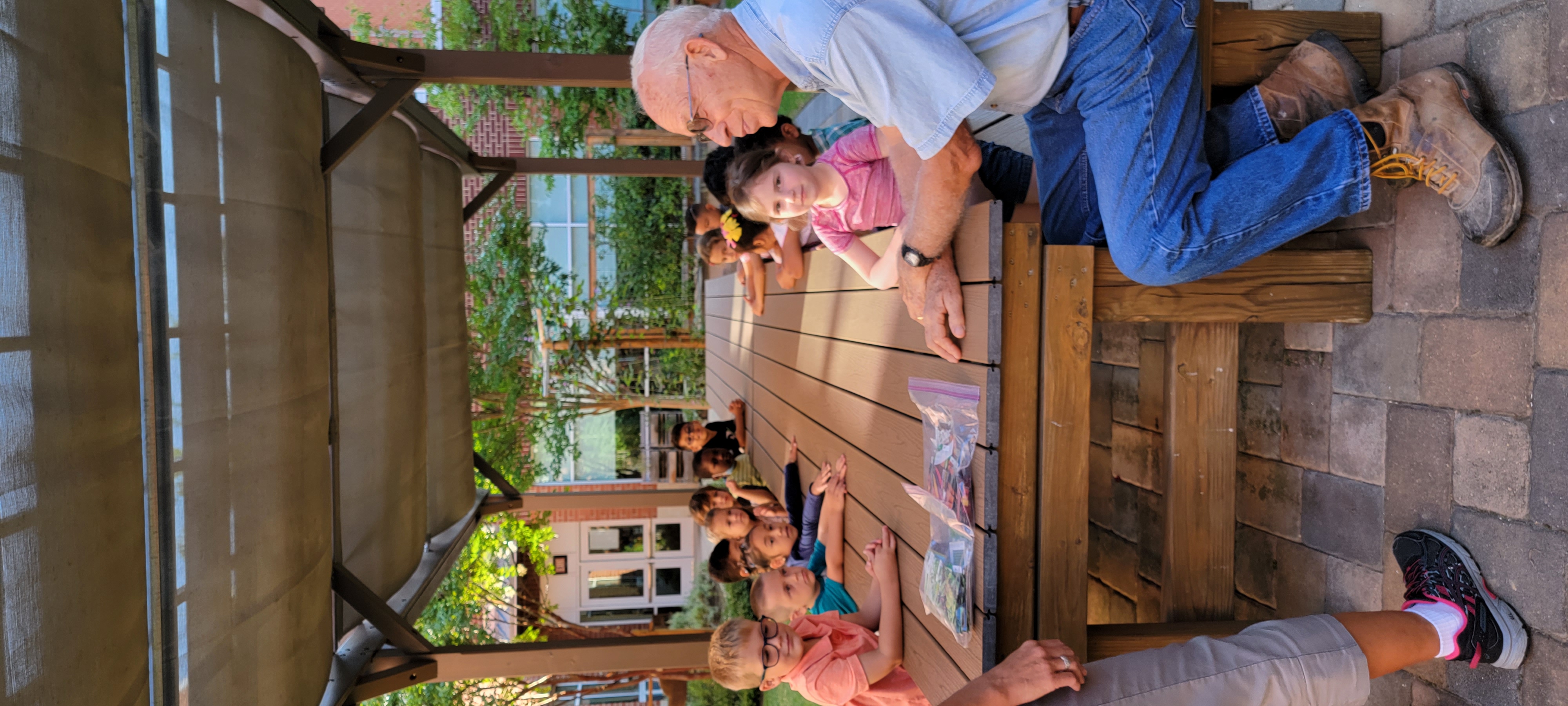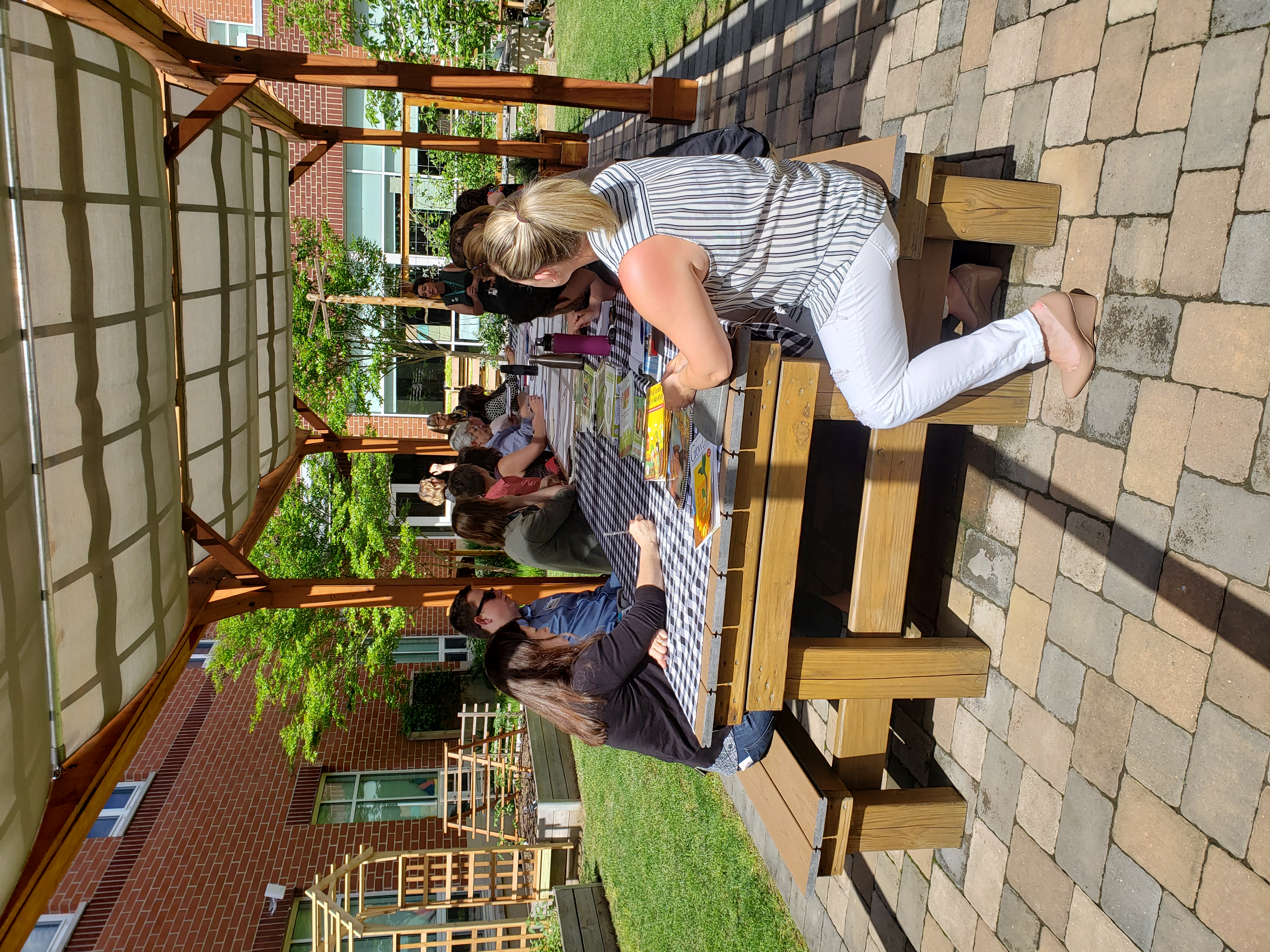 The table your group produced is simply beautiful and fits in perfectly for us.
Hi Raul,
My apologies for taking some time to send this email.
The table your group produced is simply beautiful and fits in perfectly for us. The picture tells the story and everyone who has seen it admires the look, feel and craftmanship. I would have liked to send you a picture of a big gang of us with the table but, unfortunately, just after we got the table in, we all came down with a good case of Covid and it has taken us a couple of weeks to finally shed it!
Hats off to all of you team and we really appreciated the effort of getting this delivered. It is not common to find this level of service.
Best to you.
Bill K. - Vida, OR.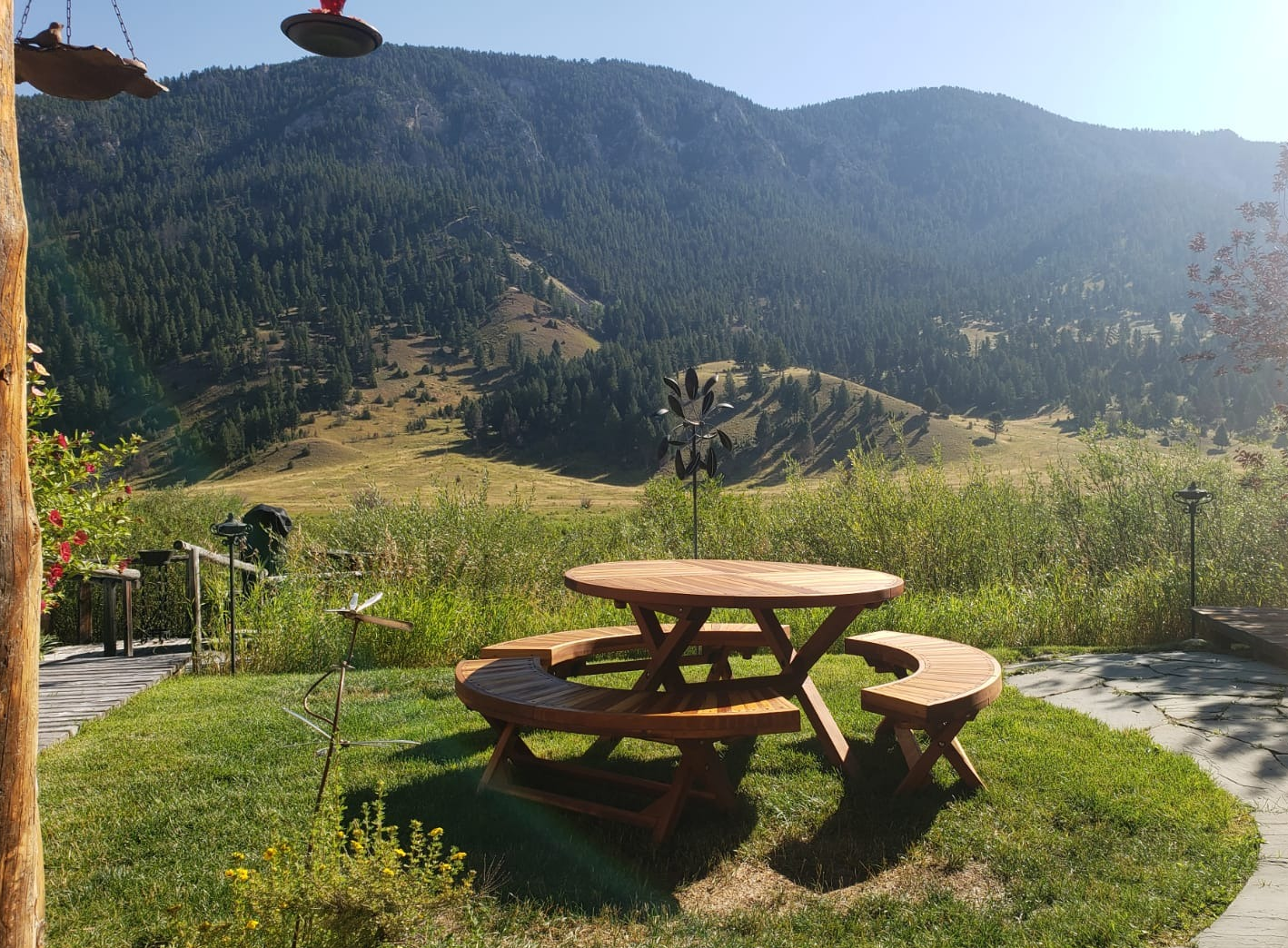 Love my new picnic table.
Raul,
Love my new picnic table. Thank you so much!
Jane J. - Vida, OR.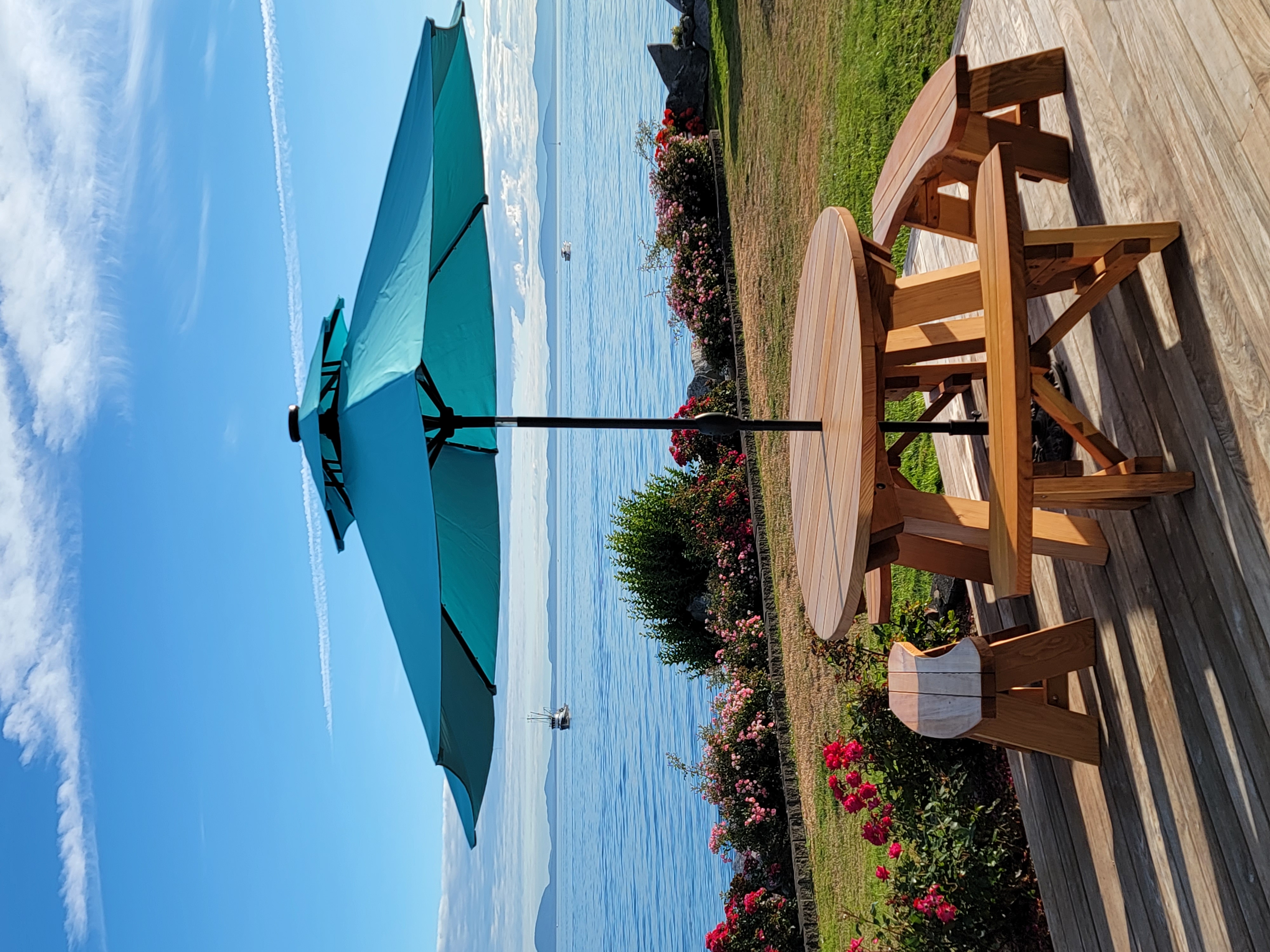 Just refinished it with the Sikken product.
Raul,
This is the 7ft custom table you made for us several years ago. It went through a major forest fire in September 2020. Some burn pockmarks but no major damage. Just refinished it with the Sikken product. The big swing also survived.
We think of you often and we hope your redwood conservation project is doing well.
John and Lia F. - Vida, OR.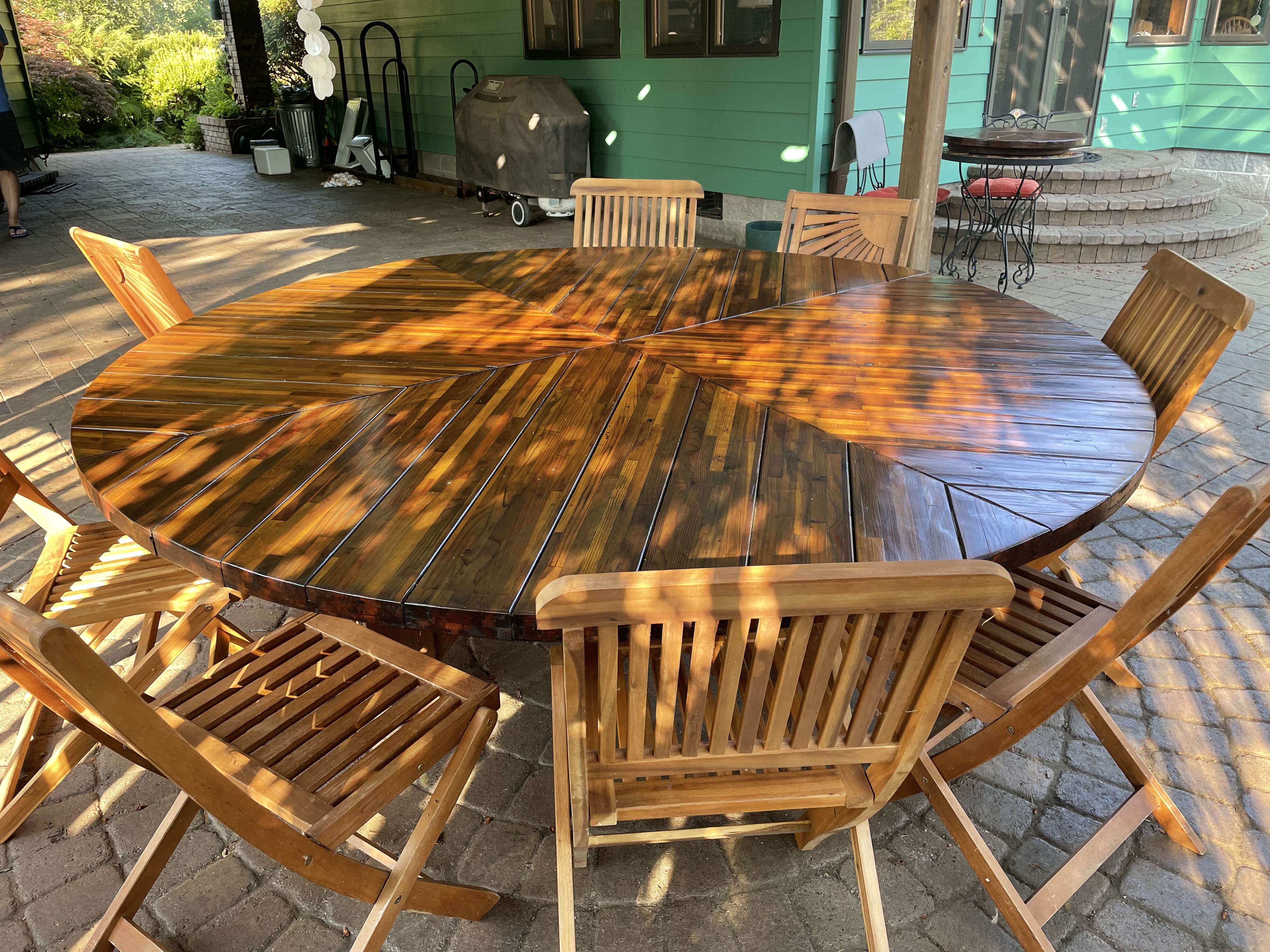 We simple could not be happier. Oh, and the pergola looks fantastic!
Dear Raul, et al.,
I hope this finds y'all well.
What an absolute pleasure it's been working with Juan Carlos and Daniel. Super nice guys and super-efficient; they completed the work in less than projected time, they kept the work-site clean, neat and organized, they kept me abreast of their progress and needs, all the while being accommodating of the club's needs. We simple could not be happier. Oh, and the pergola looks fantastic!
Please do not hesitate to contact me if I may be of further assistance.
I would like to forward this to Juan Carlos and Daniel and I think I can manage a translation =)
Gustavo C. - Raleigh, N.C.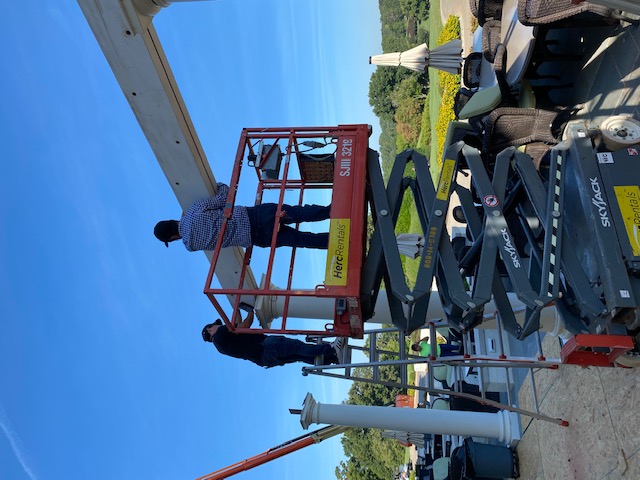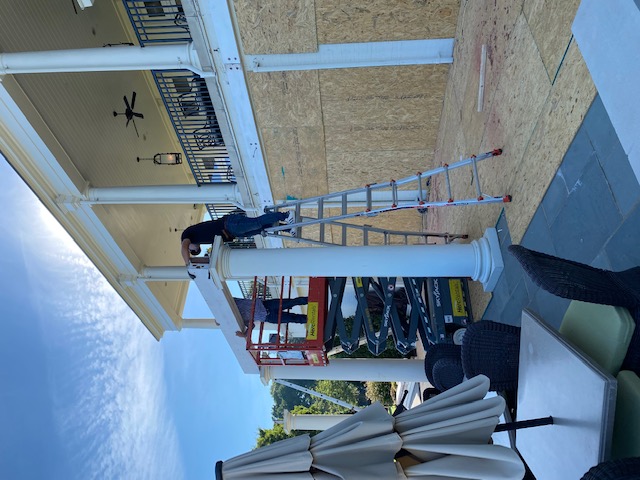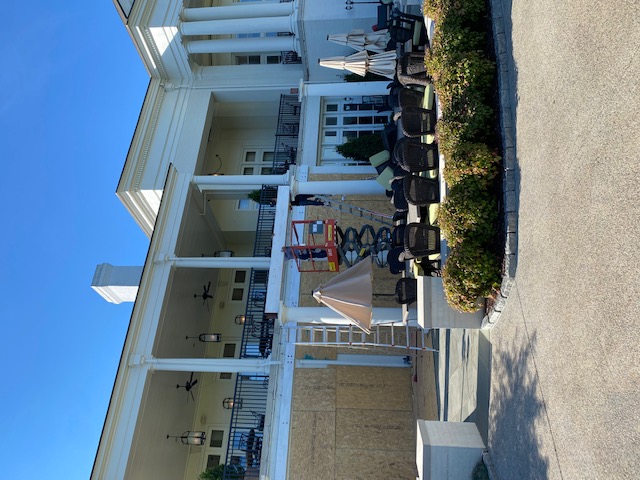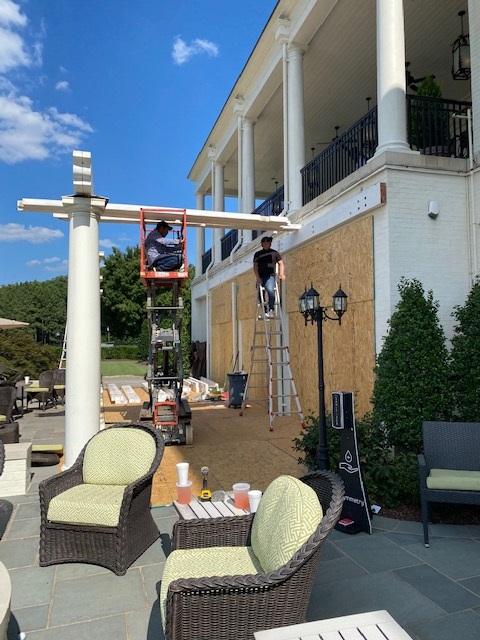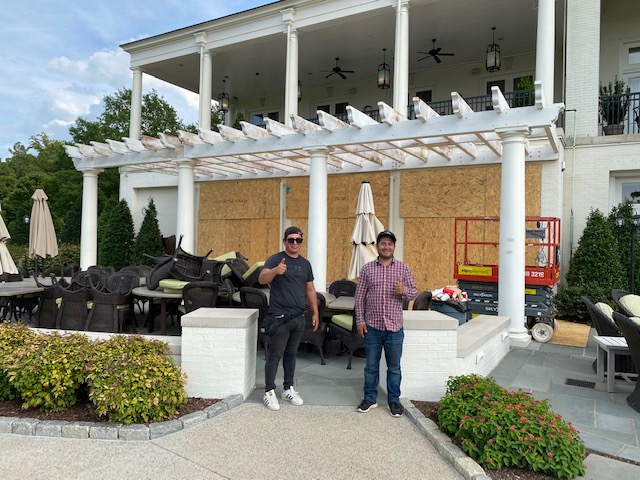 We are absolutely still LOVING our pergola!
Hi Raul,
We are absolutely still LOVING our pergola! It gets so many compliments and we are out there almost daily/nightly. I attached a pic for you that I just took during a gentle Colorado rain.
Quick question – I looked at your site for care and maintenance and you recommend Sikkens Proluxe Cetol Log and Siding Stain. Do you think that one gallon should suffice? Our yard is south-facing and gets hit with our Colorado sunshine all day long. There are a few areas where the wood is looking a little dry and tired and I'd like to spring it back to health.
Thank you and keep up the great work!
Jason B. - Wildwood, MO.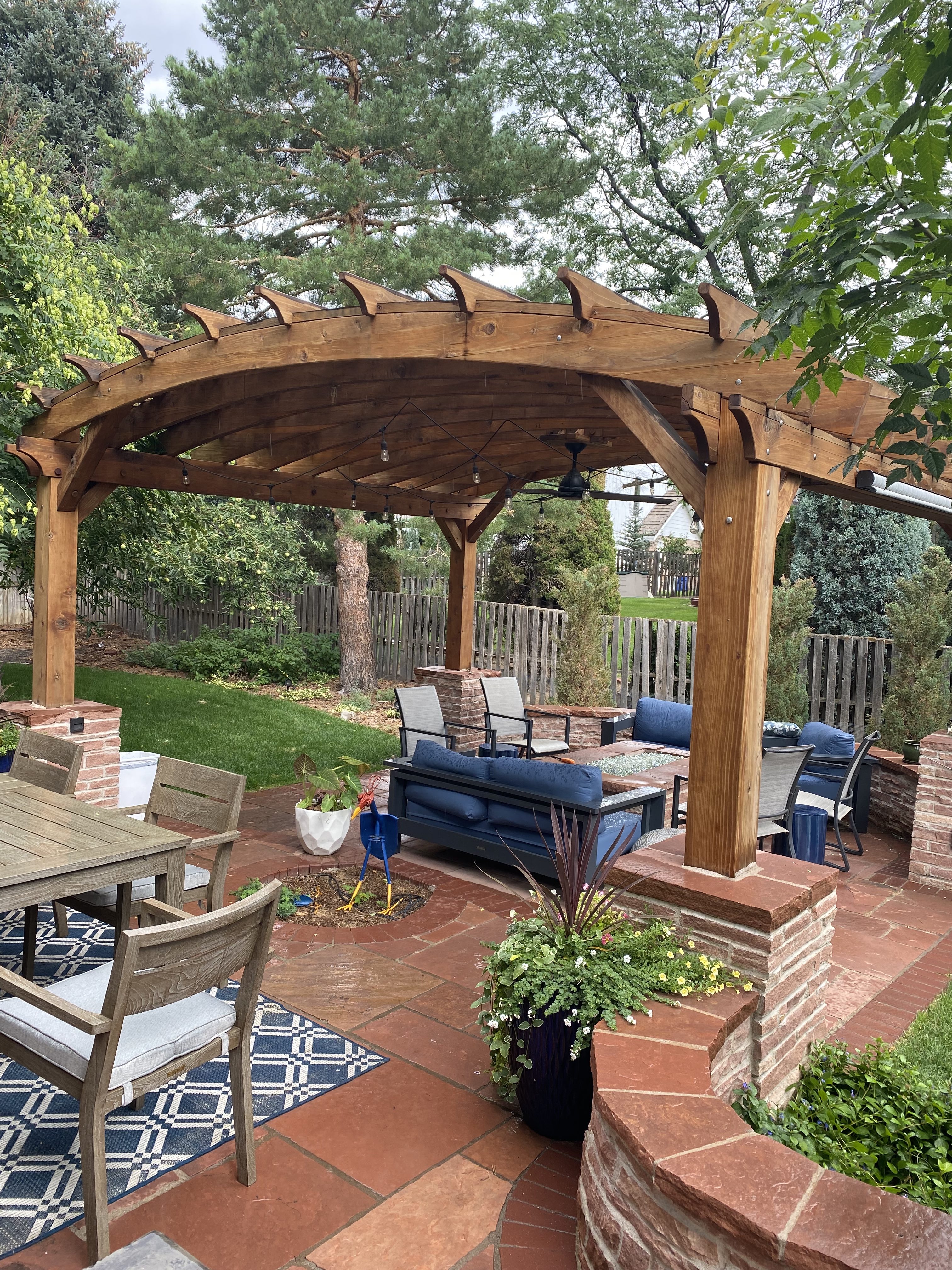 We love it! It is so elegant.
Hi Sergio and the rest of the Forever Redwood team,
I wanted to share some photos of the trellis, fence and gate fully installed in our garden in St Michaels, MD. We love it! It is so elegant, and just what I had pictured in my mind's eye when we started.
It needed a second coat of white stain after it was installed, and we painted the hardware white as well, so now it is a gleaming and beckoning entrance into our cottage garden. There are four Will Goodwin clematis and 2 Zepherine Drouhin roses making a home on the arbor.
Thank you so much for your patient and expert work to bring this vision into existence!!! You nailed it.
With gratitude,
Jessica and Brian S. - Leesburg, MD.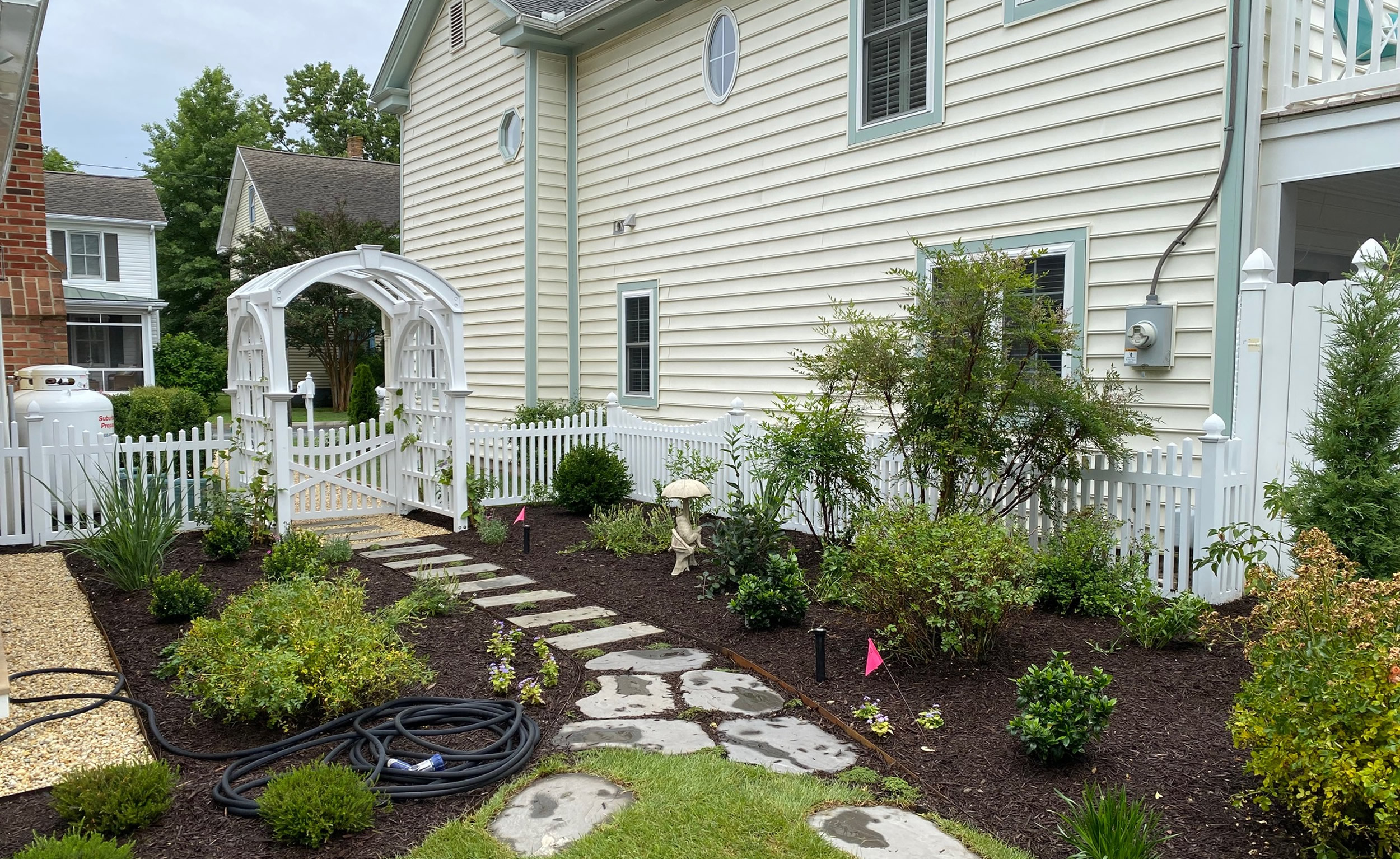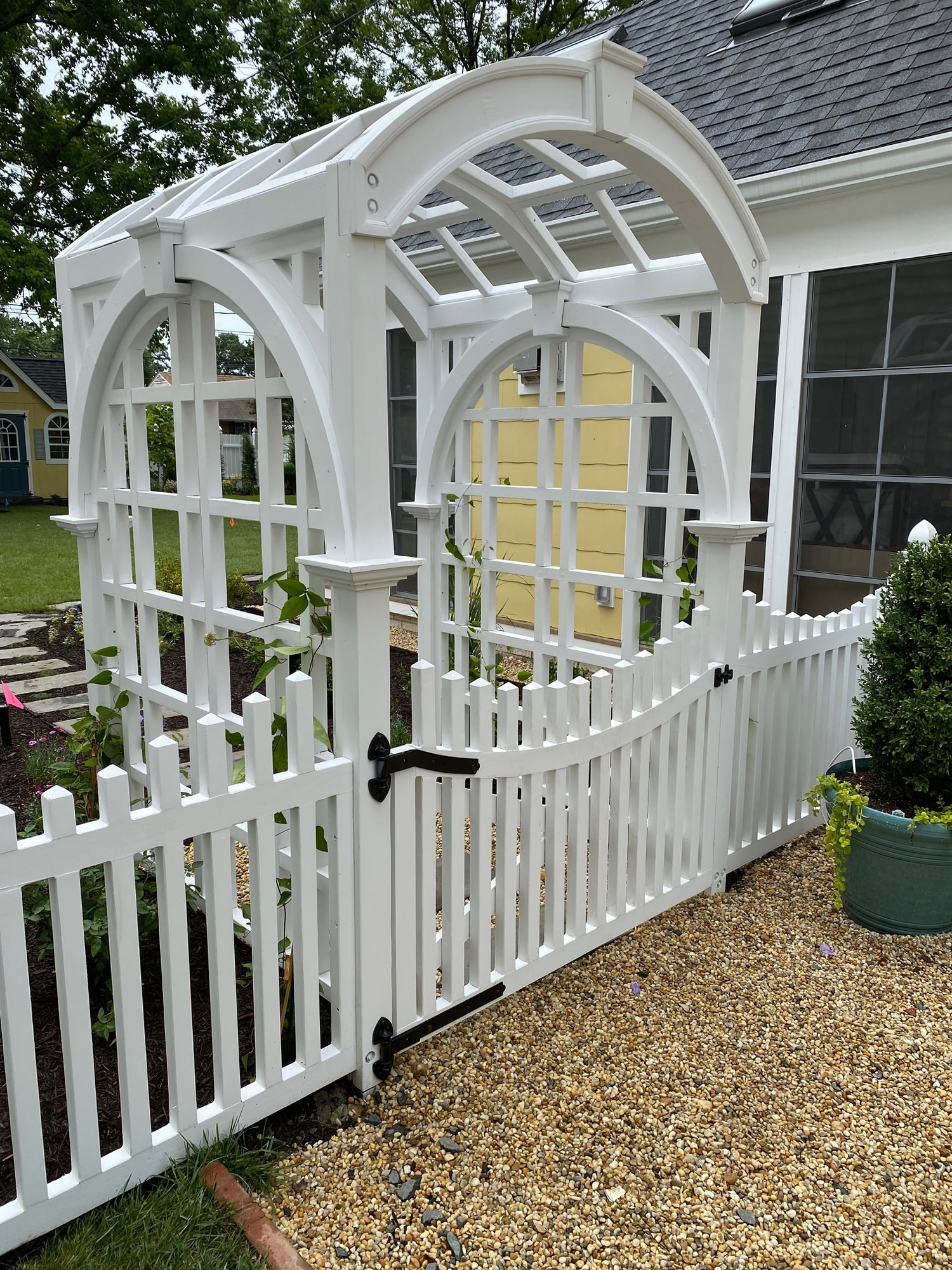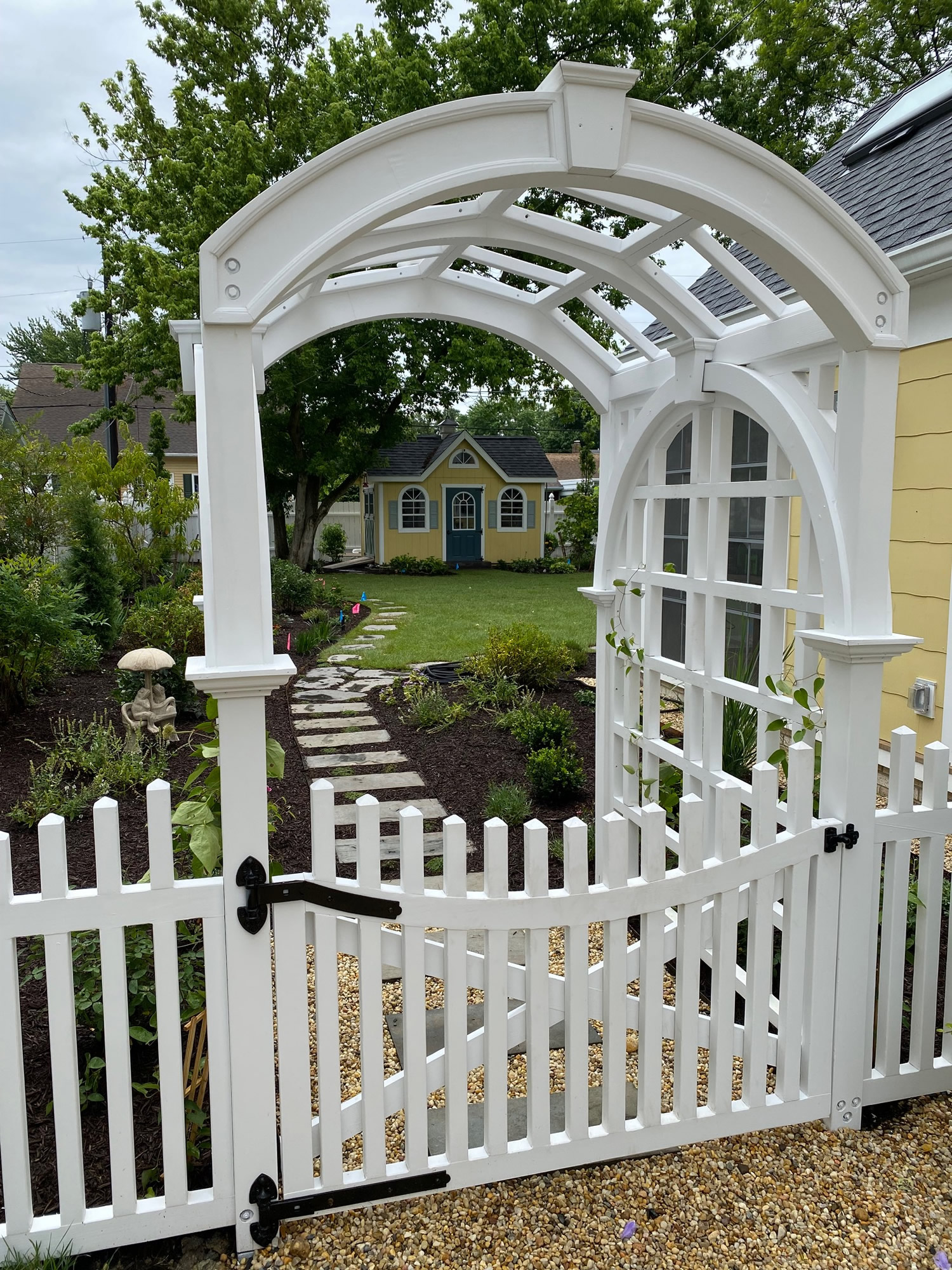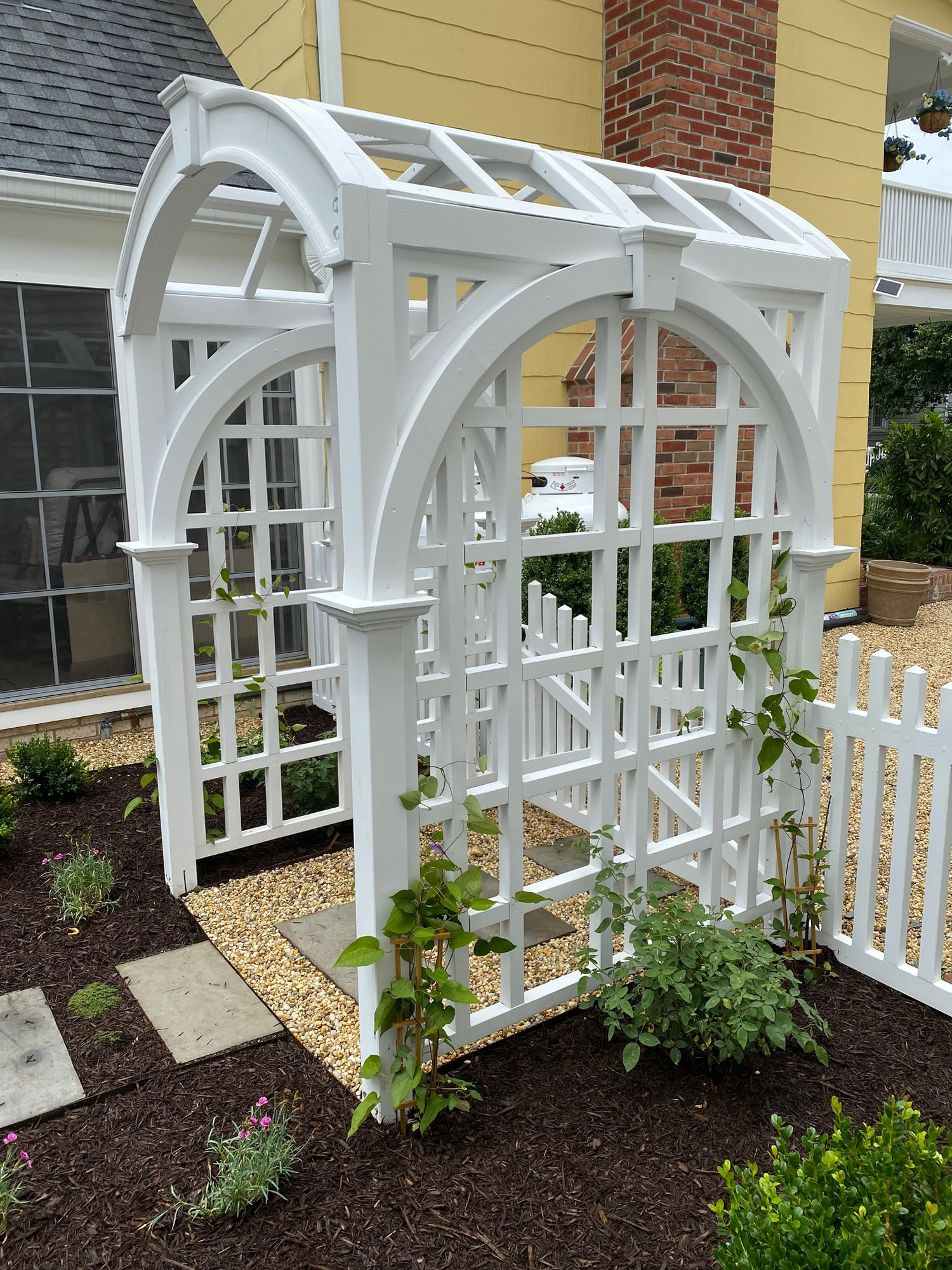 We absolutely LOVE our pergola.
Raul,
I can't thank you and all your associates enough! We absolutely LOVE our pergola.
Everything worked out so well, the design, specifications, delivery and subsequent install. My daughter's shower is this Saturday and your timely commitment to production was instrumental in our plans. We are so grateful.
We will be sure to use Forever Redwood for all our future needs and recommend your company to all our friends. Thank you again!
Linne T. - Abington, MA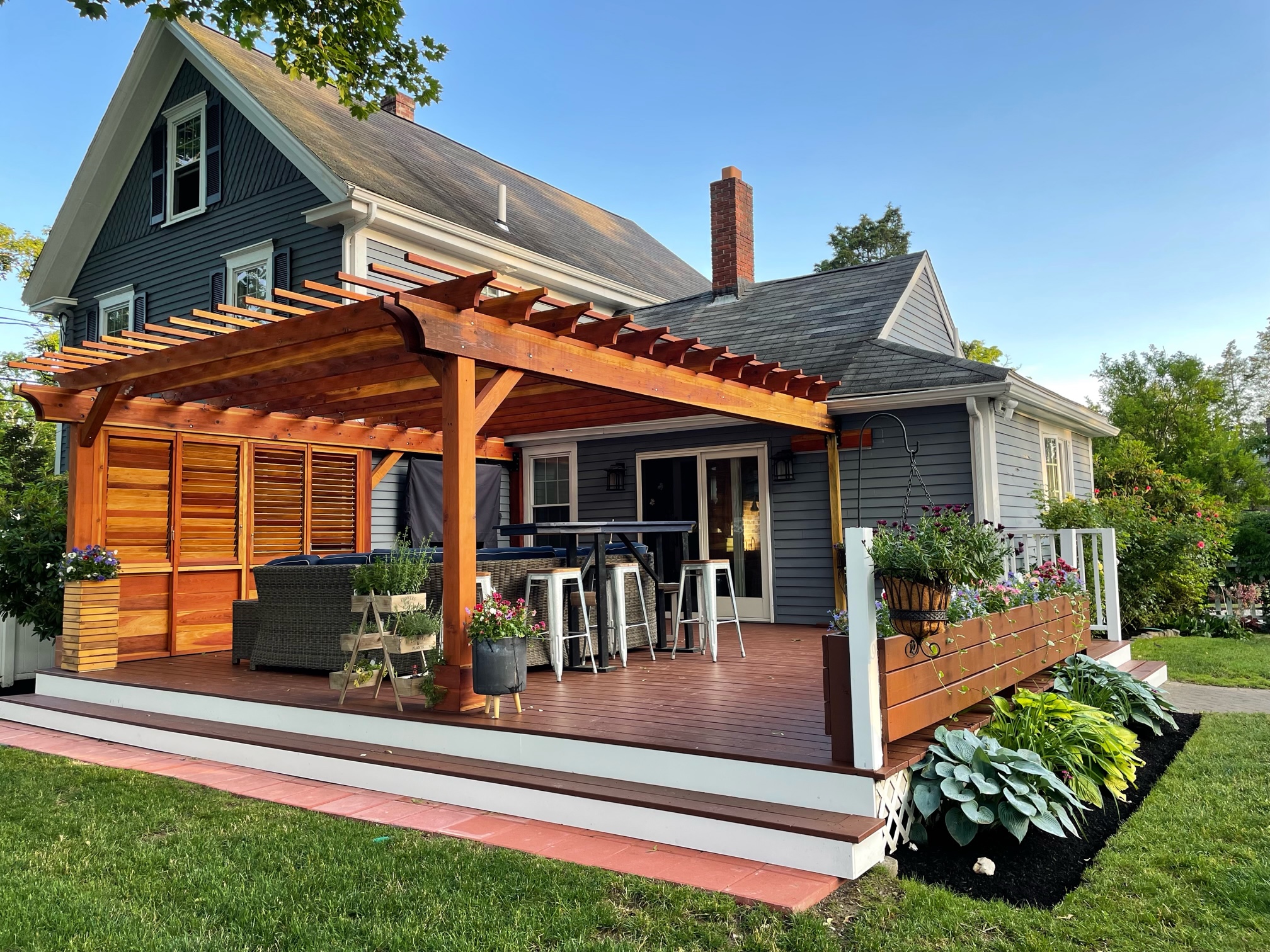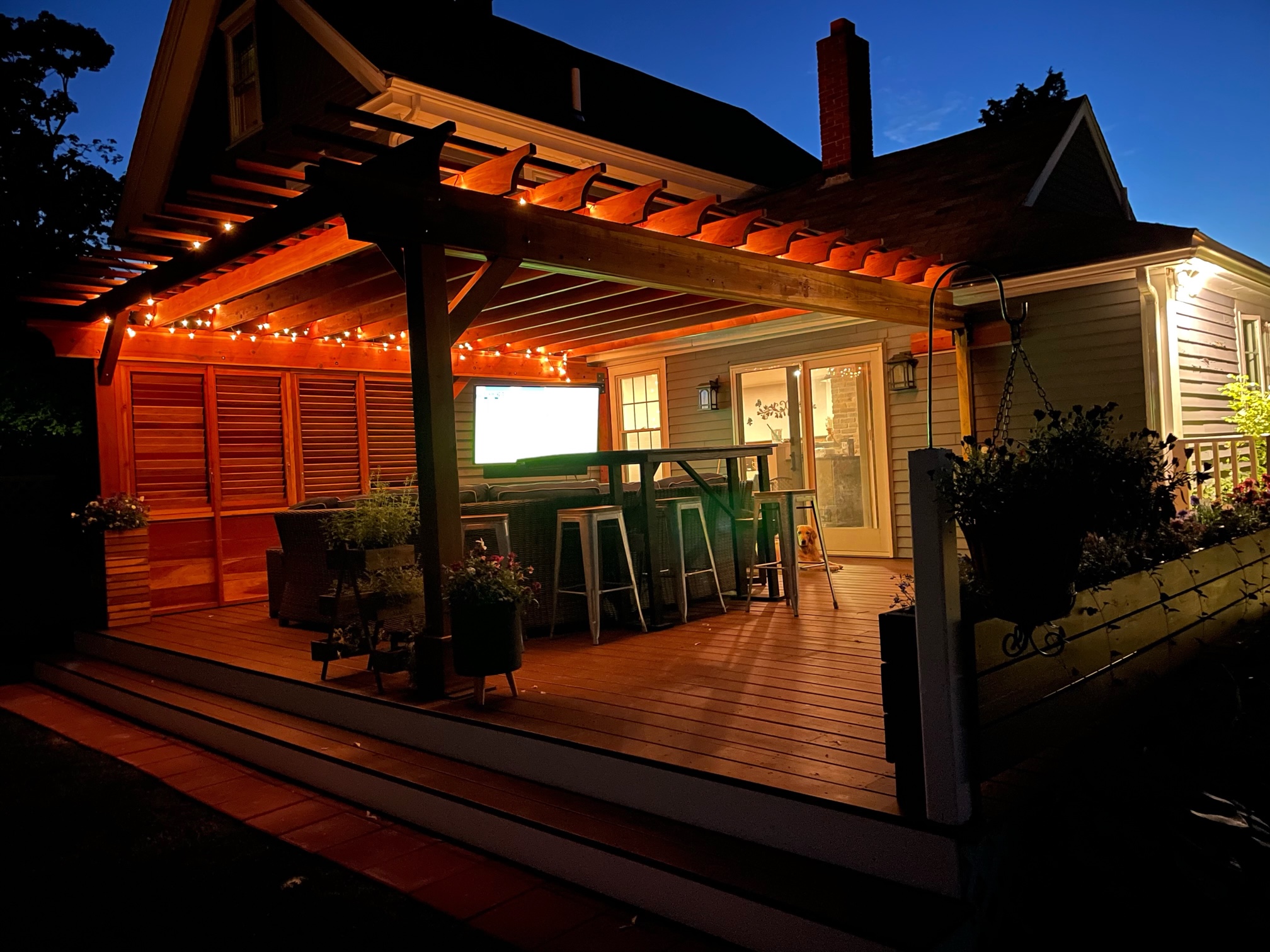 We absolutely love it.
Hi Raul,
The pergola went up without a hitch. I took a little bit of extra time measuring the footers and building the spacers for the posts, but it was well worth it. The structure is the most level and square thing on the property! We absolutely love it.
Alright maybe one last question for you, do you have any strong opinions about training wisteria onto the pergola? I don't want to take away from its beauty, but maybe a well pruned vine over the top could add nice color and shade? Thanks again-big thumbs up on the entire process Raul.
Sam. - Greenville, DE.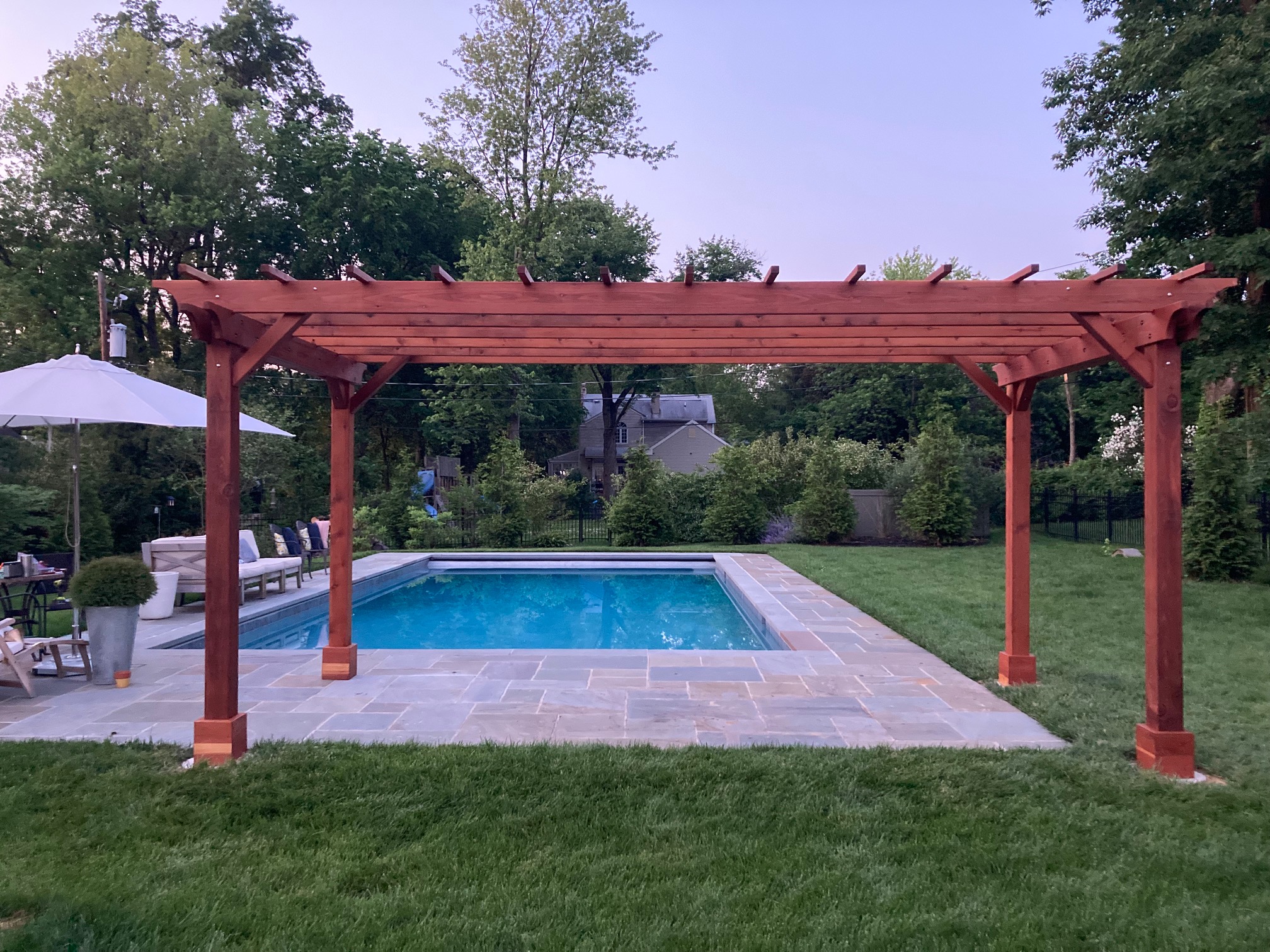 Thanks for everything we love your products and the team you sent to assemble them!
Raul,
It took a lot longer than we expected but we just finished the backyard stone work on the Gazebo and Pergola. We'll be entering photo contest on the next opportunity but thought I would provide you a few quick photos.
Thanks for everything we love your products and the team you sent to assemble them!
Bill & Lori O. - Marion, NC.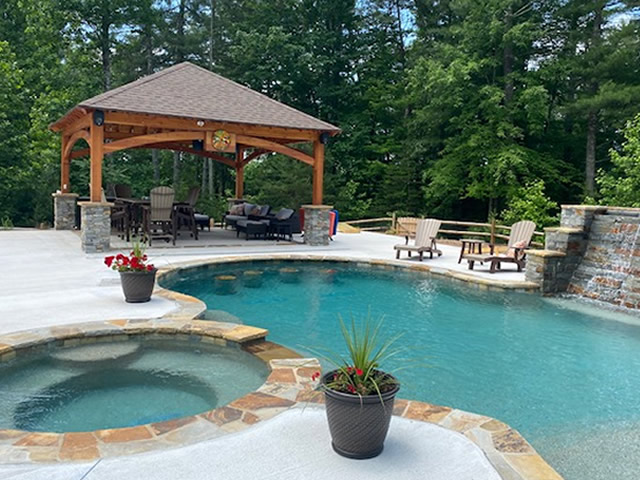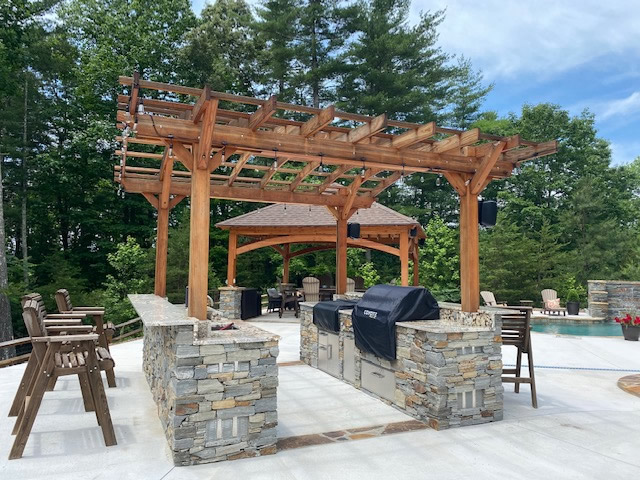 It is now installed and we are loving it!
Hi Raul,
I just wanted to check in with you, Raul, we received our pergola. It is now installed and we are loving it! Joan and I both think that it's beautiful and very sturdy.
I want to commend your shipping broker, Alex. After I, contacted you about the shipment being held up in Denver, he called me twice to assure me that he was pushing the shipment. Sure enough, it arrived in 2 days after his call. This surprised me because the person I talked to at the final delivery terminal was indifferent and really not helpful.
Anyway, we are very pleased with our experience with Forever Redwood and the final product. Thank you and keep up the good work.
Also, my contractor that erected the pergola was very complimentary regarding the quality of materials and craftsmanship.
Doug M. - Georgetown, CO.
We are so grateful, words can't express!!!!
Good afternoon Raul,
I am letting you know that we received our pergola delivery today, even before Memorial Day as you had promised????. We are so grateful, words can't express!!!! Everyone we have worked with has been extremely helpful and the drivers today were fantastic, very courteous and efficient. We look forward to assembling our pergola in time for our daughters big day! I will be sure to send you photos.
Thank you again.
Lynne C. - Abington, MA.
Will definitely be a repeat customer!
Hi all,
Ordered a set of monkey bars and a sandbox (custom-made without a floor). Very happy with both. They were presents for my grandchildren, and they were thrilled! Pieces were intact, assembly was no problem, and the finished products look like works of art in their back yards. Especially pleased because of the environmentally responsible aspects of your company. Will definitely be a repeat customer!
Donna S. - Crescent City, CA.
If every company in the world was operated as well as Forever Redwood
Hi Forever Redwood Team,
If every company in the world was operated as well as Forever Redwood most could do away with their customer service departments relative to issues stemming from faulty manufacturing all the way through to final delivery of the product. I wish I could articulate how absolutely blown away I was in dealing with them in every aspect of my purchase.
Raul Hernandez was more than gracious with his time in addressing my concerns and questions. Sofia and Leo were also quick to provide information relative to assembly instructions and other concerns prior to my order. The old saying: "you get what you pay for" is true. In dealing with Forever Redwood I could say: "I got more than I payed for"
Charles N. - Clinton, TN.
My wife is happy, therefore, I am as well
Hi Raul,
Our order arrived on time and was intact with nothing missing or damaged. Adan and the "White Glove" crew did an outstanding job of assembly and cleanup. In fact, the crew left the job site cleaner than it was before assembly.
The Del Norte Porch Pavilion is very sturdy and absolutely beautiful. Simply put, my wife is very happy with the product, the simplicity of product purchase, and the utmost willingness of Forever Redwood to work with us during the design, shipment, and assembly process. We look forward to working with Forever Redwood on future projects, and we'll not hesitate to recommend them. In closing, my wife is happy, therefore, I am as well.
A thank you for everything to Raul and everyone who had a part in our project. We are very, very impressed.
Richard D. - Vacaville, CA.
We love our tables and chairs!
We love our tables and chairs! And the folks at Forever Redwood are terrific to work with!
Rhonda F. - Columbus, MS.
Thanks for checking
Thanks for checking. The order arrived on time and everything was intact. These items (side tables) did not require any assembly, which was nice. All our dealing with your company were professional and your customer service group was very responsive and helpful.
Robert L. - San Francisco, CA.
The Bench is absolutely gorgeous
Hi Raul,
GIVEN TO OUR SON AS A "HOUSE WARMING PRESENT" - THE BENCH IS ABSOLUTELY GORGEOUS. LOOKS GREAT UNDER IT'S REDWOOD ARBOR, NEXT TO A SMALL 3 TREE REDWOOD GROVE.
Rick C. - San Mateo, CA.
It was a great pleasure dealing with you
Raul and everyone at Forever Redwood,
This morning the installers put the finishing touches on our pergola. I have attached a few pictures but they don't really do it justice. The pergola is not only beautiful, but transforms this part of our house.
We know this was a very small, and uncomplicated project from your perspective, and I wish we had the backyard for something more elaborate. But we are very pleased nonetheless. You treated us the same as if we were buying something for $25,000 or more; the look and workmanship is all we were hoping for.
It was a great pleasure dealing with you and I won't hesitate to recommend Forever Redwood to anyone who admires our pergola. We just need the dining set to arrive so we can begin entertaining.
Cordially,
Max H. - Potomac, MD.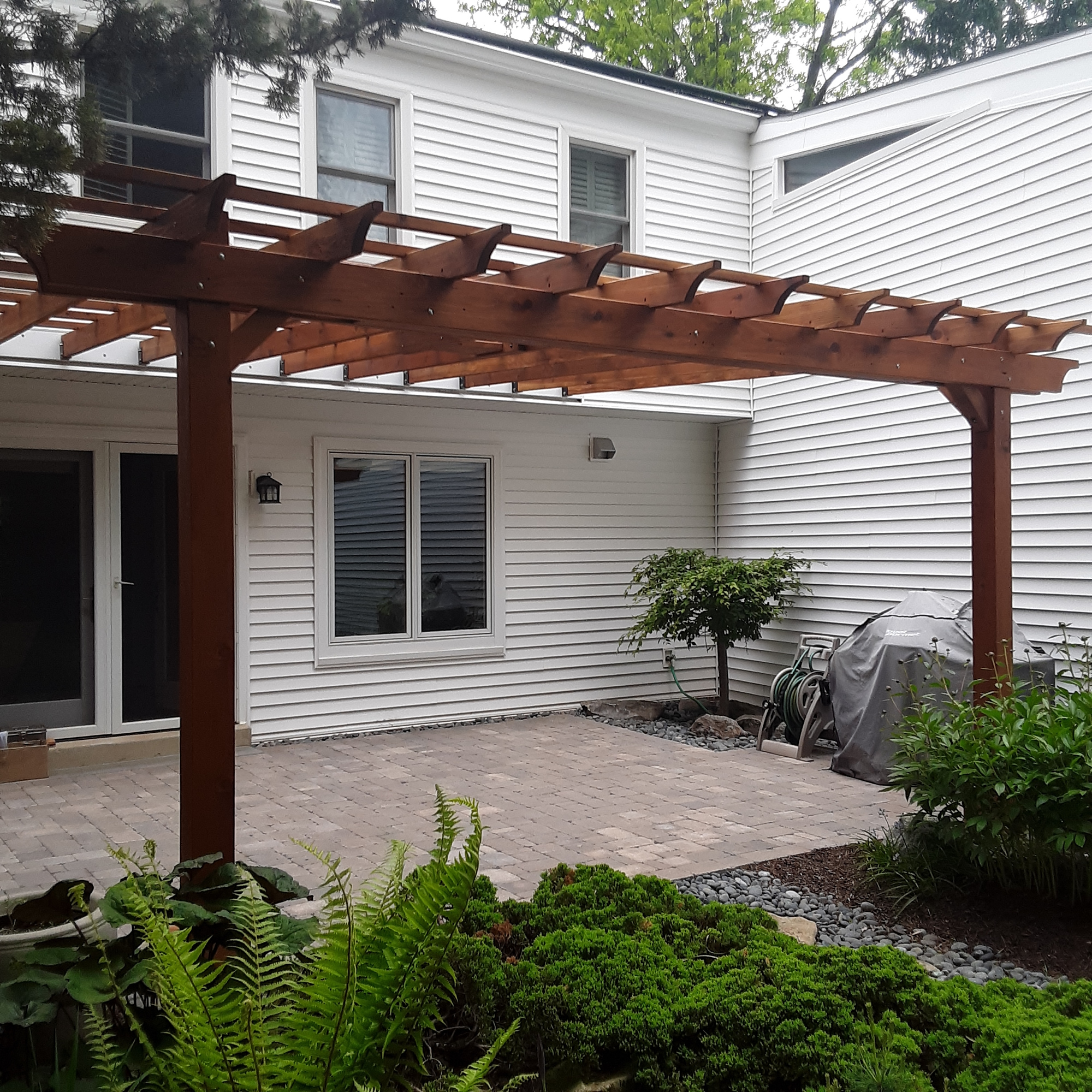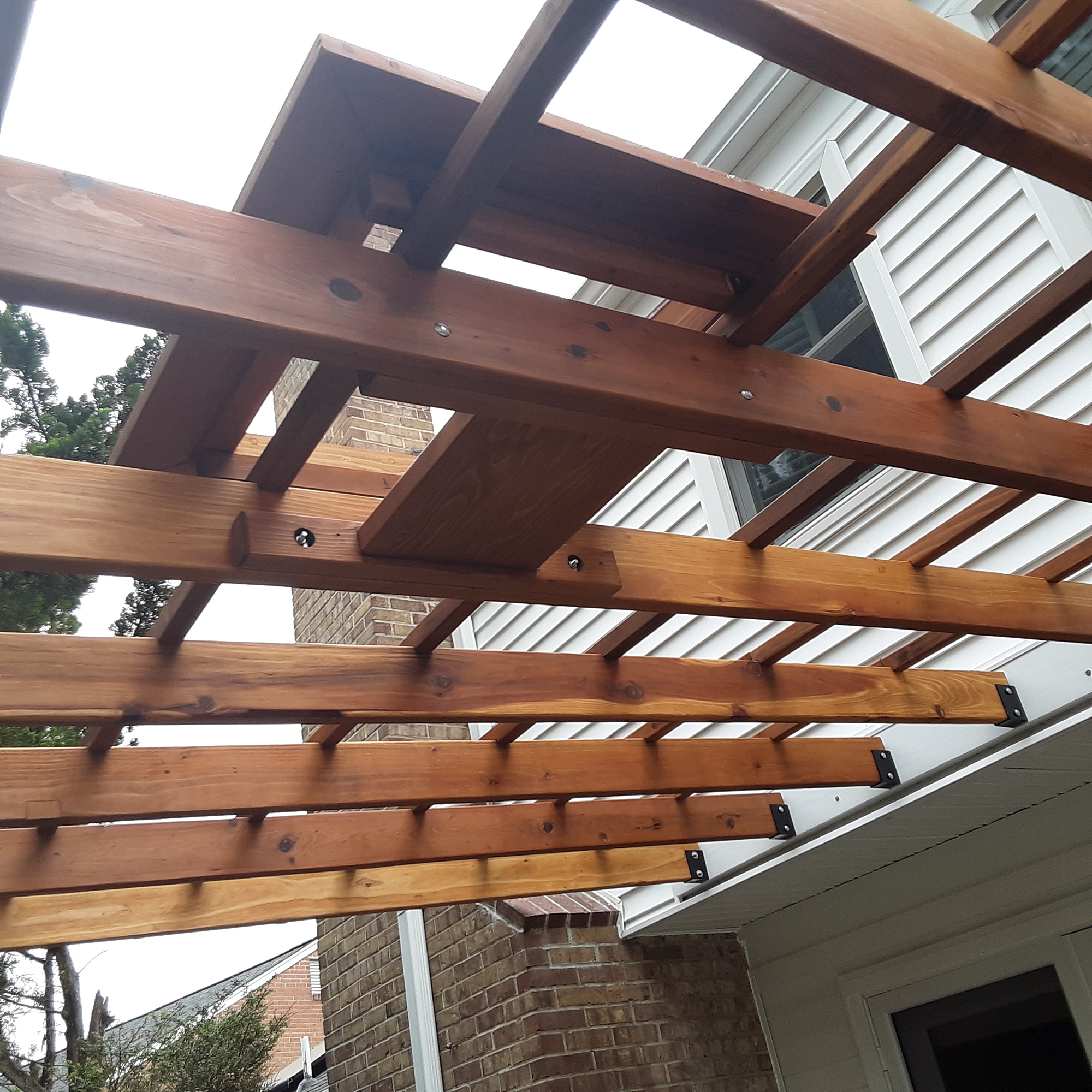 Thanks again for your guidance and help with this order
Hi Raul,
We are thrilled with our new, beautiful Forever Redwood planters here at Cornell Botanic Gardens! Thanks again for your guidance and help with this order. I attached a couple of photos of their new home. We're just about to plant, but have been back and forth about how we should approach the soil and annual care of them.
Would you or someone on your team have a few minutes today or tomorrow to talk by phone? I'd like to run our scenarios by you to get your insight on what will be the best approach for the longevity of the planters.
Thank you,
Emily D. - Ithaca, NY.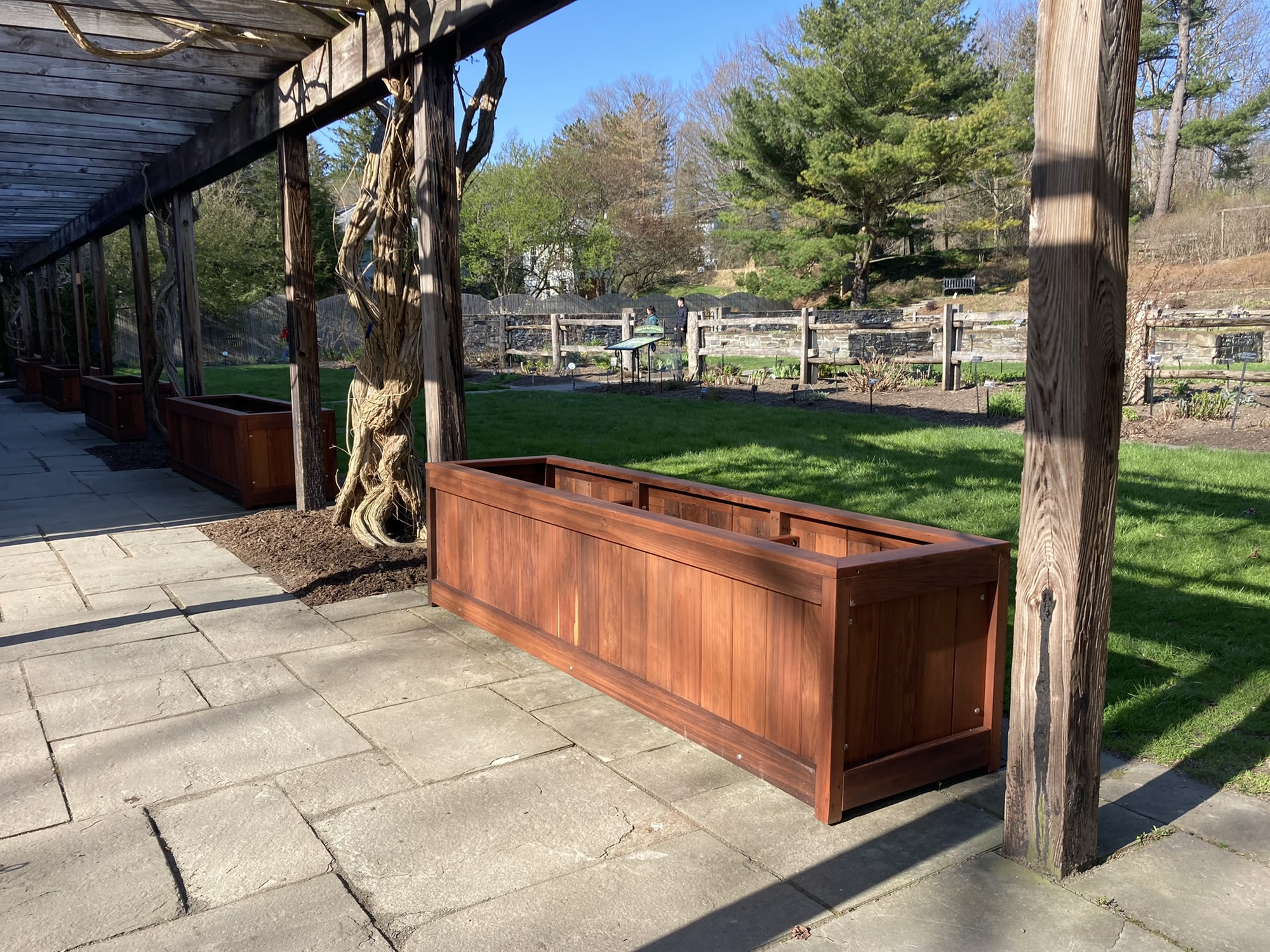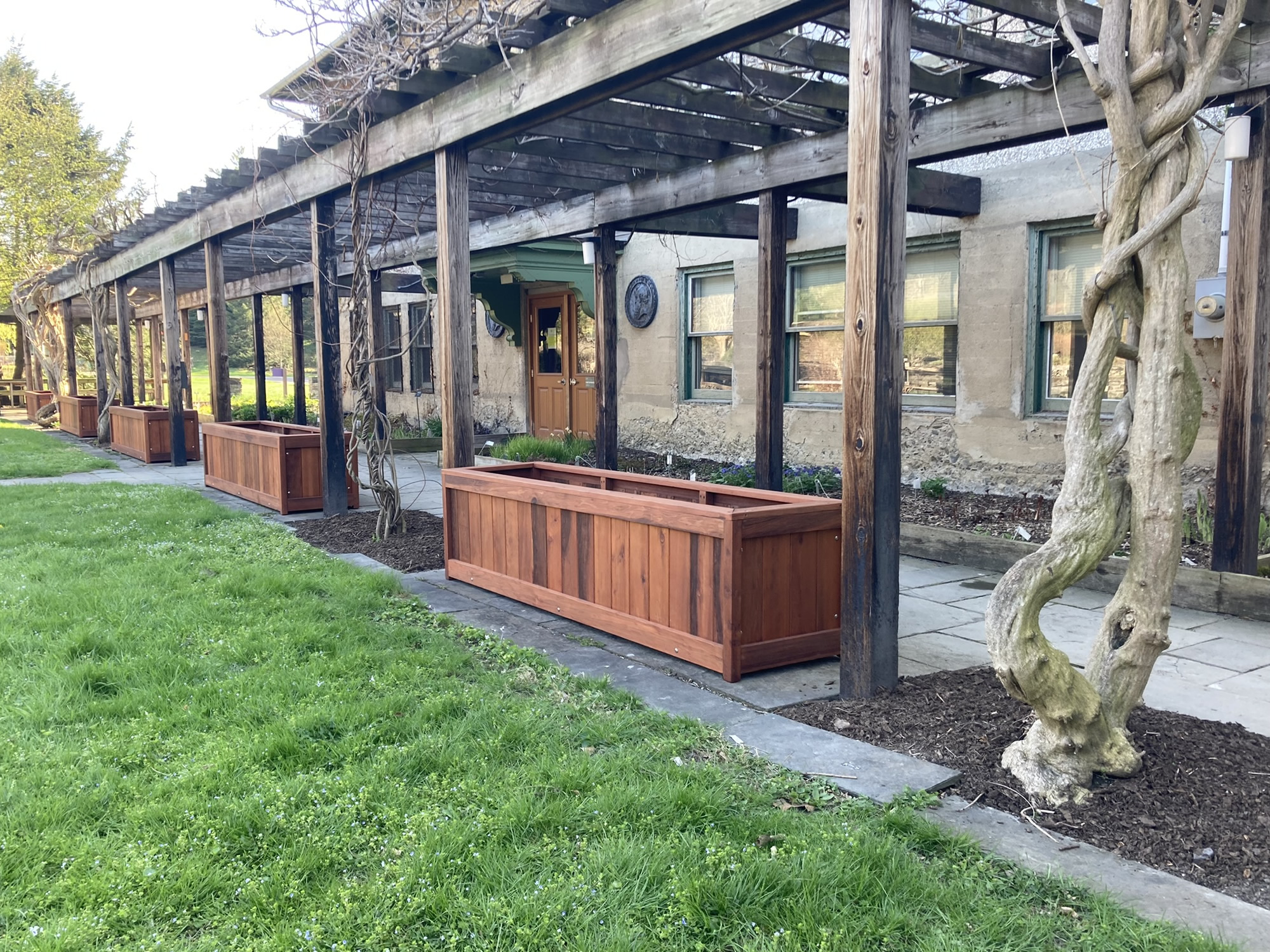 Thanks again for your beautiful product!
Hello!,
I'd like to take a moment and say a big thank you for my new shade structure. The pergola now is assembled and took a perfect place in our outdoor space. The quality of the material and engineering is just a way above of my expectation.
Thanks again for your beautiful product!
Natalia S. - North Potomac, MD.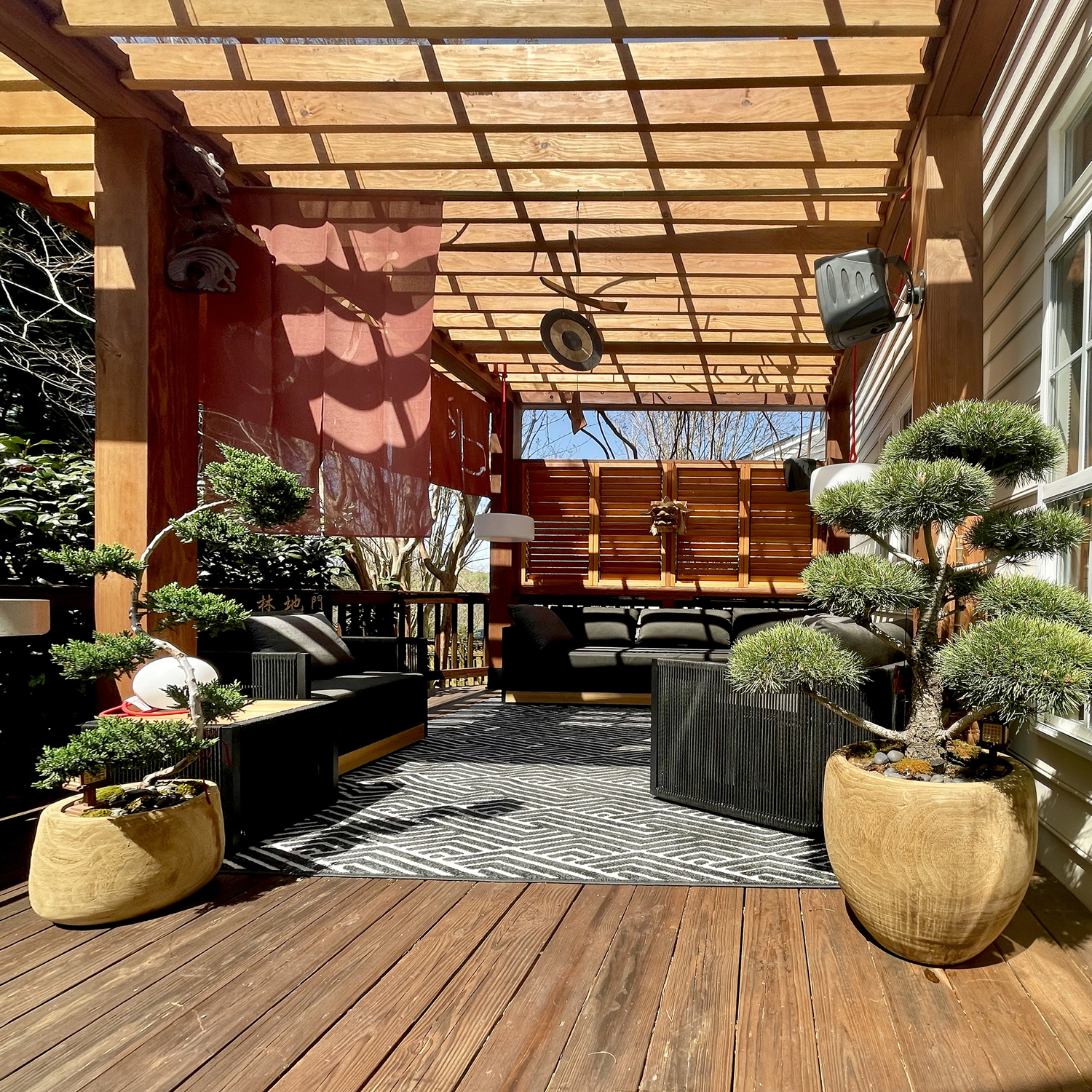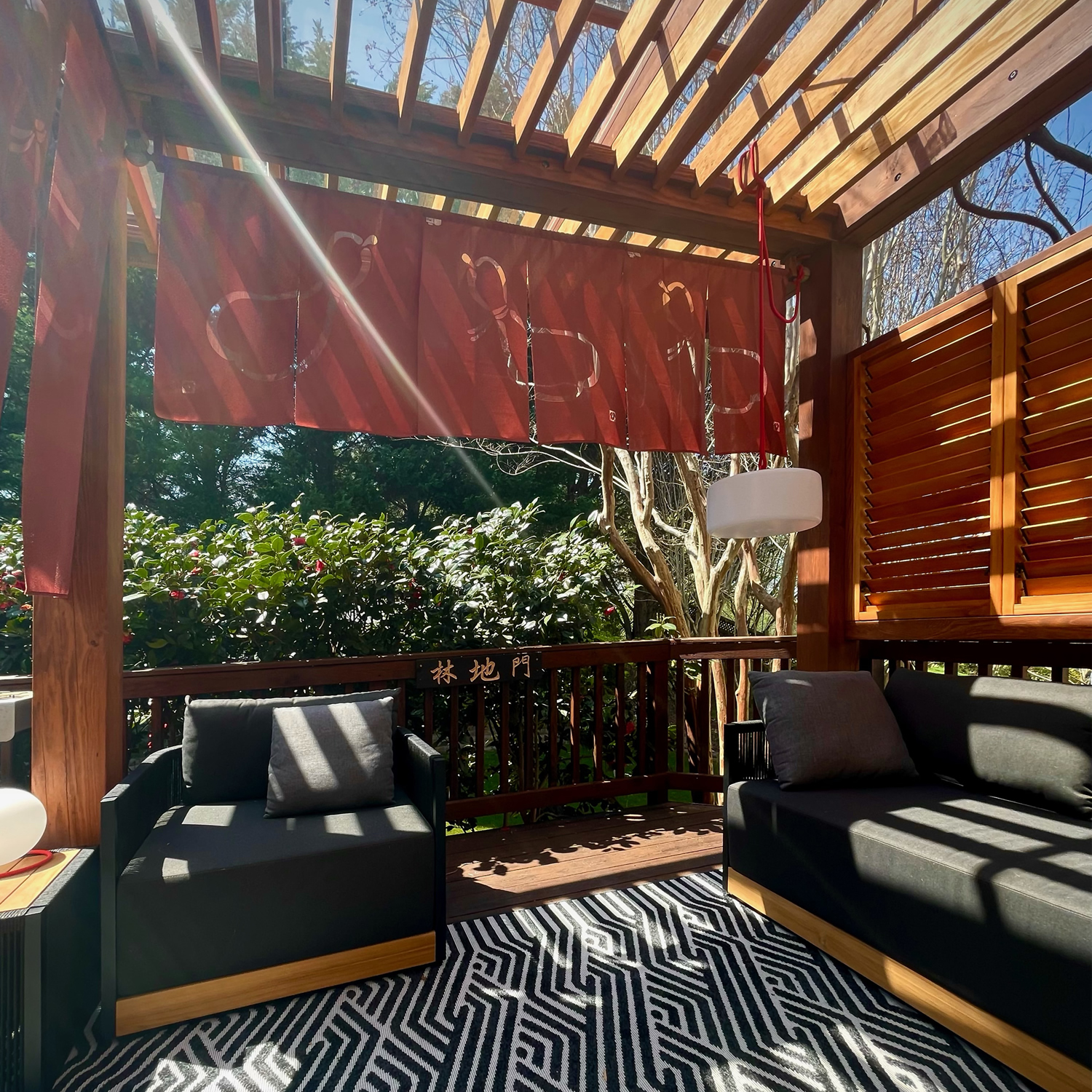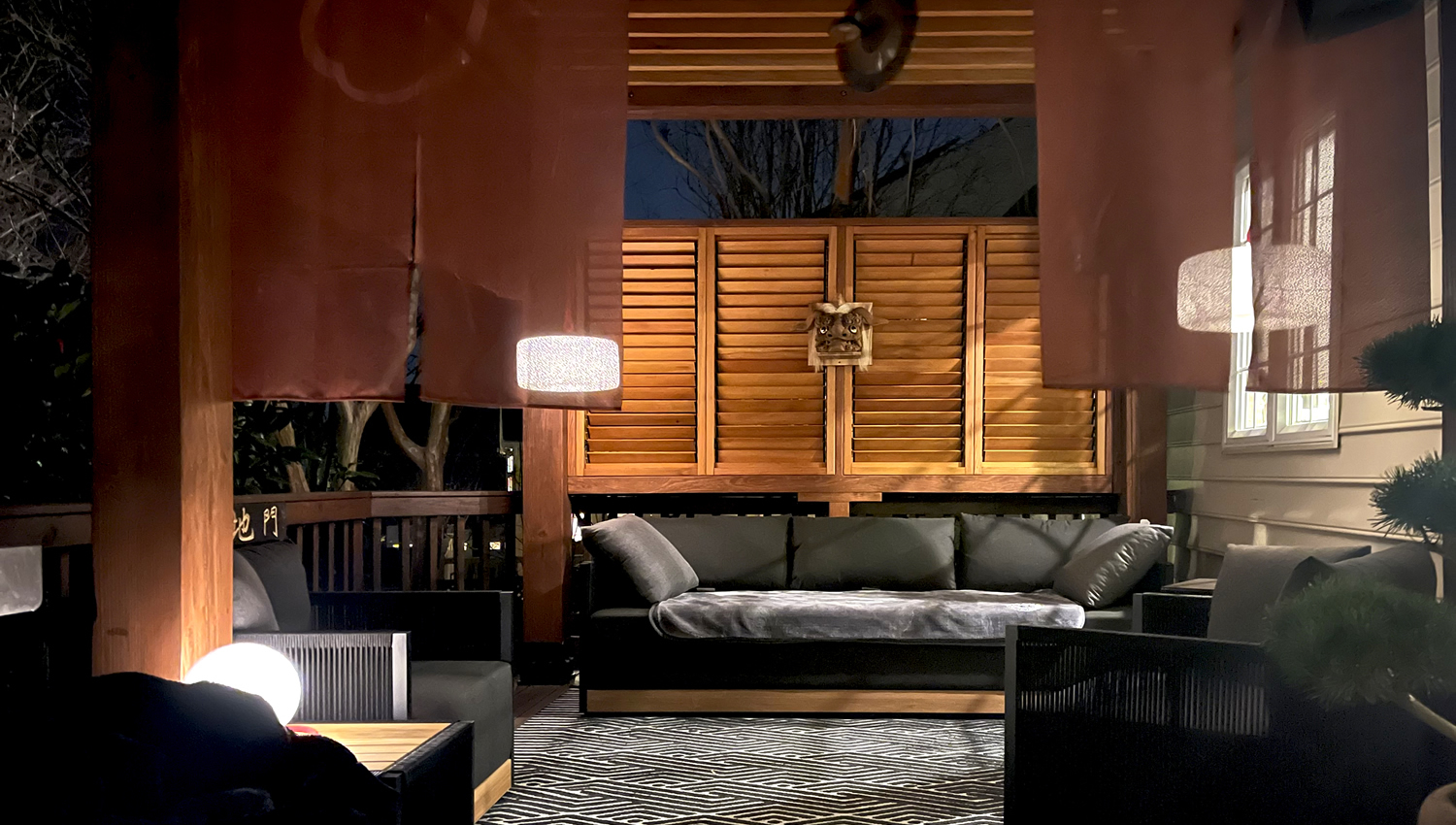 It looks fabulous.
Hi Team,
I didn't assemble the swing in harsh Michigan winter and waited for spring. I assembled the garden swing today. It looks fabulous. Here is a picture. Thank you for great swing and all the hardware, instructions etc.
Gauri C. - Okemos, CT.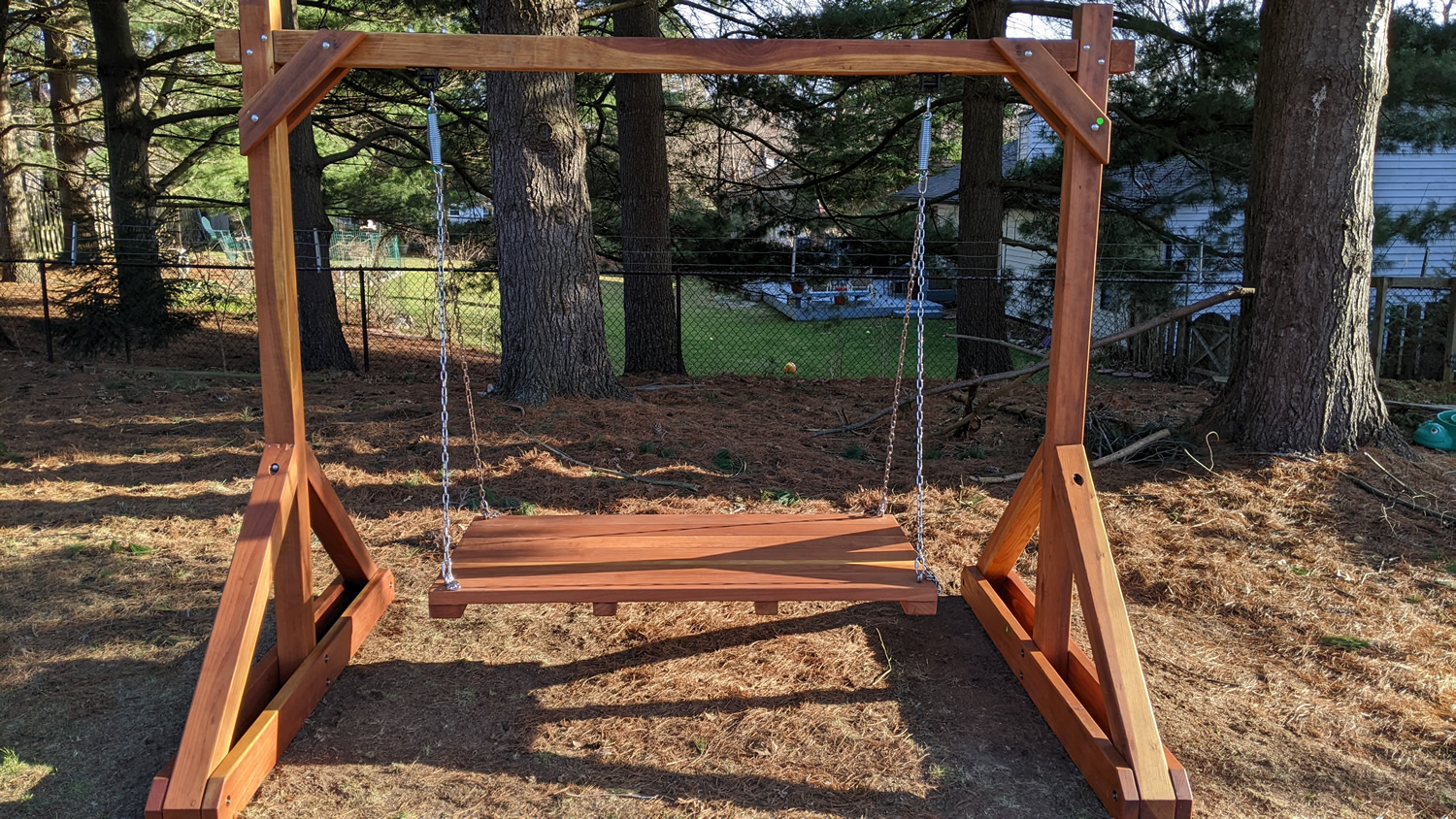 Everyone who sees it LOVES it
Hi Raul,
The metal roof is on, and the patio cover is finished. Everyone who sees it LOVES it. I am delighted with its beauty and function.
Milan felt that due to the weight and size, the posts should have lateral bracing, and he was able to retain the contemporary simplicity of the original Silverado design.
This beautiful structure adds to the look of the house. I'm delighted with it. Thank you for a wonderful experience from start to finish.
I will remember you and your team fondly every time I serve summer dinners to my guests under this beautiful patio cover.
I'll send you more photos when the landscaping is in and blooming :)
Colleen C. - Blanding, UT.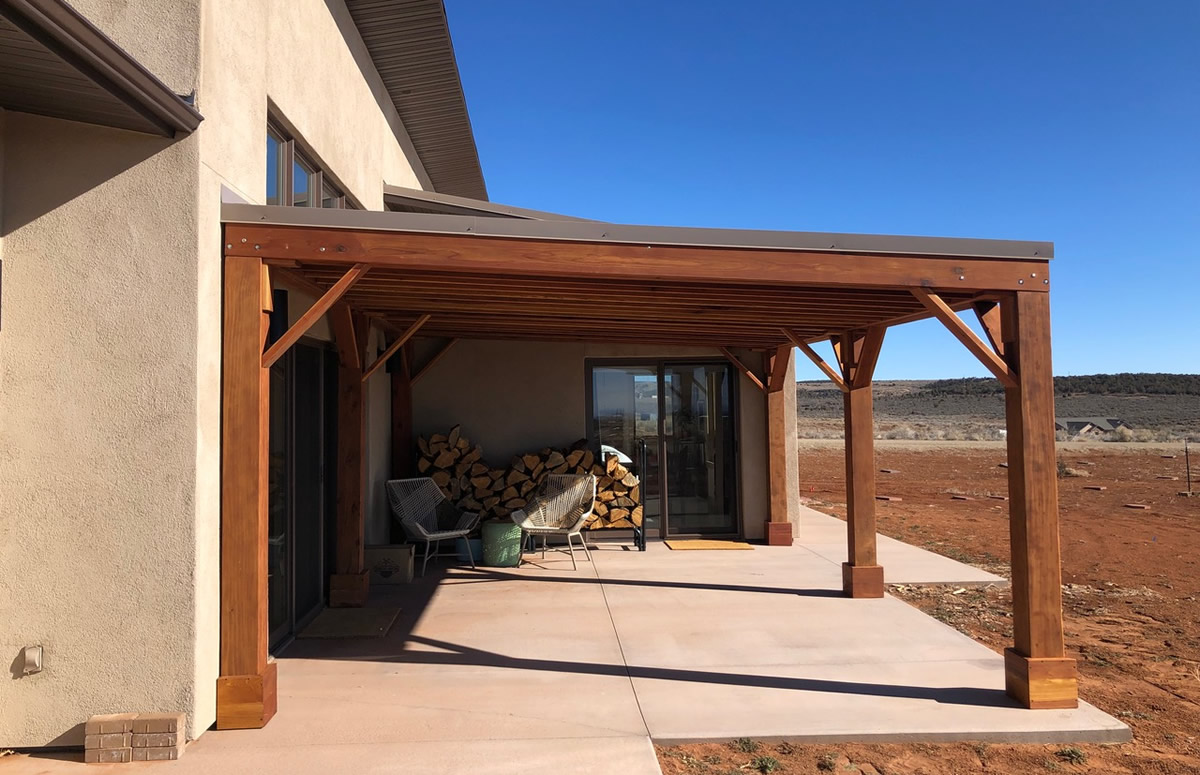 Customer service was fantastic
Hi Raul,
The pavilion came on time and was well packed. The assembly wasn't to bad considering the size and weight. Whenever we had a question or small issue the customer service was fantastic. We also ordered 2 round picnic tables and 4 chairs. They were easy to put together and are high quality.
Michael T. - Callahan, CA.
The side tables are really terrific
Hi Raul,
The order arrived on time and the side tables are really terrific. The quality of the workmanship was great. We were a bit surprised that the order came in a very heavy wooden container that was left outside our garage, but we were able to drag it in and disassemble the crating.
So, all's good.
Robert L. - San Francisco, CA.
I will feel grateful to you and your fine team every day for years
Hi Raul,
I want to let you and your whole awesome team know how thrilled I am with the assembled redwood patio cover. Milan put it together without a single problem - kudos to your design team and everyone who measured and cut the pieces!
I love the slope we chose and how beautiful the posts and tongue-in-groove roof look. It's a magnificent structure, and I appreciate your customizing it to be just what I needed. I will feel grateful to you and your fine team every day for years, thanks to the beauty and accuracy of your design and the wood you chose.
THANK YOU ALL!
Colleen C. - Blanding, UT.
The result is absolutely beautiful
Hello Raul, Sergio, and Sofia – Happy New Year!
I wanted to share these photos with the team at Forever Redwood. The result is absolutely beautiful, and we've received many compliments on the pergola design and quality.
As it happens, we are also interested in a smaller pergola mirroring this one, on the front side of the house. Only one height, two posts, and approximately 12' x 10'. Let me know what the next steps would be, I can provide preliminary drawings as we did for the larger one.
Thank You!
David H. - Livermore, CA.