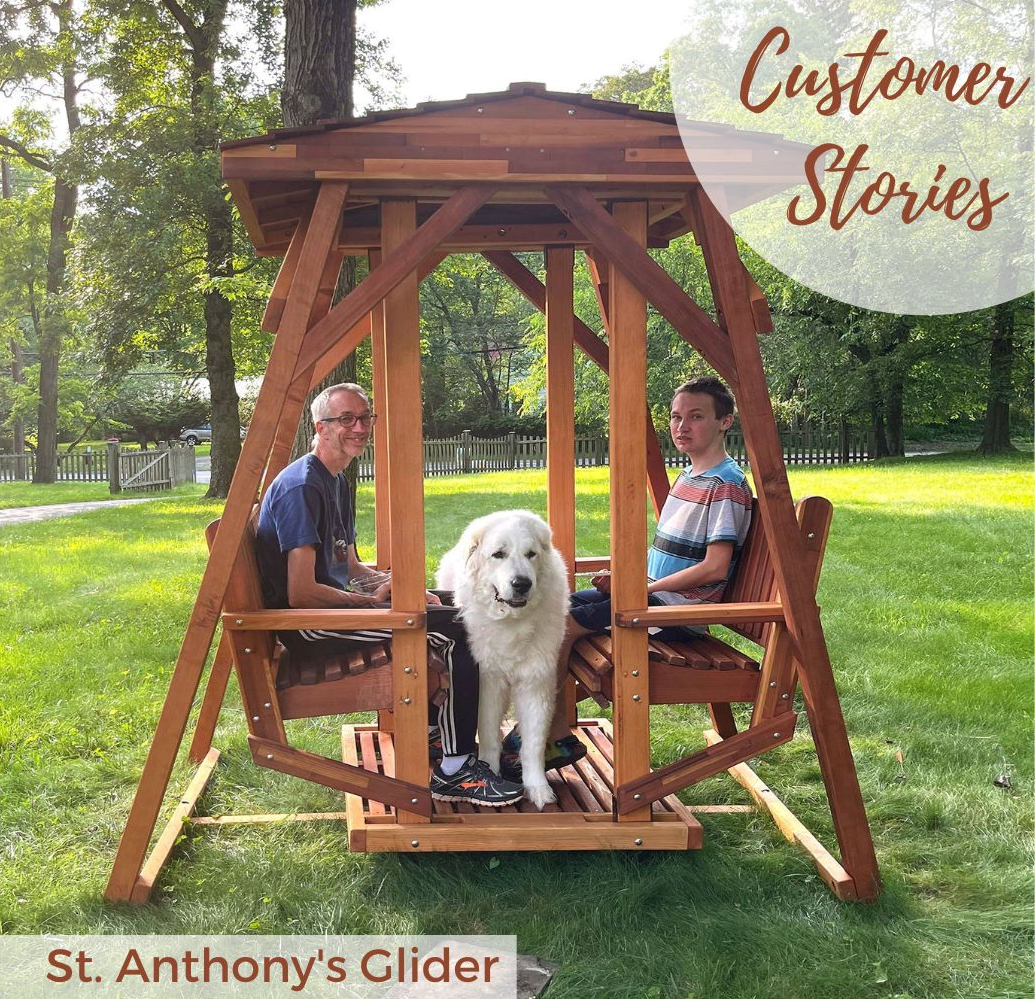 ---
Over the years, our customers and their families have had remarkably meaningful experiences with our outdoor gliders. One couple commemorated 20 years of marriage with a glider engraved with the surnames of their ancestors. Another family gifted their elderly mother with a glider reminiscent of the one she played on as a young girl. More recently, Marc Huguenin of Princeton, New Jersey assembled a St. Anthony's Face-To-Face Glider with his son, Harrison, as a way to keep them both happily occupied during the pandemic. 
The Huguenin household consists of Marc, his wife Lisa, Harrison, and Zizu, a 130-pound Great Pyrenees. But don't call Zizu "the family dog." He plays a much greater role. During a recent phone interview, Marc described the deep bond between Zizu and Harrison, who has autism and primary immune deficiency. "Zizu is more like my son's partner. He keeps Harrison safe." Zizu is also incredibly nurturing and instinctively comforts Harrison. After uncomfortable medical treatments such as the subcutaneous infusions Harrison regularly receives, Zizu will lay his great head on Harrison's lap.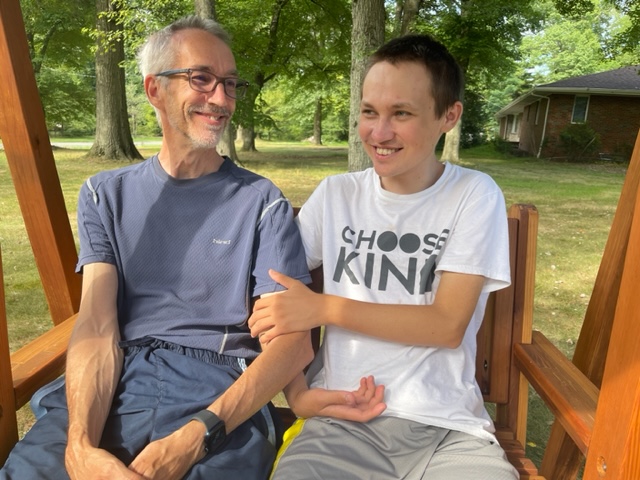 Marc and Harrison on the glider
---
During the pandemic, Marc and Lisa endeavored to create a home environment that was stimulating, with ample space for recreation and exercise, and plenty of activities to engage Harrison's mind and creativity — all while being extra Covid-cautious. Luckily, they have a large property with a big backyard. They bought a popup pool and played tennis in the driveway. Marc also decided to tackle a project that had been on the family's wish list for a while. "My wife wanted a glider for a long time. Also, when Harrison was still in school, there was a huge glider he used to like to ride on." Marc and Lisa never seemed to find the time to research and purchase the glider, until the pandemic. 
After searching the internet, Marc discovered Forever Redwood and St. Anthony's Face-To-Face Glider. The look of natural wood appealed to him as did the glider's design. And assembling the glider with Harrison, rather than relying on Forever Redwood's white glove service, would be a fun father-son project. "It took us a while. And it wasn't as easy as we thought initially. But we got it together and we are proud of it."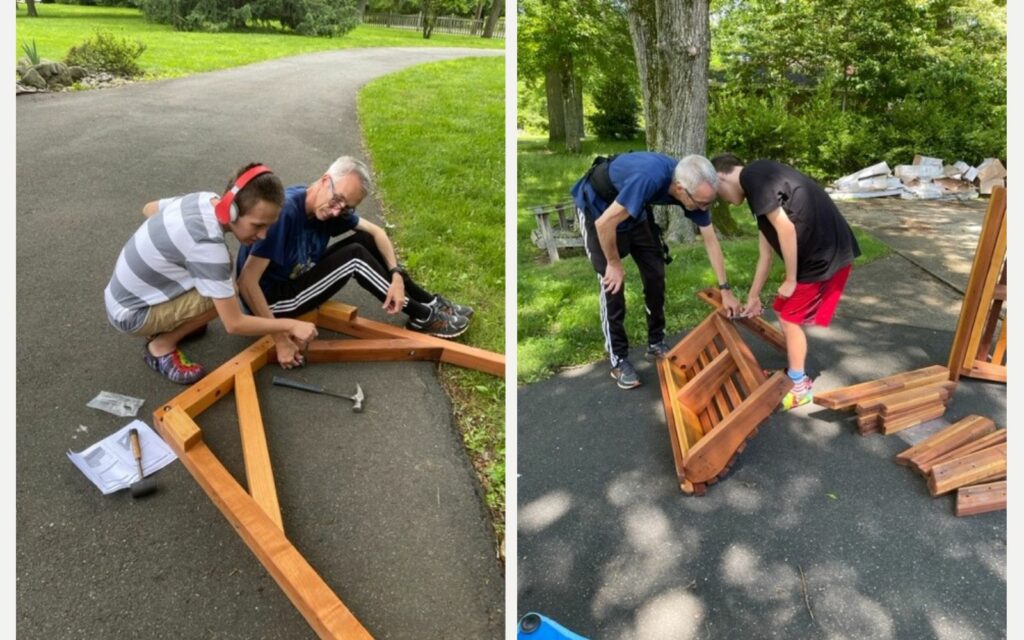 Father-son project – assembling the St. Anthony's Glider
---
The completed St. Anthony's Glider now sits in the front yard, monument to a successful father-son collaboration. Often Harrison takes breaks on the glider while walking the driveway for exercise. And where Harrison goes, Zizu goes! The big, fluffy Great Pyrenees squeezes onto the glider as well. Lisa captured one of these moments with Harrison, Zizu, and Marc in a photo that won "Best Non-Shade Structure" in Forever Redwood's 2022 photo contest (see header image). The family used the prize, a $2,500 gift certificate, to buy a Bench Swing Set. The swing has a maximum weight capacity of 550 lbs., so Zizu will have no trouble joining his pal for a rest break. 
When asked what he most appreciates about the glider, Marc points to the overall quality of the product. And Harrison? "He really loves it…the fact that we assembled it together makes it even more appealing. He knows he helped to build it."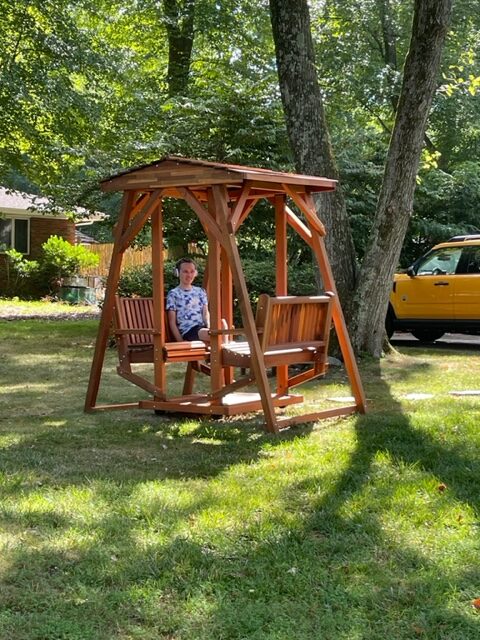 Harrison enjoying the glider he helped to build.
---
Photos courtesy of Marc and Lisa Huguenin.