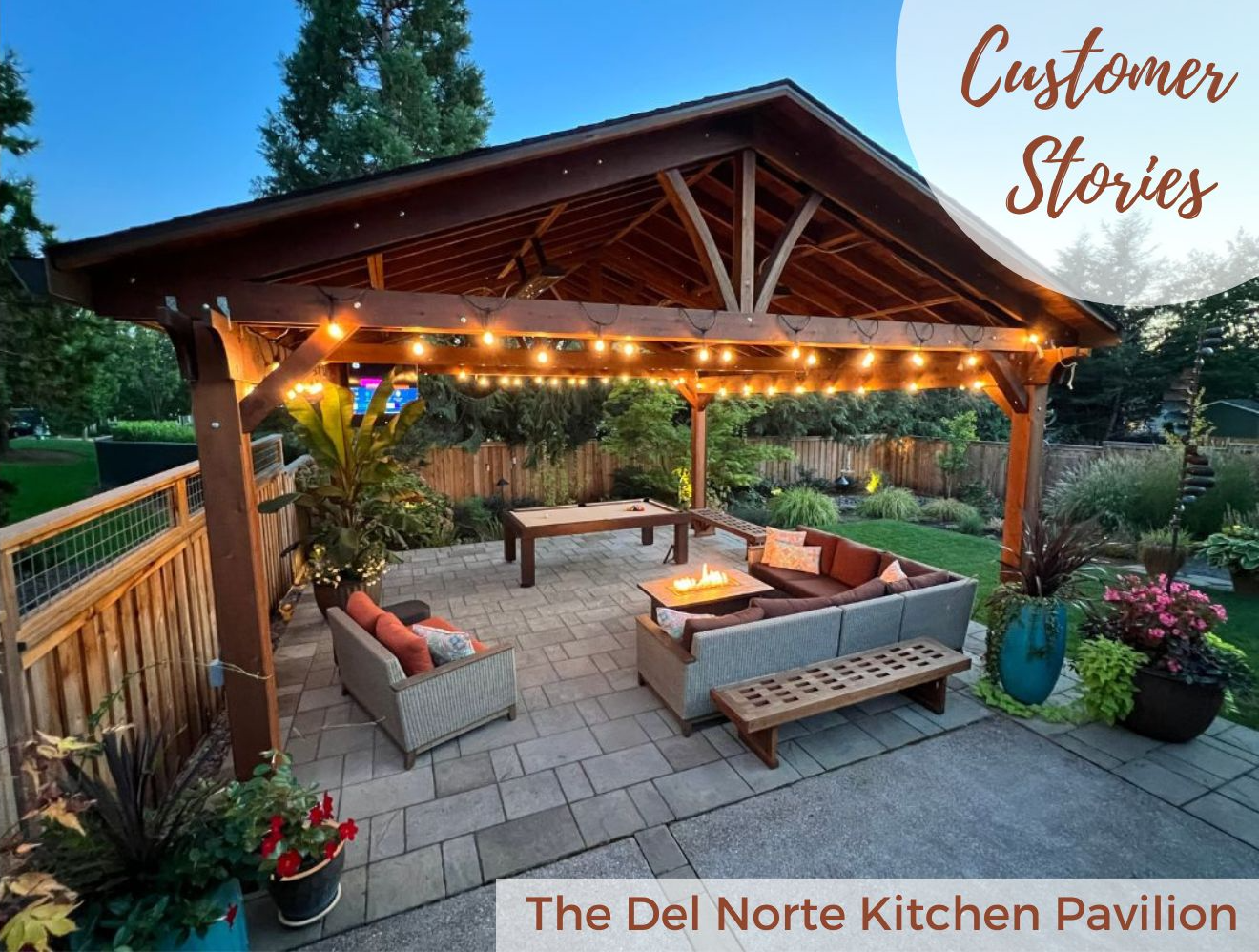 ---
Macy and Marci Gast of Clackamas, Oregon have been married for almost 22 years. Yet they remember their honeymoon as if it were yesterday, in part because they've recreated the Jamaican setting in their own backyard. The centerpiece is a Del Norte Kitchen Pavilion. During a recent phone interview, they shared the origin story of the outdoor oasis that continues to bring them joy decades into their marriage.
Each day of the honeymoon, Macy and Marci would relax on the beach until the arrival of the afternoon rains. They'd take cover from the downpour at the resort's pool bar pavilion. Cozy and dry, they would play pool, lounge around the fire pit, and watch TV. "It was so memorable and so much fun. We actually went back twice within nine months," Macy said.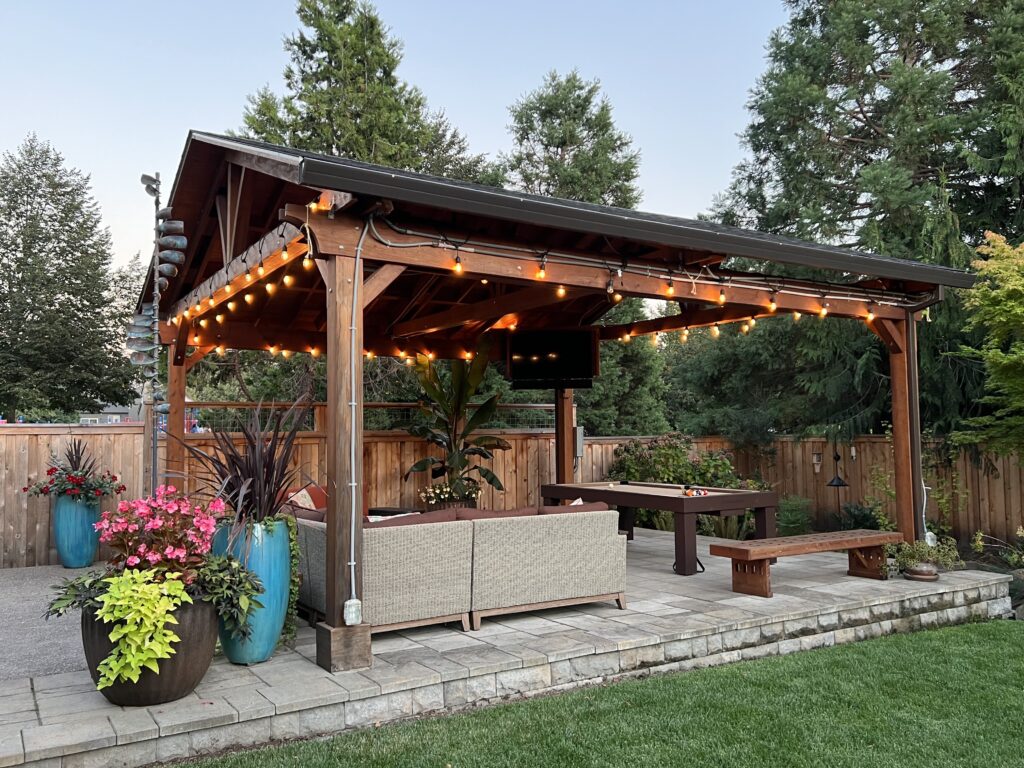 Macy and Marci's "Pool Bar Northwest."
---
Once they became homeowners, they were able to plan and realize their own "Pool Bar Northwest" centered around a 22′ x 22′ Del Norte Pavilion. They selected Mature Redwood as a building material, for beauty as well as the wood's durability and natural resistance to insects and moisture. "We prefer to be smart with our money. This is our forever home!" Marci said.
The finished pavilion functions as an extension of the rest of the house, a true outdoor great room. Charming string lights and flowers in bright-colored pots enhance the pool bar vibe. There is plenty of comfy seating, including a large L-shaped couch and two Lighthouse Benches which can be stowed beneath the pool table when not in use. Ceiling heaters and a firepit provide warmth in chilly weather. Wireless internet is available and the pool table is always open. These creature comforts were a godsend during the pandemic. "We didn't mind quarantining," Marci said.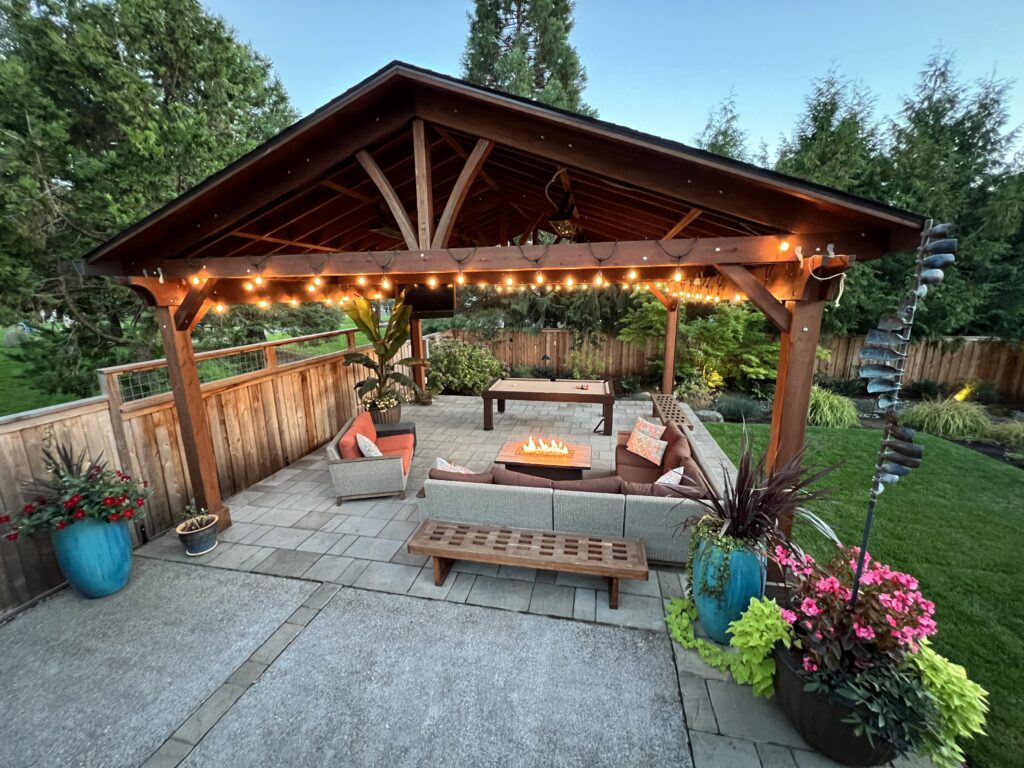 A public park (left) abuts the backyard. The Gasts often overhear passersby complimenting the pavilion.
---
What's next for "Pool Bar Northwest?" This spring, Macy and Marci will enhance the landscaping surrounding the structure. They also plan to create another seating area with a Round Cocktail Table with chairs from Forever Redwood. The furniture is funded in part by a $2500 gift certificate, awarded to the Gasts for placing 3rd in Forever Redwood's 2022 photo contest (see header photo).
While awaiting the table and chairs, Macy receives emails from Forever Redwood with progress photos. He remembers receiving similar photos for the Del Norte Pavilion. "It made it really fun," he said. "We could see the structure being built, what it looked like on the factory floor, what it looked like wrapped up. That really added to the engagement as a customer."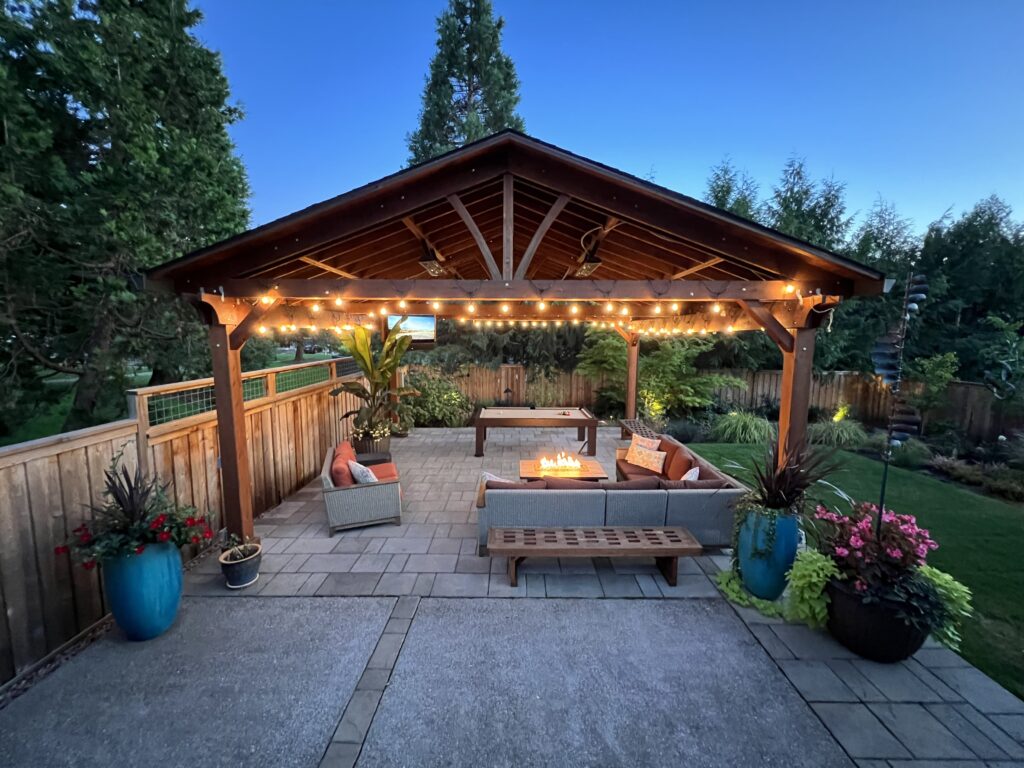 "Outdoor living at its best." – Macy Gast
---
Photos courtesy of Macy and Marci Gast.