When you order from Forever Redwood, not only do you get a great handcrafted product, but you also get a lifetime's worth of durability, guaranteed by our warranties. We build exclusively with thick timbered, reforested redwood, and use up to 40% more wood than our competitors. This bench may have been originally designed in the 19th century, but we build it to last well into the 21st. There are no cheap synthetics here, and your Redwood Garden Bench can stand practically all types of weather, in all seasons.
The original 19th Century English design lines have been retained. We just beefed up the framing so that it will actually last!
Hennell Wooden Garden Bench available in sizes from 4 to 8 ft to seat up to 5 adults.
You can add a custom cushion, or personalize with a stain or engraving also.
Materials & Craftsmanship that really last decades - thick timbered, finely finished Redwood outlasts teak or cedar.
We use only Stainless steel hardware and the best weather resistant sealant.
Quick simple assembly. Ships in less than 10 parts.
Wooden benches handcrafted from Redwood.
Click on the drop links at the top of the page to get started on your customized Forever Redwood order. We'll send you your detailed design plans in a matter of days, and will ship immediately after hand making your bench, right here in our California workshop. Contact us to find our more about delivery and warranty options!
DIMENSIONS & DRAWINGS
Hennell Bench Dimensions
All benches are 40" H. Seats are 16"H. Hennell Benches are available in lengths from 4' to 8'.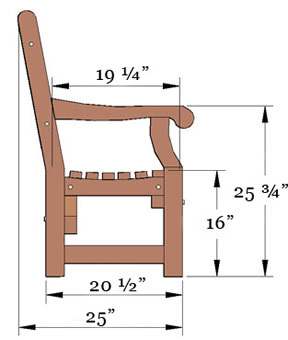 Side View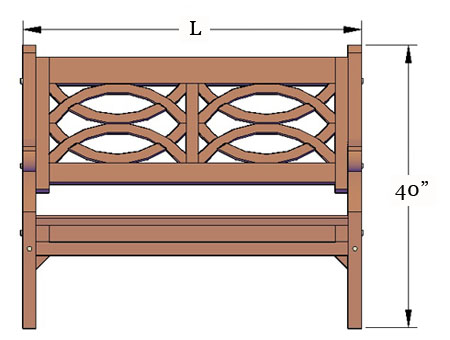 Front View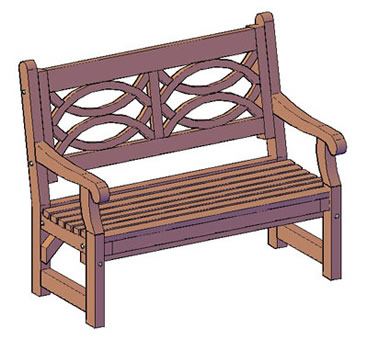 Isometric View
CUSTOM ENGRAVING
Would you like to add a personal engraved message to your furniture?
Select "Custom Engraving" under Advanced Options. The engraving size we normally use translates to about 14 characters per foot. The default color for lettering is black. If you prefer a different color, let us know. There will be a small charge for changing the font color.
We will center the engraving on the top board of the backrest or the front of the seat trim of a backless bench unless you specify elsewhere. Please let us know your instructions on placement and line break(s) – if not specified, they will be placed at the shop's discretion.
If you'd like a particular font style, please send a Word or PDF document with the font, spacing, and the exact wording and punctuation you'd like. We will trace your document directly onto the wood. Send it to [email protected].
If you are undecided on your engraving message, and would prefer to send it after you place your order, just let us know in the comment box so we know to expect it later. Due to limitations of the engraving tool (we cut ¼" wide and ¼" deep into the wood), we may not be able do certain fonts and will let you know if there is an issue.
MEMORIAL PLAQUE INLAY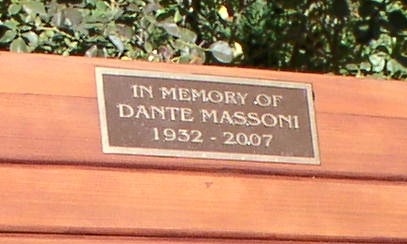 If you plan a plaque for your bench, we can inlay it for you at no extra charge. We don't order or make plaques. Once your plaque is made, ship it to Forever Redwood at 33800 Annapolis Rd., Annapolis, CA 95412. A local engraver can assist you with the Plaque details. If you cannot find a local engraver, we recommend the following engraver:
Jay's Engraving & Rubber Stamp Co. Attention: Ms. Janet Gossage 3185 Cleveland Avenue Santa Rosa, CA 95403 707 542 3873 www.jaysengraving.com
Be sure to let us know in the comments box that you will be sending a plaque for inlaying so we know to hold your bench until the plaque arrives. We will inlay your plaque in the center of the top backrest board, unless otherwise specified. If placed in this location, the plaque can be up to 3" H and any width you like. If there is no backrest (backless bench), we will place the plaque on the front trim piece of the seat unless you specify where you'd like the plaque placed.
The board is 4 3/4" but has a 1" notch to attach the slats, so the space to place a plaque is 3 3/4" as shown below. We recommend the plaques to be up to 3" to avoid issues with the edges.
A popular and less expensive way to place a long lasting message on a bench or other piece of furniture is to have us engrave the message directly onto the wood (see Custom Engraving for more information).
Assembly Instructions for: Typical Assembly instructions for an average sized Hennell Wooden Garden Bench
All You Need is a Few Tools and a Friend.
Assembly is best done by two people and usually takes about half a day to a day, depending on size. Pergolas need a ratchet wrench, a hammer and a ladder to put them together. In some cases, you might need a drill to attach the posts into concrete. As with all our products, we preassemble pergolas in our shop to ensure everything fits together. All hardware is included and all parts are clearly labeled before it is shipped. We also include detailed step-by-step instructions.
Take a look at our assembly instructions below for specific details. If you plan to pour concrete to hold the posts, the project will require an additional half day prior to assembly. Please do the concrete pour a few days prior to assembly to allow the concrete to cure.
Installation Help.
Special talent is not required to re-assemble our pergolas. But, if you would like help, just let us know. We have our own team for installations in California, Nevada and Southern Arizona and a network of local contractors we recommend for farther afield.
Care: Your Forever Redwood Furniture will last for decades in year-round weather without maintenance.
Depending on the wood grade you choose, even with harsh year-round outdoor conditions, you can expect your furniture to last from ten to forty years without maintenance of any kind.
Being outside year-round is rough on any woods finish. The surface absorbs UV rays, pollution, constant variations in moisture and temperature and it also oxidizes. This is why most wood just doesn't hold up and the surface color slowly changes towards a silver patina over the years. But, with Forever Redwood, you don't have to worry. The silver patina is surface deep only (less than 1/64") and is not indicative of decay. Your set will last decades and is not compromised in any way by the surface color change. For example, we keep our display items as is without refinishing to show off this natural aging (we like the patina!).
Although Forever Redwood is maintenance-free, we recommended you take a few minutes as needed to clean by either hosing down and/or brushing/dusting away accumulated debris (no soap or chemicals needed). If you'd like to keep your set looking its best for decades, please go to: Care and Finish.