These tables were built with functionality and versatility in mind, and with their easy-to-store features, and bold, strong build, you'll see why the minute yours is set up. You can take this Rectangular Folding Picnic Table practically anywhere, and make the perfect dining or gathering space in all types of locations and events.
Folding Picnic Tables available in sizes that seat 6 to 10 adults comfortably in either folding benches.
Customize to your tastes easily with our Select Options - chair quantities, seat cushions, corner styles, umbrella holes, stains/sealants, etc.
Materials to last a lifetime from extra thick finely sanded Redwood that outlasts cedar/teak to stainless hardware and the best weather resistant sealants.
No cheap plastics or synthetics in any part of the table or benches.
Visit our Warranty Page to learn about our guarantee against decay
Click on the Specifications tab above to get a taste of all of the customizable details and Engineered drawings specific to the Round Wood Picnic Table With Wheels.
No Assembly. Just unfold and enjoy your wood table!
Just pick which type of wood you'd like, what size, and what type of benches to accessorize with, and we'll get started on your plans right away. Once we receive your order and 1/3rds deposit, one of our Design Engineers will be assigned to your project.
Within 5 business days, you'll receive an email from them with customized drawings specific to your design. From there, the two of you will go back in forth until every single detail is just right!
We send your table ready to assemble, and have easily attachable pieces that you don't need a drill or heavy tools for.
RECTANGULAR FOLDING PICNIC TABLE SPECIFICATIONS (PDF DOWNLOAD)
DIMENSIONS & DRAWINGS
Rectangular Folding Table and Folding Bench Dimensions
Rectangular Folding Table:
Available in lengths (L) from 52.5" to 96" and widths (W) from 24" to 35". Standard height is 30" when Open. When closed, the tables are 4.5" thick and 43" tall because the legs stick out beyond the tabletop when folded. Approx weights: 52.5" table is 52 lbs., 72" table is 65 lbs and the 96" table is 80 lbs.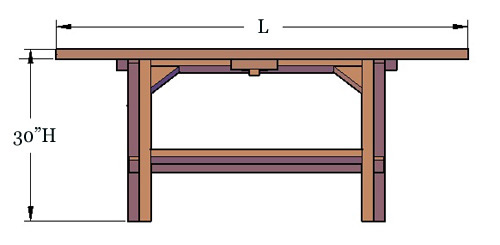 Side View
Top View
Folding Bench:
Approx. weights: 52.5" Bench is 22 lbs, 72" Bench is 28 lbs, 96" Bench is 36 lbs.
Advanced Options
HALF OR FULL LENGTH SIDE BENCHES
For the larger folding tables, we offer the option of two half-length folding benches/side or one full length folding bench/side for additional seating flexibility. So you have the option of ordering your table with 2 full length benches or with a total of 4 benches that are half the length of the tabletop at no extra cost.
Full Length Bench per Side
2 Half Length Benches per Side
TABLETOP DESIGNS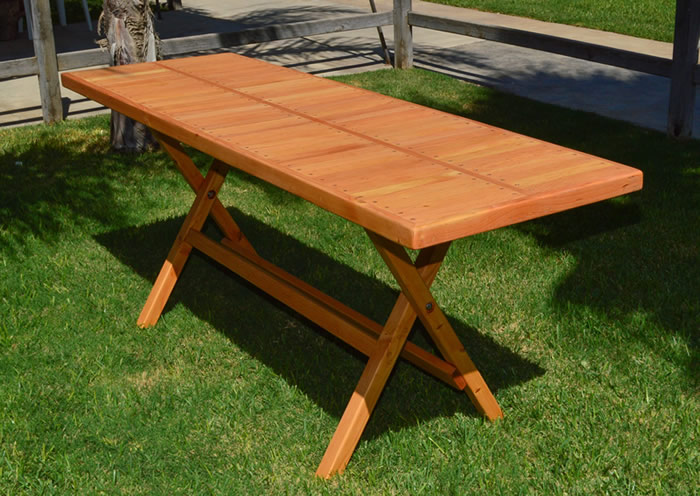 Boards All in Same Direction Style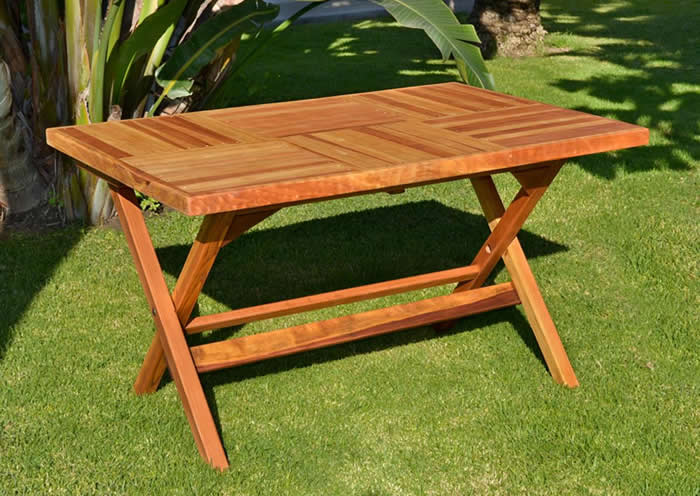 Checkerboard Style
The Rectangular Folding Tables ship fully assembled. Just unfold and enjoy.
Simple, Easy Assembly

Furniture assembly should take half a day or less. Sets ship in less than 15 parts. Tabletop and benchtops always ship assembled. Just add the legs and supports and enjoy.As with all our products, we preassemble our furniture items in our shop to ensure everything fits together. All hardware is included and all parts are clearly labeled before it is shipped. We also include detailed step-by-step instructions.
Take a look at our assembly instructions above for specific details.
Installation Help.
Special talent is not required to re-assemble any of our furniture items or outdoor structures. If you would like help, just let us know. Our installation team is available in the continental US (excludes HI & AK)
Care: You should expect your furniture to last outside for a minimum of 10-40 years without maintenance, even in climates with harsh year-round conditions. Because of our high quality wood, the silver patina that will naturally occur is surface deep (less than 1/64") and is not indicative of decay. We keep our display items without refinishing as examples show off their natural aging. We like the patina! If you'd like to keep your set looking its best for decades please visit: Care and Finish.