Let your little monkeys go bananas on our Monkey bars set. Expert construction with an emphasis on safety and easy assembly means they will be swinging in no time!
Purpose: Sheldon's Monkey bars were initially designed as a Brachiation Ladder. Brachiation ladders are an excellent way for children to build upper body strength, and are also used in physical therapy. Sheldon's Monkey Bars are the recommended Brachiation Ladders for the Brain Balance Centers of America. For more on Brachiation ladders: http://naturallybetterkids.com/resources/equipment/brachiation-ladder.
Design: Designed to add warmth and beauty of natural wood to any space. Emphasis on safety - overbuilt with thick timbers and finely finished for splinter free enjoyment.
Quality: We have warranties against decay on your Monkey Bars to make sure your set will still be standing after the kids get married. Customize your set with the wood grade of your choice, but note that the bars themselves will always be made out of Douglas-Fir because of its strength.
Sizes: Available with total bar heights of 7ft or 8ft and lengths of up to 10 ft. Bar height can be adjusted in 4 inch increments as your kids grow!
Assembly: Your set will be fully pre-assembled in our shop to make sure that everything fits together seamlessly. This ensures a smooth and easy assembly for you upon delivery. Ships in less than 20 parts. All hardware included.
DIMENSIONS & DRAWINGS
Sheldon's Monkey Bar Set Dimensions
Height dimensions for standard steps style at 2 inches between adjustment holes.
Length
Height
Width
8 ft
7 ft
60 in
9 ft
7 ft
60 in
10 ft
7 ft
60 in
8 ft
8 ft
60 in
9 ft
8 ft
60 in
10 ft
8 ft
60 in
Bar diameter and spacing
1 3/8" diameter rungs spaced 12 inches apart center to center. The rungs are made in Douglas-fir for structural reasons, the rest of the monkey bar will be made in the wood grade of your preference.
Sheldon's Monkey Bar detailed information

There are holes every 2 inches to adjust the bar height for use for anyone from 6 months to adult; the tallest setting for the bars is 80 inches off the ground. A 1x3 trim piece is included to cover the holes when you are not adjusting the bar height. The internal width of the bars is 18 inches (the width of the bars in between the frame).
Any of the dimensions can be altered to fit your needs. For example, if you'd like the Monkey Bar set made for Adults or Teenagers, just let us know and we'll build a set taller, wider and stronger.
DISCONTINUED DESIGN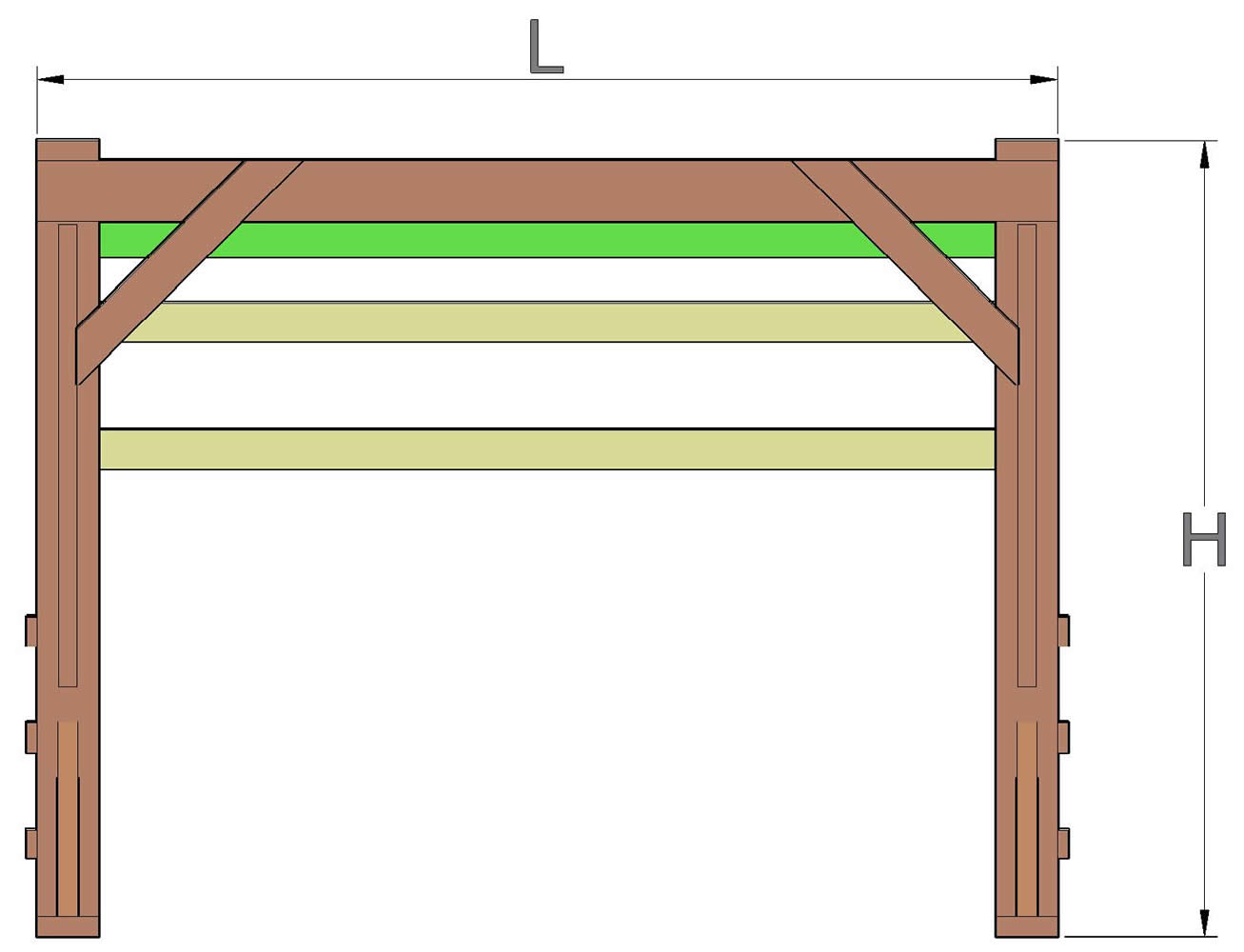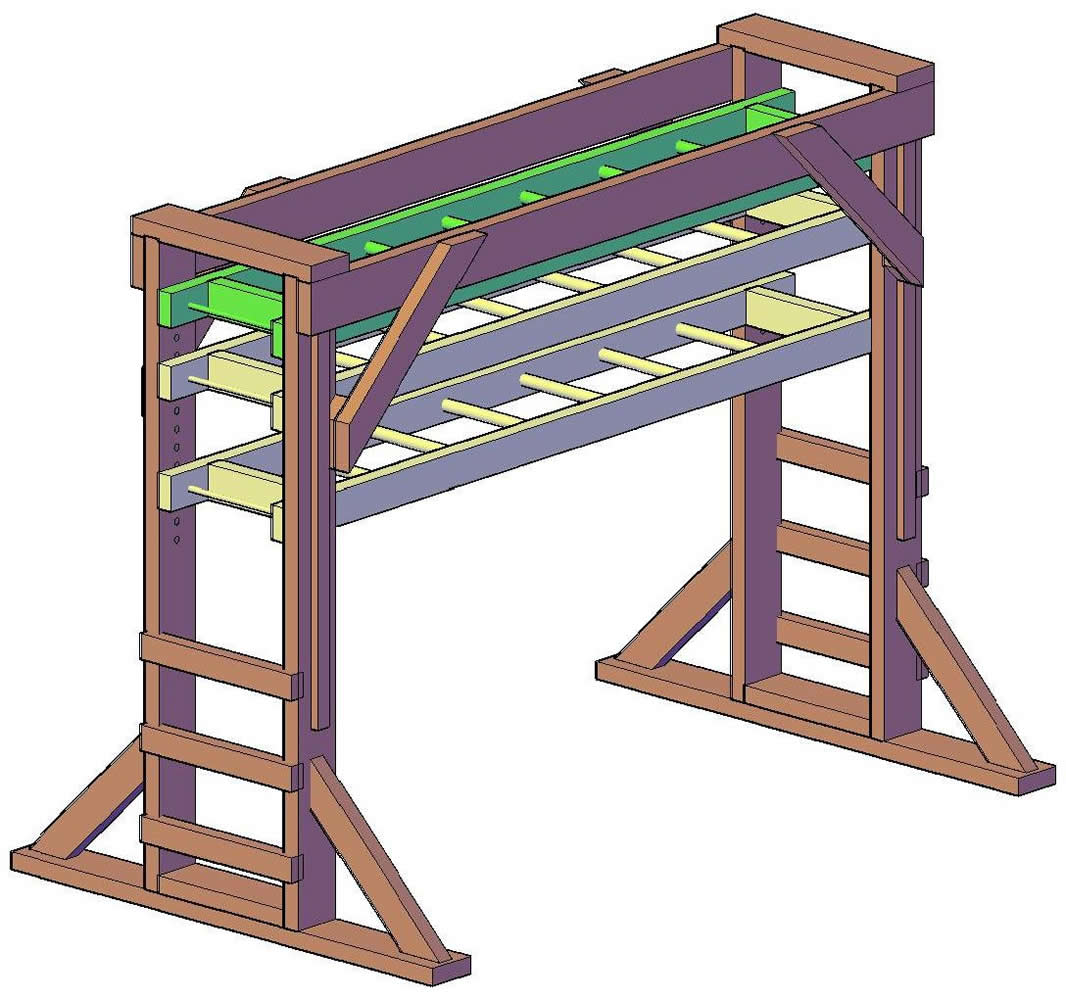 NEW DESIGN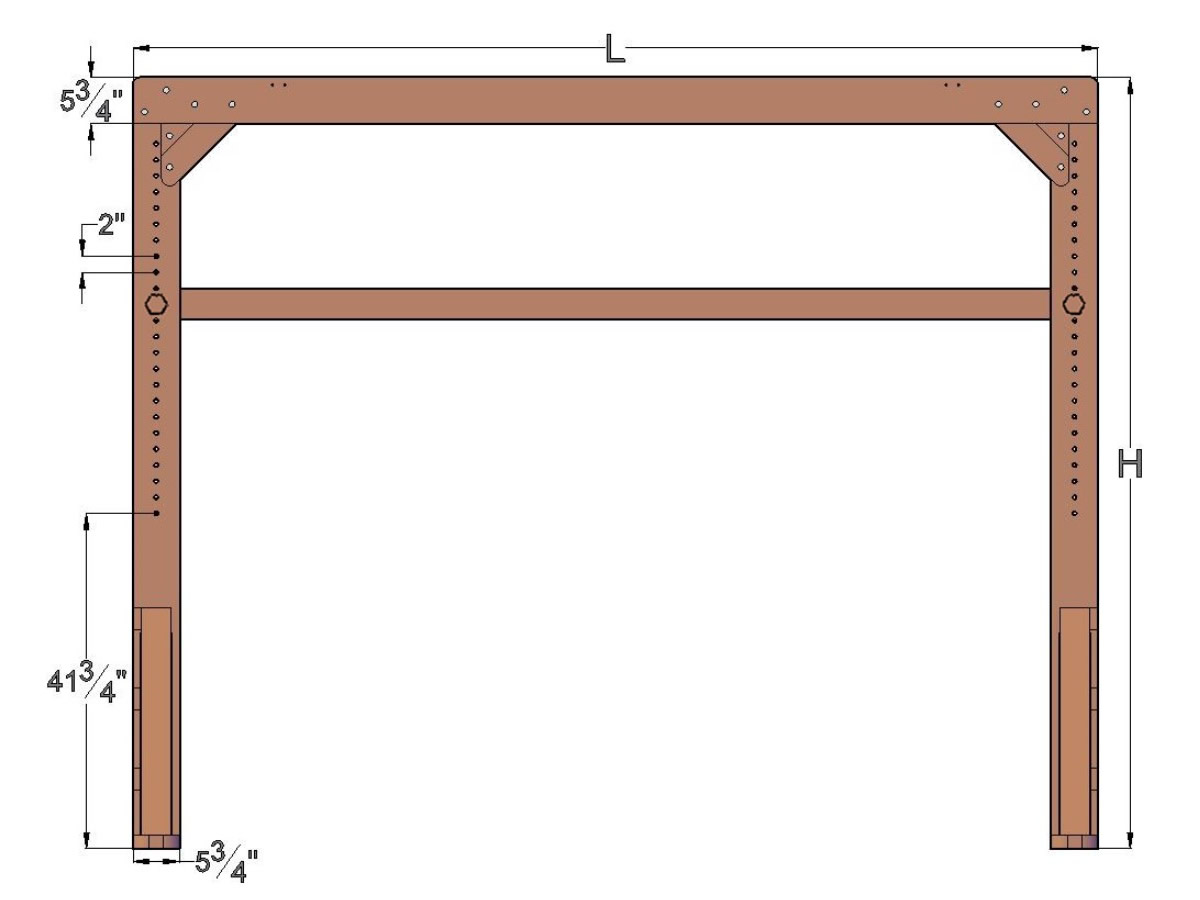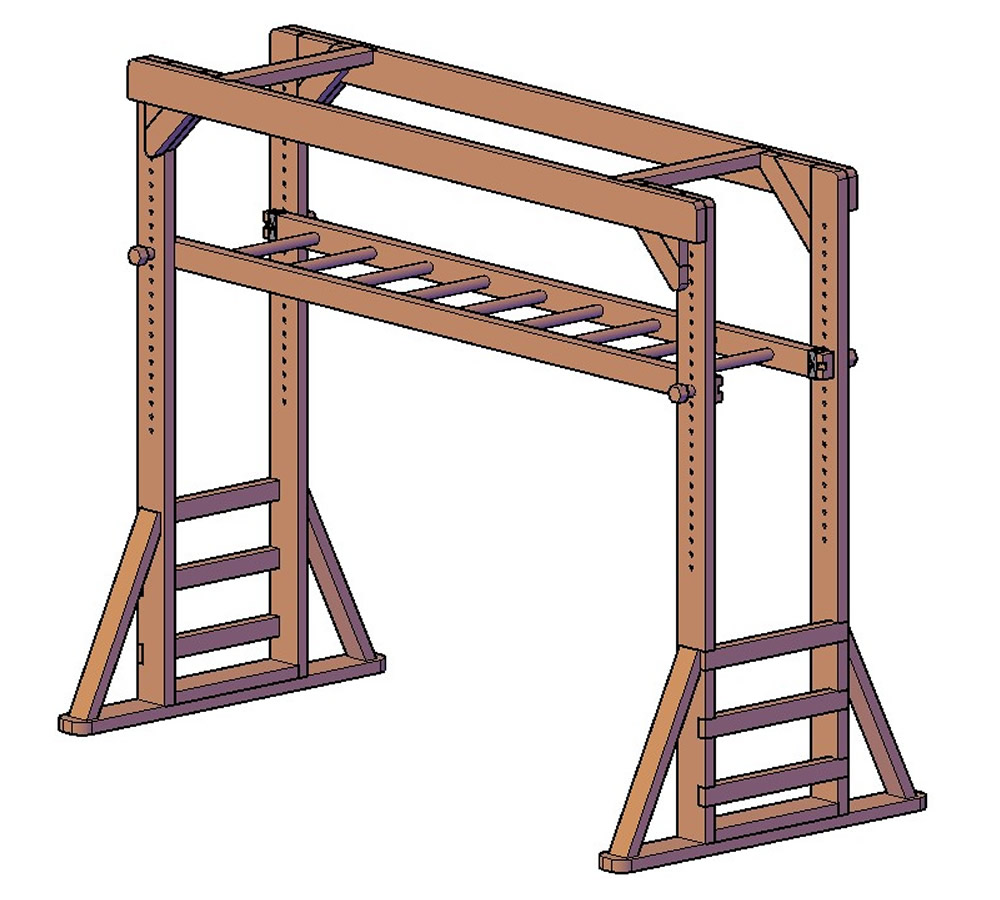 Height dimensions for standard steps style at 2 inches between adjustment holes.
Monkey Bar Height
Lowest rung height
Highest rung height
Total Height Adjustment Holes Available
7ft H
40 1/4 in
74 1/4 in
18 holes
8ft H
40 1/4 in
86 1/4 in
24 holes
Height dimensions for round steps style at 2 inches between adjustment holes.
Monkey Bar Height
Lowest rung height
Highest rung height
Total Height Adjustment Holes Available
7ft H
42 1/4 in
74 1/4 in
17 holes
8ft H
42 1/4 in
86 1/4 in
23 holes
WEIGHT & CAPACITY
Sheldon's Monkey Bar weight
180 to 240 lbs (depending on length and wood grade)
Weight Capacity:
The Sheldon's Monkey Bar can comfortably hold up to 2 persons and 400 lbs at a time. But, the individual rung capacity is 300 lbs. If you require more weight capacity, the set can be made stronger for a small additional cost. Just let us know.
Assembly instructions for: Sheldon's Monkey Bars - New
All You Need is a Few Tools and a Friend.
Assembly is best done by two people and usually takes about half a day to a day, depending on size. Pergolas need a ratchet wrench, a hammer and a ladder to put them together. In some cases, you might need a drill to attach the posts into concrete. As with all our products, we preassemble pergolas in our shop to ensure everything fits together. All hardware is included and all parts are clearly labeled before it is shipped. We also include detailed step-by-step instructions.
Take a look at our assembly instructions below for specific details. If you plan to pour concrete to hold the posts, the project will require an additional half day prior to assembly. Please do the concrete pour a few days prior to assembly to allow the concrete to cure.
Installation Help.
Special talent is not required to re-assemble our pergolas. But, if you would like help, just let us know. We have our own team for installations in California, Nevada and Southern Arizona and a network of local contractors we recommend for farther afield.
Care: Your Forever Redwood Furniture will last for decades in year-round weather without maintenance.
Depending on the wood grade you choose, even with harsh year-round outdoor conditions, you can expect your furniture to last from ten to forty years without maintenance of any kind.
Being outside year-round is rough on any woods finish. The surface absorbs UV rays, pollution, constant variations in moisture and temperature and it also oxidizes. This is why most wood just doesn't hold up and the surface color slowly changes towards a silver patina over the years. But, with Forever Redwood, you don't have to worry. The silver patina is surface deep only (less than 1/64") and is not indicative of decay. Your set will last decades and is not compromised in any way by the surface color change. For example, we keep our display items as is without refinishing to show off this natural aging (we like the patina!).
Although Forever Redwood is maintenance-free, we recommended you take a few minutes as needed to clean by either hosing down and/or brushing/dusting away accumulated debris (no soap or chemicals needed). If you'd like to keep your set looking its best for decades, please go to: Care and Finish.