Super Heavy Duty Workshop Table
When you hear the words "Super Heavy Duty Workshop Table", you know you're dealing with a tough, built to last product. But with our solid Redwood table from Forever Redwood, you're also getting quality design, and handmade craftsmanship that is simply unmatched elsewhere. If you're looking to do some work on a piece that's timeless, rustic, and will last a lifetime, this table's for you.
Custom detail or design? Talk to one of our specialists to get the perfect solution!
Learn More
Don't want to assemble? We can deliver and assemble anywhere in the Continental US.
Learn More
This is one of the strongest tables we offer, and is made to take a beating, while still maintaining its look and structure. Our Super Heavy Duty Workshop Table is made from restoration forestry Redwood, and build double thick to ensure quality and quantity of use. No matter where you store it, even outdoors, this table will not fail you under harsh conditions.
Design: Finely finished table for your home, kitchen or your workshop. Durable indoors and outdoors.
Quality: Expertly constructed for workshop use, using solid 3½" thick Douglas Fir (structurally denser and stronger than Redwood and recommended for indoor tables). Tabletop is seamlessly constructed to create a smooth unbroken work surface.
Sizes: Choose from three sizes ranging from 4ft to 6ft in width and 3ft to 6ft in length.
Customize: Select More Options to customize your preferred stain color and finish. Request a special size and shelf layout in the Comments / Special Requests box.
Assembly: Wood tables ship in less than 10 parts for quick re-assembly.
Order your Super Heavy Duty Workshop Table here on our page, and customize it for size and timber type. We can ship to anywhere in the US (continental), and guarantee our product will last with our 10-30-year warranties. The table arrives with just a few, easy to assemble pieces, and doesn't even require a tool kit to set it up. Call now to find out how to get yours!
DIMENSIONS & DRAWINGS
Super Heavy Duty Workshop Table Dimensions
All workshop tables are 32" tall and built with the tabletop built using 4" thick timbers that are 6" wide. The legs are 4x6's just like the tabletop and there is plenty of reinforcement underneath to be virtually indestructible.
The legs are recessed 12" under the table for the 6 ft version. The 5 ft version has the legs recessed 9" and the 4 ft version has the legs recessed 6". If you prefer the legs closer to the perimeter of the tabletop, let us know in the comment section during checkou).
The 6' x 6' size weighs approximately 650 lbs. The 5' x 5' version comes in at a respectable 520 lbs and the 4' x 4' version at 380 lbs. This table can be made any size just let us know what you need. The actual table sizes are a bit smaller due to the size of the timbers used. The 6' x 6' table is actually 69" x 69". The 5' x 5' version is 57 1/2" x 57 1/2" and the 4' x 4' version is 46" x 46".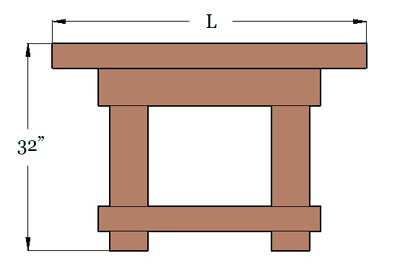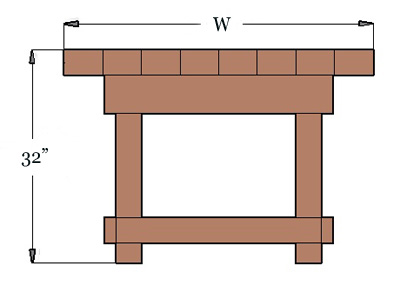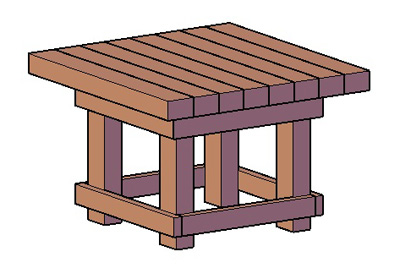 The Super Heavy Duty table was designed for a small engines high school workshop in Louisiana in 2004. The class liked them so much they ordered more in 2005 and again in 2006. If you are planning to use it in a demanding application, we recommend the Douglas-fir wood grade. Douglas-fir is structurally stronger than Redwood and will work best in any indoor or covered patio work environment. For exterior applications, Redwood may be a better choice for very long term decay resistance in moist climates. Please see our wood grades page for more information.
Assembly Instructions for: Super Heavy Duty Workshop Table
Assembly
All you need is a ratchet wrench and a hammer.
Our products are preassembled in our wood working shop to ensure reassembly is a snap. Most items require only a ratchet wrench and a small hammer to tap in the bolts. It takes less than 30 minutes to put most of our products together and begin enjoying them. All items come with clearly labeled pieces and detailed step by step instructions. Some of the larger items may require a friends help, but most can be assembled by one person. To download assembly instructions for most items, please go to: Assembly Instructions
Care: Your Forever Redwood Furniture will last for decades in year-round weather without maintenance.
Depending on the wood grade you choose, even with harsh year-round outdoor conditions, you can expect your furniture to last from ten to forty years without maintenance of any kind.
Being outside year round is rough on any woods finish. The surface absorbs UV rays, pollution, constant variations in moisture and temperature and it also oxidizes. This is why most wood just doesnt hold up and the surface color slowly changes towards a silver patina over the years. But, with Forever Redwood, you dont have to worry. The silver patina is surface deep only (less than 1/64") and is not indicative of decay. Your set will last decades and is not compromised in any way by the surface color change. For example, we keep our display items as is without refinishing to show off this natural aging (we like the patina!).
Although Forever Redwood is maintenance-free, we recommended you take a few minutes as needed to clean by either hosing down and/or brushing/dusting away accumulated debris (no soap or chemicals needed). If youd like to keep your set looking its best for decades, please go to: Care and Finish
Sign In
New Customer
New to Forever Redwood? Create an account to get started today.
Create My Account