The Summerbreeze Swing Sets
Playful attractive lines, stout construction, adjustable angles and height, shade, gorgeous lumber... what is not to like? Swing in style for decades to come with this gorgeous shaded beauty.
Custom detail or design? Talk to one of our specialists to get the perfect solution!
Learn More
Don't want to assemble? We can deliver and assemble anywhere in the Continental US.
Learn More
The picturesque Summer Breeze Swing Set is a perfect choice to relax outdoors. Add a pillow, grab a book, and...
Design: Built with park grade steel hardware and heavy duty springs that ensure a smooth & soft ride. The reclining angle can be adjusted for maximum comfort.
Quality: Materials & craftsmanship that last a lifetime - from thick timbered, finely finished Redwood that outlasts teak or cedar to the best weather resistant sealants.
Sizes: Available in 4 bench styles. Seats up to 3 persons comfortably. Weight capacity: 650 lbs.
Customize: Swing, frame and roof can be purchased as a set or separately.
Assembly: Quick re-assembly with included stainless steel hardware.
DIMENSIONS & DRAWINGS
Swing itself is 1' 11"H x 2' 4"D. Seat back is 1' 8"H from the top of the seat to the top of the backrest. We leave a 6" clearance on either side of the swing for the frame. The hanging hardware is 4"L x 2 1/4"W x 2"H.
| | |
| --- | --- |
| Swing Size | Swing Width |
| Bench | 40" between armrests, 47 1/2" including armrests, 58" total (with the timber underneath that holds the eyebolts) |
| Large Bench | 52" between armrests, 59 1/2" including armrests, 70" total (with the timber underneath that holds the eyebolts) |
| XL Bench | 70.5" between armrests, 78" including armrests, 88.5" total (with the timber underneath that holds the eyebolts) |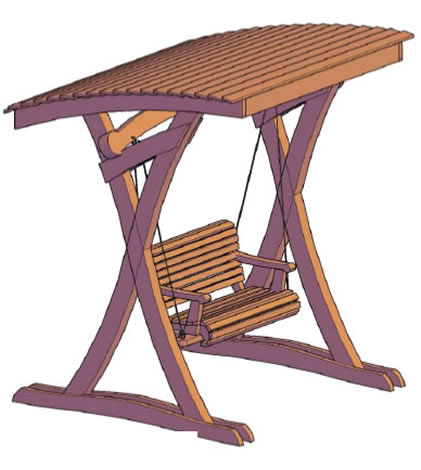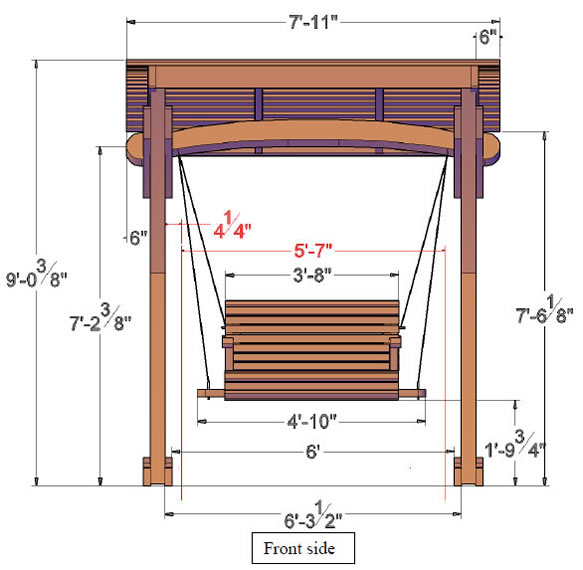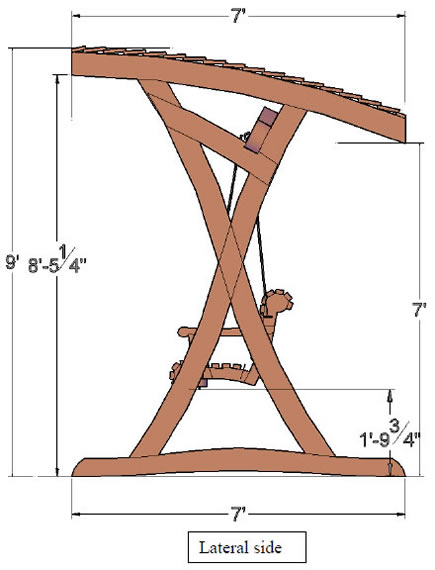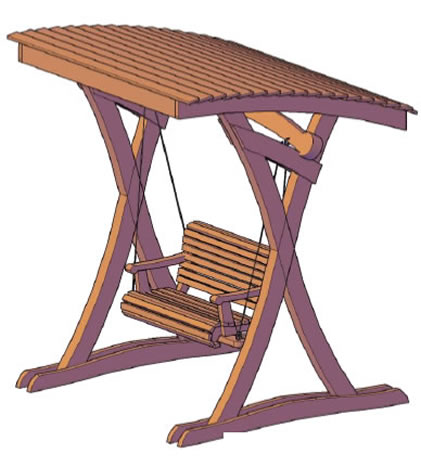 ADVANCED OPTIONS
CHAIN HANGING HARDWARE
Our Chain Hanging hardware is similar to the Swing hanging hardware at Playgrounds. The pivoting steel moves with the swinging motion. We use 1/4 inch thick steel plate construction.
We ship springs with each swing set. The springs allow the seat to give just a bit and is a favorite of many customers. The springs are easily added and removed depending on whether you like the softness it adds to the ride.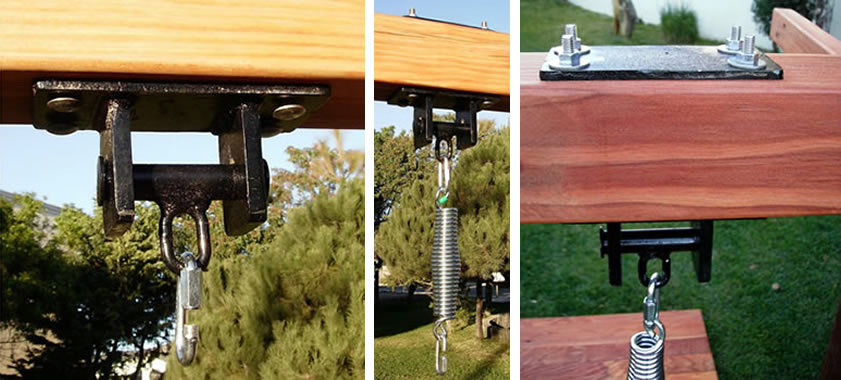 GETTING THE SWING AS COMFORTABLE AS POSSIBLE
All our garden swing sets ship with a bit of extra stainless steel chain. When you assemble and set up your set the first time, take a couple minutes to play around with the height and reclining angles by moving a couple chain links at a time. This way you can set the swing exactly at your most comfortable setting and then forget about it for the next 20 years...
SWING SEAT STYLES
We offer 4 styles: The Classic, The Ensenada, The Luna and The Kentucky. Four great designs for the same price: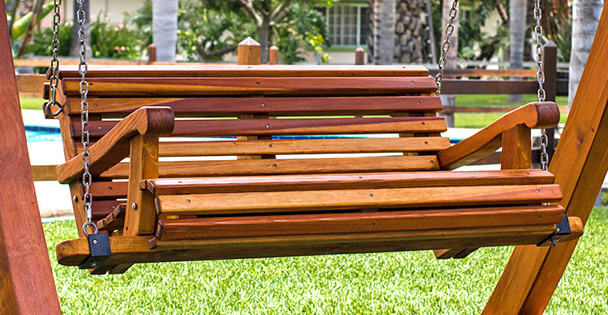 Ensenada Style Seat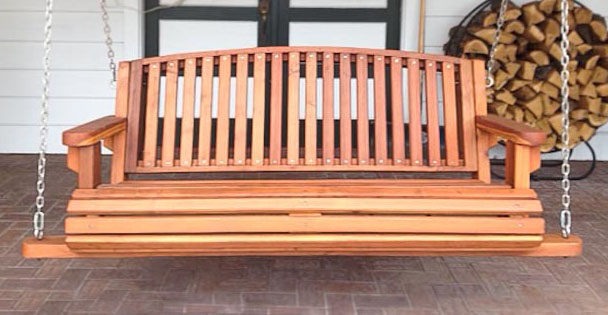 Luna Backrest Seat

Classic Design Seat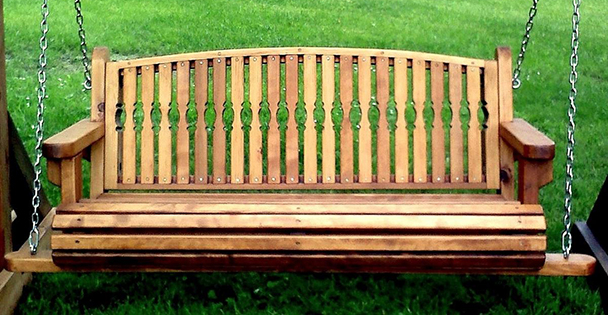 Kentucky Style Seat
FINISH OPTIONS
All our furniture ships finely sanded to 220 grit for a smooth to the touch finish.
The most popular finish is our Transparent Premium Sealant. This sealant leaves your furniture looking natural and helps keep the beautiful wood surface colors from fading for several years. We use Sikkens brand finishes because they are the best finishes on the market. For more information about our finishes and how to keep your furniture looking great year after year, please go to: https://www.foreverredwood.com/redwood-furniture/care-finish/
Unfinished (fine sanding only):
If you are applying your own stain or want the surface color to fade to a "weathered look" in a few months. We do not recommend you leave your furniture unfinished outdoors for any extended period regardless of wood quality. Outdoor weather changes constantly and it is best to at least seal the wood to protect it from consistently absorbing and losing moisture.
Transparent Premium Sealant - Recommended for Outdoors:
Below are the 5 grades of wood we offer with the Transparent Premium Sealant applied. The color tones shown are close representations of the color your furniture will look like. There is no extra charge for the Transparent Premium Sealant:











Douglas Fir
(10 yr Warranty)

Mosaic Eco-Wood
(10 yr Warranty)

Redwood
(15 yr Warranty)

Mature Redwood
(20 yr Warranty)

Old Growth Redwood
(30 yr Warranty)
We also offer the Transparent Premium Sealant with the following stains. There is a small charge for adding these stains because it increases the total amount of coats to 4 with the sealant as the final coats:
Transparent

Cherry Stain

Coffee Stain

Black Premium Stain

White Wash
TIGER STRIPE EFFECT
Douglas-Fir when stained dark creates a "tiger stripe" effect as shown in this photo. It is beautiful and most customers love it. If you are looking for a dark consistent stain and do not want to see a "tiger stripe effect", please go with any of the Redwood grades for a more consistent stain finish.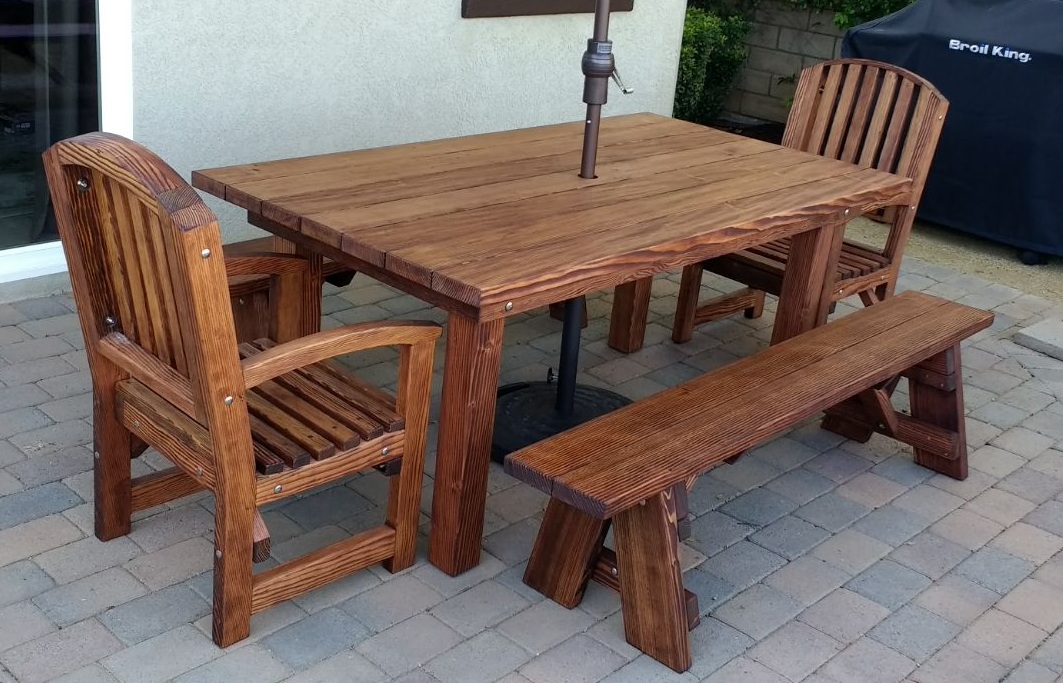 PRIMERS
Off-White Oil-Based Primer:
If you are painting a light color. We apply two coats so that it is ready for one final coat.
Gray Oil-Based Primer:
If you are painting a darker color. We apply two coats so that it is ready for the final coat.
CUSTOM PAINTS
Custom Paint Finish (go to BenjaminMoore.com):
Have Forever Redwood paint your order any color you like. We prefer to use Benjamin Moore paints because they make excellent quality products and offer a huge selection of paints and colors to choose from.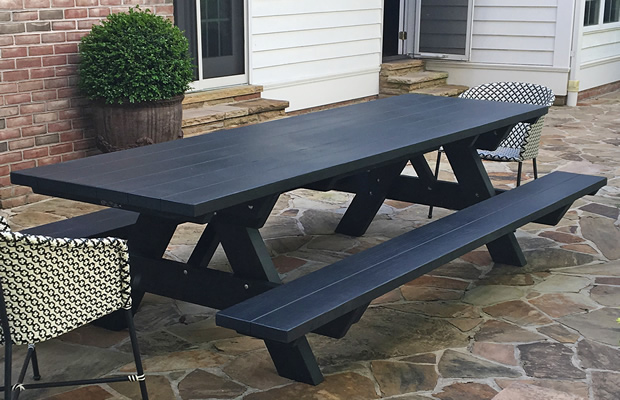 Benjamin Moore: Black Stain, 2131-10
First select the type of paint you want: Benjaminmoore.com
Then click the colors tab and choose from the almost endless amount of colors offered.
Just select the Custom Paint finish option and in the Comment box enter the type of paint and the name and number of the color you would like. We will confirm your custom paint request within 24 hours of receiving your order and we will order the paint for you and apply per the specified directions. You only need to let us know the type of paint and the color name and number and we will do the rest.
All You Need is a Few Tools and a Friend
Assembly is best done by two people and usually takes about 3 hours to re-assemble and begin enjoying them. Bench Swing need a ratchet wrench, a hammer and a ladder to put them together. All parts are clearly labeled and detailed step by step instructions are included. . To download assembly instructions for any of our items, please go to: Assembly
Care: Your Forever Redwood Furniture will last for decades in year-round weather without maintenance.
Depending on the wood grade you choose, even with harsh year-round outdoor conditions, you can expect your furniture to last from ten to forty years without maintenance of any kind.
Being outside year round is rough on any woods finish. The surface absorbs UV rays, pollution, constant variations in moisture and temperature and it also oxidizes. This is why most wood just doesnt hold up and the surface color slowly changes towards a silver patina over the years. But, with Forever Redwood, you dont have to worry. The silver patina is surface deep only (less than 1/64") and is not indicative of decay. Your set will last decades and is not compromised in any way by the surface color change. For example, we keep our display items as is without refinishing to show off this natural aging (we like the patina!).
Although Forever Redwood is maintenance-free, we recommended you take a few minutes as needed to clean by either hosing down and/or brushing/dusting away accumulated debris (no soap or chemicals needed). If youd like to keep your set looking its best for decades, please go to: Care and Finish
Sign In
New Customer
New to Forever Redwood? Create an account to get started today.
Create My Account