Customer Reviews
Customer comments and reviews...
Since the 1990's, we have been building our beautiful thick timber furniture and shipping it all over the world. We have received thousands of comments and reviews. Most can be found on the individual product pages. Below is a sampling of comments that include some photos sent from customers.
We take great pride in building the best outdoor wood furniture money can buy, while saving and restoring the forest for future generations. If you have your own comments to share, just contact us and we'll post them here!
You can see many more reviews on our Houzz site:

Thank you for your follow up
Raul,
Thank you for your follow up. Everything went well and we are quite pleased with our chairs. They are a great addition to a dock we have looking out over water.
Thanks again!
Jim S., Village of Golf FL
Pavillion with snow.
Glad we got the beefed up structural support. Looks like we are going to get winters with more snow.
See the pic of the pavilion in the background : )
Hope all is going well and the year is off to a good start!
Glen, Pasco WA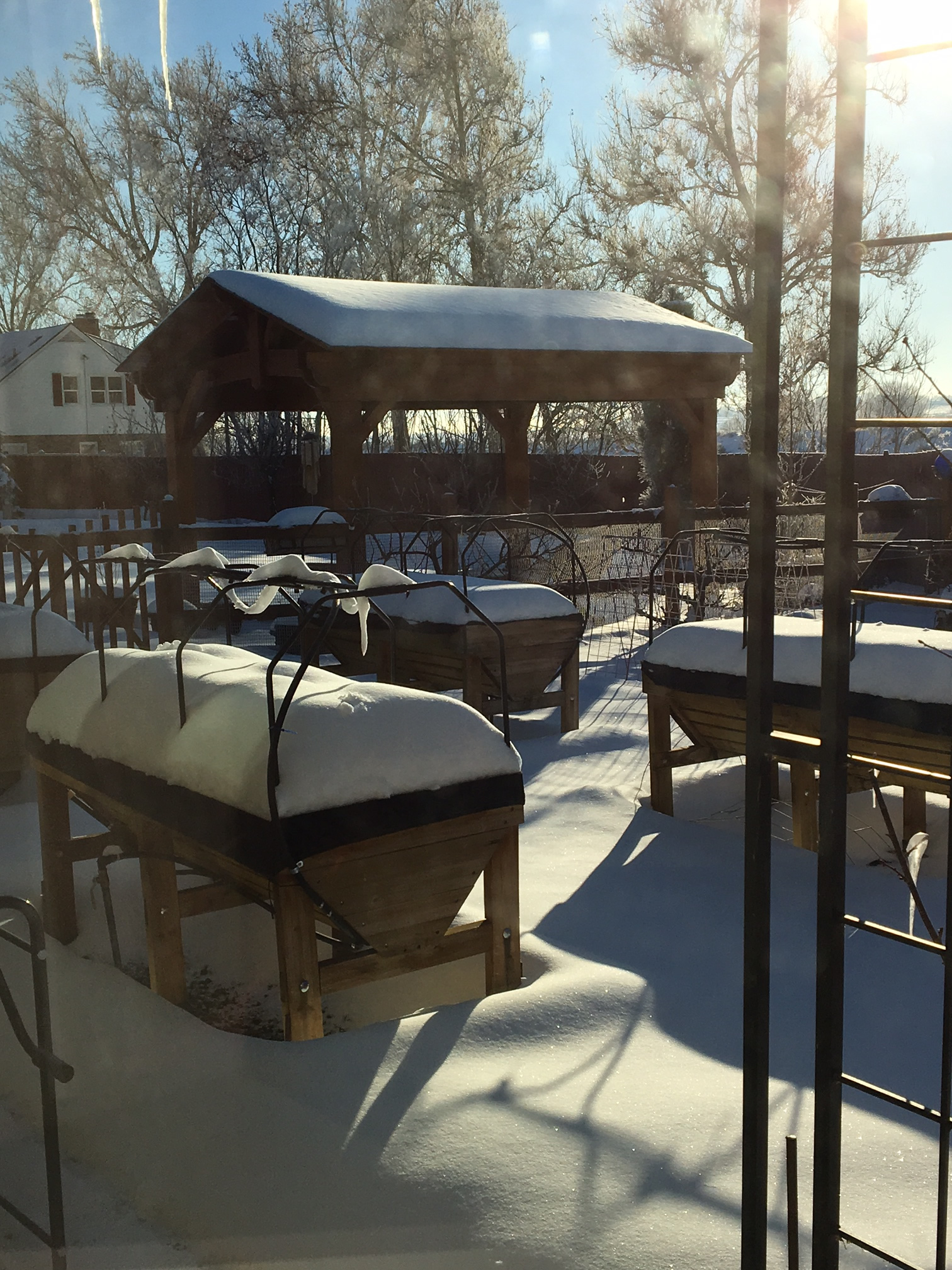 Love my Bench.
Love my bench from Forever Redwood. It is beautiful and I have received many compliments on it. The service and installation were outstanding.
M Kemp, San Carlos CA
I love the table.
I love the table. Just what I expected.
Sturdy and pretty.
Expensive but a good value.
The guys installing it were great too.
Juan C., Salinas CA
Beautiful table
Beautiful table.
I didn't have any help to dismantle the crate , haul the boxes around to the other side of the house and assemble, but after 6 hours and a couple bruises (that top was heavy) got her done. Easy process and very clear instructions.
Thanks!
Bob W. - Mount Dora, FL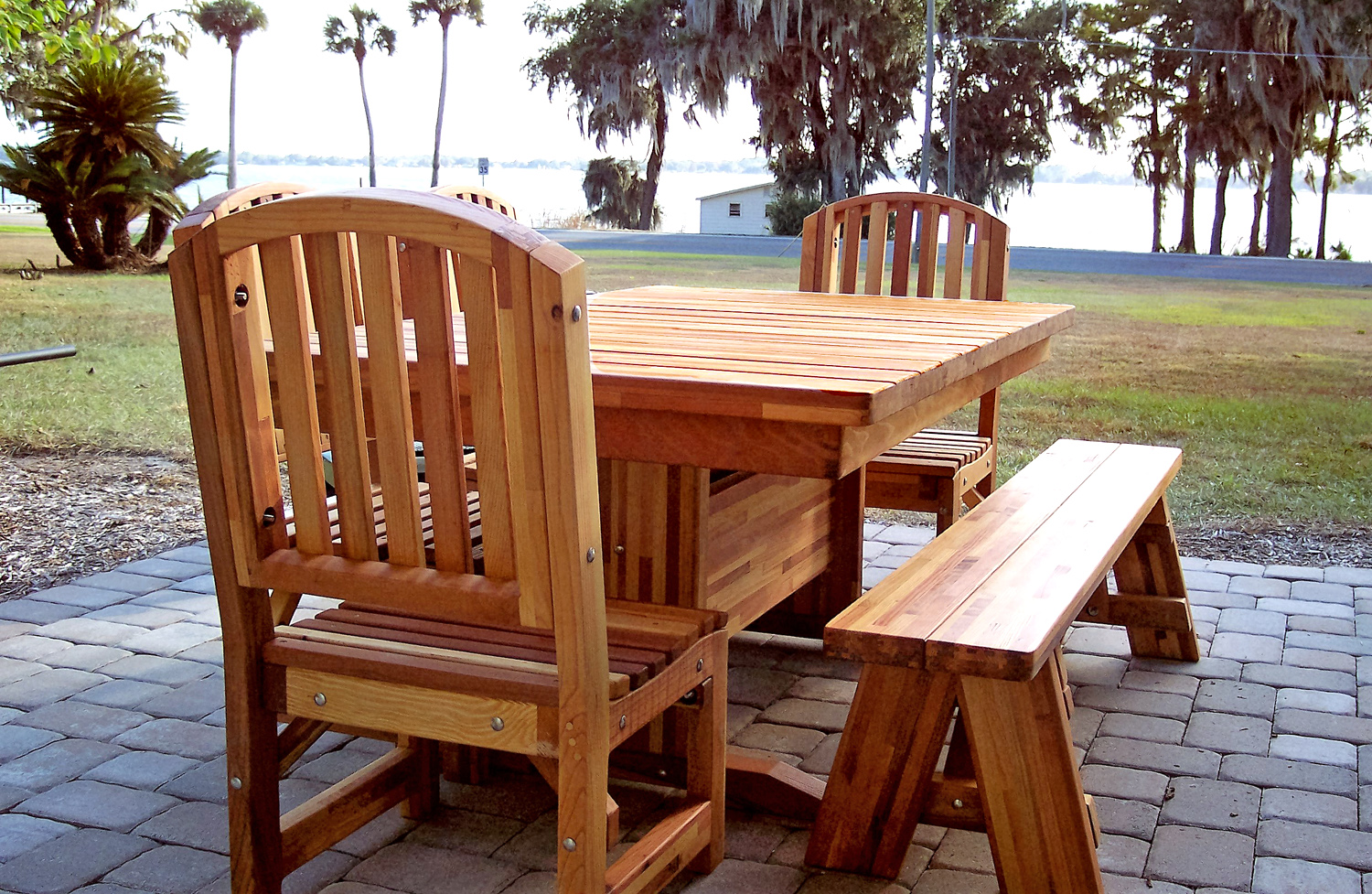 The table is gorgeous and everyone loved it
Hey Raul
I wanted to share a photo of our install where we placed your table for the lounge furniture. The table is gorgeous and everyone loved it. Thanks again for your assistance in bringing it all together at the end!
David K. - Pasadena, CA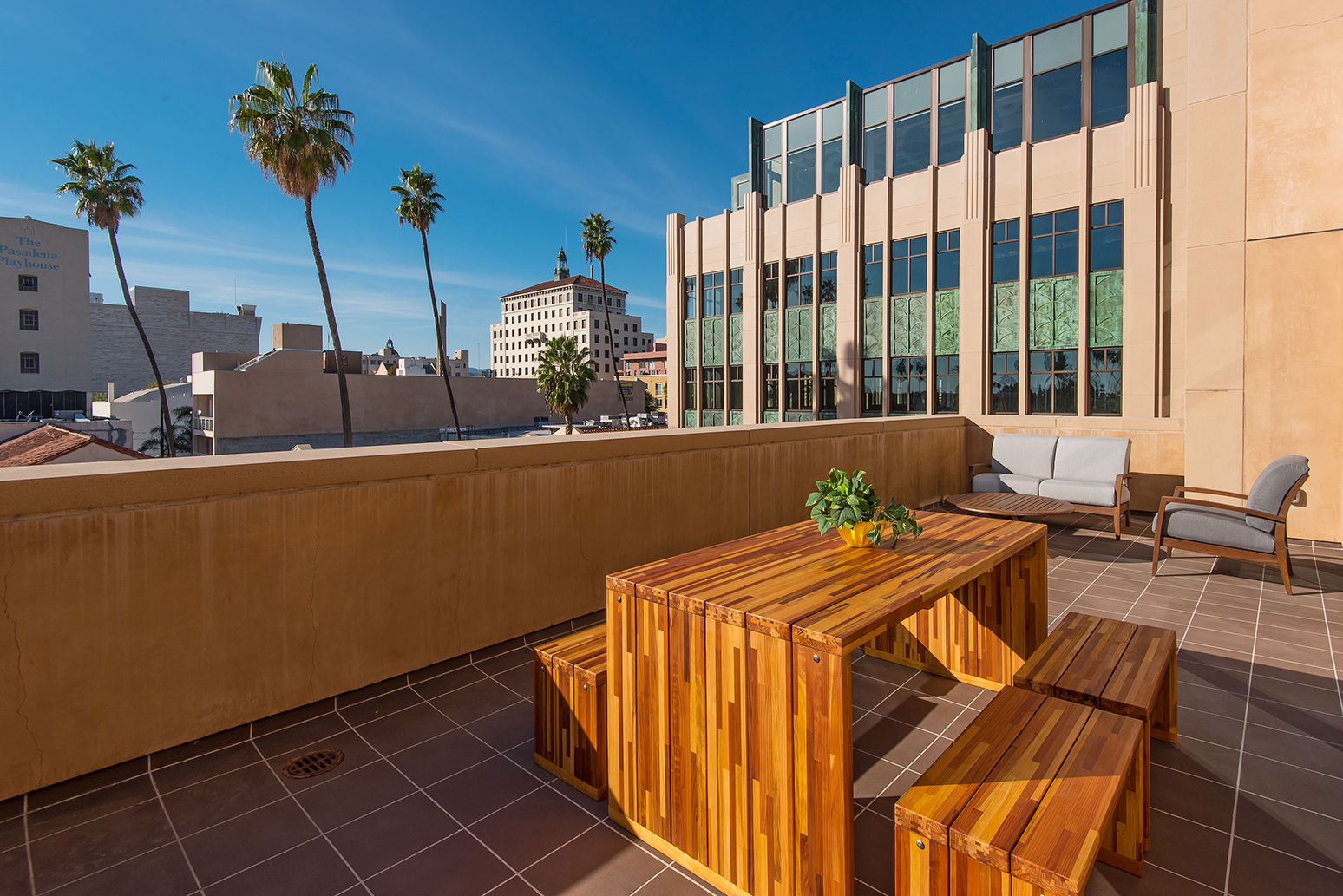 I could not be happier for what you guys have accomplished!
Raul,
I cannot express my thanks enough for you and your team and the beautiful work that you do! I could never have imagined something so large being transported so far away and put together so quickly! It was sheer perfection and all levels. Your professionalism and dedication to see the process through was impeccable! I am preparing a time lapse video to show you the work in progress. It really turned out to be pretty cool!
Aden and team were spot on! They never stopped form the time we offloaded the structure untill completion and that was in record time!
Please feel free to use me as a reference if you ever need a cheerleader! I could not be happier for what you guys have accomplished!
Warmly
Jeff S. - Montgomery, TX
---
Hi Jeffry,
Thank you. Thank you for trusting us with this job. Adan sent some pics yesterday and I was really surprised at how well it fit into the spot. You must take some credit too for laying out the job to work well for the area. I am a bit fastidious with install details and can find nothing to bellyache about on this job. OK, maybe that the ceiling fans are not installed yet!!
Call or email anytime. As a business leader you know how hard it is to make all the moving parts come together. How difficult it is to convey quality and commitment on a website in order to inspire confidence to spend $20 and $30k on jobs like this. Adan has been with me since he was in high school over a decade ago. He is one of our best assets. I have seen him installing in snow storms!!
Talk soon hopefully.
Thanks for everything
Hi
They look great.
Lots of compliments.
Thanks for everything.
Michael H. - Annapolis, CA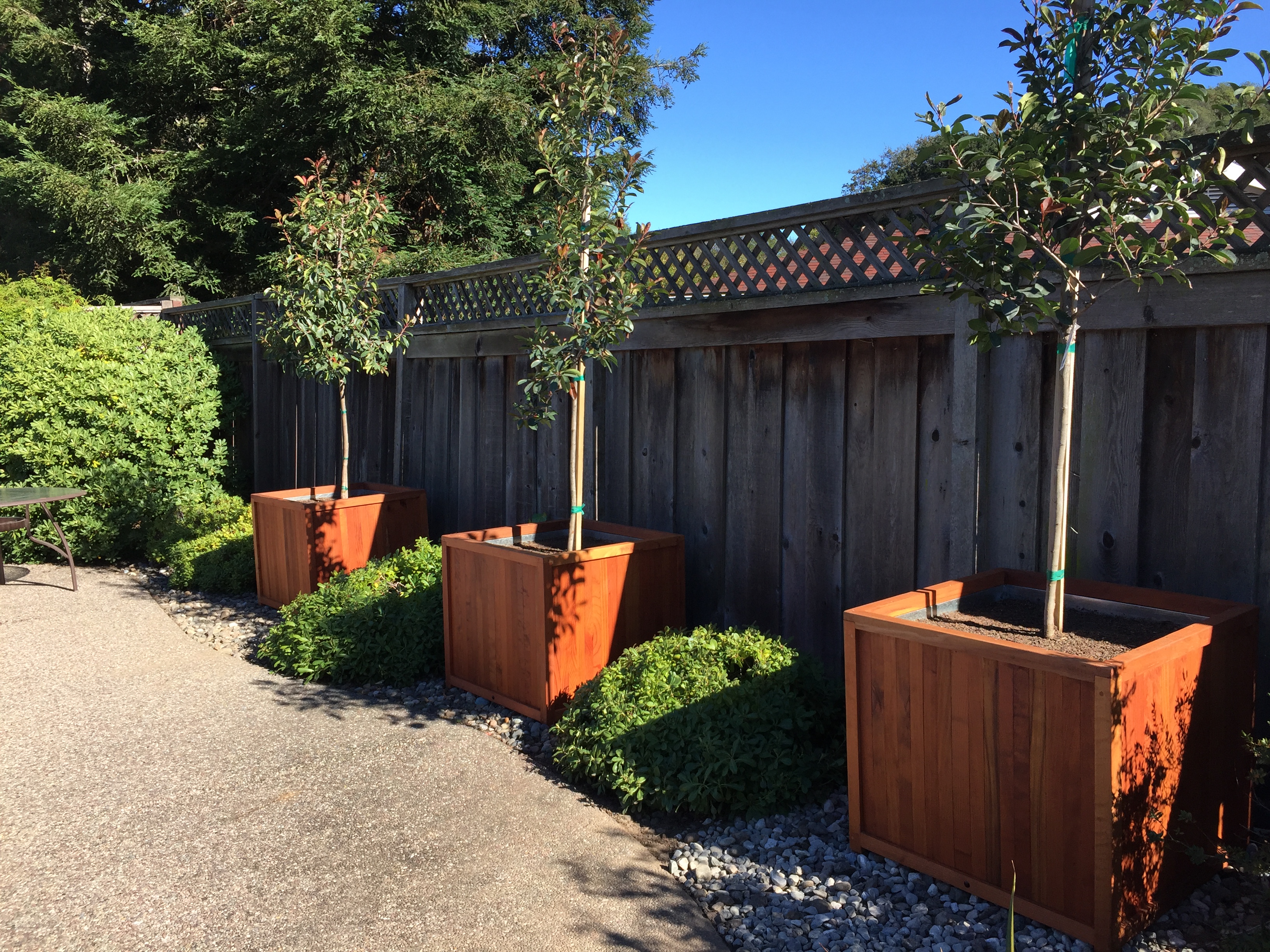 I thought I should let you all know how impressed I am with your company
Hello,
I've had my shoe cubby for a few weeks now, and I thought I should let you all know how impressed I am with your company.
Placing my order was a leap of faith for me, as I had no prior experience with or knowledge of your business. A Google search led me to your website, and what's there is all I knew. Good website, sure, but I didn't feel like I did enough homework to commit to a $1,000+ purchase. I almost felt like I deserved to get ripped off! Anyway, I had no reason to expect that this would be one of my best Internet shopping experiences, yet from start to finish it was.
First, I called for a little help getting the details right (choice of wood and finish) and received a call back and thoughtful advice from a man named Raul, the owner, I believe, though he didn't identify himself as such. Then, you completed the order much more quickly than you projected, and you kept me apprised of its progress through production and shipping.
The cubby arrived protected in a well designed crate, and, most important, I like it a lot. It's very attractive and well made.
John M. - San Rafael, CA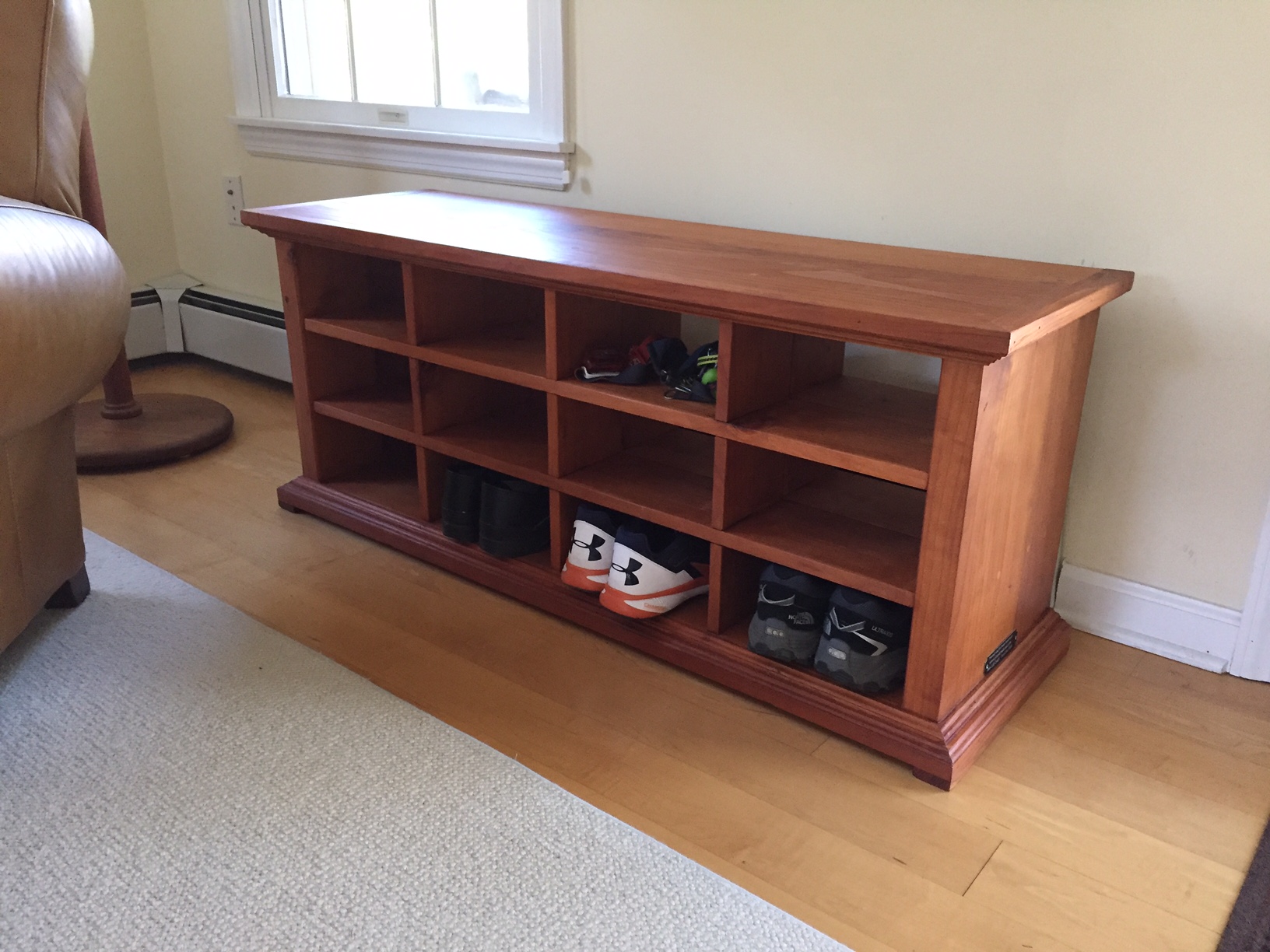 Jody - Happy Customer
Hi Raul:
I'm so glad they decided to go with your company. Their pavilion is just beautiful!
They have some pictures of it at their website.
Jody - happy customer
Jody P. - Mitchellville, IA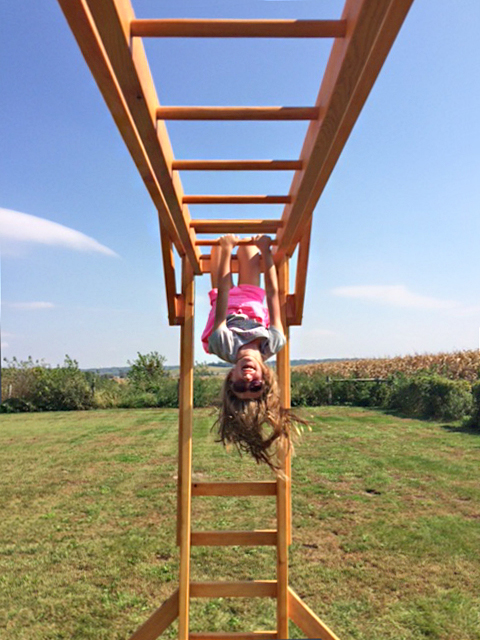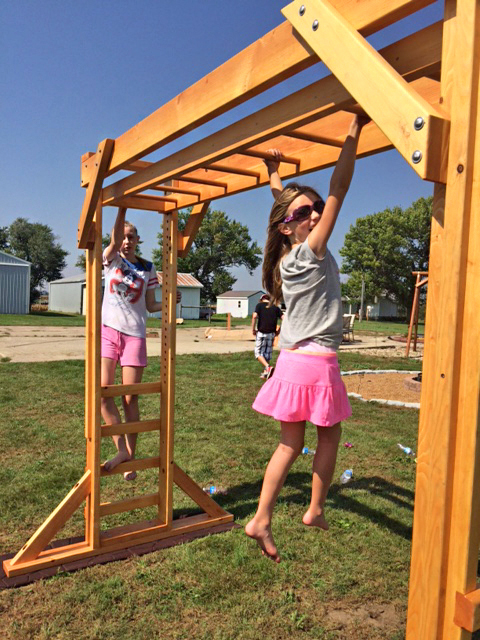 WOW, what a crate!!! Ha ha
Ladies & Gentlemen:
IT has arrived and is unloaded. WOW, what a crate!!! Ha ha
I will not be taking the pieces out of the 15 boxes for another 5-6 weeks as we are working on finishing the patio first... If there is any damaged pieces, which I doubt, I will let you know when I do finally unbox them...
Thanks again for the great product. I'll take pictures and send to you when the project is completed in the late summer...
Sincerely,
Scott H. - Fort Smith, AR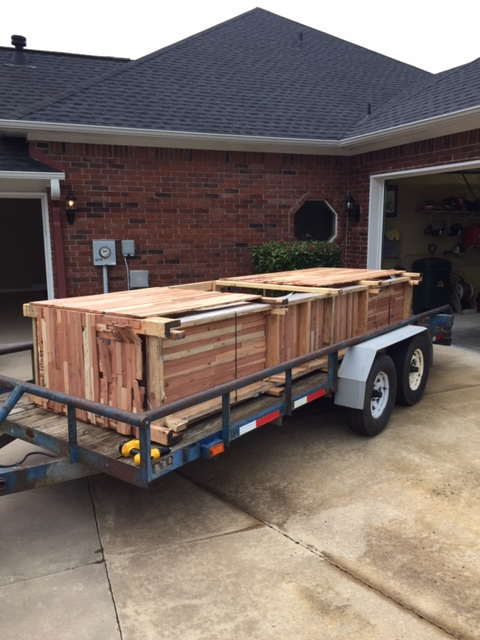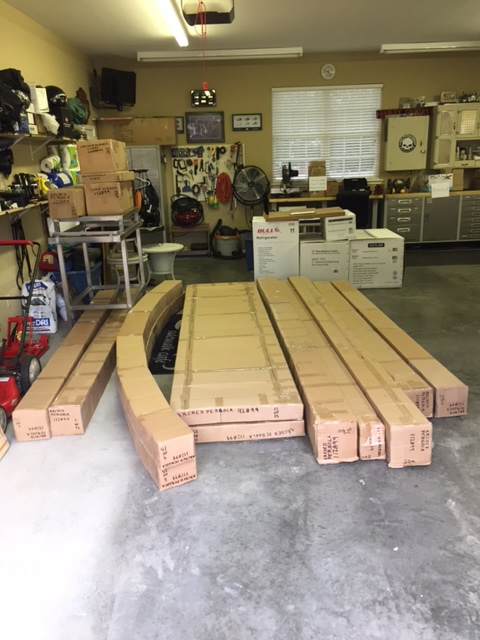 Forever Redwood is the best furniture company I have ever worked with.
From starting the process of ordering the table to having it delivered, Forever Redwood is the best furniture company I have ever worked with. They went above and beyond normal customer satisfaction. The table is gorgeous and turned out exactly how I envisioned. I 100% recommend this company to anyone looking for beautiful well made furniture with the BEST customer service a company could offer.
Kelly K. - Williamsburg, VA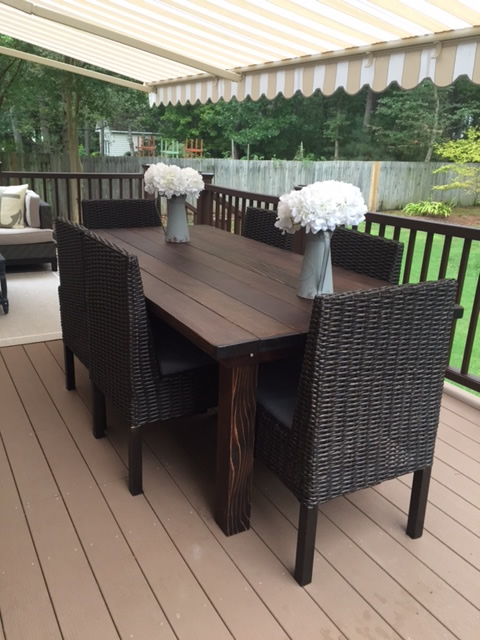 You exceeded our already high expectations.
Hi Raul,
You guys finished at about noon today and the results are wonderful. Really impressive looking structure and solid also. You exceeded our already high expectations. I have included one quick picture for you to see the final product and will send more another day. One very minor issue. I have also enclosed a photo showing the inside of my windows. The windows attached to the structure via the nail find. I guess I had assumed the design included some wood to go over the top of the nailing frames to hide all of the screws. If the design did not include it, could you please have your folks plan on installing this framing when they come and do the ceiling. Let me know if there's a cost associated with this and I would be happy to pay you.
Thanks.
Douglas B. - Houston, TX.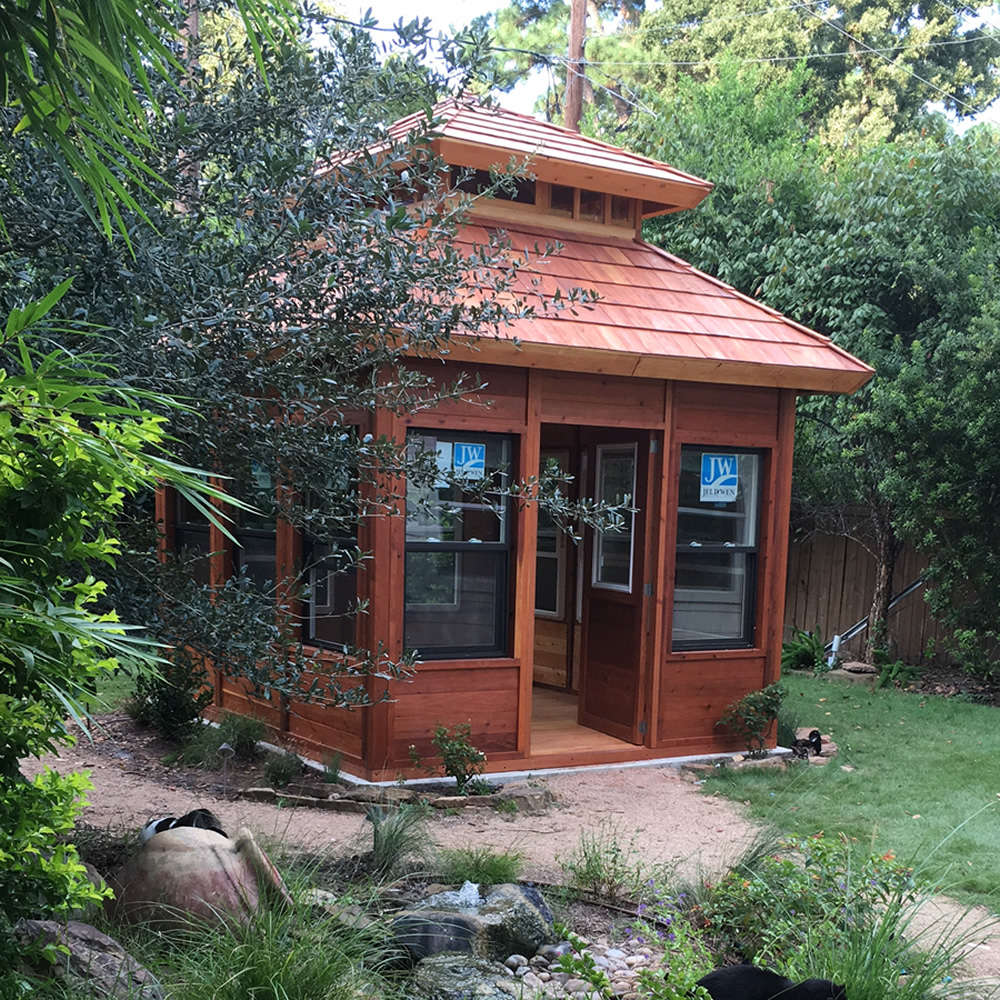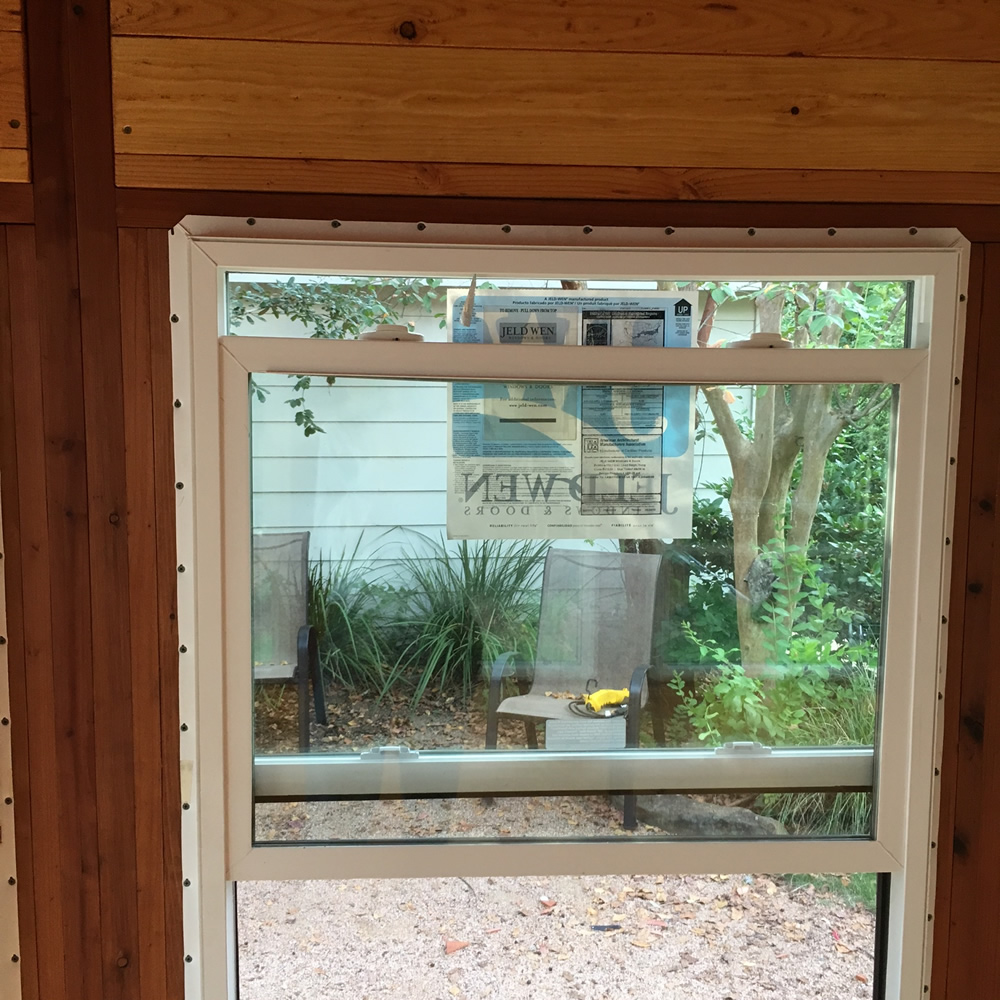 Custom Dream Gazebo with double panel glass windows and full interior insulation
We LOVE Them
Raul,
Our benches are finally assembled and placed; we LOVE them and have received tons of compliments!!! Thank you!!!
Margaret V. - Wheaton, IL.
Madrone Burl
Raul,
I'm still making work with your redwood. I wondered if you know anyone who is selling large chunks of madrone burl? I would like to find a couple of them if possible. Thanks, Robyn
Roby H.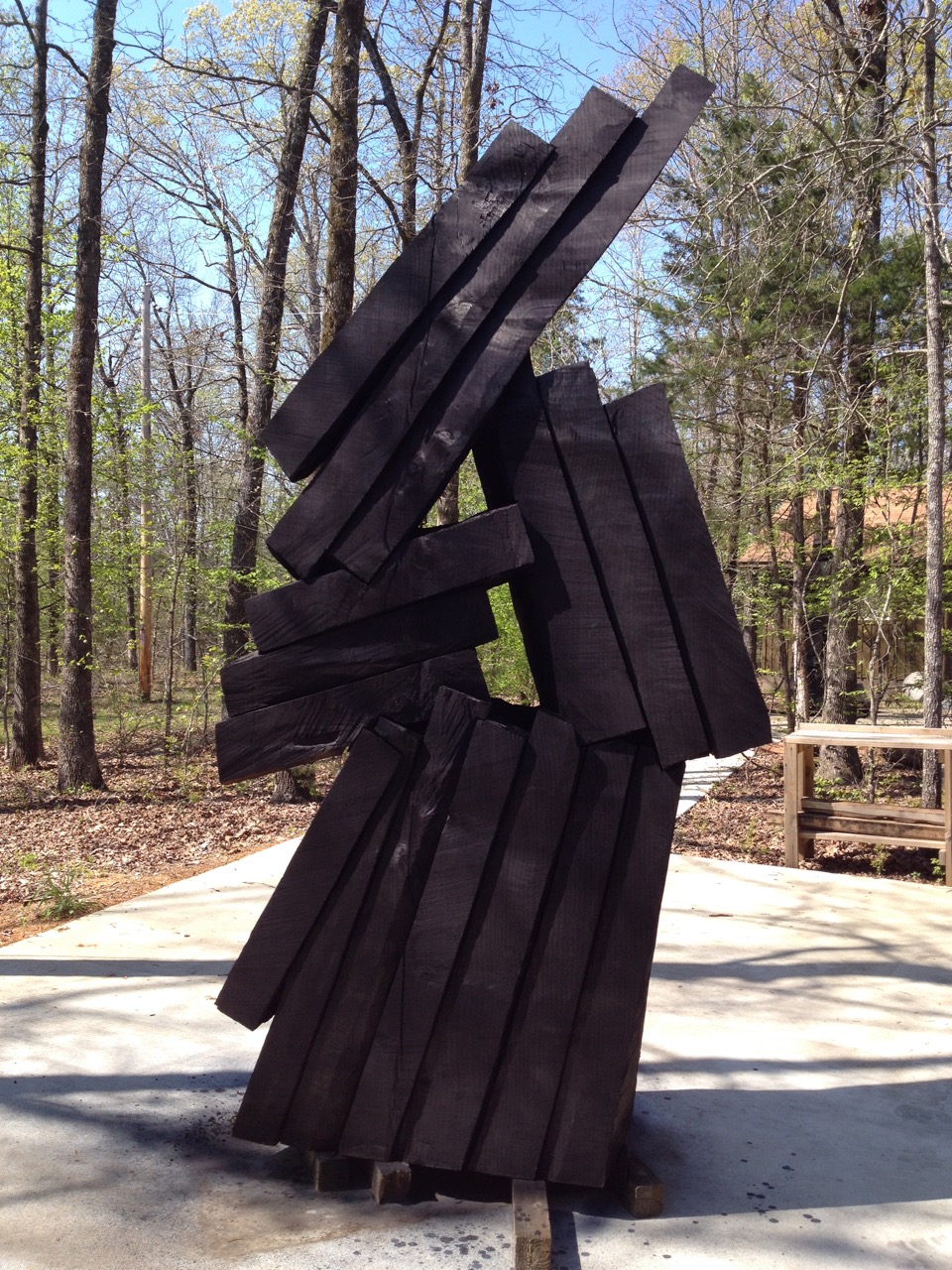 Approaching Collapse, Redwood dyed black, 10 ft high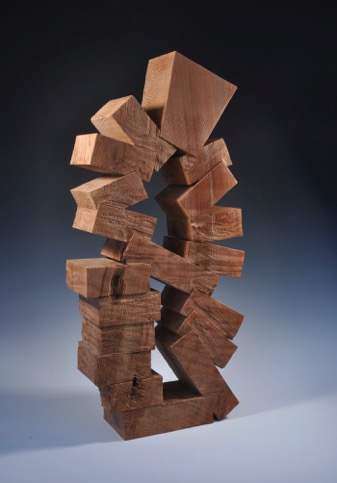 Reconnected, Redwood, 4 ft high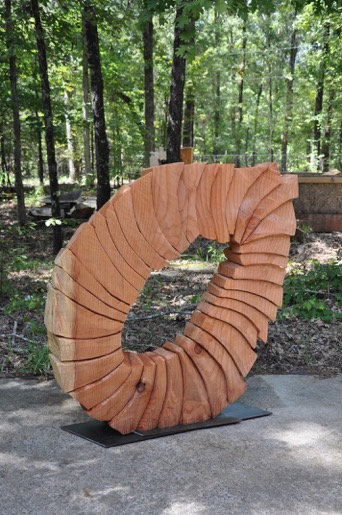 Back to Center, Redwood, 3 ft high
Robyn Horn is an accomplished artist that has purchased large Redwood logs from us in the past and has graciously sent these images of recent work done with them.
Thank you for being so kind
THANK YOU! I CAN NOT WAIT!
So the original plan was and still is to make the Kiwi/Pink for the lounge chairs even though we have them in the Pistachio. Also I need the Pistachio for the two Portable Chairs.
Summary for what is needed:
Kiwi/Pink - Cushions for the 2 lounge chairs done vertically (even though we have them in the Pistachio) They look lovely but I ordered the lounges to be done in the Kiwi/Pink.
Pistachio - Cushions for the 2 Portable Chairs
In total I need cushions for all 4 chairs.
Two Kiwi/Pink Lounges
Two Pistachio for the Portables
Thank you for being so kind and sending the Pistachio Lounges Cushions to me for no charge. It has made the lounges so comfortable and pretty while waiting for the Kiwi/Pink to arrive.
Ken promised to take pictures ASAP! I will make sure we get them done and sent to you today.
Again, your work is worth the wait. All the pieces are beautiful and exceptional in their quality. I am so happy I found your site.
Pam F. - Chapel Hill, NC
We have enjoyed our swing so very much this summer.
We have enjoyed our swing so very much this summer. We are pleased with the workmanship and the instructions were easy to follow. It was a great project for my grandson and me to put it together.
Howard H. - St. Charles, IL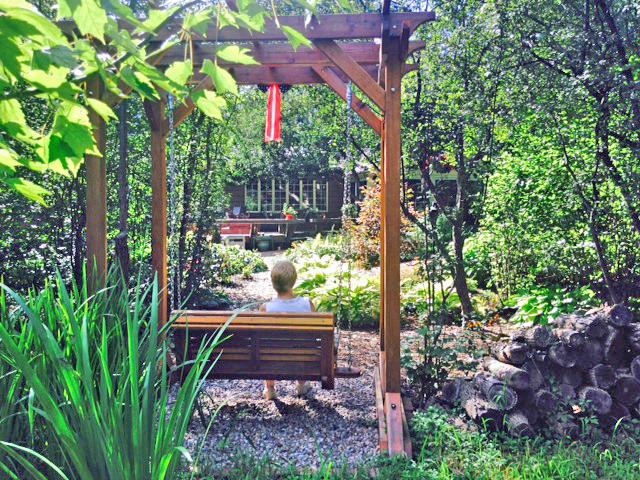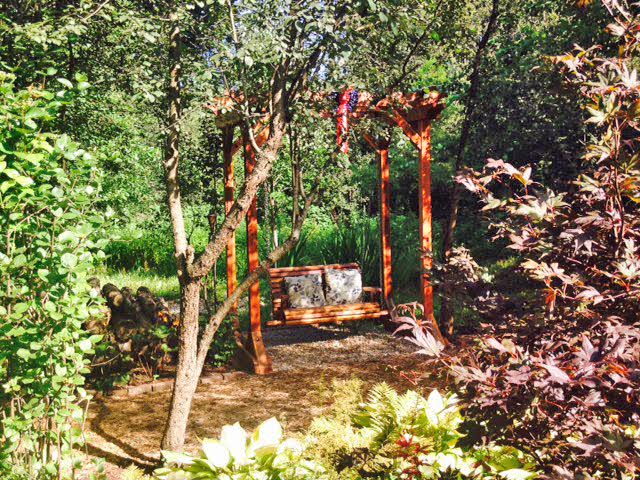 My Table!
I am so excited about the table, we are loving it!! Thank you for all your help.
Meredith L. - Tahoma, CA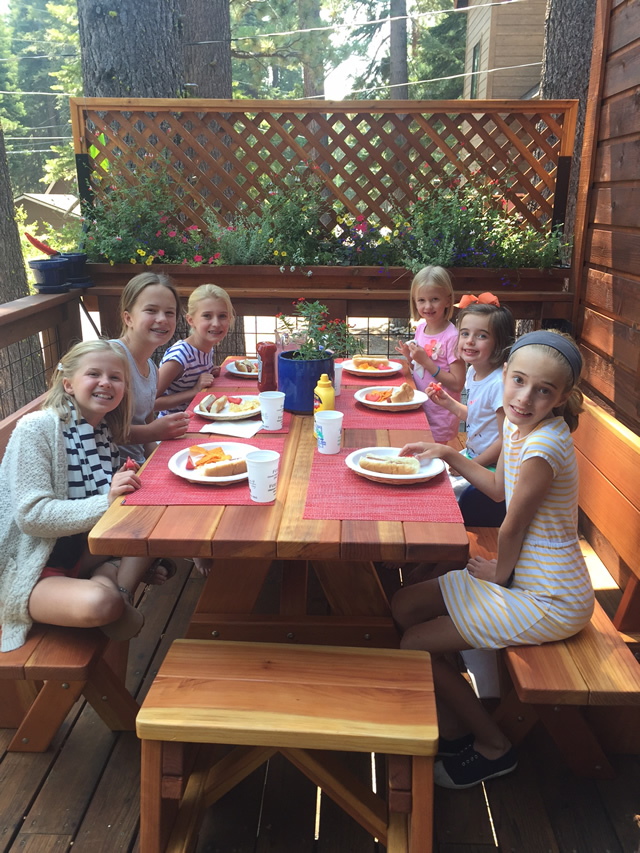 Thank you for everything
Thank you for everything. You can be very proud of your product and the way in which you satisfy your customers. Of course you have my permission to place Nancy's picture on your photo page!
Patricia B. - Yardley, PA
Note:
My brother Andrew did worked all day on my new swing. He was finished at our time 5:30 pm. I like it alot. This picture my new swing.
Love
Nancy B. - Yardley, PA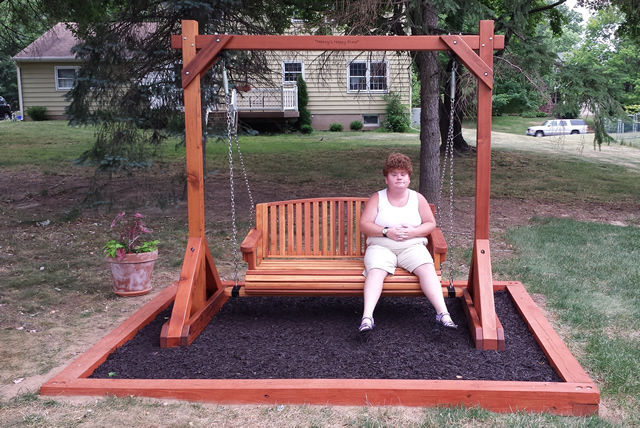 " Forever Redwood has provided Nancy with many future hours of just relaxing on her new swing. This is a picture of Nancy on her 'Maiden Voyage'. Thanks again..."
My wife and I very pleased with the product looks absolutely fantastic
UPS delivered the support brackets Sat about 10:00 am thank you for getting those to us. It took me and a friend of mine about 11 hrs. to get it put together from start to finish. My wife and I very pleased with the product looks absolutely fantastic. Have had friends and neighbors over to check the pavilion out also and they are very impressed with the quality of the structure.
I've attached a couple of pictures if you would like to see the final result.
Again we would like to thank you for getting this order out to us and we are very pleased with the result. Keep up the good work, you have a wonderful product.
Have a good day.
Bruce H. - Great Bend, KS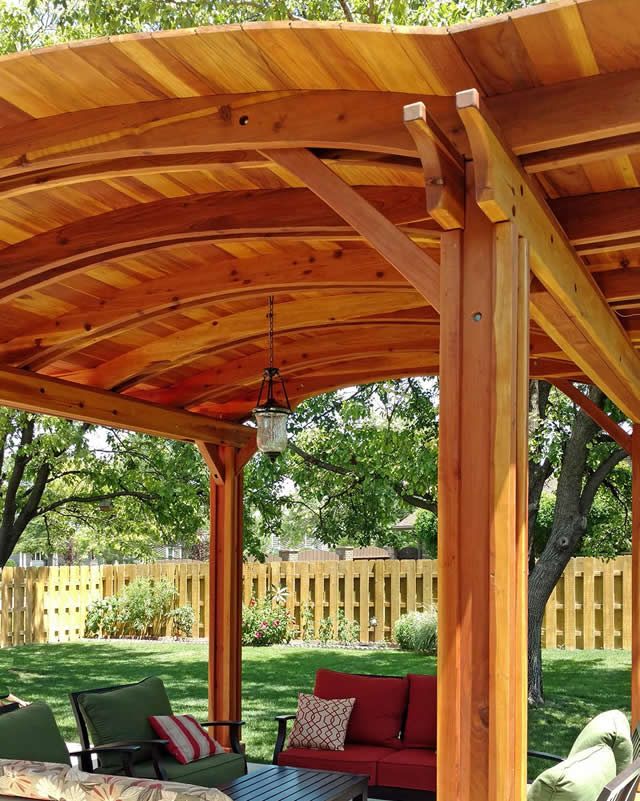 My wife and I and our family love it!
My 7-foot redwood table arrived last Thursday, in fine condition, and I assembled it and the two chairs that same day without any problems.
The wooden packing crate worked well, and there were no shipping-related issues.
I'm attaching a photo to show how beautiful it looks on our patio. My wife and I and our family love it!
Cheers to your crews on their excellent craftsmanship. My wife wanted to reuse older metal chairs, and bought to pads. I, personally, love the wooden end chairs, and I'm glad I added them to my table order.
Bill M. - Spokane, WA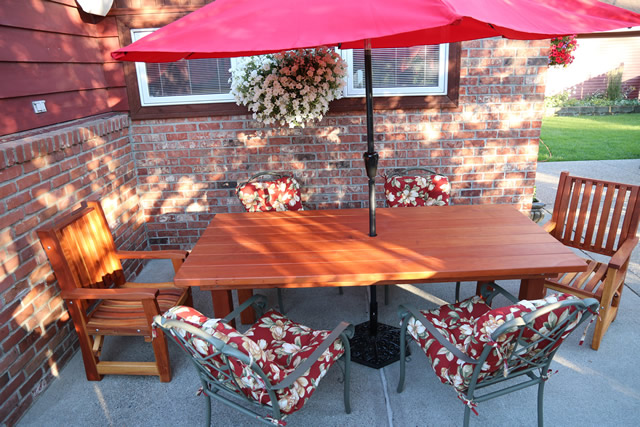 Thanks for the great table
Dear Raul,
My neighbors and I received our new table with joy and began dining together on it right away. Four families on Beacon Hill share a little courtyard, and our Forever Redwood table replaces an older table and prolongs a tradition of neighborliness and good cheer.
Stephen V. - Boston, MA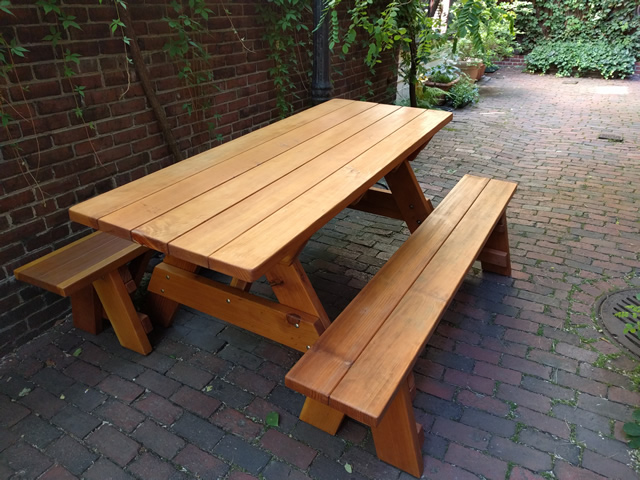 Thanks again so much Raul and team!
Hi Raul,
Gayle was very thankful we sized her rocker down as that fits. The bench which was left at regular dimension she didn't found not very comfortable.
I may come back to you to get some cushions as she was thinking that might be helpful.
Thanks again so much Raul and team!
I will get some interim pics out to you. I know Gayle will want to get landscaping and stuff situated to make it all look nice. So, will get you pics again after that.
Glen S. - Pasco, WA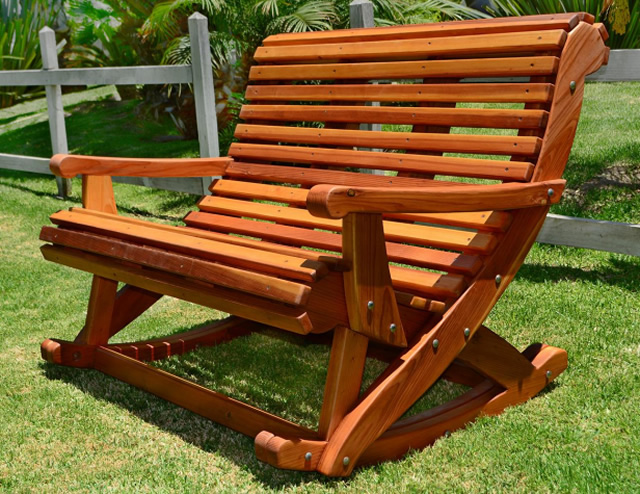 It is Perfect
Peter's now famous bench is in place on the 8th tee box at Tecolote! It is perfect. I can't thank you all enough for your wonderful work. I sat on it this morning and was so pleased with its substance and beauty. It's like Peter - sturdy and handsome.
Thank you many times over.
Warm regards
Janet W. - San Diego, CA
The table and benches arrived and they are beautiful!
Mr Hernandez
The table and benches arrived and they are beautiful! Thank you very much. Here's a picture I took yesterday on a rare sunny day for us this summer. If you'd like to share it on your website or Facebook, that's no problem.
Alex M. - Arnold, MD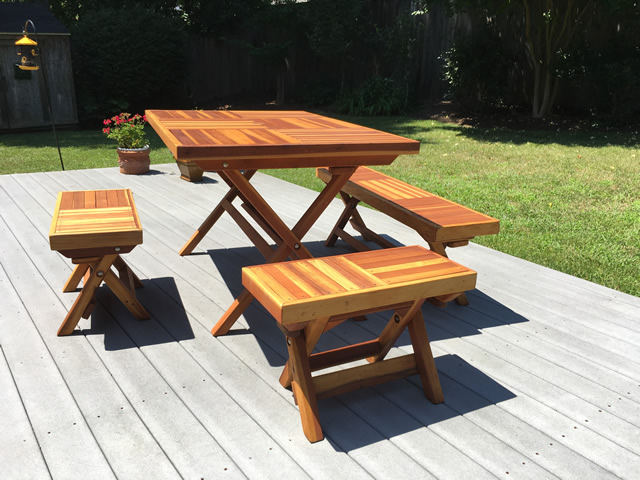 A speedy trip!
Hello there
The two boxes arrived in perfect condition late last week. A speedy trip! Because of the "Wait and Save" deal I wasn't expected the chairs so soon. I am very pleased. The other outdoor furniture in this garden is made of Colorado flagstone and Colorado tree woods. So perhaps redwood chairs are inconsistent with the plan. But I grew up in California and have fond memories of redwoods—and some emotional attachment to the magnificent species.
Many thanks,
Deborah H. - Boulder, CO
Thank you for posting my Swing on ur web site.
Dear Mr Raul Hernandez.
Thank you for posting my Swing on ur web site, DUSTIN face to face, After me and my wife Josefina we set up the swing ourselves I tried to enjoy the feeling and let the happiness sink in, Josefina could not resist and took the picture, She thought that it looked as if I have sold the world and relaxing. One of the Best things we bought for our house. My family enjoy it fully old or young like.
Girish S. - Belleville, NJ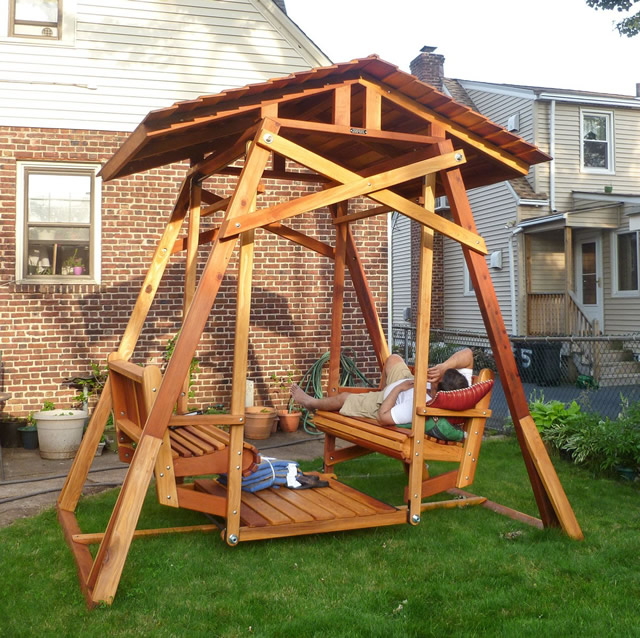 It looks beautiful!
Hi Mr.Hernandez
The shed shipped today, it looks beautiful! The delivery men were very kind, arrived on time and assembled the shed quickly. I wanted to personally thank you for your generous donation and your time. I will make sure your donation will be acknowledged on site.
Thank You
Max R. - Oakland, CA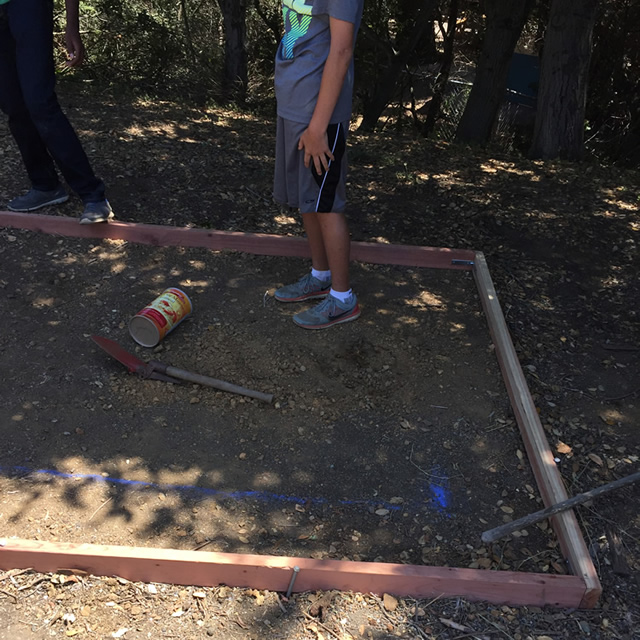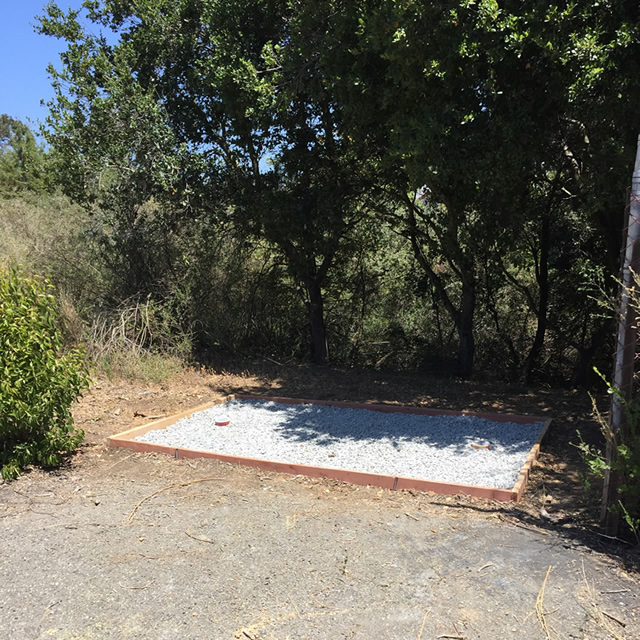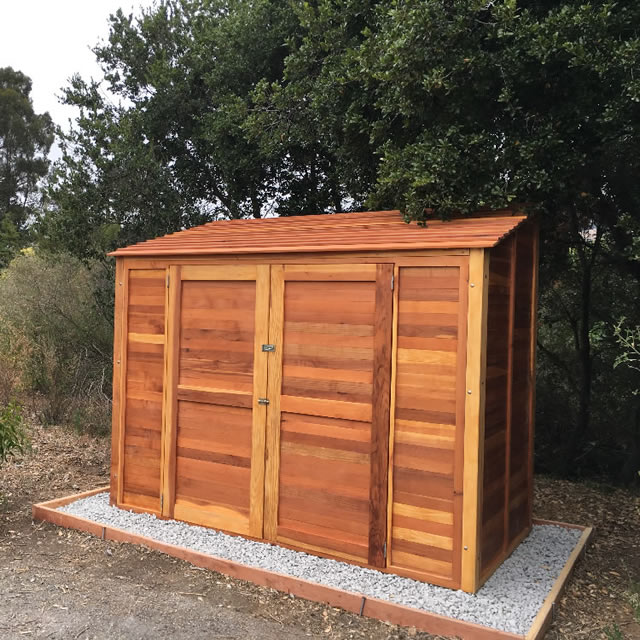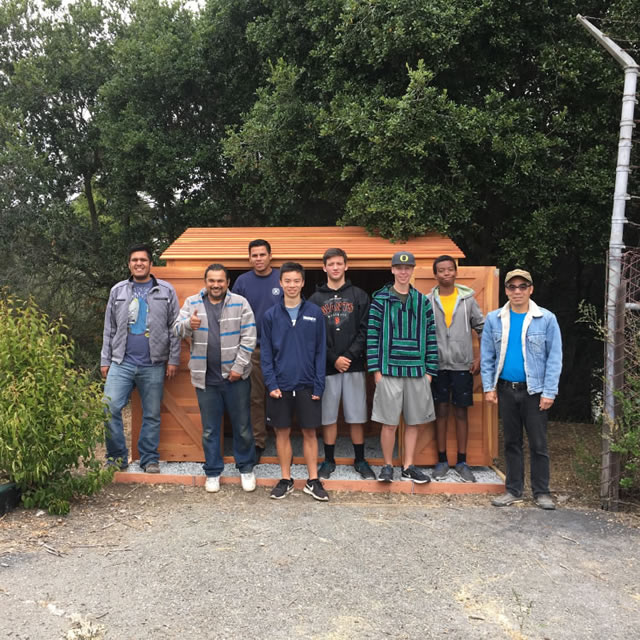 Your guys were extremely fast.
Thanks for getting this done so quickly. Your guys were extremely fast, professional and really nice people. I would have your company do work for me again in a minute.
Thanks a lot
Brian M. - Los Gatos, CA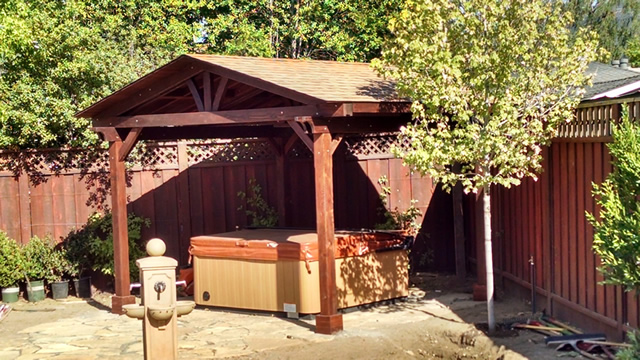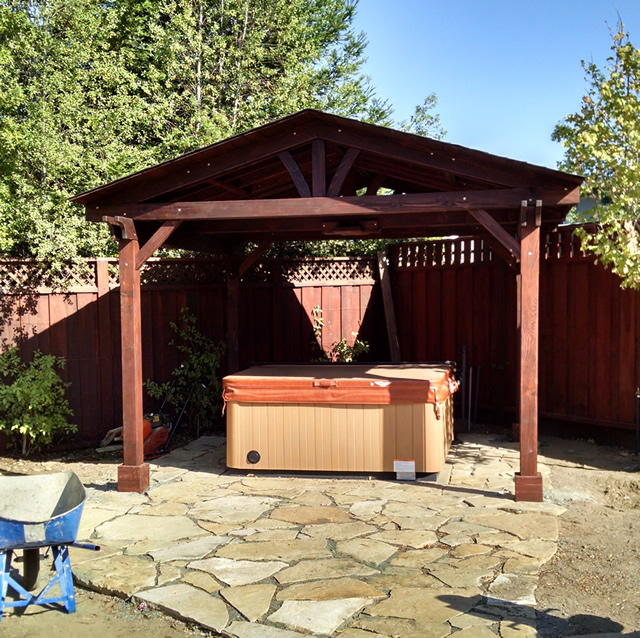 You did a masterful job!!
I just got back in town last night and went to see the bench just now. It is A BENCH ! It is everything I hoped it would be. I am delighted with the way it turned out. You did a masterful job and I know Peter is smiling about it too. I can't thank you enough. Pictures coming when it's installed.
Warm regards.
Janet W. - San Diego, CA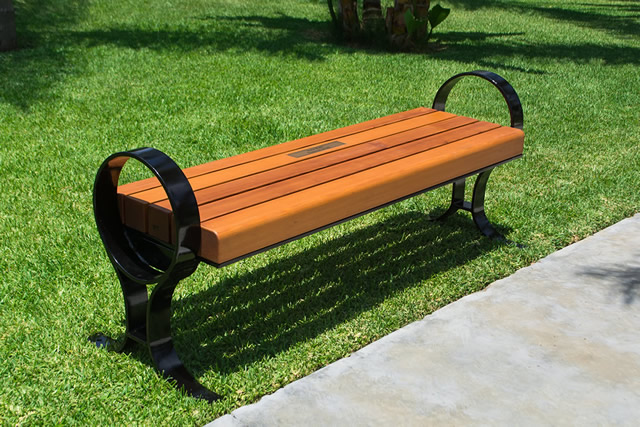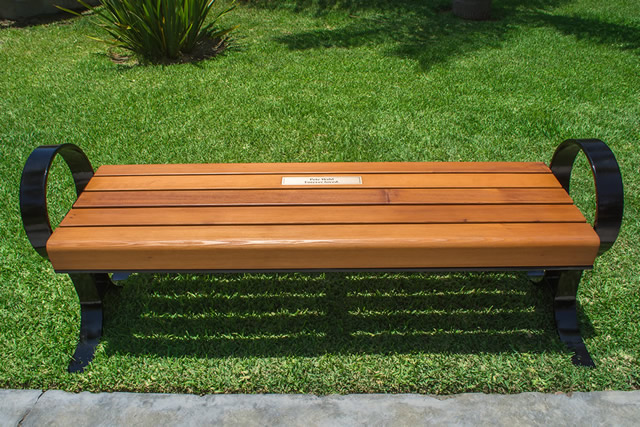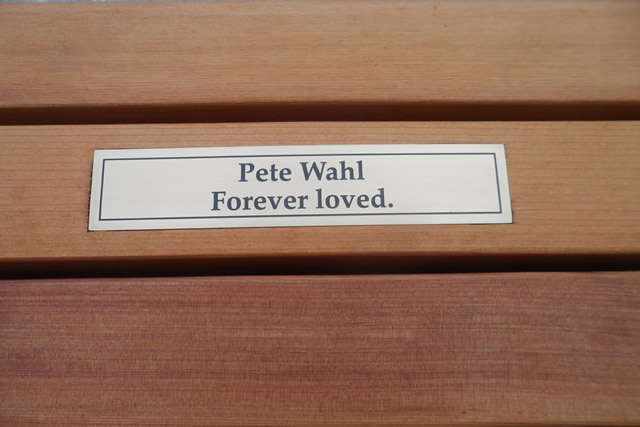 Thanks for a great pergola.
Hello
I just got around to taking some photos of my arched pergola that I ordered from you last summer. It was kind of late in the season to take good pictures in the Fall, so I waited for this summer to stage the photos. Thanks for a great pergola. I get a lot of compliments on it. I hope to be on a local garden tour next year, so I will promote your products then. I also left a positive review for you on the Houzz website.
Steve W. - Hoboken, NJ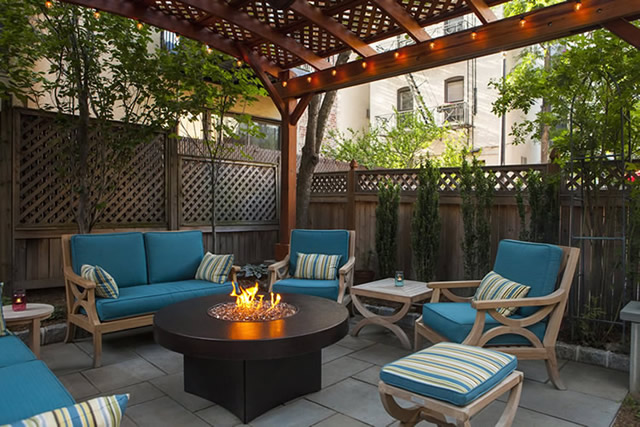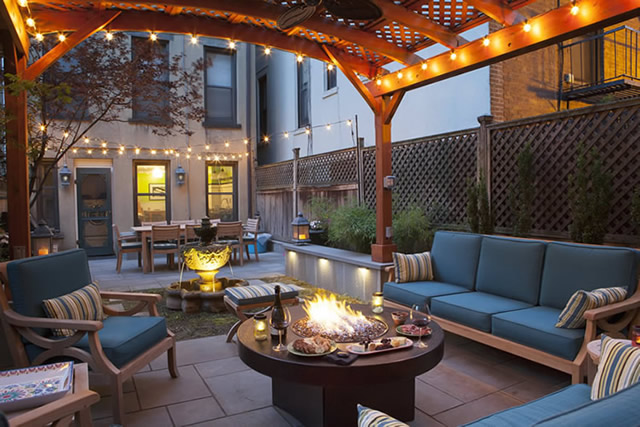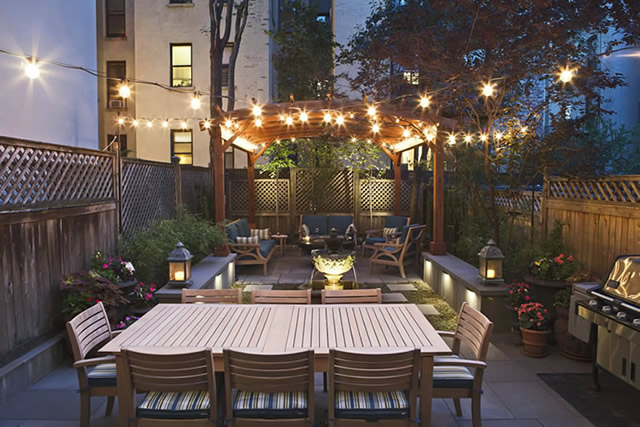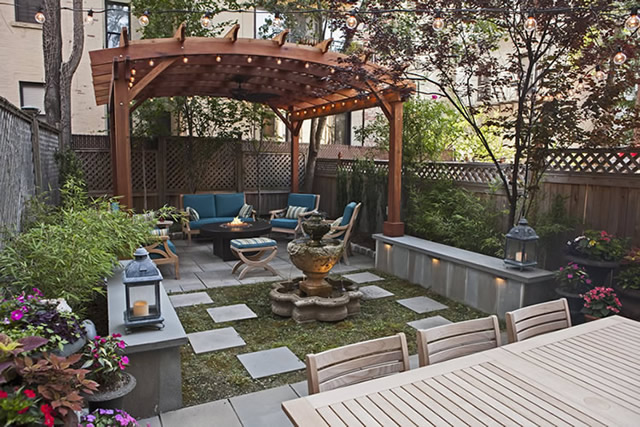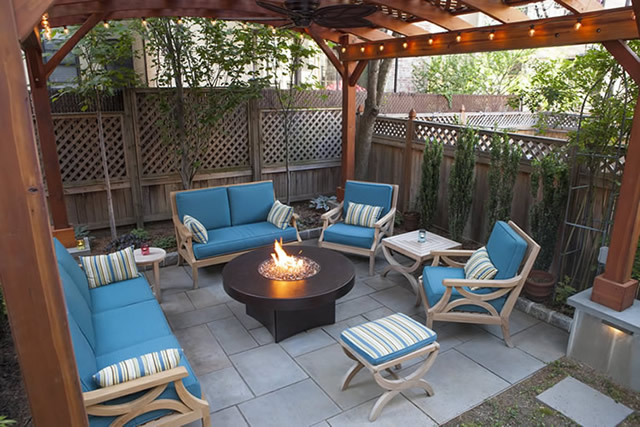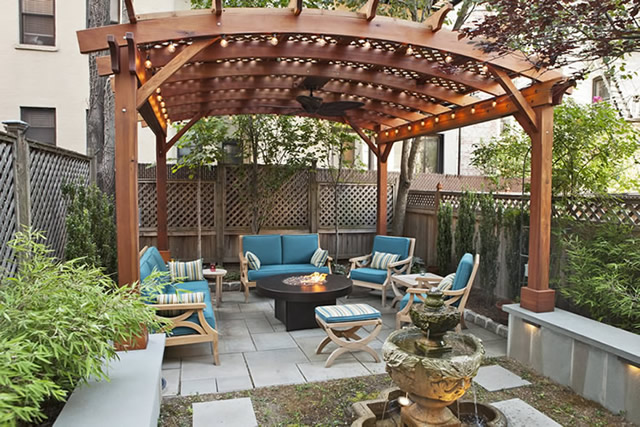 That pergola is phenomenal! It is even better than I ever imagined.
Editor's note: Customer sent these photos of the finished install...
Elba L. - San Jose, CA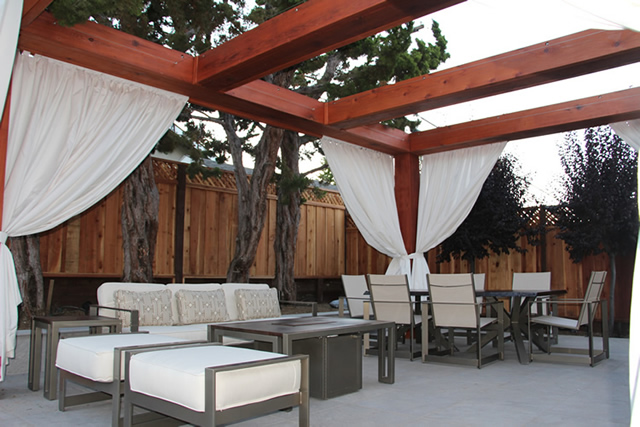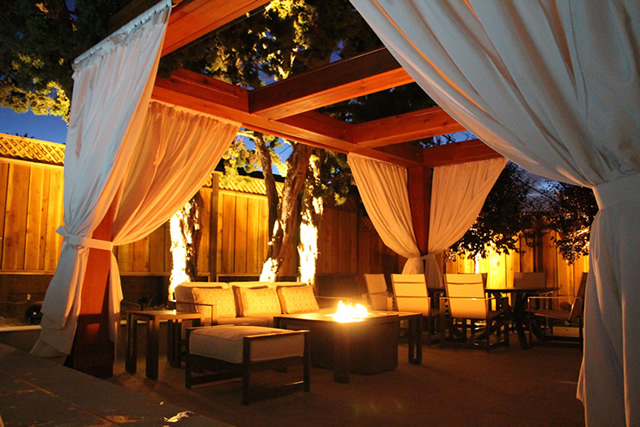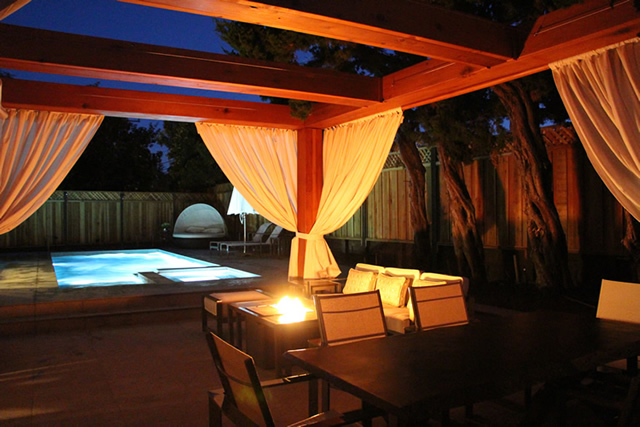 New Compost Container
Hello Forever Redwood,
I received my Swing set and am very pleased. I set it up with my daughter and it's great. Beautiful and such a stable structure. The shipping container was also beautiful to look at. When we were done, I cut up the cross pieces of the old swing set and then used the screws the 2x4s and the siding from the shipping container to make a new compost container.
I include a movie of it.
Thank you so much!
Philip R. - Providence, RI
Thanks for the great work.
Hello all,
Here are a couple photos of the great pergola you built. We get so many complements on structure we should probably hand out your business cards. As you can see, our cat likes it, too.
Thanks for the great work.
Andy G. - Mt. Prospect, IL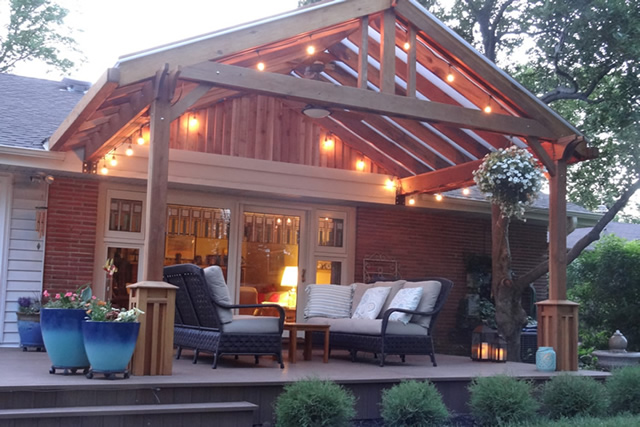 Your company's product is front and center at our house
Forever Redwood Team,
My family and I are thrilled to be able to participate in your Company's 6th Annual Photo Contest
In April, we received our Sheldon's Monkey Bars. The craftsmanship, attention to detail, and care you have put in building it for us has far exceeded our expectations. Your company's product is front and center at our house – in fact it is of such high quality that it has enhanced all aspects of our home décor. As you can see from the attached pictures, what is also front and center is my son's smile as he plays on the Monkey Bars with his heroes Batman and Spiderman! We are a military family and my children have heard many training exercise stories – now my son uses his own imagination to create his own boot-camp and super-hero training. It's so wonderful to watch! The Monkey Bars will be a part of my family for decades – this single fact of quality and longevity further strengthens my belief that this is one of the best investments I have made for my children's enjoyment.
Lastly and perhaps most importantly, after learning about your company's mission/commitment to Restoration Forestry – I am proud to be a customer of Forever Redwood! I look forward to many years of being a patron and family member of your team.
Thank you and please give my regards to all involved!
Sincerely,
Simran S. - Richland, WA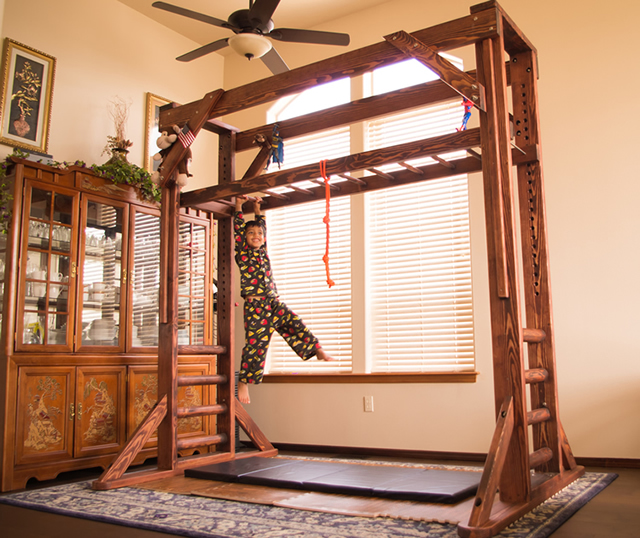 Hanging with Super Heroes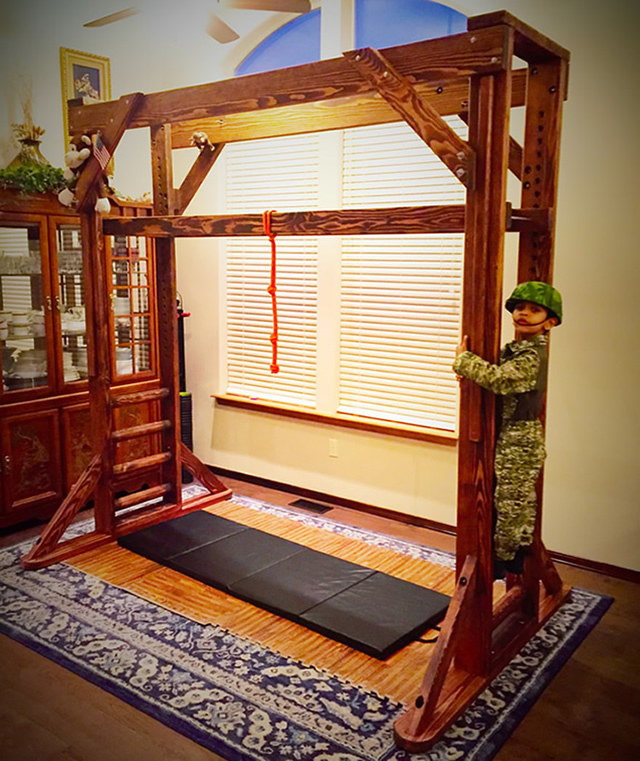 Holding on to Liberty
Amazing Job
Hi
Wanted to take a moment to let you know how much we appreciated you crew.
Cesar, Ernesto & Rodolfo did an amazing job. They were courteous, exacting and worked so hard in our heat! It was very hot here.
The went above and beyond, I mentioned it would be great if Forever Redwood would powder coat the hardware as some was dark, others were bright silver. Next day I see Ernesto making a holder for the bolts, he had purchased a can of spray paint, black, and he sprayed them before installing them. Then to take care of the already installed bolts, he made a stencil out of water bottle, I was amassed at how well it worked. Perfect! I was planning on climbing up and painting the bolts at a later date. I was very impressed with his ingenuity, and taking this on without my asking. That's great customer service. I asked if he always did this, he said no, but heard me mention I would like them black.
They were all great, cleaned up, showed up and got the job done. We are very pleased.
lease recognize their hard work, they are a great asset to your company. As it turned out, everyone was very kind to help us through this process. It was almost a year in the planning. Thanks to the entire team at Forever Redwood.
We are very pleased with the pavilion & arbor. It looks fantastic. Well done! If you ever need a reference I would be happy to refer your company. It took us awhile, but that's water under the bridge. You made it right.
Jeff, tells me you are making us a bench. Thank you for this. I will look forward to talking with you on this. Let me know my options, I don't want to assume it's unlimited.
Again, it's really beautiful, we are both so pleased. Will be sending pictures as soon as we get he site cleaned up.
Regards
Joan A. - Morgan Hill, CA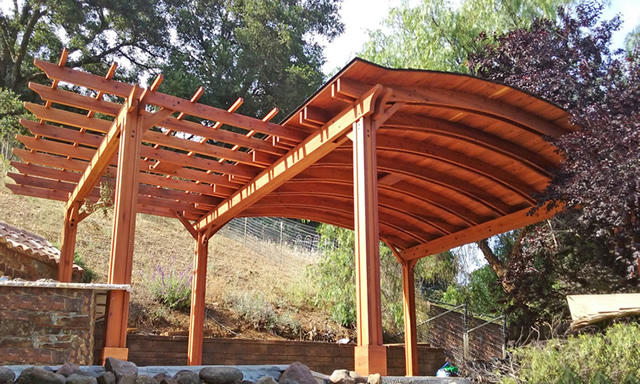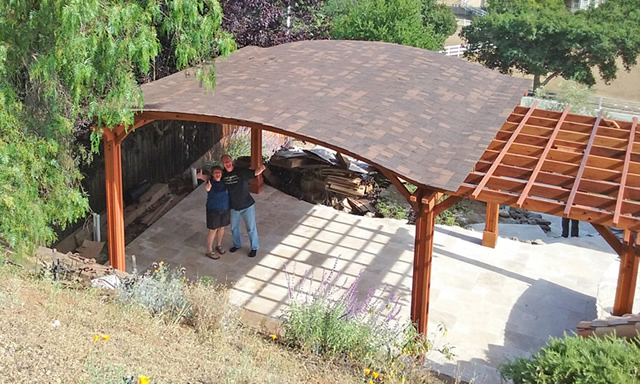 Our experience with Forever Redwood was super
Hello, Raul:
Our experience with Forever Redwood was superb. First of all, the items we ordered arrived weeks before they were promised, which was terrific. Then, when we assembled the furniture we were blown away by the beauty and quality…top notch! We will definitely be purchasing other items from your company in the future and recommend you to friends. Thanks for a wonderful buying experience from beginning to end.
Regards,
Sandy S. - McMinnville, OR
My husband and I were so impressed!!!
Alejandro,
Your crew delivered the table last night and could not have been sweeter or more professional! My husband and I were so impressed!!!
Because they arrived so late last night, and because we both had to rush out early this morning, we haven't had a chance to actually open the boxes up and assemble the table, but we plan to do that as soon as we're all home from work and school tonight.
You guys were a pleasure to work with and I can't thank you enough for ensuring that the table arrived on time. I will take pictures and send them once it's assembled, and I'm happy to post reviews about the awesome service we received from Forever Redwood.
Thank you so much for checking in. That just goes to show how fantastic your customer service is!
Thanks again,
Becca N. - Scottsdale, AZ
Bad ass table!
My old man is very happy!
Bad ass table!
You guys make such a quality product.
We got stopped by several people wanting to know where to get one :))!
Thanks
Sam H. - Columbus, OH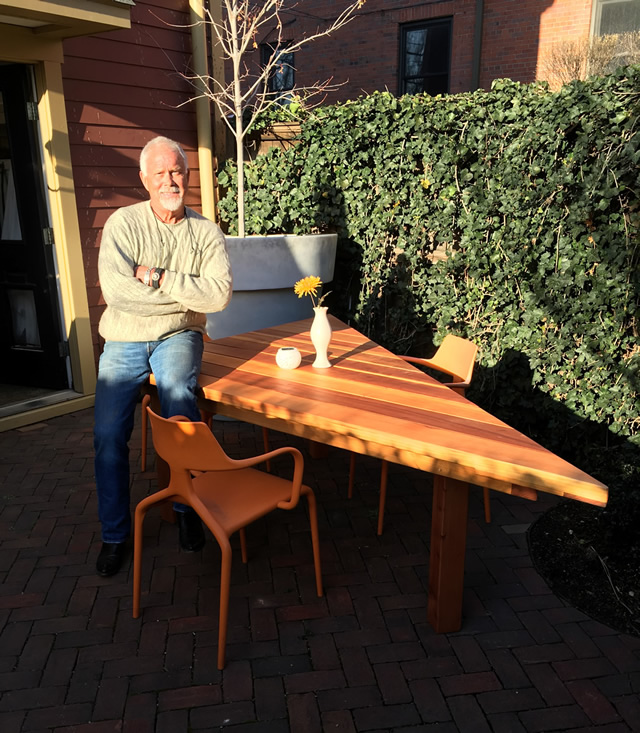 You guys do good work.
I assembled my table and chairs over the weekend.
Everything went together smoothly and looks great.
You guys do good work.
Thanks.
Jim L. - Billerica, MA
P.S.: Customer ordered a Square Patio Table
Very happy with the quality
The order looks great.
We are very happy with the quality, amazing.
Cannot wait to get it in the greenhouse.
Thank you.
Dave N. - Wisconsin, WI
Great addition to the playground
We had a great experience ordering from your company. The monkey bars and the sandbox are both a great addition to the playground. Everything was on time and easy to assemble. I will recommend Forever Redwood to other project owners in the future.
Thank you.
Lonnie L. - Portland, OR
My wonderful potting bench
My wonderful potting bench is under a wrapped tarp on my deck right now since I can't move it out of the winter weather. It arrived perfectly and was easy to assemble and looks great. My only request would be that there be an overhang on the counter so that water doesn't drip into the closed drawer. I thought I'd keep tools in it, but it puddles with runoff after even only a little rain. I expect that in the drawer with the lattice grid top, but would have liked the other one to be able to be dry.
Beyond that, only issue is that it's too gorgeous to get as dirty as I should be making it. Can't wait for Spring.
Thank you.
Paula A. - Newton, MA
Awesome
Like ur products and dedication....
Awesome
Thank you again,
Danny C. - Brooklyn, NY
I love the Ruth Rocking Bench
I love the product. Thank you so much. I also appreciated the timely manner in which you responded to our need with the extra bolts. They arrived within a few days and I was able to complete the bench easily.
All of the pieces were marked clearly so assembly was very smooth. My client is extremely happy with the finished product.
Thank you again,
Dawn P. - Delaware, OH
Well done, we have been enjoying the porch
The porch swing is terrific. We have been enjoying it and thank you for providing such a beautiful product. The swing arrived timely, was packaged carefully and the instructions were complete and easy to follow. I appreciated the updates by E-Mail on the progress of construction, anticipated delivery and actual shipping notice. You also took responsibility for the incorrect telephone number I gave you. Having just moved I transposed two of the numbers I listed, but you were kind enough to say it must have been copied incorrectly. Well done, you could teach customer service lessons to others. The shipping company hand trucked the swing about a quarter mile from the road to the house over a non paved drive. They deserve a well done.
We are completely satisfied with the complete transaction with Forever Redwood and will look at your products when considering a similar product.
John R. - Weimar, TX
The repair of the shutters worked out great
Hello Raul, everything you sent regarding the repair of the shutters worked out great. We wanted to order some planters so I wanted to know how many points we have available to us. Thank you again and we'll send some pics this spring once we open the pool again. Have a good day.
Shawn M. - New York, NY
It's beautiful!!
Your order arrived on time, your guys were great... the product is beautiful!!!
Tania R. - Los Angeles, LA
They look beautiful
Both orders came in perfect shape (the pergola and the table and chairs). They look beautiful.
Andy G. - Mt Prospect, IL
Forever Grateful to Forever Redwood
We will be 'forever' grateful to Forever Redwood for the extraordinary job they did with building a custom roof for our Jacuzzi building.
The entire staff, from the owner, designers, floor foreman and shipping supervisor, kept lines of communication open with us at all stages of the build and delivery. We had a very unique request because we only needed Forever Redwood to build a roof with a sky light to retrofit on top of an existing building. Forever Redwood accepted the challenge with enthusiasm and built the highest quality product that we could have expected. They even used 2 X 6's instead of 2 X 4's and made the roof shingles flat so we could stand on the roof and shingle it in order to withstand the seasons in Michigan.
The under belly of the roof inside the building is breath-taking! The craftsmanship is outstanding. Forever Redwood delivered the product already pre-stained and in easy-to-install sections that were labeled for easy installation. In fact, despite each section being somewhat heavy, my spouse and I were both able to install the roof completely by ourselves. We were surprised to see the shipping came in record time all the way from California. Not a single piece was damaged due to the care of the shipping prep process. We are so proud of the Jacuzzi building in our yard now and will enjoy this superb product that Forever Redwood custom made for us for many years to come.
Thank you Forever Redwood.
Phil B. - Michigan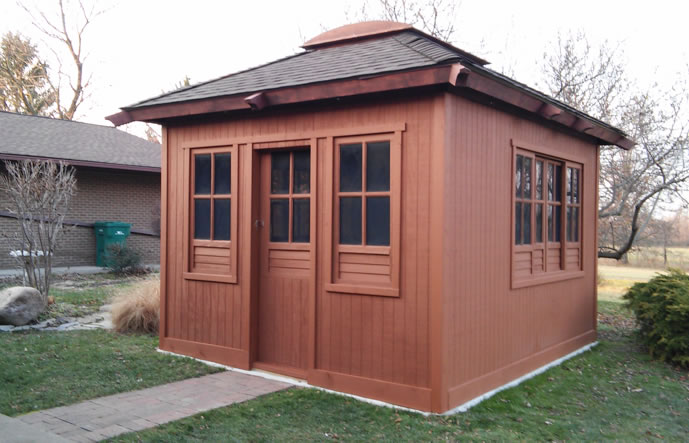 Highest Quality and Service
Hi Raul,
I want to thank you and your crew again for installing our Pavilion with the highest quality and service. The picture attached really does no justice. We have received many compliments from our neighbors. We may be back in touch over the summer to request for some furniture to fill our yard with more beautiful redwood.
On another note, I am not sure if you sent this to me already but was wondering if you provide a note of your guarantee for our records.
Rgrds,
Scott C. - San Jose, CA
Hi Scott,
Thank you for taking the time to write. It means a lot after all the work and time we spent getting this done. Great way to start the morning on my end.
The Warranty on your order is on the website and is pretty straight forward. I will attach the link below so you can read it at your convenience and/or print it out.
Please let me know if you need anything else down the road Scott. We are going to be adjusting the pricing on many of our products on February 2nd. Have not done so for the bulk of our product line since 2011 but just have to now.
We are sending all our customers an email this afternoon with a 15% off sale coupon and letting them know if they are planning to buy anything to use the code and get it done before the price hikes.
Anyhow, thank you again for your trust and is it OK if we add your photo to our Del Norte Pavilion collection on the website?
Thank you!
Raul F. Hernandez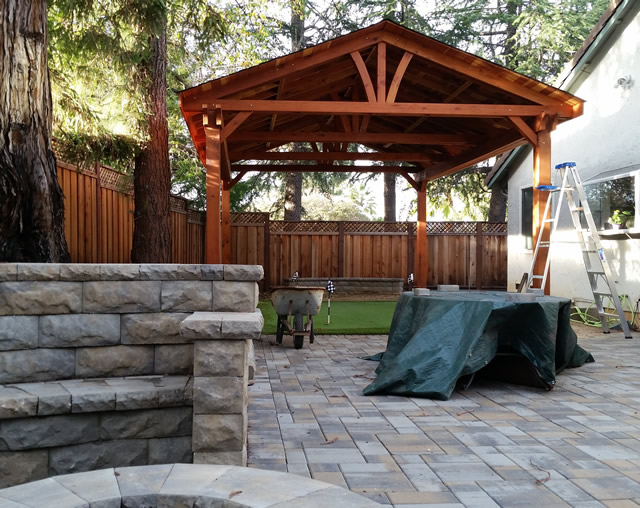 My Installation
Alejandro,
Your guys pit in a full day, and the pergola looks GREAT!!!
The two workers you sent were great, I had some concerns on 1 post, and they corrected it with out even asking any questions. I caught them just as they were packing up, and they went back to the truck to get their tools to fix what I saw.
Your company's product is fantastic, and the service has been outstanding.
Thank you for working with me to get everything done.
I will recommend Forever Redwood to my friends.
Thank you again
Dale W. Manteca, CA
Everything was amazing
Everything was amazing. Would totally recommend your products.
Darin Brandt, Santa Rosa, CA.
Fantastic pergola!
You sold me a fantastic pergola a couple years ago for my home – is really great.
Jason J.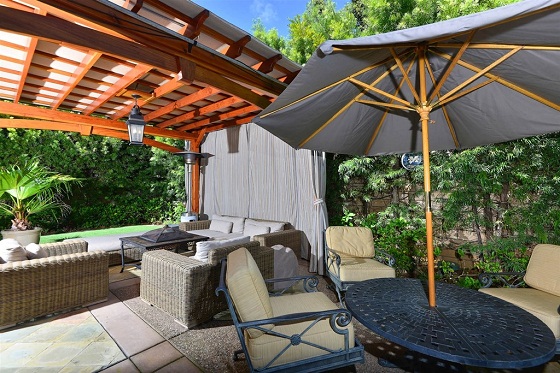 Finally got our pergola
We finally got our pergola up. It only took two days. It went together very well.
The shipping crate was a little worse for wear by the time it got here but everything was there and in good shape.
We are pleased with the product.
Howard H.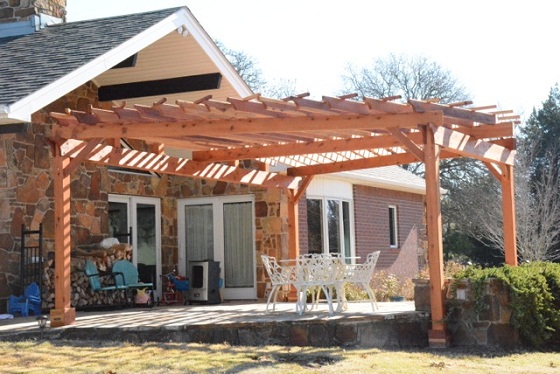 Beautiful Garden Swing!
We are so pleased with the beautiful wood and quality of this piece.
Plus everything did fit together!
Howard H.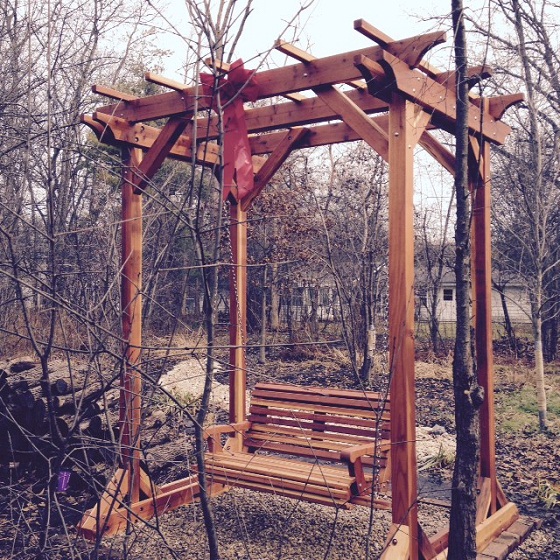 We love the set and so does everyone who sees it .
Greetings
Just to let you know, we love the set and so does everyone who sees it – photos are attached.
It's shown in area where we hope to get approval for pergola.
Al M.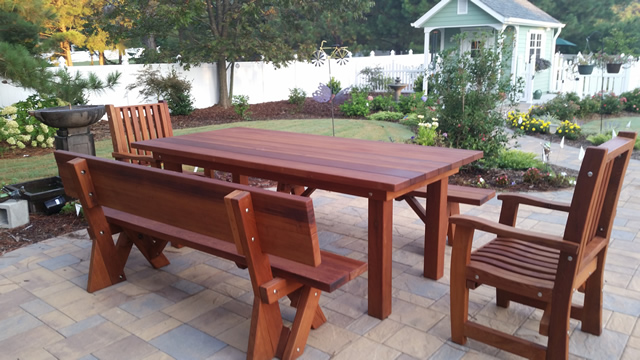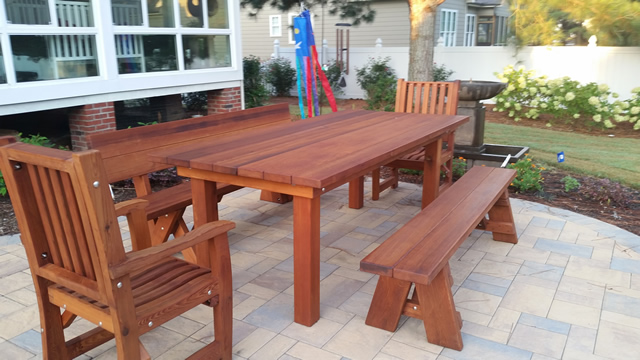 The redwood was beautiful and assembly was very straight forward.
They delivered everything they promised from design services to delivery of a well built pergola that was custom designed. The redwood was beautiful and assembly was very straight forward.
Al M.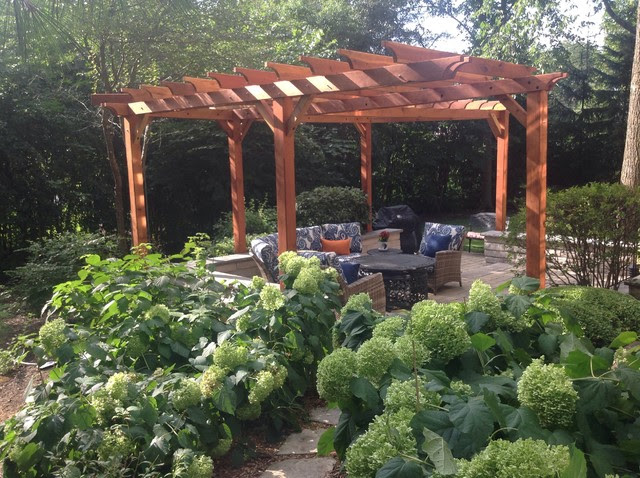 The products were as promised and delivered on time.
Forever Redwood was a great company to work with. The products were as promised and delivered on time. Pretty hard to build over 100 tables in a short time, but they did it!
Dana H.
[Note to our customers: We're always thrilled to receive photos of our work in their natural habitat—your home or business. We take as much pride in our work as we hope you take pleasure in it! If you have any photos to share, please send them and we'll post them on the site. Thank you for your support.]