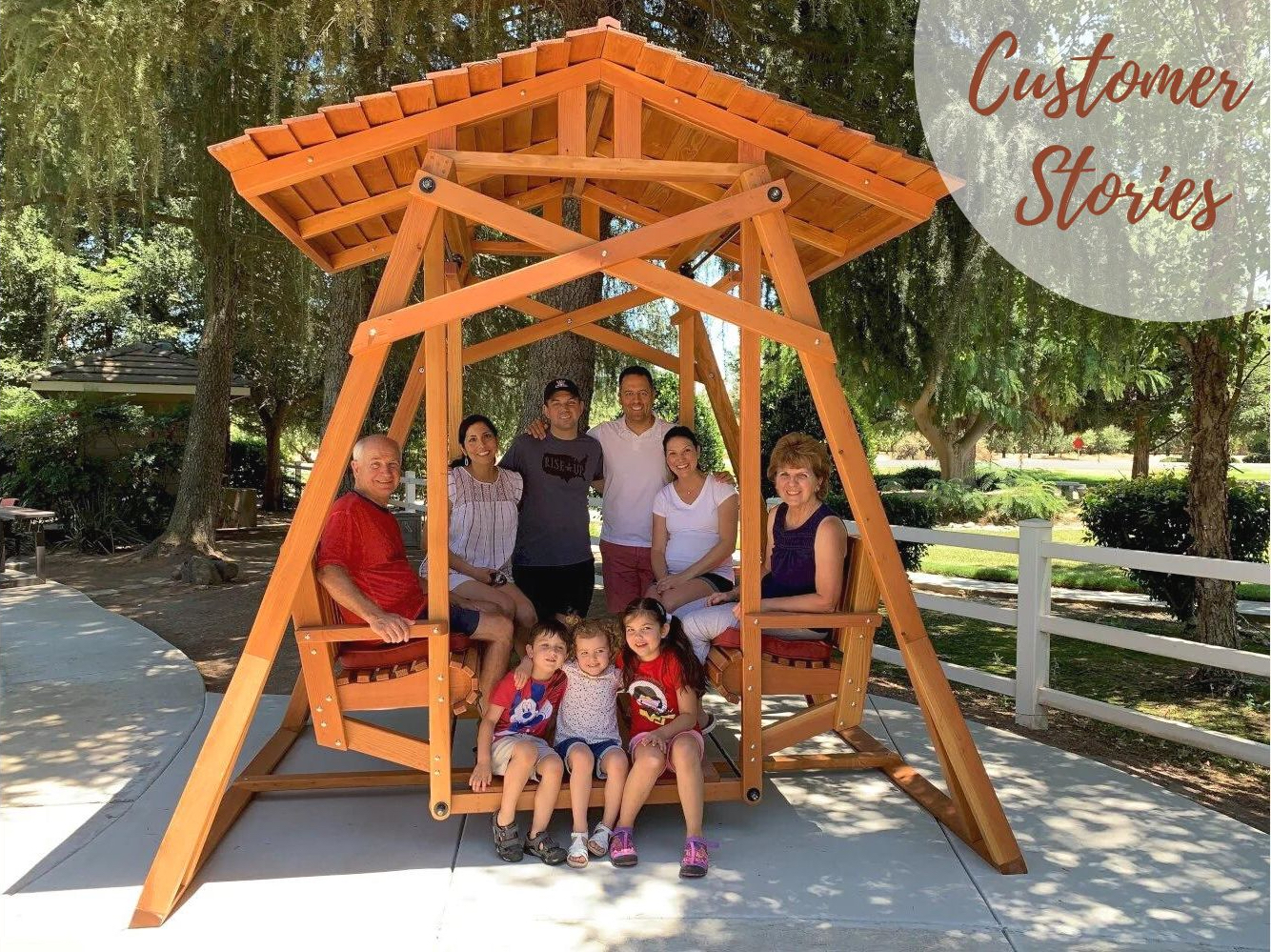 2020 Photo Contest Winner (Best Non-Shade Structure). Kathy and Gary Dei Rossi, children and spouses, and grandchildren.
---
As Kathy and Gary Dei Rossi approached the 20-year anniversary of living in their home in Manteca, CA, they envisioned a celebration with family and friends. Then the pandemic hit.
During a recent phone interview, the couple shared the story of how they came to mark the occasion in a different way — with a Dustin's Face-To-Face Glider.
When it became clear that a large gathering was impossible, they regrouped and decided to do something special for the backyard. Kathy suggested a face-to-face glider, something she'd always wanted.
Gary was immediately on board. They could use the extra outdoor seating. The playground they'd installed was a favorite of the grandkids. But there was no place for the adults to relax while supervising the fun.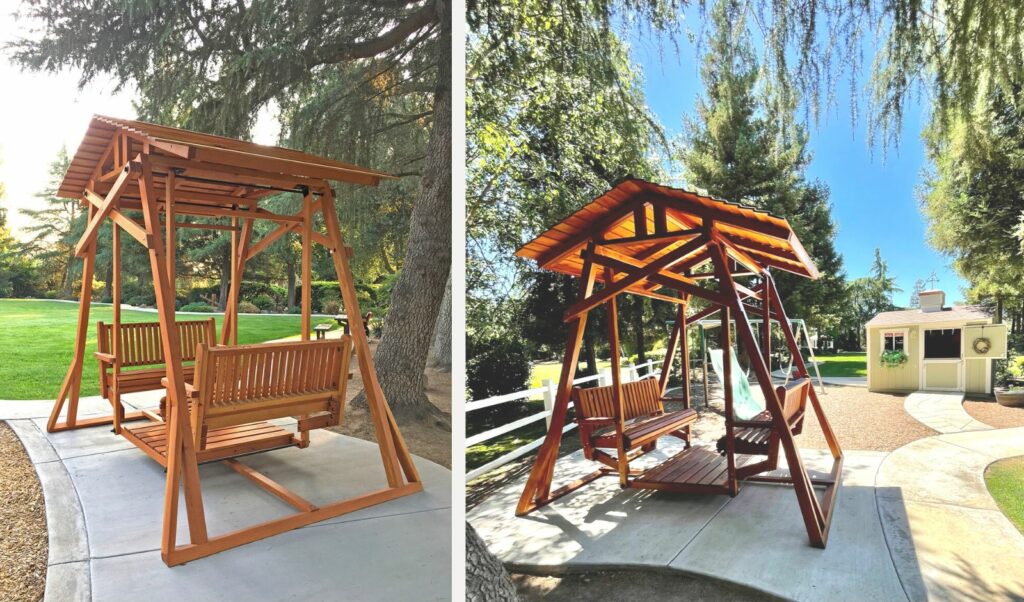 Dustin's Face-To-Face Glider close up (left) and with the playground (right).
Kathy's desire for a glider ran deeper. For as long as she could remember, she'd harbored a vague childhood memory of a face-to-face glider in the backyard of her grandparent's home in San Francisco. The home was built shortly after the earthquake of 1906.
The reason the memory was hazy, Kathy speculated, was because her experience of the glider was short-lived. By the early 1950s (her childhood years) the old glider was likely a rickety hazard and was probably removed soon after. Nevertheless, the memory was substantial enough that she and Gary began a web search for something similar.
Gary recalled initially limiting the search to lower-cost gliders. "They were a lot cheaper…but they didn't look very sturdy," he said. Forever Redwood's gliders were different. Kathy and Gary were impressed by the design and sturdiness, especially the Dustin's Face-To-Face Glider.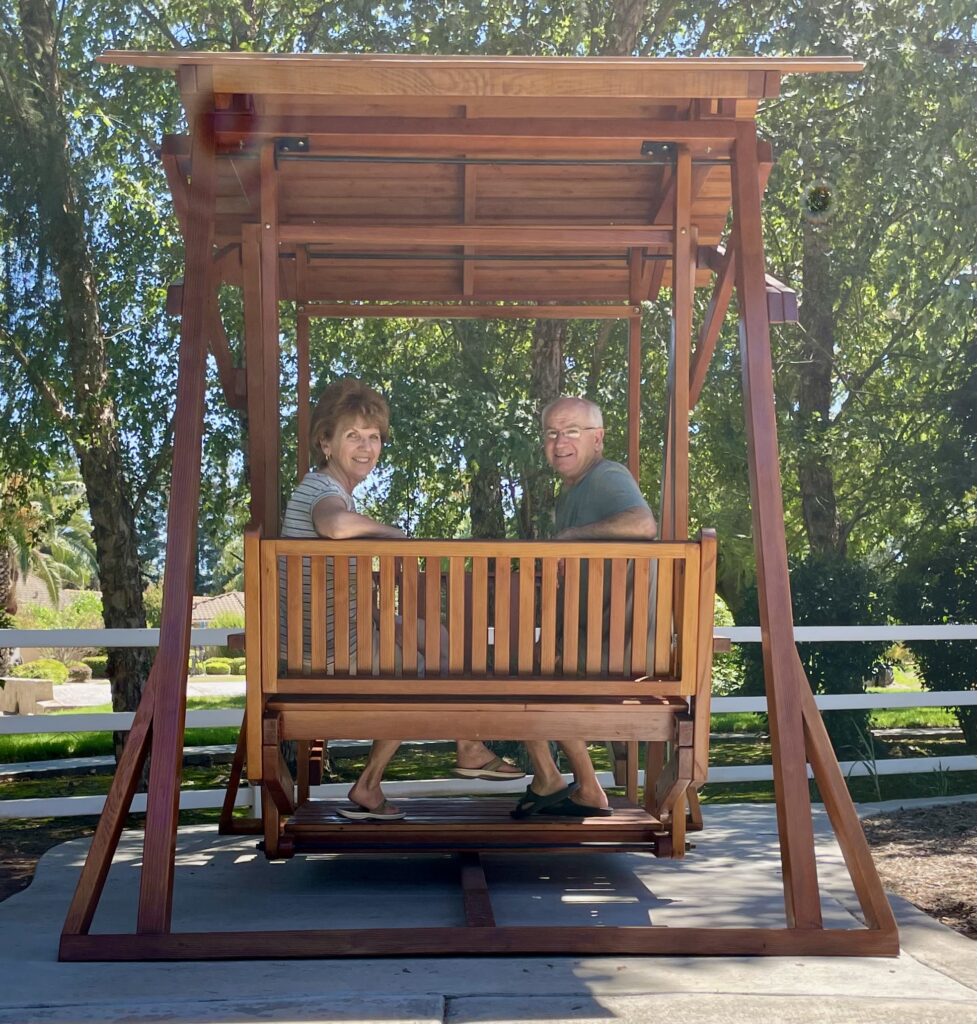 Kathy and Gary kicking back in their sturdy Dustin's Face to Face Glider.
But what sealed the deal was a phone call with Founder and CEO, Raul Hernandez. After Kathy shared the memory of her grandparent's glider, the conversation shifted to the immigrant stories of Gary's father, who came to the US from Italy after WWII, and Raul's parents, who came to Miami from Cuba.
They left the conversation with a sense of shared experience. "We appreciate people that we can count on…and relate to. Raul really was that way. We felt like we connected with him…he was the kind of person that we respect when we do business," Kathy said.
After reviewing the available options for the glider, they chose Douglas fir with transparent premium sealant and a standard roof (7′-10″ W x 6′-8″ D). They also requested a detail which tied into the 20-year anniversary of their home — custom engraving on the top railing of each bench to honor their parents. "We wouldn't be here without all of the sacrifices of…the generations before us," Gary said.

Glider engravings: Kathy's mother's maiden name – Hasselbrock; Gary's mother's maiden name – McPartland; Kathy's maiden name – Marek; and the family name – Dei Rossi.
Remarkably, in the course of ordering the Dustin's glider, Kathy discovered an old photo of her grandparent's glider, likely taken in 1915. She was thrilled with the serendipitous appearance of the old photo. Her childhood memory was confirmed!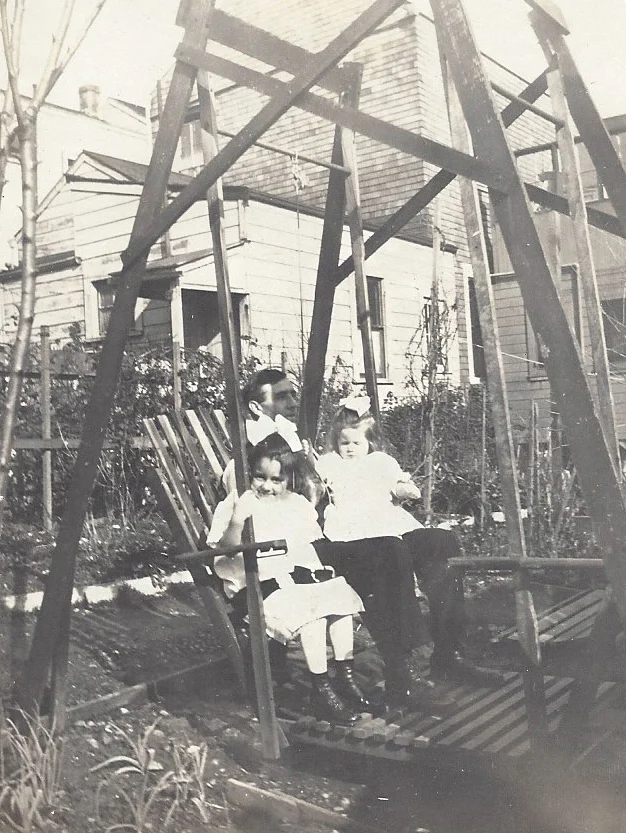 1915 photo of the old glider with Kathy's grandfather, William Hasselbrock, and her aunts.
Once the new glider was delivered and installed, Kathy and Gary invited their children and grandchildren to a "grand opening," complete with a ribbon-cutting ceremony.
[The glider] is such a well-built, well-made, high-quality piece.

Kathy Dei Rossi
The glider has exceeded their expectations for relaxation and fun, especially for the grandchildren. "They pretend it's a train, or a restaurant. They run back and forth and take our orders…all this pretending! I wasn't expecting this glider to turn into anything other than a place to sit!" Kathy laughed.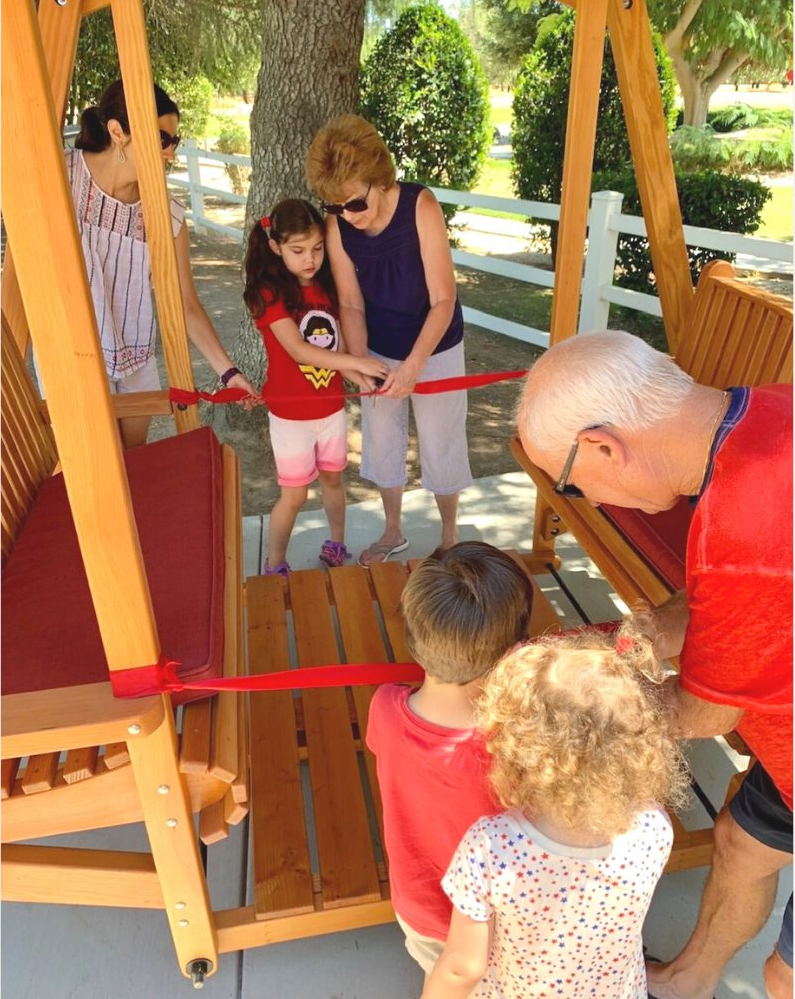 Ribbon-cutting ceremony.
The glider has also inspired a new family tradition. The grandchildren often ask about the custom engravings, creating the opportunity for Kathy and Gary to tell and retell the story of their ancestors.

And the serendipity continues! The photo the Dei Rossis entered in Forever Redwood's 2020 photo contest won Best Non-Shade Structure (see header photo). They applied the prize, a gift certificate, to a San Francisco Redwood Patio Table where they plan to carry on another time-honored tradition — sharing stories and gratitude with family and friends while dining beneath the open sky.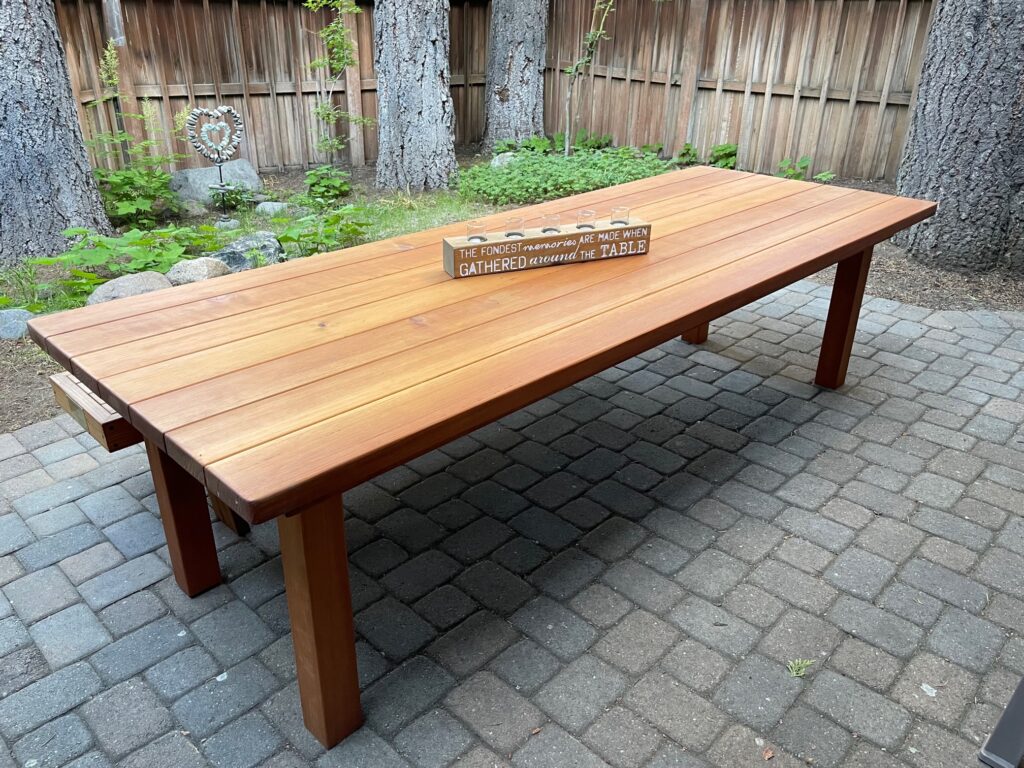 Kathy and Gary's San Francisco Redwood Patio Table.
All photos courtesy of Gary & Kathy Dei Rossi.