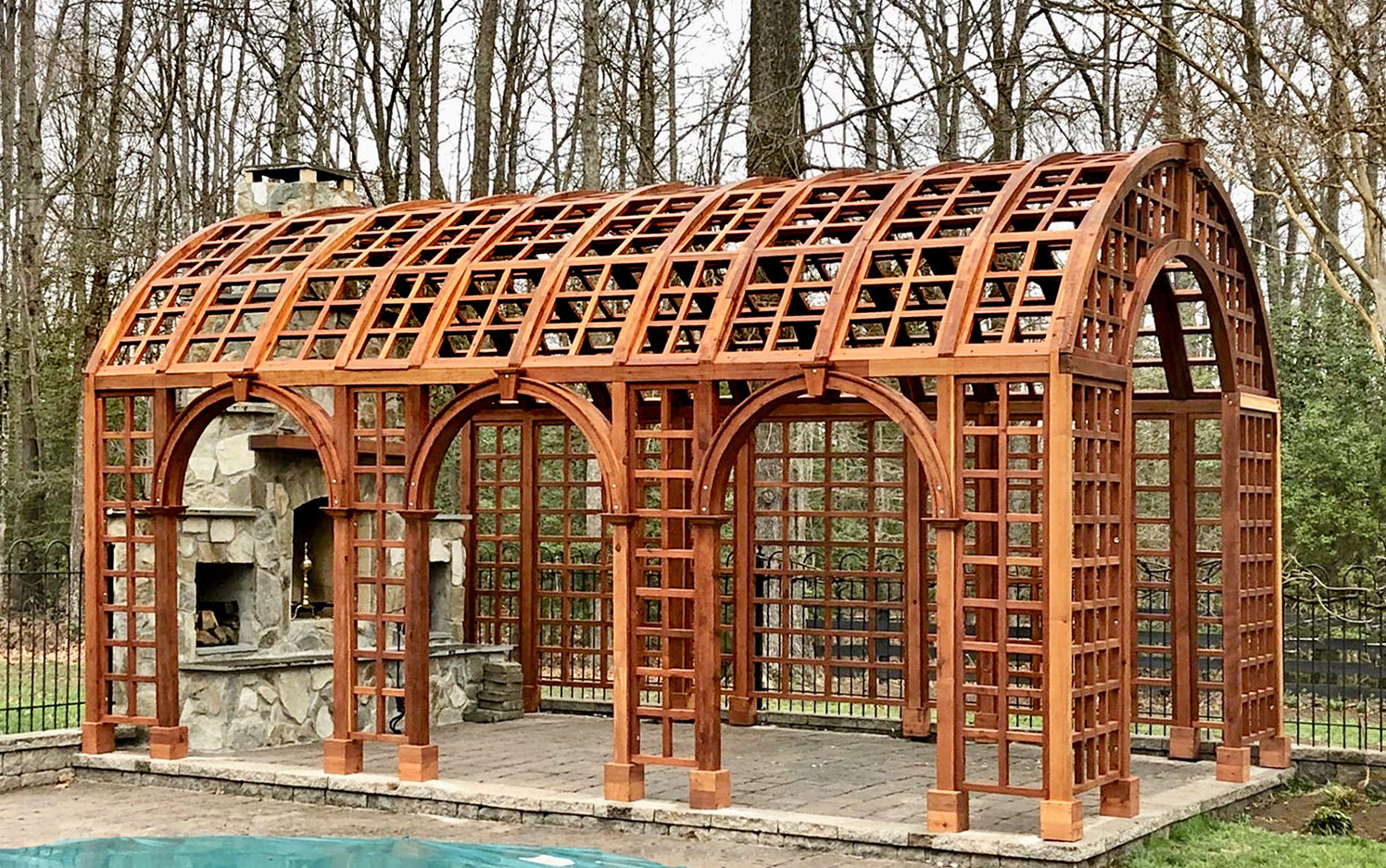 When Trish and JR West of King George, VA reached out to Forever Redwood, it was to realize a dream 18 years in the making. They'd made countless attempts over the years to create the perfect poolside oasis, experimenting with umbrellas, dining room sets, and outdoor furniture. But nothing was ever quite right.
During a visit to a nearby winery to research wedding venues for their daughter, the Wests spotted the ideal solution — a graceful wooden outdoor structure with trellised walls and an arched roof. JR snapped pictures and created drawings. Now, all he needed was a team with the woodworking expertise and imagination to bring his vision to life.
JR searched the web for "custom woodworking" and "custom pergolas" and eventually found Forever Redwood. Over the course of six months, he worked with the engineering team to adapt his photos and drawings to a 22′ L x 14′ W x 14′ H design. Trish and JR added their own touches including three arches on the pool-facing side and an opening in the roof to accommodate a stone fireplace with a custom Redwood mantel. They chose gorgeous, long-lasting mature Redwood as a building material.
"The entire process was smooth and efficient," says JR. "We could not be happier."
Trish and JR's outdoor oasis is finally complete. The finished structure (which we dubbed The Victorian Trellis) sits beneath towering trees on the 22-acre property. "It's like an outdoor secret room where you can look up and see the stars," JR says. On cool evenings when the fireplace is ablaze, "our guests don't want to leave!"
These days, their outdoor oasis is more important than ever. Trish is a nurse and JR is a school principal, so the Covid-19 pandemic has dramatically altered their daily lives. According to JR, "it's what we need to recharge. We feel blessed to have it."