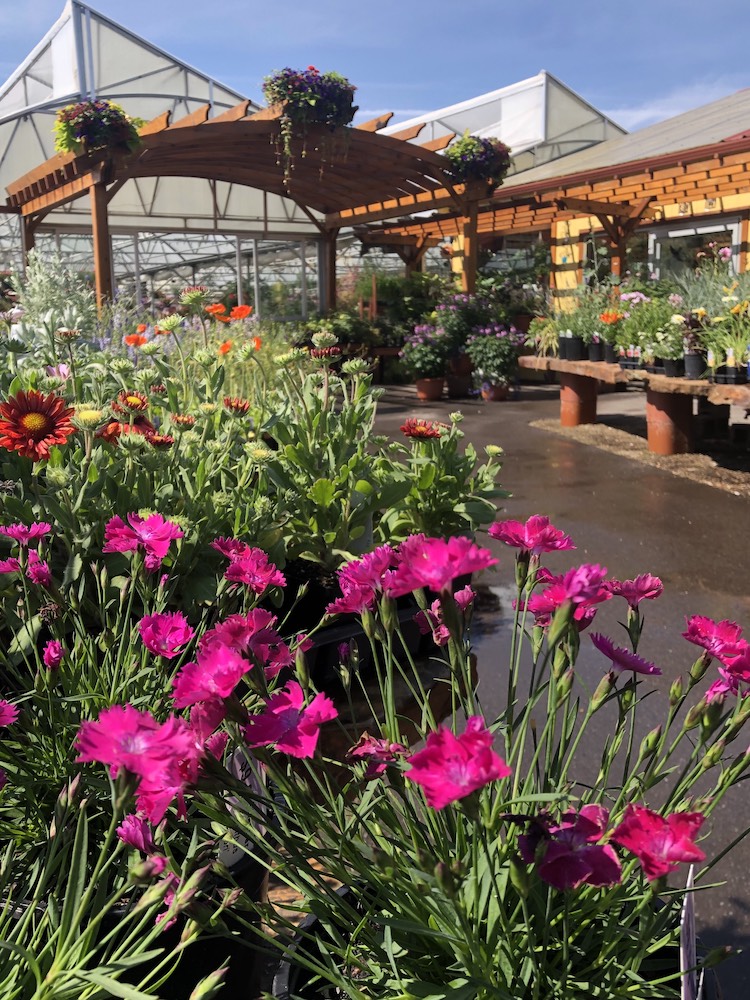 The Arched Open Sky Pergola first caught Bill Caras' eye as he searched online for a shade structure to compliment a large greenhouse for his business, Caras Nursery and Landscape in Missoula, MT. The graceful curved roof of the structure intrigued him.
The nursery has been in Bill's family for 100 years. During his 44 years at the helm, he's tried different shade structures, including conventional pergolas with flat roofs. Says Bill, "I didn't even have the concept of a pergola with a curved roof. Our industry is very competitive so I'm always looking for something to set us apart." This includes creating a tranquil, garden-like experience for customers as they shop for flowering plants, vegetables, and fruit trees. Bill was confident that the Arched Open Sky Pergola would beautifully enhance the atmosphere, while strengthening his competitive edge.
Bill envisioned the pergola as a kind of welcoming "foyer" to the greenhouse, which also has a curved roof. So it was important that the two structures flow aesthetically. During the design phase, he provided our engineers with measurements for the curvature of the greenhouse roof. Our team then rendered custom drawings for the pergola which precisely mirrored those measurements.
Bill was also concerned that between the pergola and the greenhouse, there would be "a sea of posts." He went back and forth with the design team many times until the alignment was seamless. "It was really, really fun working with Forever Redwood," says Bill. "They were super accommodating."
The completed 22ft x 18ft structure, which Bill chose to assemble himself, is made of gorgeous, weather-resistant Mature Redwood. The transparent sealant showcases the natural, reddish hues of the wood.
The project also included a smaller Arched Open Sky Pergola over the entrance to the main garden store and a custom, 4ft x 12ft cantilevered arbor that connects the two pergolas. Bill says the arbor creates a sense of unity while also providing needed shade for the plants.
When Bill built another greenhouse, he installed additional Forever Redwood shade structures to maintain the sense of unity. "The visual effect is great," he says. "It draws people down to the newer greenhouse."
Recently, Caras Nursery has reorganized its layout to keep staff and customers safe during the Covid-19 pandemic, including moving checkout outdoors. Surrounded by shade structures draped in flowering plants, shoppers can enjoy the soothing garden experience while choosing a piece of it to carry home.