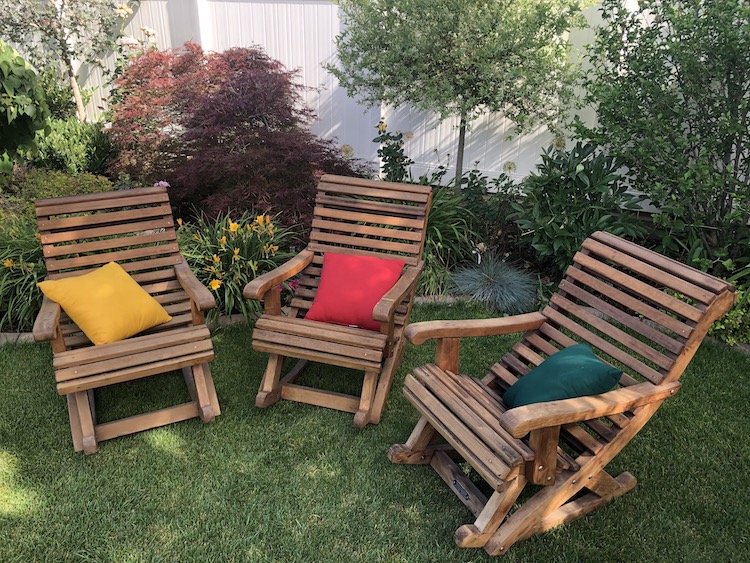 Ann Harrington's first purchase was an Ensenada Rocking Chair. Now, she owns three.
Ann Harrington's backyard is a labor of love, years in the making. She calls it a "magical sanctuary" and "place of respite," ever ready for visits from her five children, their spouses and her eleven grandchildren (plus two more on the way). Among the vibrant flowers and shade trees are seven Forever Redwood pieces, purchased by Ann and her husband, David, over the course of a decade.
"We are big fans!" says Ann, who lives in Salt Lake City, UT. She acquired the first piece, an Ensenada Rocking Chair, after a web search for Redwood furniture led her to Forever Redwood. The Harringtons initially had concerns about managing quality control with an out-of-state company. But after reading more about Forever Redwood and reviewing all of the different customization options, they warmed to the idea.
A phone call with Founder Raul Hernandez sealed the deal. "You felt like you were in secure hands," Ann says. In addition to answering all of her questions, Raul recounted how he'd "field-tested" three different prototypes of the rocking chair with his wife and new baby before finalizing the design. "I know you will be delighted," he told Ann.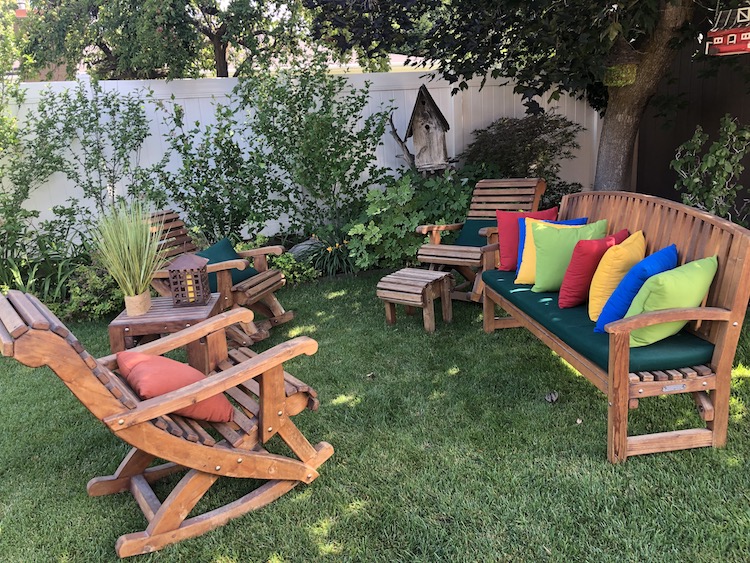 Clockwise lower left to right: Ensenada Rocking Chair, Brian's Side Table, Ensenada Rocking Chair, Ensenada Ottoman, Ensenada Rocking Chair, and Luna Wood Bench.
As Ann's family has grown, so too has her Forever Redwood collection. After ordering, and loving, that first rocking chair, Ann and David purchased two more. Over the years, they've added a Luna Wood Bench with a cushion and a Brian's Side Table.
For all of the pieces, Ann chose long-lasting, weather-resistant Old-Growth Redwood. In nature, this heartwood can remain lying on the forest floor, perfectly intact, for up to 130 years. Such singular durability equates to investing in a legacy piece, a benefit of which Ann is well aware.
"My children often say, 'We love this furniture! If you ever get tired of it, can you please let us have it?'" She laughs. "It's good to know Forever Redwood guarantees the Old Growth for 30 years."
More recently, Ann and David added a Bench Swing Set with a swing roof. When ordering the swing, she requested that it be "heavy-duty" so all of her grandchildren could pile on and enjoy the swing together.
"Raul was so gracious. He said no problem," Ann says. "Today, when my grandchildren swing together, I never worry about them harming the swing."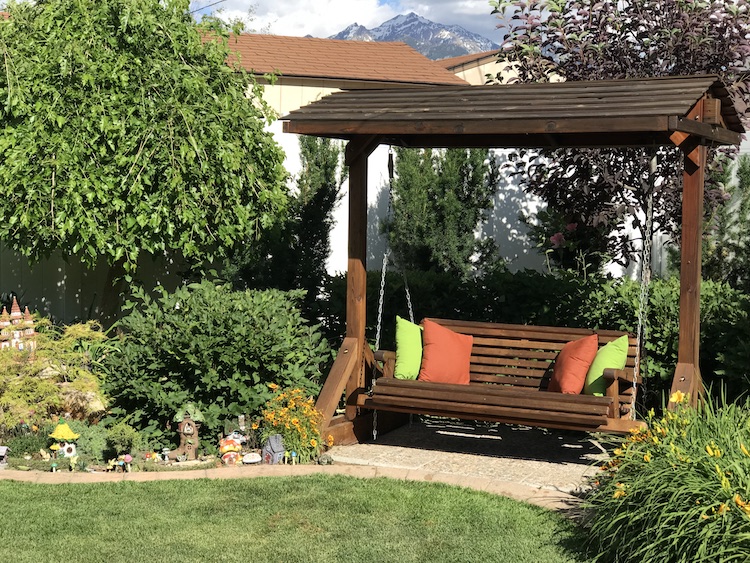 The Ensenda-style Bench Swing Set is much-loved by Ann's grandchildren and her piano students; as is the fairy garden (left).
At one time, Ann purchased Redwood furniture from another company, who she says "will remain nameless." It has not stood the test of time. "Those pieces are already starting to fall apart. But our Forever Redwood pieces are impeccable. They look as good as the day my husband and son put them together."
"We are sticking with Forever Redwood because we like the quality and we love the product," Ann says. "Raul sincerely stands behind his products and that's rare in today's society."