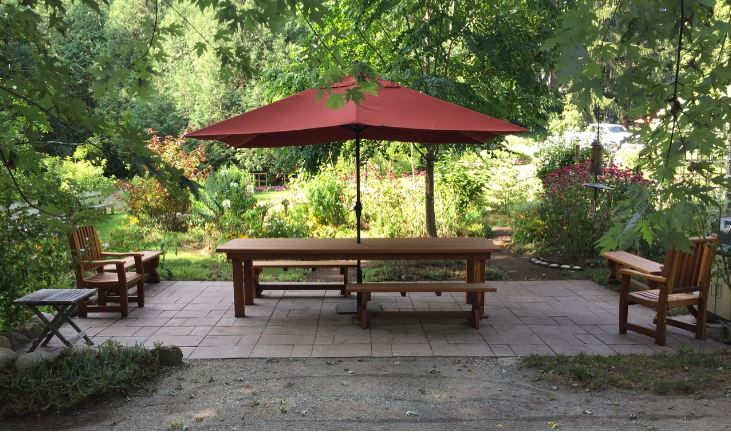 Mary E. MacDonald draws upon her life experiences to find solutions and help others. It's what compelled her to become a speaker, author, coach, and chaplain for caregivers. And it's what inspired her and her spouse, Karl R. Ackerman, to create Rest.Stop.Ranch®, a wheelchair-accessible garden for the aging, disabled, and their care partners.
According to Mary, "We don't think of the garden as our own. We are building something that's beautiful and functional for the people who need it most."
Mary has firsthand knowledge of this need. In 2008, her mother, Margaret, died from a rare degenerative brain disease. Mary had been her mother's primary caregiver, regularly traveling back and forth from Boston, Massachusetts, to Syracuse, New York. After her mother's death, Mary dealt not only with her grief but also with health issues, exhaustion, and burnout, symptoms that many caregivers suffer from because of inadequate self-care and the absence of a supportive community.
Because of this experience, Mary chose not to return to the corporate world and her successful career as a web design consultant. She felt called to aid care partners, the aging, and the disabled — folks like her and her mother — in finding support, relief, and even moments of joy and delight.
Rest.Stop.Ranch® is born
Just before her mother's death, Mary and Karl purchased a home on four acres of land in Topsfield, Massachusetts, and relocated there. As a lover of the outdoors, Mary held a "heart intention" to share that experience with people affected by long-term illness and disability.
By Fall 2011, she and Karl had developed seven small gardens in memory of Mary's mother and connected them with a 5 ft. wide, compacted-stone loop. They would eventually christen their project "Rest.Stop.Ranch," one of the few wheelchair-accessible gardens in New England.
Mary & Karl's monthly "Sunday Stroll" program, May-October, allowed the disabled, aging, and their care partners to wander past lilies, roses, raspberry bushes, and fruit trees. A koi pond and a variety of birds further enhanced this slice of paradise.
But something was missing. An independent wheelchair user told Mary that while she was delighted with the gardens, she longed for a place where she could pull off the trail to be still, reflect, and possibly even enjoy a sandwich. Mary and Karl went into action. With the help of a local landscaper, the Wheelchair-Accessible Pear Tree Patio was completed in Fall 2015.
Memory Café in the Garden®
In Spring 2016, Mary and Karl's Memory Café in the Garden® was one of thirteen Memory Cafés in Massachusetts to receive seed funding from the state's Department of Developmental Services. Memory Cafés provide a safe, welcoming, and fun environment for families impacted by Alzheimer's/Dementia.
Right away, Mary earmarked part of the funding for the purchase of a picnic table, accessible to all, for the Pear Tree Patio. The ability to customize the picnic table was a top priority.
"We knew we'd need something custom," Mary said. "The structure of a standard picnic table wouldn't work for folks with canes, walkers, or wheelchairs."
The use of redwood as a material was important as well. "We needed furniture that could go through the winter beatings of the Northeast and come out each spring just as great as it was before."
After conducting their online research, Mary and Karl decided that Forever Redwood would best meet their needs. They worked with the Forever Redwood team on a custom order for a 10 ft. redwood picnic table, along with four redwood benches and two redwood armchairs.
"The Forever Redwood team worked with us to finalize the table's dimensions, offering a few different width options. We choose the one that would allow our guests to have easy access around the table, whether the benches and armchairs were snug up against it or out a few inches."
The resulting rest area has been a great success. Wheelchair users can comfortably wheel around the patio and walker users can ambulate with ease. Mary and Karl surrounded the patio with bird feeders so visitors are treated to 360° bird watching during their picnic lunches.
"In fact," said Mary, "gathering around the Forever Redwood picnic table has become the signature photo for visitors to Rest.Stop.Ranch!"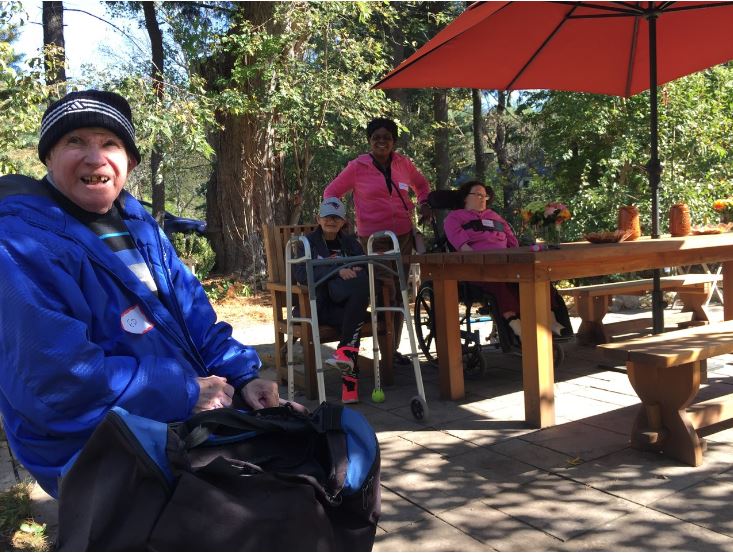 Mary offered a final reflection, "For many people, our Forever Redwood picnic table has become the anchor of the whole experience."
Learn more about Mary E. MacDonald and Rest.Stop.Ranch®.