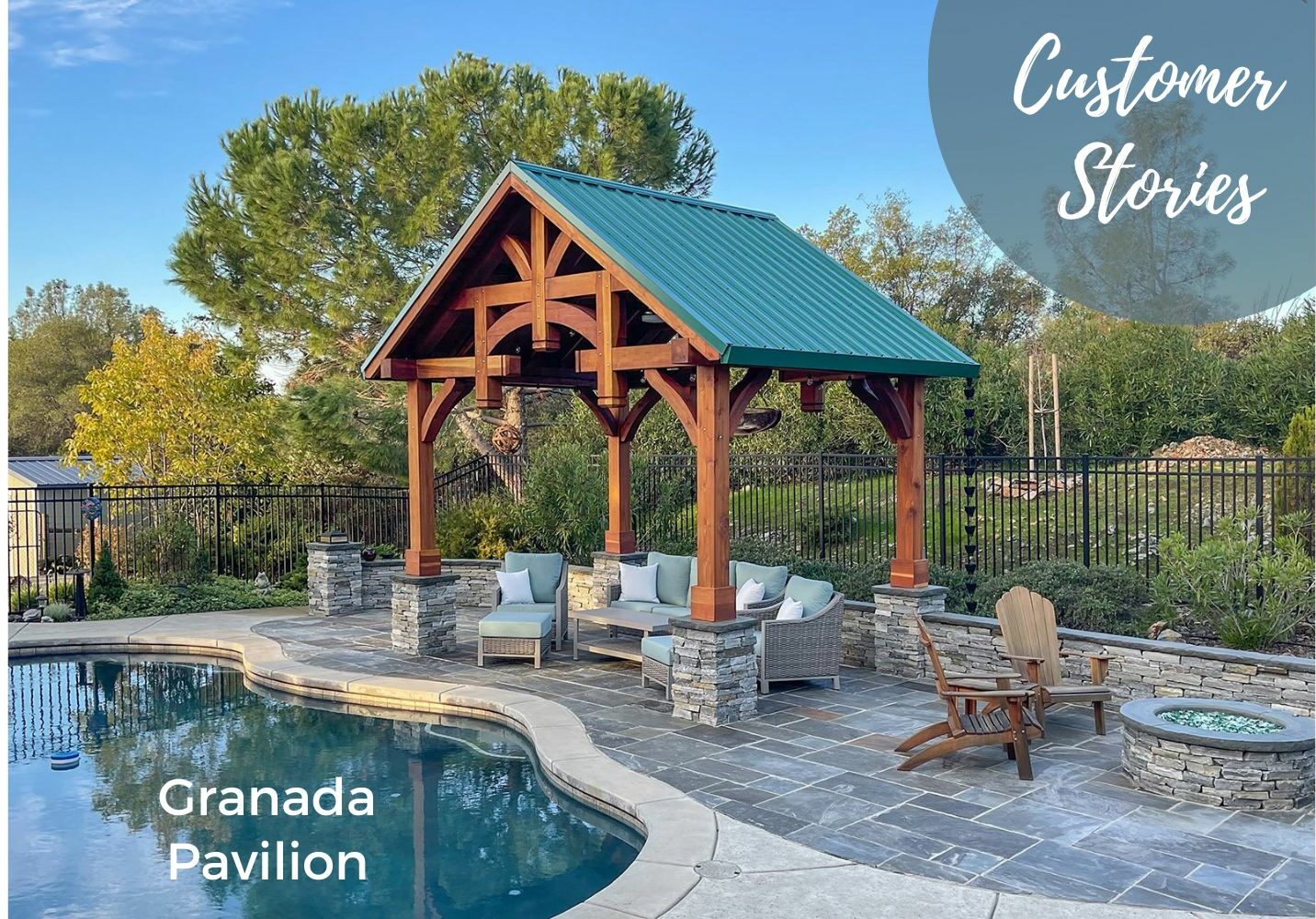 This summer promises to be a special one for homeowners Patti and Steven Moore of Shingle Springs, CA. It will mark the "debut" of their newly renovated pool area and its centerpiece — the Granada Pavilion. 
Constructed with thick timbers of California Redwood, the 12' L x 16' W pavilion is topped with a distinctive teal metal roof. The gables are accented with intersecting beams and a graceful arch. The warm hues of the Redwood posts beautifully offset the slate-gray stonework supports.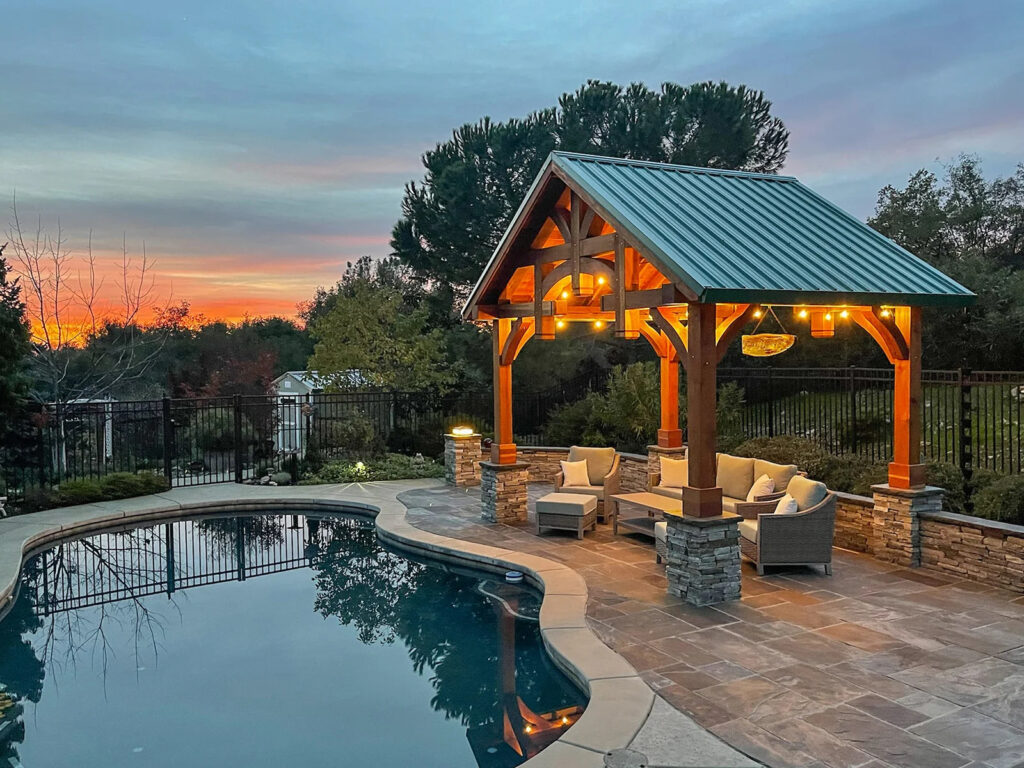 Patti and Steven's pavilion at sunset
Patti and Steven's vision for their ideal shade structure came together over time. Early in the process, a neighbor's pavilion caught Steven's eye. His web research into that structure and similar pavilion designs eventually led him to Forever Redwood.
Steven was drawn to the Granada Pavilion with its lofty ceiling, solid beams and elegant style. But the design didn't quite tick all the boxes. While perusing Forever Redwood's 50+ shade structure models, he noticed designs that integrated with new or existing masonry. He loved the idea, especially because a sitting wall and stone fire pit were part of the poolside renovation. But none of the Granada Pavilions featured on the website included the adaptation for stonework.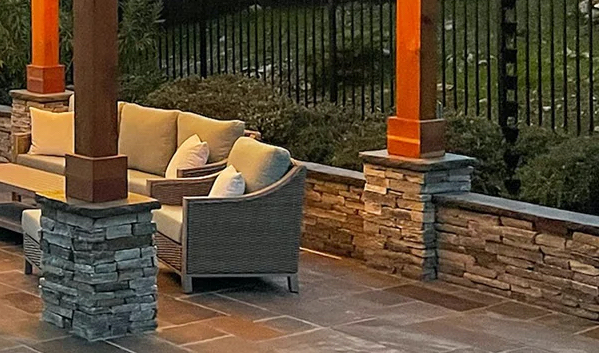 The final drawings included specifications for Patti and Steven's contractor to install the stonework supports.
Once Steven reached out to Forever Redwood, he was happy to learn that custom requests are welcomed. He was free to bring in a feature from another model. He also learned that Forever Redwood coordinates shade structure designs to accommodate the work of masons, contractors, and other vendors when needed. This ensures that a shade structure integrates effectively with all aspects of a homeowner's project.
Steven shared his vision with the design team and they got to work. The final drawings included specifications for his contractor to install the stonework supports. "The design came out to be exactly what we wanted it to be," Steven said.
Despite Covid-related delays, Steven described his experience working with Forever Redwood as "pretty seamless." When the pavilion finally arrived in August 2021, he decided to forgo Forever Redwood's installation services and instead opted for a solution closer to home — his own family.
"My son Spencer is a general contractor," Steven said. "My other son and son-in-law were 'the muscle.' We spent a weekend putting it together. It was pretty amazing."

Left: Patti and Steven's daughter and son-in-law relaxing poolside. Right: A family plaque hangs in the pavilion, reminder of Steven's mom's love of hummingbirds.
Every July, Patti and Steven host a family reunion for Steven's birthday. This year, they are looking forward to creating new family memories as everyone gathers beneath the pavilion and around the fire pit.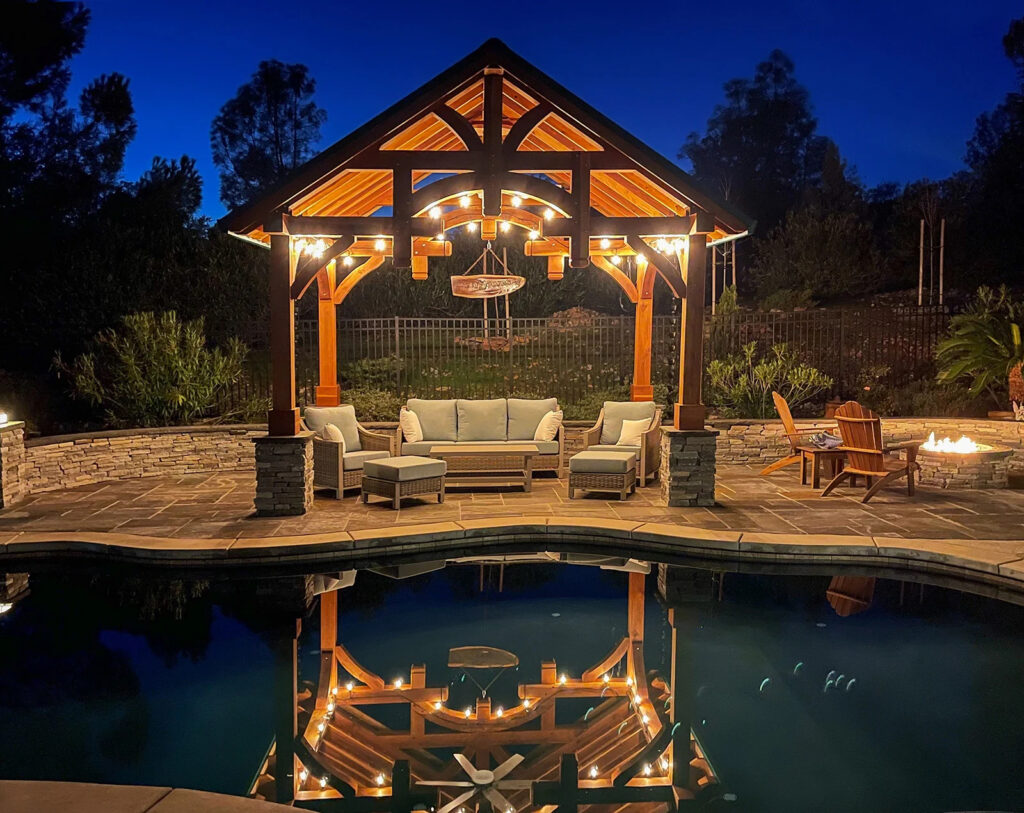 "My favorite thing about the pavilion is how it reflects in the swimming pool at night." -Patti
The finished pavilion has already yielded at least one memorable experience. Steven's photo of it placed 2nd in Forever Redwood's 2021 Photo Contest (see header photo). He and Patti may apply their prize — a $5000 gift certificate — to a Forever Redwood swing or glider.
And the next homeowner in search of a Granada Pavilion with a stonework integration will have no trouble finding photos. Steven's custom pavilion has "debuted" on Forever Redwood's website — a beautiful example of a unique vision brought to life.
All Photos Courtesy of Steven Moore of Shingle Springs, California.