This table is fully adjustable and customizable to fit your grill and your patio perfectly. You can raise or lower the inside shelf to bring the grill to the perfect height you need. Plus, the table's structure allows for easy grill removal and cleaning, as well as adjusting for different cooking equipment when needed. We use extra thick wood that is treated to handle both the heat from the grill and the S.
Yours to Customize: This Outdoor Table can be made to any Length, Width and Height you'd like.
Details Matter: You can alter the shelving height underneath the tabletop as well as the opening diameter of the tabletop to accomodate any make and model Grill.
Materials to Last a Lifetime: extra thick Redwood outlasts cedar or teak. We use only stainless hardware and the best weather resistant sealant.
No cheap plastics or synthetics in any part of the table or benches.
Visit our Warranty Page to learn about our guarantee against decay
Click on the Specifications tab above to get a taste of all of the customizable details and Engineered drawings specific to the Outdoor Table with Built in Grill.
Fast Assembly. Visit the Assembly & Care tab above for specific assembly instructions related to this product.
Our White Glove Assembly service is available in all 50 states. If you'd like us to do the heavy lifting and put your Forever Redwood products back together for you, just click White Glove as you check out and one of our installation teams will arrive with your shipment.
Wanting to know more about our Outdoor Table with Built In Grill? Click the specifications tab to find out all of the gritty details.
Each Outdoor Table With Built In Grill is made to order specifically for you and can be customized in a variety of sizes and wood styles. Choose your specific dimensions right here on the page, and we'll have detailed plans sent to you in no time. Call or write us here to find out more about our incredible warranties, delivery options, and even setup/install options available to select US residents.
DIMENSIONS & DRAWINGS
Our Ultimate BBQ Table are available in lengths from 6' to 8' (L). Grill Support Shelf is available in heights from 10" to 20". If you choose 2 shelves instead of one shelf, then a lower shelf will be sited 6" H (see drawings below).
| Length | Width | Tabletop Height | Grill Opening (Diameter) | Grill Support Shelf Height |
| --- | --- | --- | --- | --- |
| 6ft | 30 inch | 30 inch | 16 inch | 10 inch |
| 7ft | 36 inch | 32 inch | 18 inch | 12 inch |
| 8ft | 42 inch | 34 inch | 20 inch | 14 inch |
| | 48 inch | 36 inch | 22 inch | 16 inch |
| | | | 24 inch | 18 inch |
| | | | | 20 inch |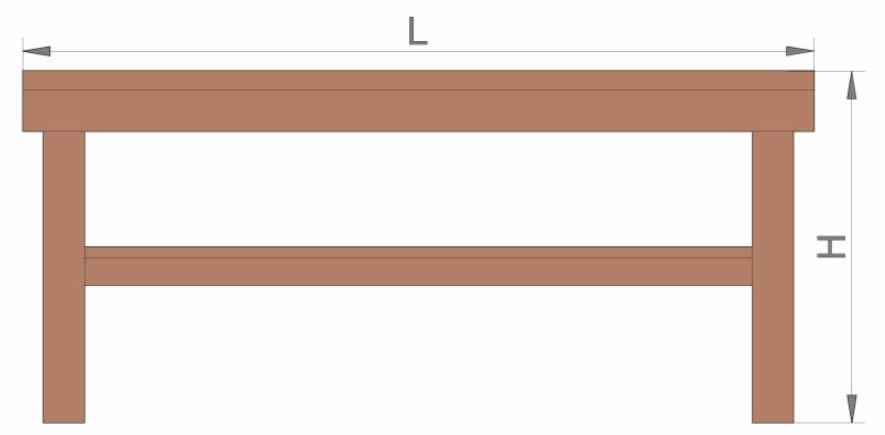 Front View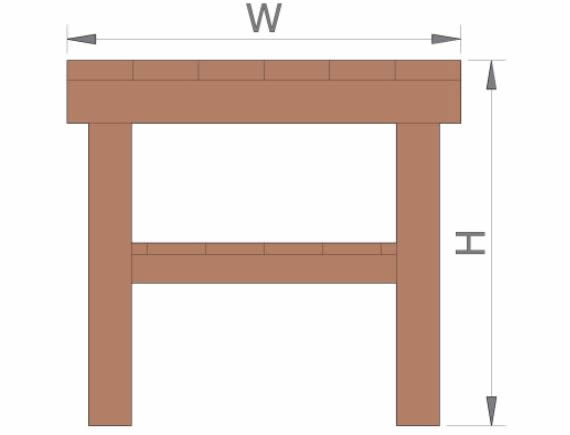 Side View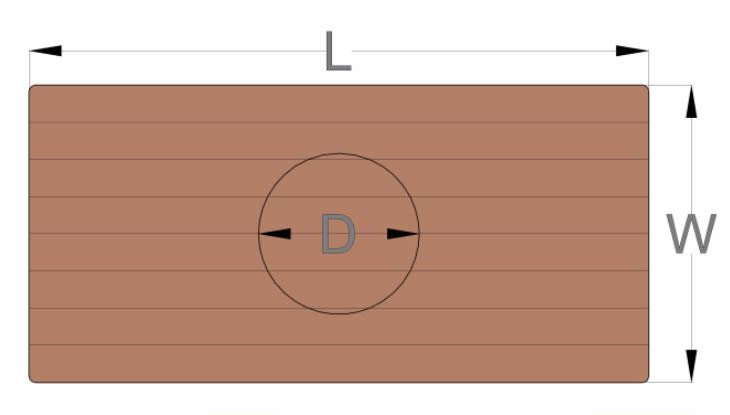 Top View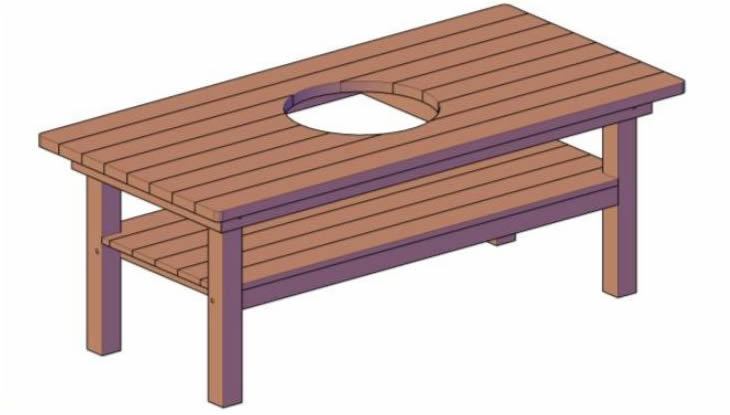 Isometric View
Advanced Options
CORNER STYLES

The corners of the tables and benches can be made in 3 ways (Squared, Slightly Rounded or Rounded). The look is quite different and it takes only a few seconds to see what will work best for you (see drawings):
Squared: Leave the corners of your table and/or bench tops squared for a more modern look (technically, 3/16" radius, for structural soundness), or....
Slightly Rounded: The 1/2" radius rounding creates a softer look and it is the most popular otion), or...
Fully Rounded: was initially created for kid safety. It is a favorite for heavy use public places (1" radius).
Some rounding is a good idea for safety reasons (kids, elderly). The 1/2" radius rounding is a popular compromise between the two (see drawing). Just choose which option you would like during checkout.
Assembly Instructions for: Outdoor Table With Built In Grill
Simple, Easy Assembly

Furniture assembly should take half a day or less. Sets ship in less than 15 parts. Tabletop and benchtops always ship assembled. Just add the legs and supports and enjoy.As with all our products, we preassemble our furniture items in our shop to ensure everything fits together. All hardware is included and all parts are clearly labeled before it is shipped. We also include detailed step-by-step instructions.
Take a look at our assembly instructions above for specific details.
Installation Help.
Special talent is not required to re-assemble any of our furniture items or outdoor structures. If you would like help, just let us know. Our installation team is available in the continental US (excludes HI & AK)
Care: You should expect your furniture to last outside for a minimum of 10-40 years without maintenance, even in climates with harsh year-round conditions. Because of our high quality wood, the silver patina that will naturally occur is surface deep (less than 1/64") and is not indicative of decay. We keep our display items without refinishing as examples show off their natural aging. We like the patina! If you'd like to keep your set looking its best for decades please visit: Care and Finish.