Our stylish tapered planters are overbuilt in naturally decay resistant redwood so they will continue to look beautiful for years to come. Some customers love them so much they are using them for other things than just planters (e.g., umbrella holders, towel bins, trash bins...).
Available in different size to hold whatever your garden requires - herbs, flowers, shrubs or trees. Feel free to let us know if you need a special size.
Ideal for natural organic gardens. Just note in More Options to leave the insides untreated - with no worries about decay or a need for liners - it's Redwood!
In More Options you may also select a special stain or sealant, or add feet to your planter or a special stand.
No glue or nails are used - only stainless steel hardware and the highest quality wood are used to construct the planters.
Drainage holes are pre-drilled.
DIMENSIONS & DRAWINGS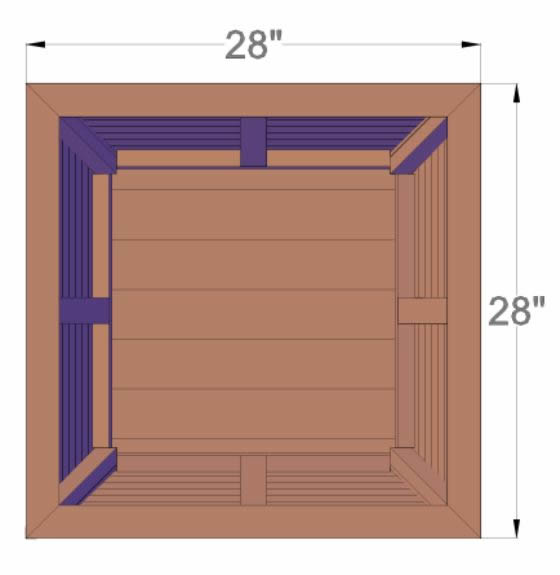 Top View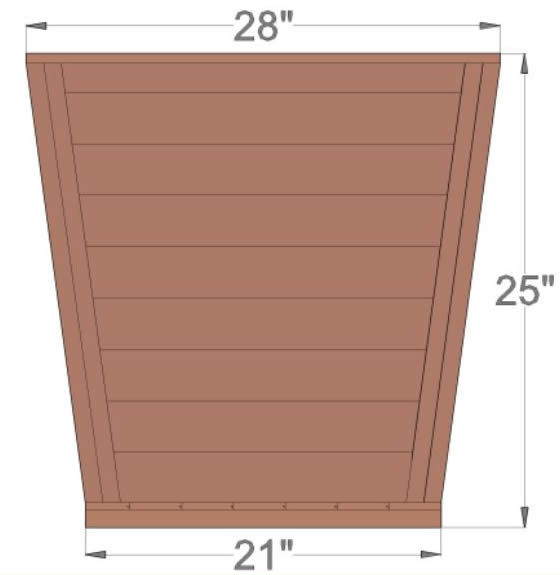 Side View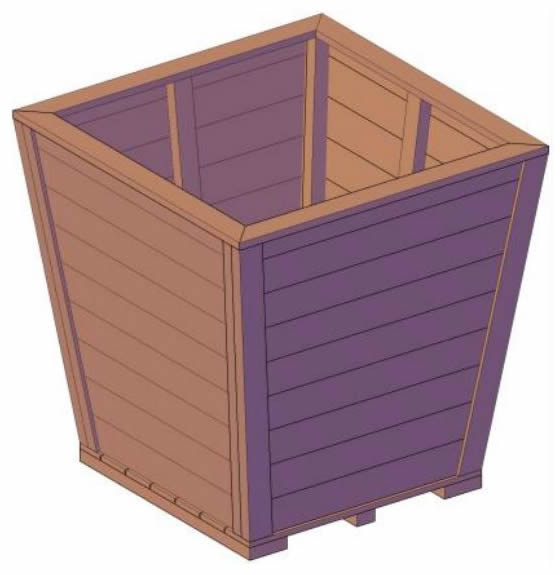 Isometric View
Exterior Dimensions
(L x W x H in inches)
Interior Dimensions
L x W x H in inches
Capacity (aprox)
Weight
12 X 18 X 16.5
11 X 17 X 15
12 Gal.
16 lbs.
15 X 21 X 18
14 X 20 X 17
20 Gal.
18 lbs.
18 X 24 X 21
17 X 23 X 20
35 Gal.
23 lbs.
21 X 28 X 25
20 X 27 X 24
55 Gal.
23 lbs.
Tapered Planters are made with one-and-a-half-inch thick frames. Walls are made with 5/8" X 1 3/4" vertical slats. Additional wood structural pieces are added inside and under the box as needed (depending on size) to significantly overbuild each box so it will never sag or bow. Drainage holes are 1/4" and are pre-drilled in the base. All planters are finely sanded and sealed (unless you choose to have them be shipped un-finished).
The largest tapered planter size we offer (21x28x25) is built with thicker wall slats than the other tapered sizes to withstand the additional weight and stresses of more soil and larger plants (7/8" thick walls instead of 5/8" thick).
Planters are available in any size or style. Learn more about custom planter sizing or contact us if you want a style that you don't see.
WITH OR WITHOUT SITTING LEDGE
You can choose to add a 5 1/2-Inch wide sitting ledge to the top edge of planters 24"W or wider so you can sit on the planter as you work or for a convenient additional seating space. Planters less than 24 inches wide lose too much of the opening at the top for planting since the seating ledge takes up nearly 2 1/2" inches both on the inside and outside of the planter wall (see photo above).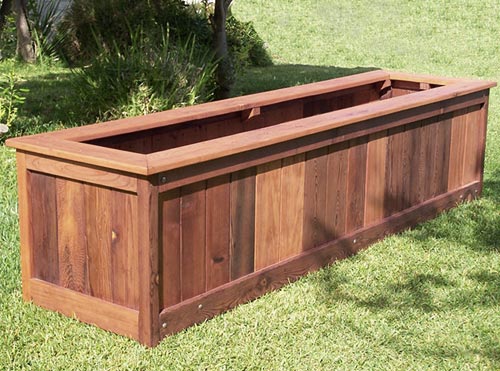 YOUR CHOICE OF FOUR DISTINCT DESIGNS
We offer 4 styles of Sonoma Planters. Each is priced the same. Please see the photos below that differentiate clearly the 4 Sonoma Planters we offer and just choose the style that works best for you:
| | | | |
| --- | --- | --- | --- |
| | | | |
| Horizontal Boards | Framing with Vertical Boards | Framing with Vertical Boards and Oval Finials | Framing with Vertical Boards and Square Finials |
PLANTER STANDS & ELEVATED GARDENS

Make your gardening experience "bend over free!" Planter Stands are great way to get the height you need without the expense of a taller planter. All our large Planters have the option to add a 6-Inch, 12-Inch, 18-Inch, or 24-Inch Stand during checkout. Below is a price chart for the stand option. You can also add feet to your box at no extra cost. The Sonoma Planter's feet are 1" tall and help elevate the walls of the ground. This is ideal for areas where you may want to be able to hose underneath the box to keep debris from accumulating.
Don't see the exact size you need? We can make planter stands in any size, up to 24 inches tall. Just select the next closest size from the drop-down menu in the shopping cart, and let us know in the comment box below your exact requirements. For example, if you want a 10-inch stand, select "12-inch" and write in "I would like a 10-inch stand" below. For stability reasons, we don't recommend stands be taller than the planter box itself. For example, to keep the center of gravity as low as possible, to accommodate a total height of 36 inches, it is best to make the stand no taller than 18 inches and achieve the rest of the height with the box itself.
Planter Size: Up to L x W in Inches:
24 x 24
48 x 24
48 x 48
72 x 24
72 x 48
96 x 24
96 x 48
120 x 24
120 x 48
6-Inch Stand
$70
$85
$100
$105
$120
$115
$140
$135
$165
12-Inch Stand
$80
$100
$115
$120
$140
$130
$160
$155
$185
18-Inch Stand
$90
$110
$130
$135
$155
$145
$180
$175
$210
24-Inch Stand
$100
$120
$140
$150
$170
$160
$200
$190
$230
TRELLISES FOR PLANTERS
A beautiful strong trellis is a great way to expand your gardening experience and add privacy. The trellis frames attach securely to the planter wall with stainless steel carriage bolts in 4 places. The trellis frame is 2" x 2" thick and the squares are made approximately 12" on center to allow plants plenty of room to grow. Although the trellis extends to just above ground level, trellis height is measured beginning from the top lip of the planter up. At checkout, you can choose heights between 2' to 5'. Trellis sets for planters over 96"L ship in 2 pieces. As always, if you don't see the size or trellis spacing you'd like, just call or email us and we'll custom size a trellis to fit your needs. If you already have a plante, we also offer the trellises as separate kits.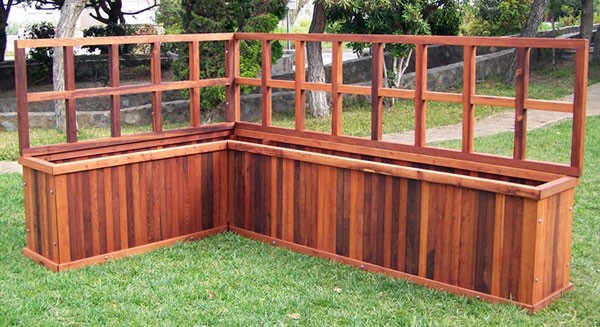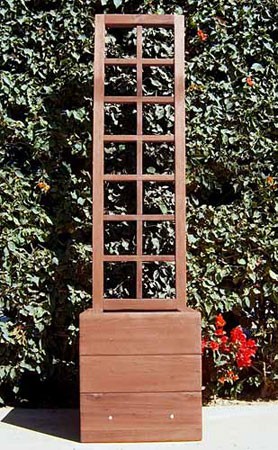 HANGING CLEATS FOR PLANTERS
Want to hang your planter on a wall? We offer hanging cleats for planters up to 144"L x 12"H x 12"W the cleats are made with the same wood grade as your planter. Cleats ship with the male portions attached to the planter. We ship the female cleats looseand include stainless steel screwsso that you can attach them into your wall before hanging the planter. We'll attach two, three or more cleat pairs depending on the planter size, but your cost for the cleats is the same: $15 total per planter.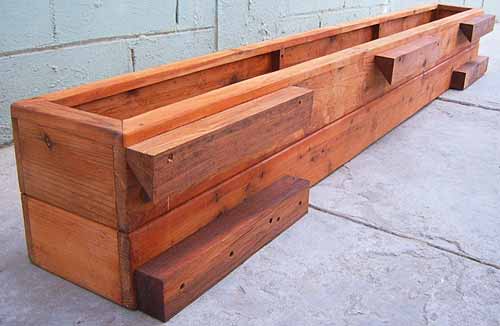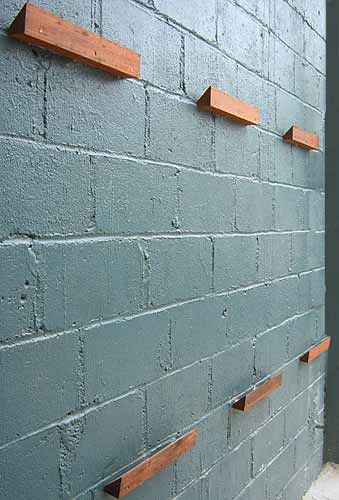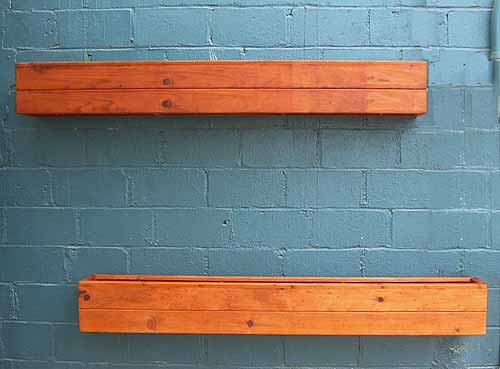 The Tapered Planters ship fully assembled. Just unpack and enjoy.
All You Need is a Few Tools and a Friend.
Assembly is best done by two people and usually takes about half a day to a day, depending on size. Pergolas need a ratchet wrench, a hammer and a ladder to put them together. In some cases, you might need a drill to attach the posts into concrete. As with all our products, we preassemble pergolas in our shop to ensure everything fits together. All hardware is included and all parts are clearly labeled before it is shipped. We also include detailed step-by-step instructions.
Take a look at our assembly instructions below for specific details. If you plan to pour concrete to hold the posts, the project will require an additional half day prior to assembly. Please do the concrete pour a few days prior to assembly to allow the concrete to cure.
Installation Help.
Special talent is not required to re-assemble our pergolas. But, if you would like help, just let us know. We have our own team for installations in California, Nevada and Southern Arizona and a network of local contractors we recommend for farther afield.
Care: Your Forever Redwood Furniture will last for decades in year-round weather without maintenance.
Depending on the wood grade you choose, even with harsh year-round outdoor conditions, you can expect your furniture to last from ten to forty years without maintenance of any kind.
Being outside year-round is rough on any woods finish. The surface absorbs UV rays, pollution, constant variations in moisture and temperature and it also oxidizes. This is why most wood just doesn't hold up and the surface color slowly changes towards a silver patina over the years. But, with Forever Redwood, you don't have to worry. The silver patina is surface deep only (less than 1/64") and is not indicative of decay. Your set will last decades and is not compromised in any way by the surface color change. For example, we keep our display items as is without refinishing to show off this natural aging (we like the patina!).
Although Forever Redwood is maintenance-free, we recommended you take a few minutes as needed to clean by either hosing down and/or brushing/dusting away accumulated debris (no soap or chemicals needed). If you'd like to keep your set looking its best for decades, please go to: Care and Finish.