Looking to add a beautiful outdoor pavilion to your hotel? There's a lot to chew on before you commit. Outdoor wood pavilions come in all shapes and sizes and can be customized in a number of ways to both fit your budget, and your space/style demands. If you've been considering adding a pavilion (or a few) to bring new life and add a new dynamic to your hotel grounds, here are four ideas we think will really get you going in the right direction.
Pick a style that has meaning for your hotel, your guests, or both. Whether it's your brand, a founder, your city/town, or a historic milestone, you can customize your outdoor pavilion to truly represent your hotel in how it looks, and how it's built. Find a design that speaks to your guests in a way that's congruent with who you are as a business, and makes them feel like it's a natural extension of the main hotel building. You can also do this through the type of wood you use, the colors you paint it (or type of finish you use), and the type of roof you pick to cover it. Your outdoor pavilion will be a great draw for weddings, corporate events, graduations, and casual guest use, and this will help push its appeal immensely if done correctly.
Dedicate your pavilion. If you want to make a splash, and really give meaning to your new outdoor pavilion (or pavilions), plan a name dedication for it upon its unveiling to the public. You can dedicate it in the name of a charity, or a hotel founder, and even an important or historical local figure. This not only creates buzz for your new addition to the grounds, it also gives your pavilion a deeper meaning to both hotel guests and staff. There are many dedicated pavilions out there in hotels around the world, and there's really no downside to it. You can also add a plaque, and customize the outdoor pavilion's colors and design to match the dedicatee's preferences, or what represents them best.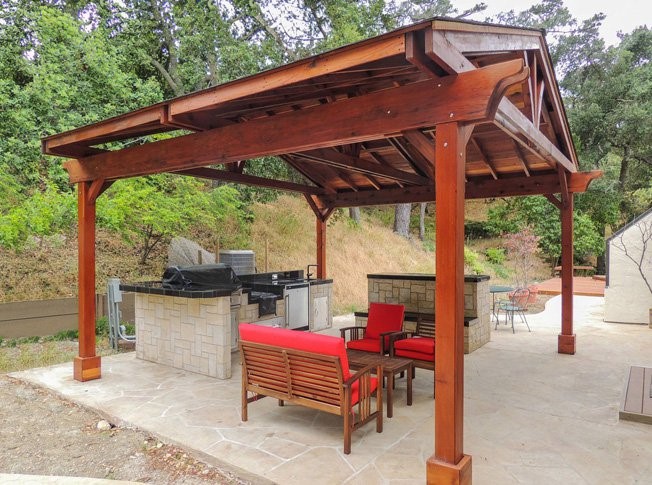 Use your pavilion as an outdoor seating area for your cafe/restaurant. When the weather cooperates, people love to dine outdoors, and an outdoor pavilion is a perfect opportunity to add to (or create) your al fresco dining space. Pavilions often make the perfect outdoor seating area because they're large, fully covered from rain, and work well when placed alongside existing building structures. Pavilions can come with open walls or optional paneling, so you can use them as open-air dining areas, or make it more of a private seating area if you wish. You can also set up a bar, or even a small outdoor kitchen under the pavilion, if you really want to give your cafe/restaurant an added dynamic and draw.
Make your pavilion an exclusive destination. For hotels with large, expansive grounds, this is ideal. It's also still feasible for small and mid-sized grounds as well. Separate your outdoor pavilion from the main building of the hotel a bit, and mark it exclusively for private events. You can also use it as a perk for only certain guests, like rewards club members, or VIPs. As mentioned before, pavilions are large enough to accommodate a number of different piece of furniture, bar/kitchen gear, and people (both sitting and standing), which gives you a great opportunity to be creative with how you use the space. Even with multiple pavilions on the property, making them a destination for exclusive events can be a big draw for corporate or other large bookings. This adds a lot of value to them, and to your hotel.
For more on all of the beautiful outdoor pavilions that we offer at Forever Redwood, feel free to browse through our selection on the site. If you have any other questions or concerns about any of our products, feel free to reach out to us here, or give us a call!