Buying a garden pavilion is a big investment. It's also one that many homeowners make when they're looking to add depth to their yard or garden. If you want to add a pavilion to your home, you're looking for something that's dynamic, well built, durable, and that will hold its value over time. With a quality built, sustainably sourced garden pavilion, you're getting so much more than just another piece of yard furniture. You're investing in something that's personal; space you can use to connect with or disconnect from the outside world. Our homes are so much more than just a place to rest and spend free time, and garden pavilions should be looked at the same way. They're a reflection of our tastes, our hard work, and where we make our most important memories. That's why choosing the right garden pavilion for your home and understanding its true value is so crucial.
A garden pavilion will be the centerpiece of your yard for generations
More than just a lovely addition to augment your yard space, a garden pavilion really stands out when it comes to being the center of attention. They're impossible to miss. A good redwood garden pavilion is grandiose, without being pretentious. They are meant to draw your attention with unique designs and provide a place of comfort that inspires your imagination. We consider garden pavilions to be a centerpiece item not just because of their size, but because of the versatility of what they allow you to do outdoors. You can use a garden pavilion as an outdoor dining area, or to cover a small pool or hot tub. You can use it as a yoga space, or an outdoor exercise area. You can use it to host parties, and even have it as the altar space for a wedding.
No matter what you choose to use your garden pavilion for, it will inevitably become the center of attention in your yard, and one of the most memorable parts of your home. This is where the true value of your pavilion really comes to light. A garden pavilion can convert even the humblest of yards into a retreat-style oasis, and a place that's the backdrop for memories that will last a lifetime.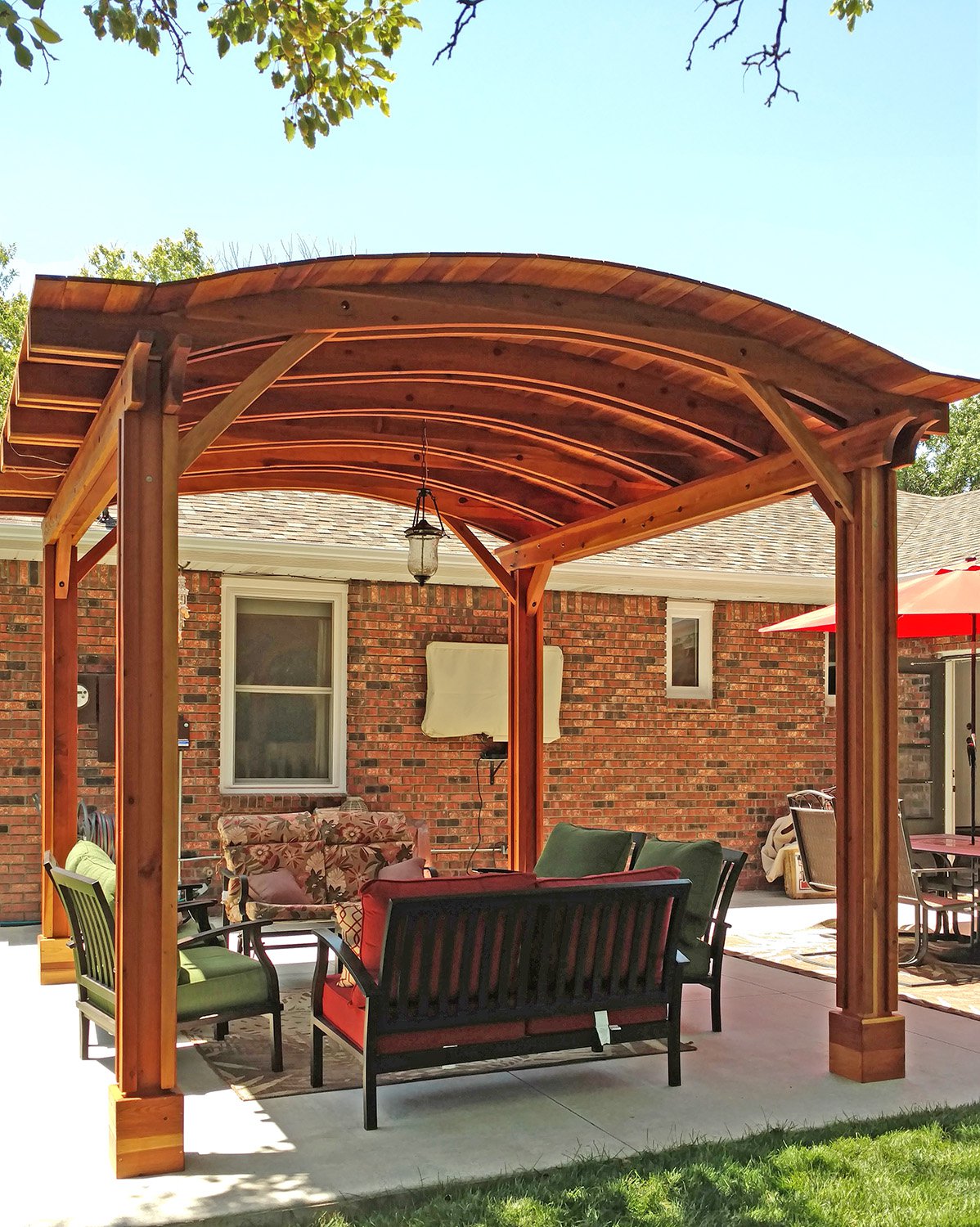 What's the difference between a pavilion and a pergola?
Chances are if you've been looking to make a large-scale, covered addition to your yard or garden, you've looked at both pavilions and pergolas. Both have great appeal, and while sharing certain characteristics, are different enough to examine more thoroughly before buying, to see which one best fits your needs. The main differences between a garden pavilion and a pergola are size and roof. Pavilions tend to be bigger (though not necessarily by definition), and roofing is more complete. Think of a pavilion more like a small house without walls, with a fully covered roof that will provide full shade and rain protection.
Pavilions have many uses and will last for a generation if built well
If you're planning on hosting a lot of parties, events, or large groups of guests outdoors, then a garden pavilion can really get the job done, often with room to spare. A handcrafted, redwood garden pavilion will bring your yard to life by changing the entire dynamic of how you use your space, and what you use it for. They are built to last, designed with craftsmanship, durability, and value in mind. Forever Redwood garden pavilions have a subtle rustic style that will define your yard, and are built to last for decades without much upkeep, or need for replacements. Forever Redwood garden pavilions don't go out of style and don't lose their luster after a few years. This is an investment that more than pays for itself in value over time. It's not just an addition to your home, it becomes a part of it, and one that will be used day-to-day for many years to come.
At Forever Redwood, we have garden pavilion kits that will inspire you with lots of great garden pavilion ideas for yards big and small. You can customize your order by style, size, and timber, to be made by hand and shipped right to your door. We are an ecologically friendly company and are leaders in restoration forestry practices, which we fund through sales from our furniture. Got a question? Give us a call, or contact us here!