Design elements don't change just because you move them outside. Furniture is still the focal point and the style you choose matters. Introducing vibrant colors and textures, like you see with Redwood patio furniture, for example, takes what was once drab and brings it alive. Consider six ways you can use furniture to brighten up your garden just in time for barbecue season.
1. Create Conversation Groupings

This is a trick that interior designers often use inside the house, but why not put it to work around the garden, too. Set up your seating in very distinctive groupings around the edge of the garden. This gives you some style flexibility. You can buy one to three sets of the same furniture to coordinate your groups or mix and match pieces to add more flavor to your design. Just make sure each group is set up to provide several people with comfortable seats near one another, so they are encouraged to talk.
Place a few interesting pieces of furniture away from the major groups, too. This gives the person that wants some quiet time a place to go. Add a hammock, for example, to provide the guest that eats one too many hot dogs a place to relax. How about a free standing double swing or rocking bench? It is the perfect seating group for that romantic couple looking for some alone time.
2. Plant Around the Furniture

Garden does not have to mean rows of vegetables or flowers. Instead, plant in containers and use them to tie the furniture together. Choose bright colored plants to match your forestry choices like red tulips next to the Redwood or yellow corn alongside the lighter colored wood pieces to enhance the tone of the wood.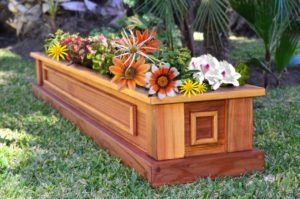 You can use the colors in the containers to complement your furniture, as well. Perhaps a planter full of white roses might accentuate a patio sofa with light blue cushions. Tie it all together with the perfect outdoor rug.
3. Get More with Less

Use your furniture to eliminate some of the clutter around your garden. Purchase Redwood benches that double as storage bins for tools and seeds or to hide those barbecue accessories when not in use. Top off the bench seats with bright outdoor cushions to introduce some color to the arrangement. Use storage chests as coffee and end tables to make them more functional. Inside, put lanterns and insect repelling candles for easy access when the sun goes down.
4. Add Some Shelter

There is no reason your furniture or guests have to sit out in the sun. Create pockets of furniture around the yard with the garden in the center and cover them with trendy tents or umbrellas that offer some shade. Tie the colors of the covers to the furniture accents, too. A blue canvas tent pairs nicely with a bright yellow cushion or maybe something in red to highlight the wood pieces.
5. Keep It Portable
Instead of grouping your furniture, keep things a bit lighter. Place all the pieces in one central area near the garden and let your guests decide where to sit. This makes your seating plan fully scalable. It will work for the small family picnic or the large Fourth of July barbecue.
6. Find Cool Ways to Accentuate
It is not always about the furniture. Sometimes, it is about the cool things you put around the furniture. How about a Redwood pergola? You can cover it with vines that complement the plants in the garden. Add a few period pieces to make the furniture stand out like a cast iron plant stand or tea cart. Maybe take the design to the next level with a fire pit or outdoor fireplace. That garden plot just became something posh with the addition of just one accessory.
Accessorizing your furniture can mean adding to your lawn, too. How about a small shed painted with trompe l'oeil art to give your guests a view of Paris or New Orleans. You could add a path of colorful stones leading to the garden seating. The more creative you get with the accessories, the better your furniture looks. The trick to creating the right garden setting for your barbecue guests is to plan around your furniture. Get the big pieces first like the Redwood picnic table you have always wanted and then add more each season to improve your garden view.