These days, people are just as likely to use their outdoor spaces as they are the inside of their homes. In fact, many homeowners extend their living spaces to include not only the interior of the homes but also the exterior. This trend effectively increases the square footage of their useable space. Using a custom pergola kit to do so offers lots of benefits.
Melds Easily with Your Surroundings
Creating an outdoor retreat is not only an investment in your peace of mind. It is also an investment in your property as well. Use a custom pergola kit to help design a beautiful and relaxing place that beckons you to enjoy the natural attributes and peacefulness that exists within your yard. Choose a natural wood pergola that blends in seamlessly with its surroundings. Add some cushioned lounge chairs and a small table large enough for drinks, and you have the makings of the perfect place to unwind.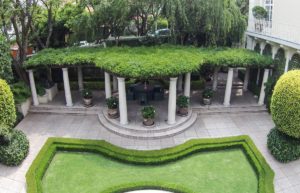 Make a Special Place to Dine
Outdoor dining has reached new heights of creativity and inclusion in recent years. Rather than spending a boring period of time hovering over a sizzling grill and then rushing the food inside to eat, today's chefs are embracing the outdoors. Entire kitchens that include sinks, counter space and — of course — the required grilling station, effortlessly combine cooking and entertaining in a fun and relaxed outdoor area. With a custom pergola kit, you can easily make distinct spaces for preparing food and eating it.
Just Add Lights
Many homeowners use lighting inside their homes to add a certain ambiance to a particular room. Taking this design element to the outdoors just seems like a natural way to extend their enjoyment of that additional space. With a pergola that is customized to work with your surroundings, you can easily shift the lighting scheme to work for your needs. For example, fairy lights that wind gracefully around the pillars and cross bars of the pergola work perfectly for a whimsical look during a lighthearted summer party or a teen's sleepover. For everyday lighting, take advantage of the overhead bars to install lighting that works for the space under the pergola itself. A chandelier adds grace and style to an al fresco eating area while sconces installed along the pillars of the pergola provide a classy look.
Inspire Restfulness
A pergola allows any space to capture the natural breezes in your backyard while still providing beautiful sweeping lines and sturdy construction. String your favorite hammock in between the pillars and enjoy the gentle swaying motion that rocks you into restful sleep. Another idea is to start off each new day with an inspiring session of yoga. Underneath the airy pergola is the ideal location that provides a restful spot to focus your energies and get your day off to a fantastic start.
Anchor Your Fire Pit
A fire pit almost seems to be a necessity in order for today's homeowner to fully enjoy their backyard. Safe, durable and easy to use, a fire pit helps tie together a focal point for a particular area of your outdoor space. By adding a custom pergola kit and your favorite outdoor furniture, a comfortable outdoor space that makes it easy to chat, laugh and bond is formed. The handsome pillars of the pergola form the perfect place to attach strings of lights or insect repellent products. The pergola's boundaries also send a clear message to children to exercise caution due to the presence of the fire pit.
Forever Redwood provides beautiful pergola kits that allow you to fully customize your backyard to suit your needs and desires. High quality and crafted of gorgeous redwoods, these custom pergola kits provide the finishing touch that makes your backyard stand out from all others. Contact Forever Redwood today and start enjoying the outdoor retreat that your yard can become.