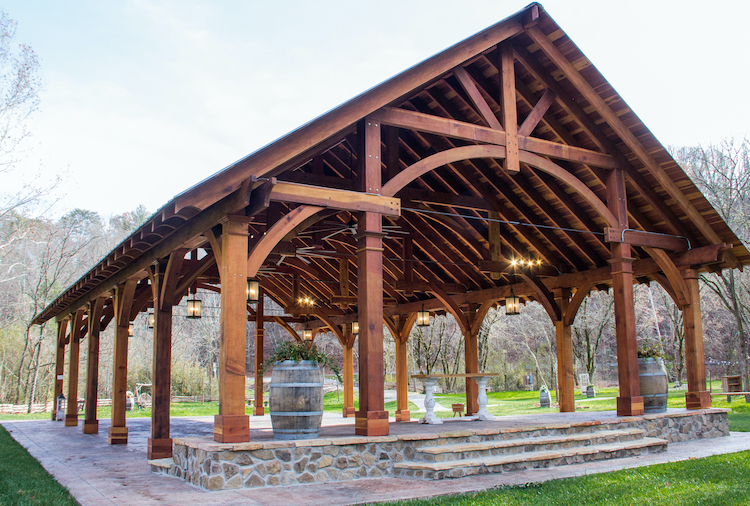 At Forever Redwood, we have a time-honored saying, "If you dream it, we can build it." In 2017, as Monica Hilton planned her wedding, she called upon us to fulfill that promise in a very literal sense. "I had a dream one night of what I wanted," said Monica. "I drew it out on a piece of paper."
What Monica saw in her dream was a magnificent, chapel-esque outdoor pavilion, 22 feet at its peak, with lofty arches and elegant columns. In this sacred space, at the foot of the Smoky Mountains, couples would exchange vows and say "I do," witnessed by their loved ones.
The first couple to tie the knot? Monica and her fiancé (now husband) Stan. Their story is the stuff of dreams as well. When Stan reached out to Monica eight years ago, they'd known each other for 50 years but had fallen out of touch. During that time, they'd both married and divorced. "I swore I'd never marry again," Monica said.
But love found a way and soon they were head over heels and planning a life together. Monica moved from Georgia to Tennessee, leaving behind her job as a business administrator in geospatial architecture. Stan asked what she saw as her next career move. "I told him I'd always wanted to have a wedding venue." She dreamed of the pavilion soon after.
Stan was 100% supportive of Monica's vision. But a few obstacles had to be overcome before the dream could become reality — such as building a 60'L x 34'W x 22'H pavilion while also planning a wedding! "Apparently, I'm really good with stress," Monica laughed. "Plus Stan promised it would happen."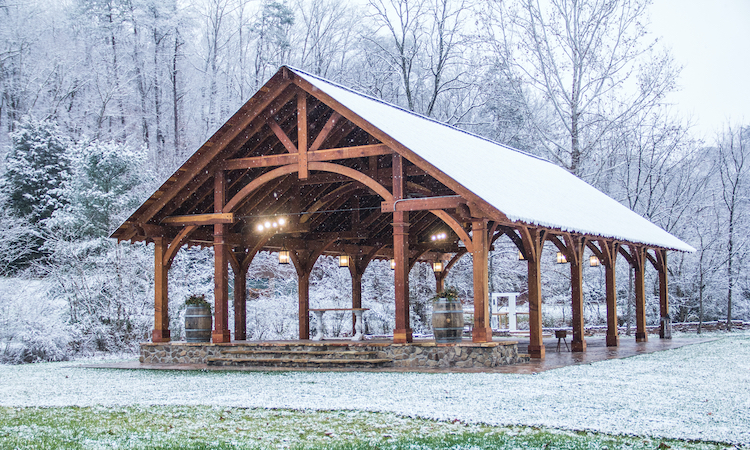 "I wanted someone who would take my dream and go with it. That's what Forever Redwood did."
Partnering with the right company to build the pavilion was critical. Monica first tried a local business but grew frustrated when she was told aspects of her vision were impossible because of the wedding timeline. Unwilling to compromise her dream, Monica told Stan, "they're not going to get it. I'm going to find someone who does."
When she found Forever Redwood online, the hand-crafted construction and use of Redwood grabbed her attention. "I wanted something special, not something made out of Douglas Fir that looked like a baseball bat." Monica's grandfather was a carpenter. Because of his influence, she loved the strength, beauty and color of Redwood. "When I found Forever Redwood, I knew this was meant to be."
Monica shared her sketches and described her vision to the Forever Redwood design team who then created an initial set of drawings. She went back and forth several times, until every detail was perfect. Stan would laugh to find her poring over each iteration with a magnifying glass. "I was really picky about how I wanted the arches. And the flow of it. But Forever Redwood managed to do everything I asked."
The final drawings detailed one of the largest structures Forever Redwood had built to date. Monica named her custom design "The Cardinal's Nest."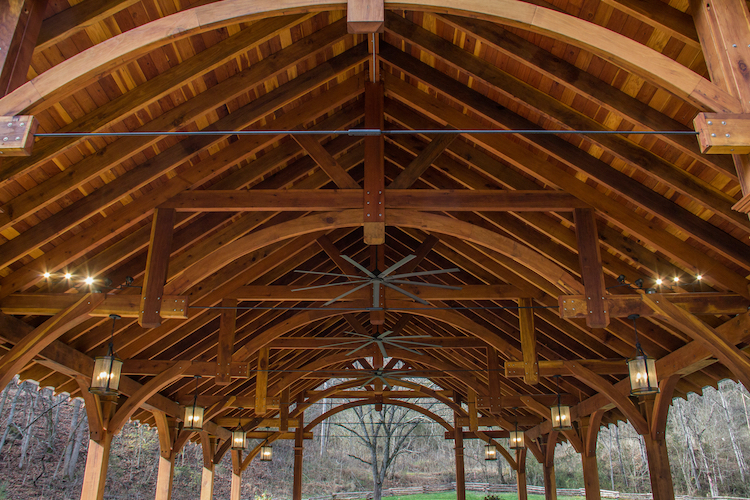 Fans help create an atmosphere of simple elegance.
In the final specifications, the pavilion is trimmed for electric, with fan bases to accommodate three large fans. The sturdy beams are sealed with transparent sealant, highlighting the Redwood's natural color, a warm, reddish hue. A 16-Post Anchor Kit with Hurricane Anchors stabilizes the structure.
Once our master carpenters built the pavilion at Forever Redwood's wood shop, it was disassembled and shipped. Our White Glove Assembly Team flew out to construct the project onsite. Each time a roof beam was fastened into place, Monica would exclaim to Stan, "This is exactly what I dreamed." When the structure was at last completed and the builders said their goodbyes, Monica began to cry. "My husband asked what was wrong. I could only say, 'It's just so beautiful.'
On October 17, 2017, Monica and Stan were married…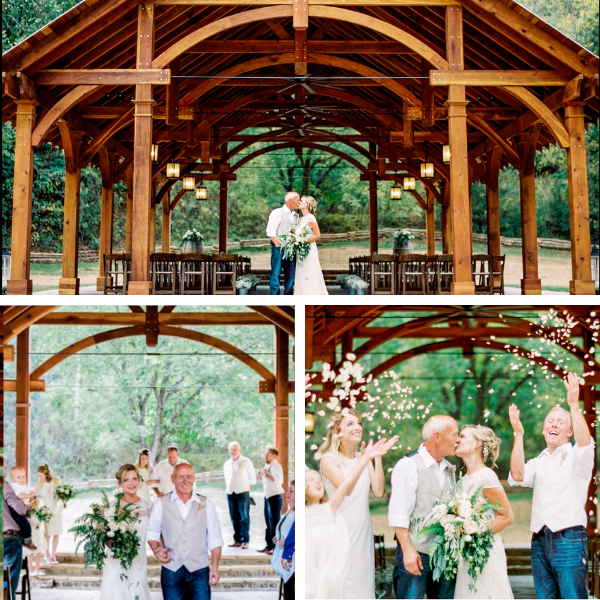 Monica and Stan tie the knot and christen the Cardinal's Nest Pavilion.
Since then, they've hosted several weddings in The Cardinal's Nest. Couples and their guests marvel at the design, the Redwood and the beautiful surroundings. "Most brides say it's so pretty you don't need decorations." And despite the pause on wedding celebrations due to Covid, Monica expects a healthy rush of vow renewals, in addition to weddings, next year (learn more about the Cardinal's Nest Wedding Venue).
"I have to give Stan full credit," Monica said, reflecting on the journey of their wedding and the realization of the Cardinal's Nest. "If it wasn't for him, it would never have happened. It's built with a lot of love and we want couples to have a great start, like we did. It's our love story."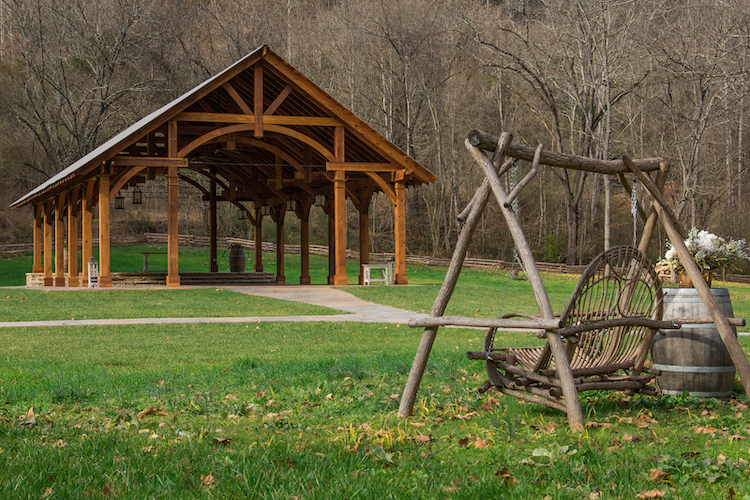 The beginning of many happily ever afters…
The love story continues as Monica graciously agreed to make her design available to other Forever Redwood customers. View more photos and a video of The Cardinal's Nest Pavilion here.