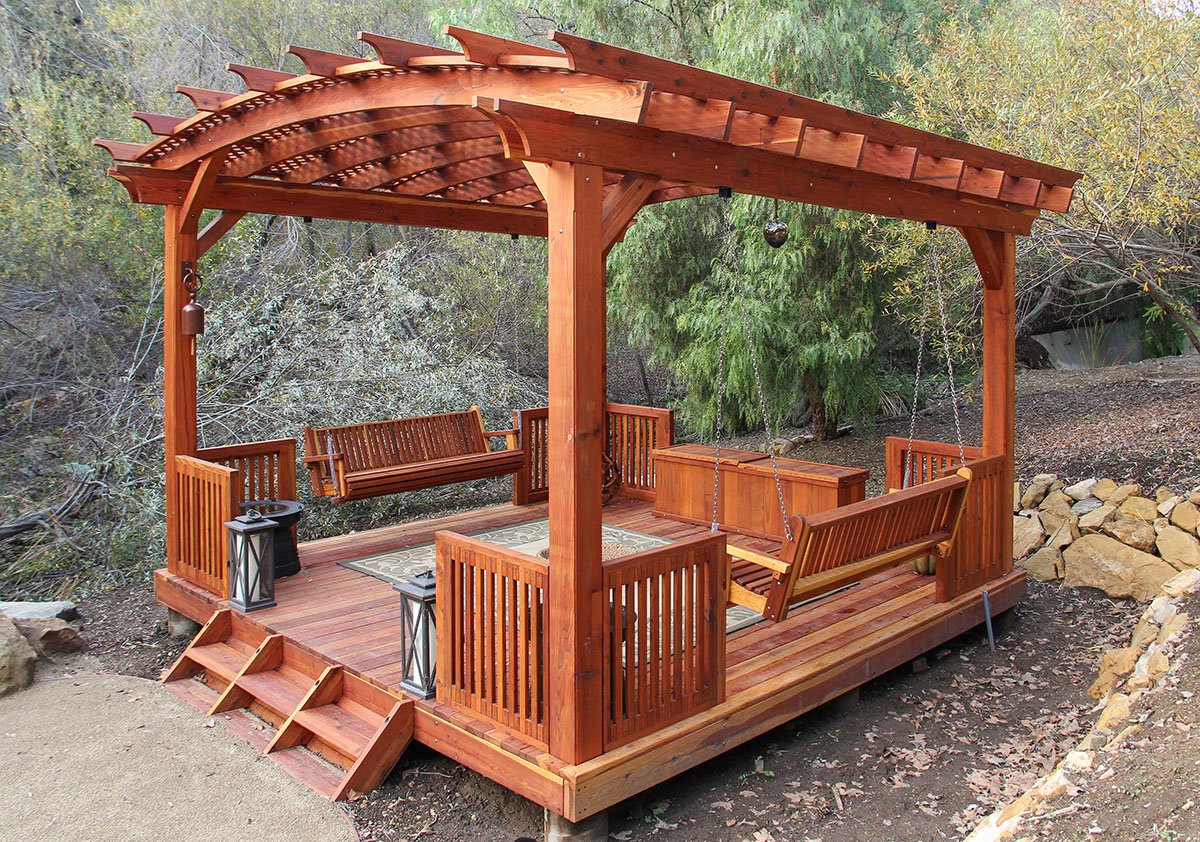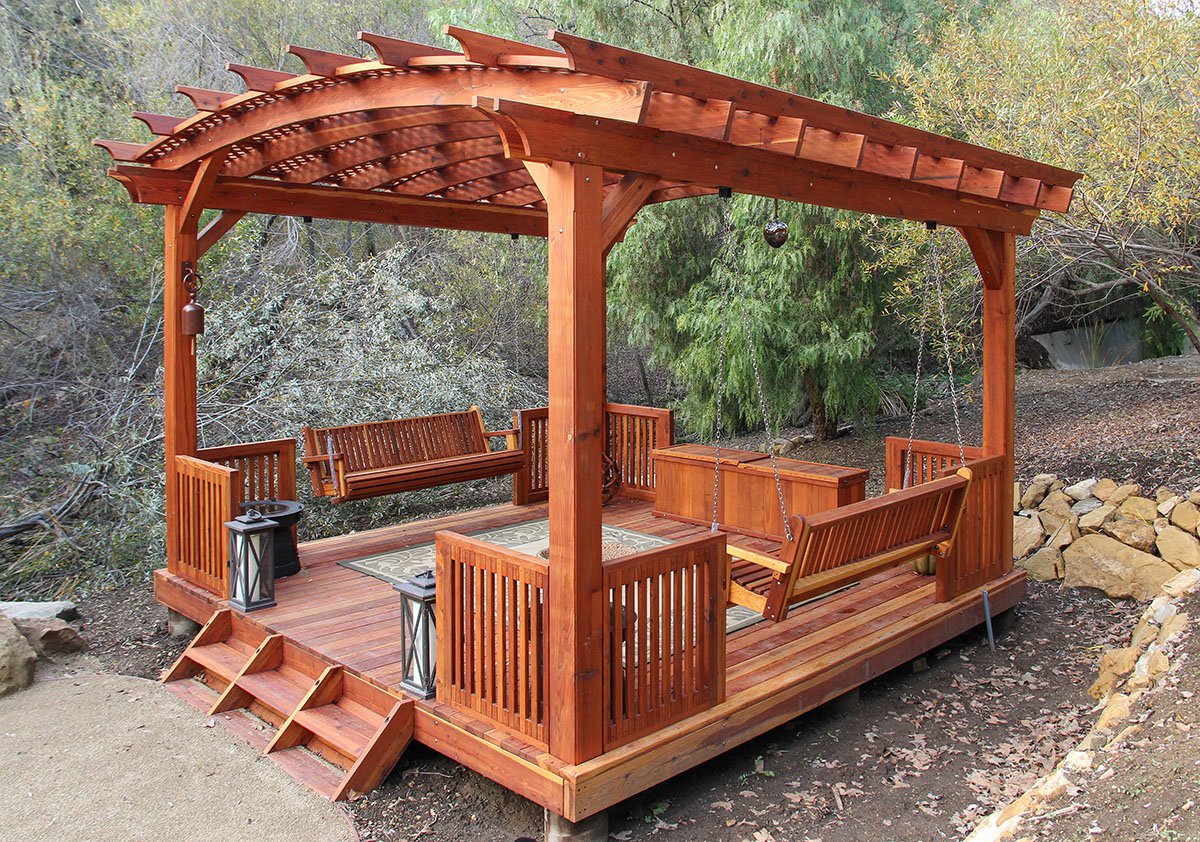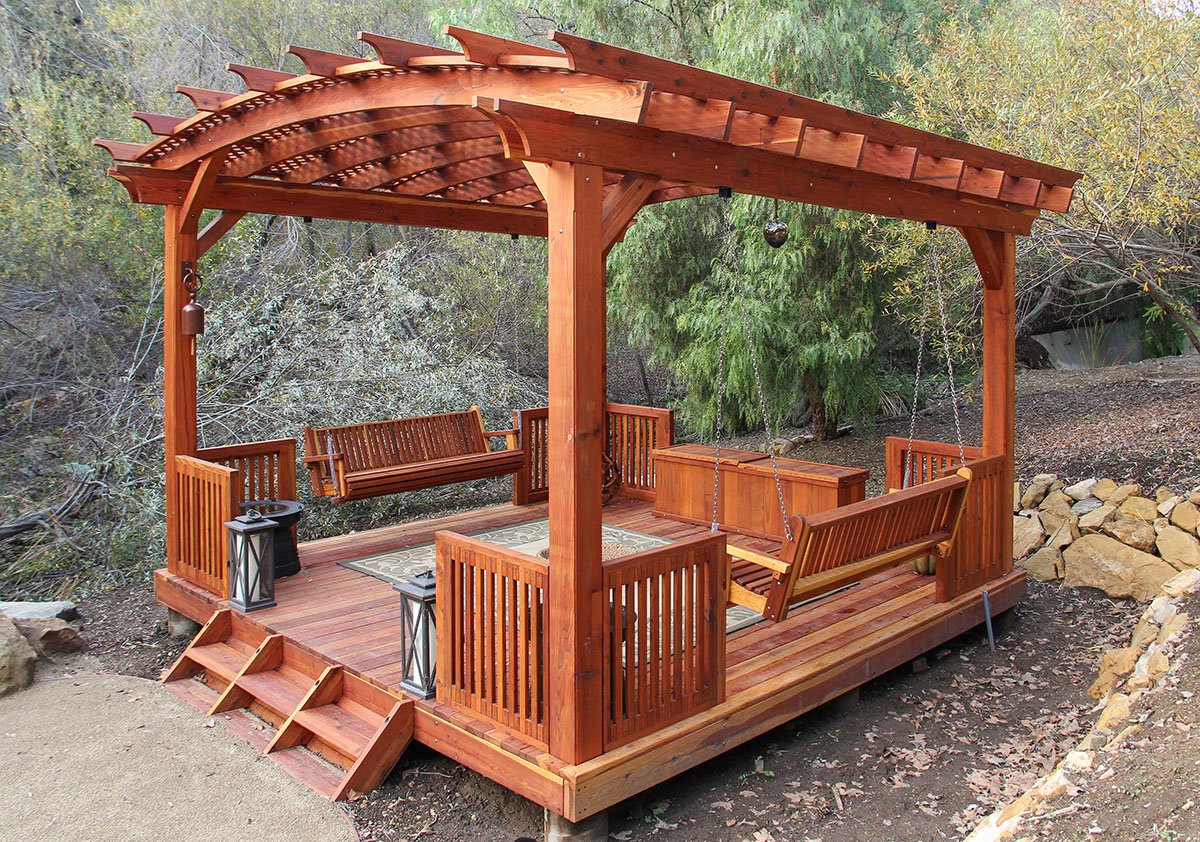 Bob and his wife Jill own a large, beautiful property northwest of Los Angeles. Semi-retired, but still active, Bob has enjoyed a long and successful career in the entertainment technology industry, winning numerous awards and even being inducted in the Video Hall of Fame for his contributions to the growth of home video.
Behind Bob and Jill's hilltop home, there is a large infinity pool, an outdoor kitchen and dining area, a fireplace, and a bocce court. Beyond the fenced yard and down the hill, there is an undeveloped piece of land, where Jill, a yoga enthusiast, saw the perfect little spot, by the stream that trickles through the valley, for a private oasis to nurture body, mind, and spirit.
She envisioned a quiet, secluded spot where she could lay down her yoga mat and meditate. But the couple also imagined it as a place to read, enjoy a glass of wine, or simply talk.
"We're a close couple," Bob says. "And we love being outdoors."
In fact, they often read books to each other. (Most often, Bob reads while Jill listens.)
The architect who designed their home recommended they contact Forever Redwood about designing and building a pergola to provide the shade structure around which Bob's friend, a landscape architect, would help create a small park.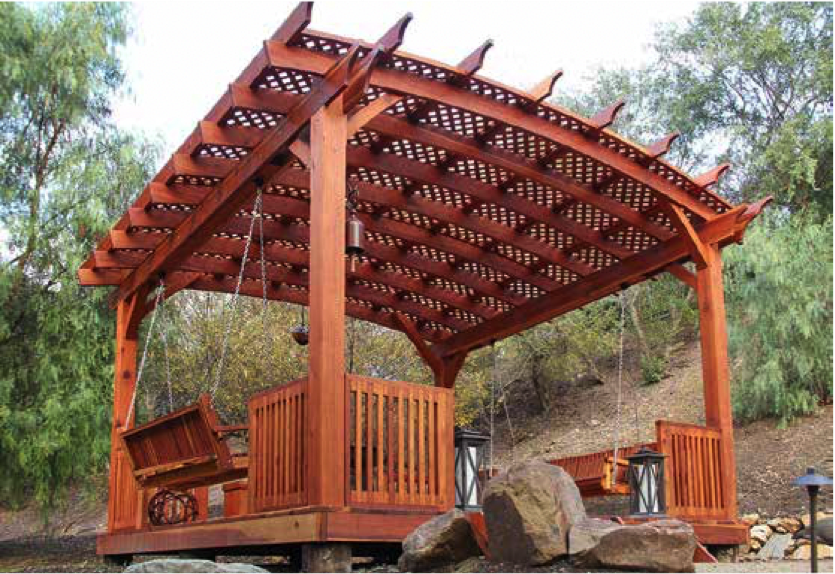 When Bob first spoke with Raul, he described his idea for the pergola park and the two quickly began fleshing it out. Partly because of the strict zoning requirements in Bob's city and guidelines from the homeowners association, the original drawings required a few revisions and took longer than usual. However, the delay turned out to be a blessing in disguise, as it inspired Raul and Bob to add to the original idea and make it something even more special.
"Raul's recommendations were amazing," Bob says. "He knows what you need to do and he has good taste. The guy did a wonderful job."
Working with Forever Redwood engineer Paty Vallejo, the team created at least 7 iterations of the project plans, along the way adding some beautiful features and touches. (This is not normal, by the way–most projects take only one or two revisions, but when a project requires it, we love to engage the process. It's an art.)
It started with a 14-ft Arched Pergola, which quickly became an 18-ft Arched Pergola with a deck. Two hanging Bench Swings, to be facing each other, were added, then made bigger to fit Bob's frame (he's tall and wanted to be able to nap on the swings). A Storage Bench followed, to be placed opposite the steps, Raul suggesting it be made the same length as the swings, for symmetry.
Railings and steps were added. Electrical conduits were provided. Timbers were beefed up to meet local code.
After a number of conversations and email exchanges, finally the plans were done and approved and an installation date was set.
Forever Redwood's team performed the installation over a couple days in the summer of 2014.
"The guys were detailed, very detailed, let me tell you," reports Bob. "They walked around with a level and showed me every railing, every beam. All the joints fit perfectly."
Watch a Gorgeous Redwood Pergola Get Assembled in this 2-Minute Video from Forever Redwood on Vimeo.
Bob is quick to point out that the overall project is not yet done, so the photos and video don't quite do it justice. He expects to finish the landscaping in the spring.
Nonetheless, Bob is thrilled. "I have nothing but plaudits for Raul and his team."
A winding gravel path leads from the backyard patio area down the hill, over a small wooden bridge and past some large boulders, to his beautiful pergola retreat. Bob doesn't mind that the grandkids (he and Jill have seven of them) will go exploring in the "park" when they come over.
The path is gently lit. The pergola sports a wireless music system. Bob is thinking of adding electric lights and a small fridge.
"The reason you're so happy is that you took your time," Raul commented to Bob.
We are delighted to have helped Bob's vision take shape and become a place that he and Jill will use to read, reflect, spend precious time together, and find their inner peace for years to come.