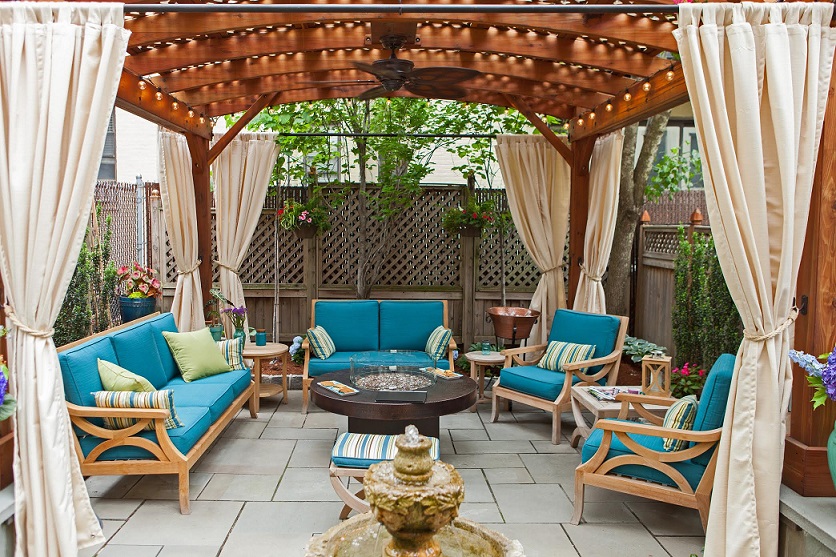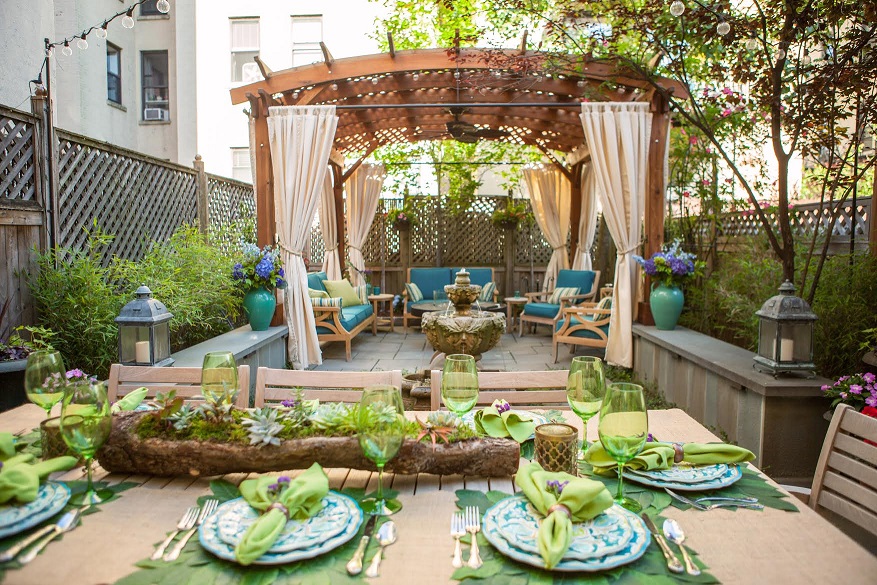 The Walkowiak family lives in a townhome in Hoboken, New Jersey, where the yards connect to one another. There are tall buildings all around. They block the sun, but all those windows are there, "looking out on you." We're not saying they're definitely watching, but just the feeling that someone might be was enough to keep the Walkowiaks from enjoying their private yard. "When you're sitting out you had sort of a feeling like you're in a fishbowl," Steve Walkowiak remarked.
Their yard used to consist of a garden with plants, but the layout was causing some discomfort and even impacting their social life. "Whenever we had a party there was generally not enough space for the people that we wanted to host." A pergola seemed like a perfect solution, so Steve Walkowiak started researching online and was immediately drawn to Forever Redwood's design for an Arched Pergola. Another roof, that's what they needed.
Of course, our timeless design was not the only reason for choosing to work with us: "I also liked the philosophy of the company. That really appealed to me, the way they practice forestry, using sustainable and restoration forestry." He was also seeking a better quality product, with a more decay-resistant kind of wood, something that would last for decades, such as our Redwood. "That encouraged me. Even though it was more expensive than other options, I thought it was worth it."
When Steve's order arrived, he realized he would need a little help with assembly, and as luck would have it, two people were doing some work in a house nearby and he contracted them for the next day. Between them all, they erected the structure in one eight-hour period, "It was really easy for them to understand the diagrams and assembly instructions," reported Steve. A freestanding Arched Pergola anchored to the ground. Eight mere hours.
Privacy accomplished. "Architecturally it just defines the space. This is a living area or a lounging area." A dining table out front, easy chairs and a loveseat inside. The family gathers there in the evenings, if it's nice. Steve drinks his coffee there in the mornings. "I added the curtains this year. That's a new addition." They keep the warmth inside if it's breezy and reduce the noise produced to a minimum. "If we're sitting out there talking we're not disturbing the neighbors as much." It's a win-win both for Steve and his neighbors! The Walkowiaks seem like the ideal family to live next door to, if we may say so.
And what about the parties? the alert reader might ask. Well…"Two weeks ago was the Hoboken Garden Tour, which is done every year." Only ten yards are selected. Steve applied and became one of them: "We had 150 to 200 people coming through. A lot of people asked about the pergola and where it came from." Being well-prepared, Steve gave out sheets with all the info, including Forever Redwood's website and coordinates.
In addition to the enhanced privacy, Steve shared his favorite thing about his pergola: "It becomes the focal point of the yard. It has a nice look, people are really drawn to it." Still, he wishes he had a bigger fan in there: "You had a recommendation for a fan on your website, but I saw it after I ordered the one I have, which I picked more for the look of it and not the size and the function." Nothing unfixable, but future clients beware. Steve concludes, "It's been a great addition, I really love it." Enough said.