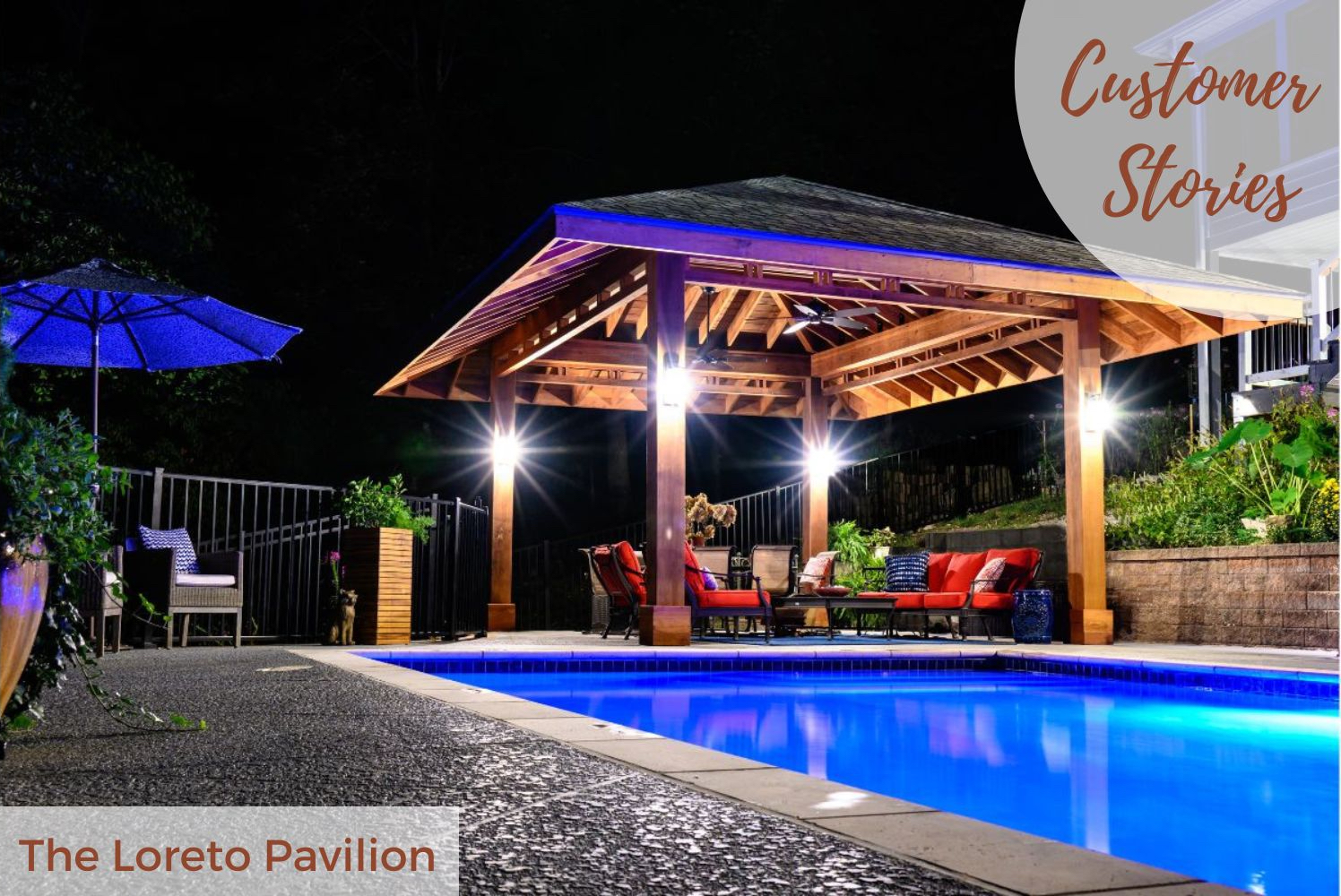 ---
Eileen and Paul Gmerek, of Wildwood, Missouri have a great deal of experience renovating and remodeling homes. During a recent phone interview, Eileen explained their design philosophy, "We are not cookie-cutter people. We never keep precisely to anyone's plans. We always have to nudge." 
Honoring this philosophy proved challenging when she first began researching a poolside pavilion. Most of what she encountered online was rigidly pre-designed with little room for customization—until she found Forever Redwood. "It just appealed to me so much more than anything I'd seen," Eileen said.
She and Paul appreciated the variety of styles and sizes and the fact that each model could be fine-tuned to suit a homeowner's unique vision and needs. "Knowing we could customize allowed our minds to free up."
---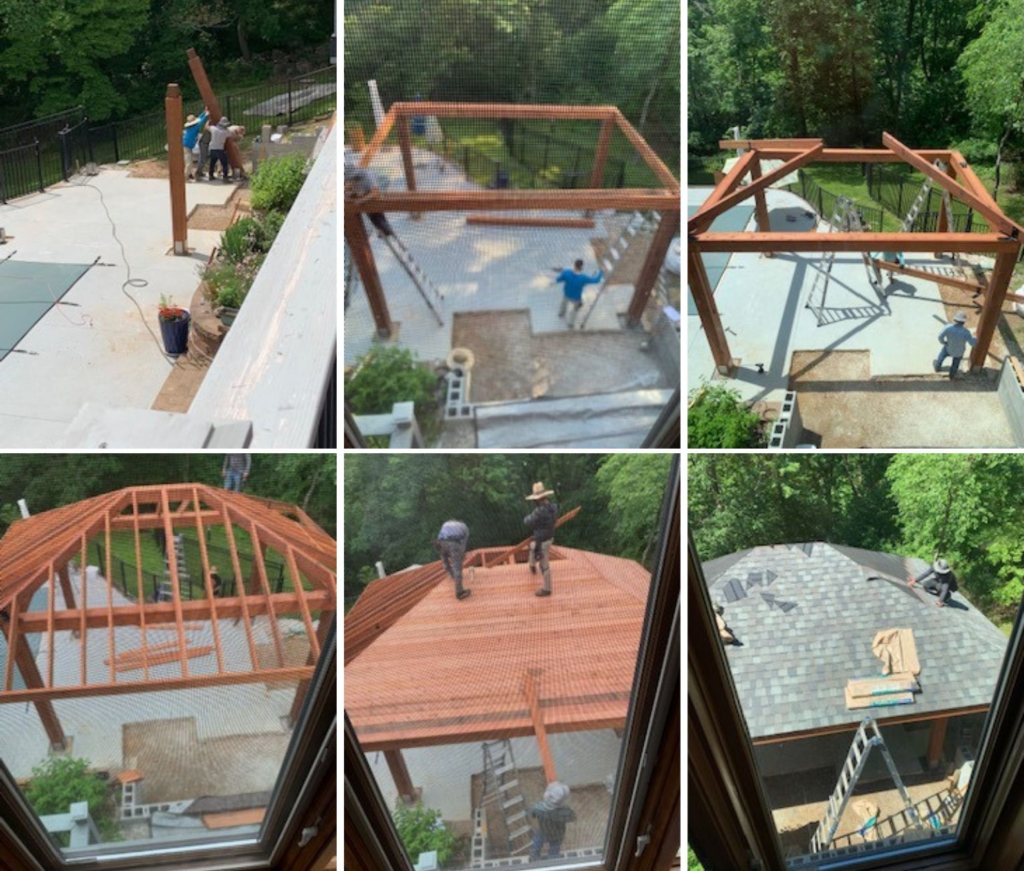 Stages of installation by Forever Redwood's White Glove Installation Crew.
---
"What a great crew. So efficient and tremendously knowledgeable."

-Eileen Gmerek
After a careful study, Eileen and Paul selected the Loreto Pavilion, in part because the design followed the roofline of their home. For wood grade, they chose Mature Redwood to harmonize with the surrounding forests and hills. They opted for a 4-post anchor kit for high winds, two ceiling fan bases, and a finish of Transparent Premium Sealant.
With the base model selected, the real fun could begin. The house is situated on a steep hill. Forever Redwood's architectural team worked closely with Eileen and Paul to calibrate the eaves and pitch of the roof to accentuate the property's topography and wilderness. "I can't say enough about how efficient and amiable they were. So fast in turning the designs around," Eileen said.

Eileen brought in her original fretwork design (left), a unique variation on a similar element of the Zen Garden Pavilion (right).
---
Customizations included the omission of the base model's arched crossbeams and the addition of fretwork carving under the eaves, a unique pattern that was conceived by Eileen and integrated by Forever Redwood's design team.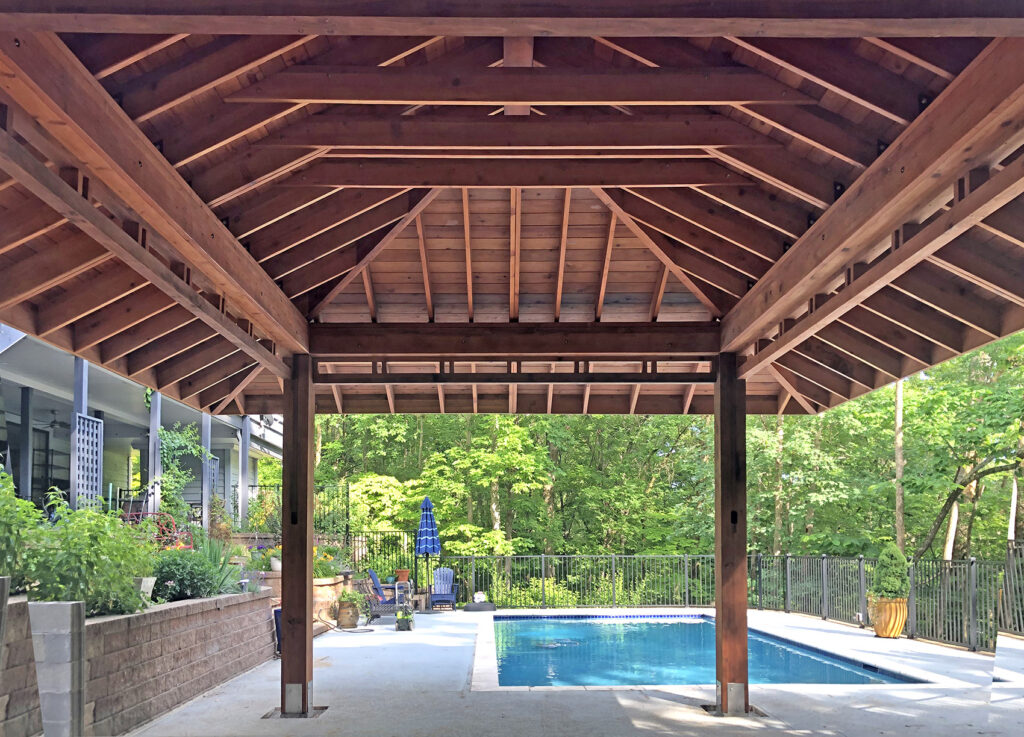 "The finished product is even more amazing than what we mentally visualized." -Eileen
---
The finished pavilion creates a poolside oasis that's inviting, multifunctional, and anything but cookie-cutter. And the project continues to evolve. The next phase, a firepit, got a welcome boost last November when Eileen and Paul's photo of the Loreto won 2nd in Forever Redwood's Photo Contest (see header image). They plan to apply the prize, a $5,000 gift certificate, to Lighthouse Garden Benches as seating for the firepit area. 
As the interview came to a close, Eileen offered a final reflection. "The structure turned out to be exactly what we needed to round out our pool for entertaining. Day or night, it works. Rain or shine, it works."

---
-Photos courtesy of Eileen and Paul Gmerek