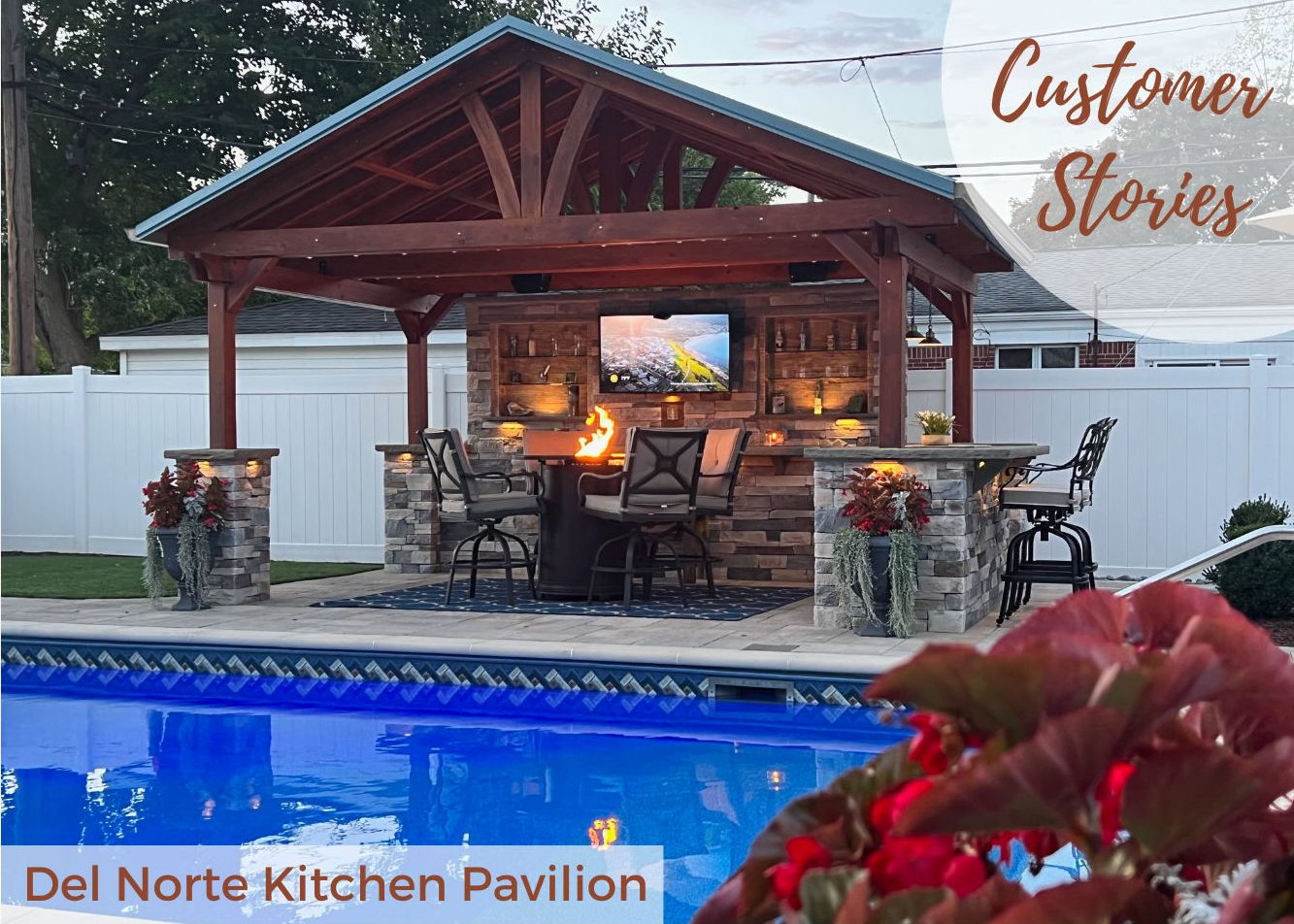 ---
Stephanie Bono and Ken O'Connor of Royal Oak, Michigan describe their Del Norte Outdoor Kitchen Pavilion as a bit of "Up North" beauty transplanted to their suburban backyard.
"Up North" is a term locals use for the northern part of Michigan's Lower Peninsula, an area known for its rustic cottage charm and serene landscapes. But as Stephanie and Ken shared during a recent phone interview, the journey to realizing their "Up North" backyard oasis was far from serene. Because of the pandemic, the project took unexpected turns and required patience and resourcefulness. The experience also included a silver lining.
The first phase, installing the pool, was completed in November 2019 just as Michigan's winter chill settled in. Stephanie began researching the next part of the project, a poolside shade structure, leaving plenty of time for a grand opening of the revamped backyard the following May.
When she discovered Forever Redwood during an online search, Stephanie was intrigued. "The site had so many beautiful examples of completed projects. And amazing reviews!" But the idea of ordering a large structure from a company far across the country gave her pause. "I didn't know anyone personally who had gone through [Forever Redwood]." After a few emails and phone calls with Forever Redwood's product experts, "we felt really confident about moving forward."
The next step was choosing from the 77+ pergola and pavilion designs featured on the website. Stephanie and Ken briefly considered a pergola, but decided the full shade offered by a pavilion better suited their needs. The Del Norte Outdoor Kitchen Pavilion was the final choice. "We knew we wanted to build out a bar. The Del Norte seemed to lend itself to the additional amenities we wanted to add," Ken said.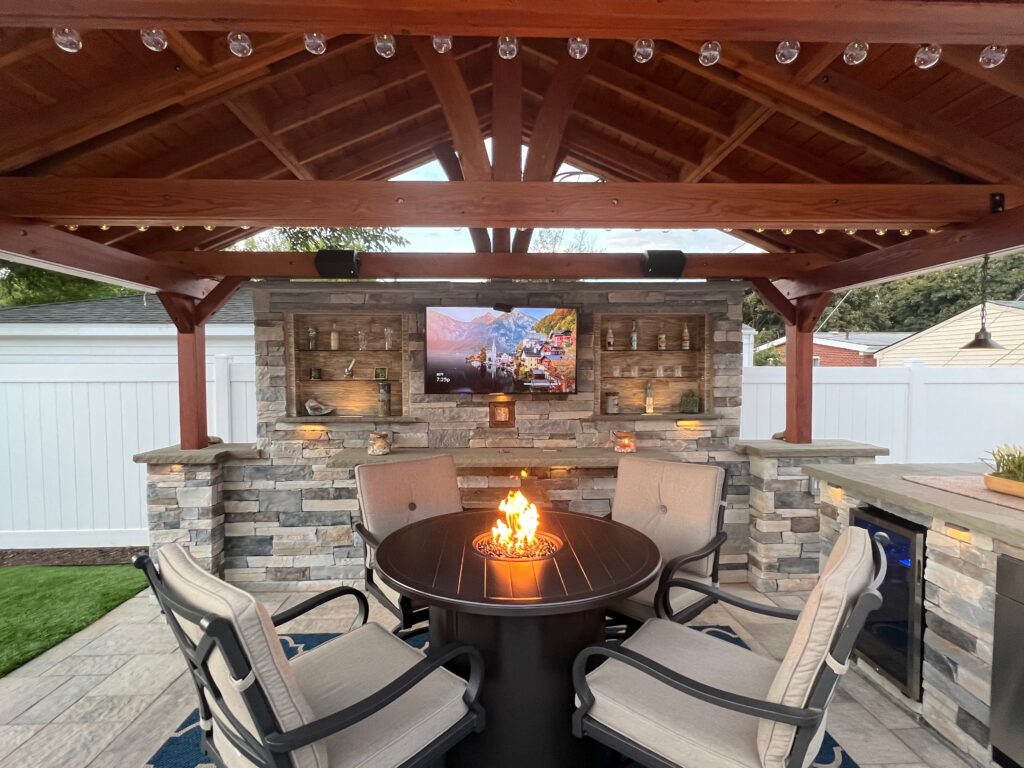 Stephanie and Ken love hosting friends in the pavilion to watch football games and play euchre, a regional card game.
---
Stephanie and Ken worked with Marissa, a Forever Redwood design team member, to dial-in the details. "She was patient and amazing to work with as we made changes and learned through the process."
In February 2020, the drawings were finalized, specifying an 18 ft x 12 ft pavilion in Douglas-fir with transparent premium sealant. The structure would be trimmed for electric and stabilized with a 4-post anchor kit for gale force winds. They signed off and placed the order, well on schedule for a summer opening of their backyard oasis.
A few weeks later, the whole world ground to a halt. Amidst larger global concerns, everyday life and commerce was upended. Stephanie was worried about the fate of the project, "with all the challenges of the build process, transportation across the country and sending the white glove installation service during COVID." Forever Redwood's consistent communication put her mind at ease. "You can always get hold of somebody. When I've emailed, I usually got a response within hours."
Her relief grew once restrictions eased and Forever Redwood's woodworking shop was operational. "They sent photos from the warehouse as they were building it." The world was still topsy turvy and delivery times uncertain, but the photos offered signs of progress.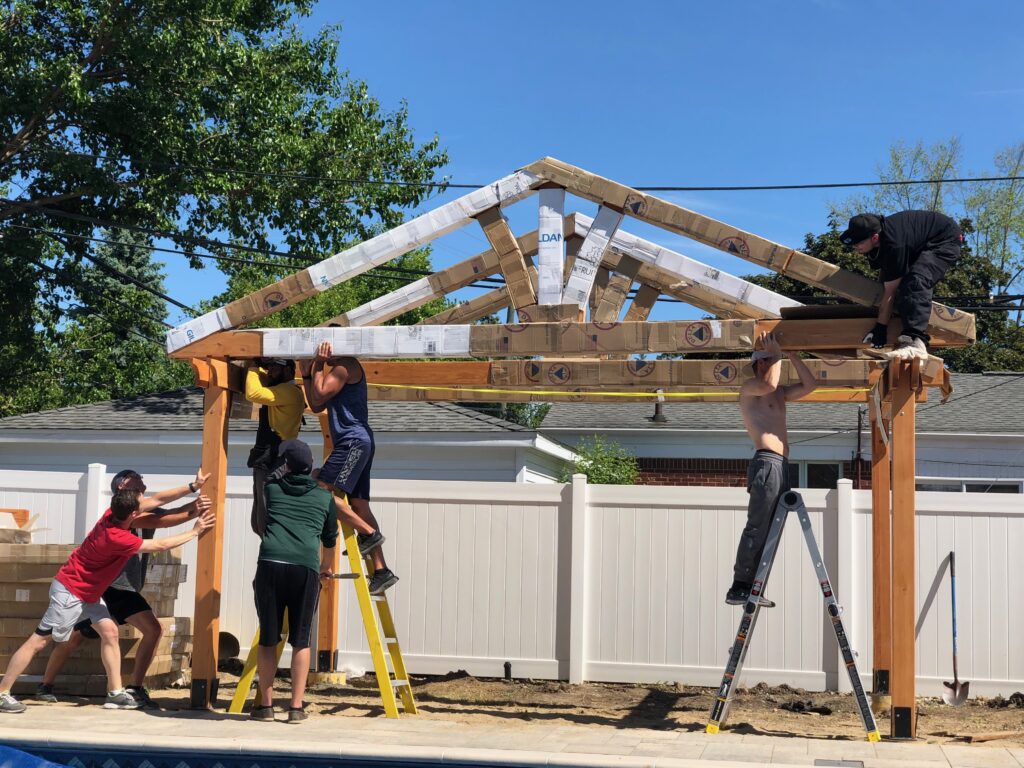 "The whole experience was outstanding!" – Stephanie and Ken
---
In June of 2020, Forever Redwood's two-person White Glove Installation Team arrived after driving across the country with the disassembled pavilion. Stephanie's sons and nephew happened to be home and the installation soon became a family affair. According to Stephanie, "within a few days, [they] had footings dug, cement poured and the pavilion complete!"

About the same time, another major challenge arose — the loss of Ken's hospital finance job due to COVID layoffs. "That year was horrible," Ken said. Though he's since taken a new position in real estate finance, at the time he turned to a very different occupation, stone masonry with a close friend's company.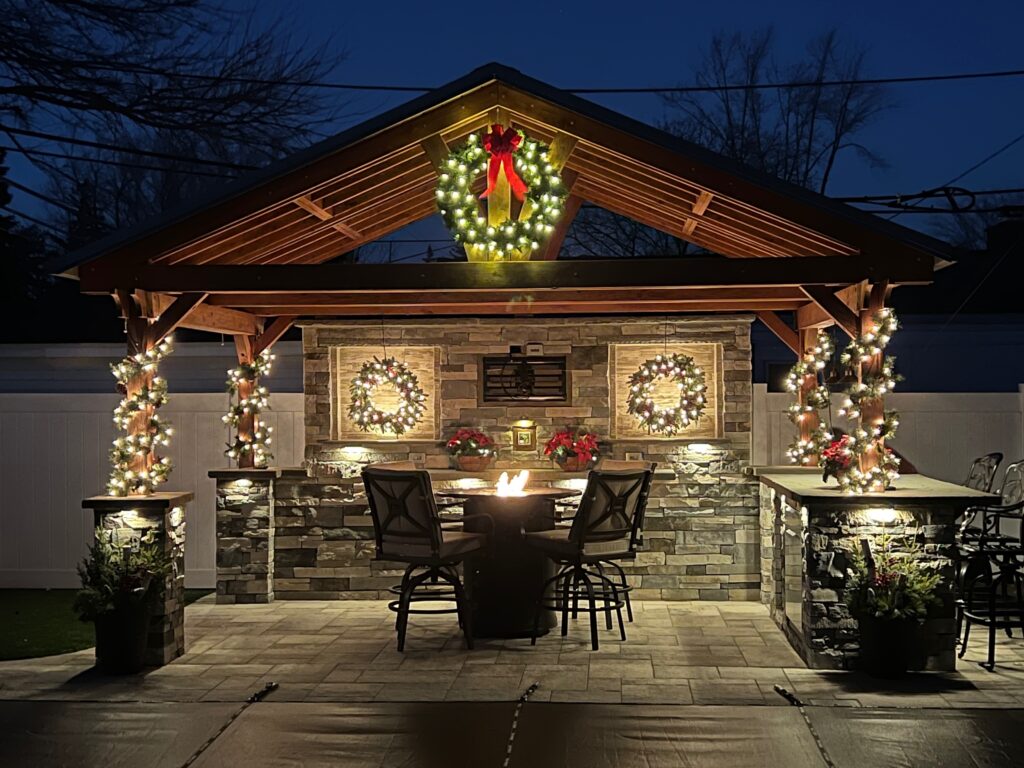 "The wood and the stonework complement each other," Ken said, enhancing the "Up North" look.
---
This turn of events offered a silver lining where the pavilion was concerned. Initially, Ken and Stephanie planned a wooden back wall for the structure. But as Ken installed beautiful stonework projects, he and his friend gradually formed a plan to design and integrate stonework into the Del Norte. The two worked on the project throughout the summer, stealing time between a packed installation schedule for other clients.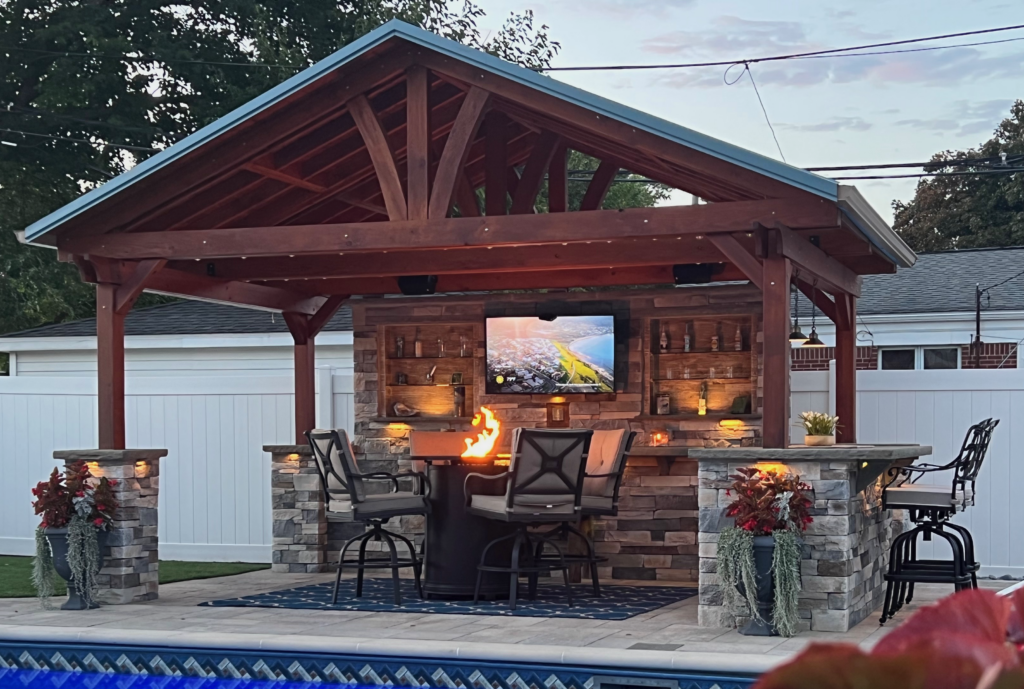 "The pavilion really wasn't unreasonable cost-wise." – Ken
---
The pavilion now stands as a monument to an incredibly challenging time and the fortitude Stephanie and Ken summoned to move through it. The seamless interaction with Forever Redwood was a big help. "They were so accommodating on every single aspect. Even with the design, the communication was perfect…there was never a problem."
A final fun note—Stephanie and Ken's pavilion photo won 1st place in our 2022 annual photo contest. They plan to use the $10,000 gift certificate on a pergola, adding more shade and comfort to their backyard oasis.
---
Photos courtesy of Stephanie Bono and Ken O'Connor.